Protesters sue police in anti-PRC demonstration
 
By Loa Iok-sin And Mo Yan-chih
STAFF REPORTERS
Friday, Nov 21, 2008, Page 1

Seven protesters who were injured during a crackdown on demonstrations against a Chinese envoy's visit to Taiwan earlier this month filed lawsuits alleging police brutality yesterday.

The seven who were involved in four cases of alleged police brutality showed medical documents, photographs and video recordings of their injuries and how they were injured during a news conference in front of National Taiwan Democracy Memorial Hall in Taipei before submitting their cases to Taipei District Court.

"I was talking with some friends on the sidewalk across a small street from a side entrance of the Grand Formosa Regent Taipei [on the night of Nov. 5]," said Huang Yi-ling (黃怡翎), one of the plaintiffs.

At the time, Association for Relations Across the Taiwan Strait Chairman Chen Yunlin (陳雲林), was at a dinner banquet hosted by Chinese Nationalist Party (KMT) Chairman Wu Poh-hsiung (吳伯雄) at the hotel.

As demonstrators surrounded the hotel, the guests were unable to leave until a little past 2am when some 2,000 police officers dispersed the crowd by force.

"When we got there at around 9:30pm, the area was still quiet. But about an hour later, a large number of police officers showed up," Huang said. "One officer was saying something through a speaker from across the street, and we couldn't hear it very well, so we asked 'are you talking to us?'"

The police did not answer, and the next thing Huang and her friends knew, they were being pushed back by officers using their shields, she said.

"It was quite strange, because the officers didn't push us away, instead they pushed us against the wall and started beating us with their batons," Huang said, adding that she and her friends kept pleading for the officers to stop and yelling that there was no way out behind them, "but they continued for quite some time."

Another plaintiff, Ted Chiang (江一德), said he turned his back to the riot police who were trying to disperse the crowd in front of the hotel, hoping to stop further physical clashes.

However, a video clip showed that he was pulled behind the police line.

"After I got pulled in, I fell on the ground, and the police officers hit me with batons and shields," Chiang said.

"I just wanted to run away from the madness, but an officer hit my head with his baton, then I started bleeding all over," he said, holding up a T-shirt with bloodstains and holes that he wore that night.

"To this day, I still feel dizzy and am still taking medicine," he said.

Lin Feng-jeng (林峰正), executive director of the Judicial Reform Foundation, who helped organize a panel of attorneys to provide assistance to the victims of alleged police brutality, said: "It's very disappointing that the police have only looked into cases in which officers were attacked and tried to find out who attacked them while turning a blind eye to cases in which innocent citizens were wounded."

"While [President] Ma Ying-jeou [馬英九] has constantly said that the 'the problem [with demonstrations] is the violence,' I would like to remind him that there is also the problem of police violence," he said.

At a separate setting yesterday, Democratic Progressive Party (DPP) Taipei City Councilor Chou Wei-you (周威佑) accused the Taipei City Police Department of framing him — and possibly other protesters — by putting him on a list of violent protesters during Chen's visit.

The department issued a booklet of photos of 66 "violent protesters" on Wednesday and called on the public to help the police in identifying suspects who allegedly took part in the demonstrations.

The photo of Chou, who was allegedly punched in the left eye by an officer while he was protesting against Chen in front of the hotel, was in the booklet put together by the police on Wednesday morning, but the department removed his photo yesterday after the councilor challenged its inclusion.

"If the police department believes I am a suspect, then it is covering me by removing my photo. If not, did the department include my photo by mistake?" Chou said.

Chou later showed a video clip of the incident in front of the hotel that night to prove that he did not attack the police and that he was punched by an officer in the eye while trying to separate the police and protesters.

He and other DPP Taipei City councilors condemned the department's Songshan Precinct for lying about what happened that night by arguing that Chou was hit by a bottle of water, rather than by an officer, in its news release.

In response, Lee Wen-chang (李文章), deputy chief of the department's Criminal Investigation Division, said that the police hurt Chou by accident, adding that Chou's photo was included in the booklet by mistake because "the staff member who handled the booklet did not know it was Councilor Chou."

Calling in question the department's handling of the aftermath of the protests, Chou urged Taipei Mayor Hau Lung-bin (郝龍斌) to look into the department's conduct.

"How many suspects in the booklet are innocent and treated unjustly like me? Such poor handling of the incident is a serious breach of human rights," Chou said.

Putting handcuffs on his own hands, Chou said he refused to enjoy any privilege as a councilor and vowed to file a lawsuit against the police department.

DPP Taipei City Councilor Liu Yao-ren (劉耀仁) urged the public to provide evidence, such as photographs or videotapes showing police taking part in violence against the protesters and to file lawsuits against the police.
 
---
US congressional panel warns of Chinese espionage

AP, WASHINGTON
Friday, Nov 21, 2008, Page 1

A congressional advisory panel said yesterday that China had stepped-up computer espionage attacks on the US government, defense contractors and businesses.

The US-China Economic and Security Review Commission also said in its annual report to lawmakers that aggressive Chinese space programs were allowing Beijing to target US military forces better.

"China is stealing vast amounts of sensitive information from US computer networks," said Larry Wortzel, chairman of the commission set up by Congress in 2000 to advise, investigate and report on US-China issues.

The commission of six Democrats and six Republicans said in the unanimously approved report that China's massive military modernization and its "impressive but disturbing" space and computer warfare capabilities "suggest China is intent on expanding its sphere of control even at the expense of its Asian neighbors and the United States."

The commission recommended that lawmakers provide money for US government programs that would monitor and protect computer networks.

Messages left with the Chinese embassy in Washington were not immediately returned. But officials in Beijing have responded to past reports by saying China does not try to undermine other countries' interests and seeks healthy ties with the US.

The report comes two months before US president-elect Barack Obama takes office. The Democratic Obama administration probably will continue the Republican George W. Bush administration's efforts to work with and encourage China, a veto-holding member of the UN Security Council that the US needs in nuclear confrontations with Iran and North Korea.

During the campaign for president, then-candidate Obama said that "China is rising, and it's not going away," adding that Beijing is "neither our enemy nor our friend; they're competitors."
---
Aboriginal autonomy delayed
 
PRIORITIES: Leaders asked when President Ma would make good on his promise of Aboriginal autonomy, while the president focused on repairing infrastructure
 
By Loa Iok-sin
STAFF REPORTER
Friday, Nov 21, 2008, Page 2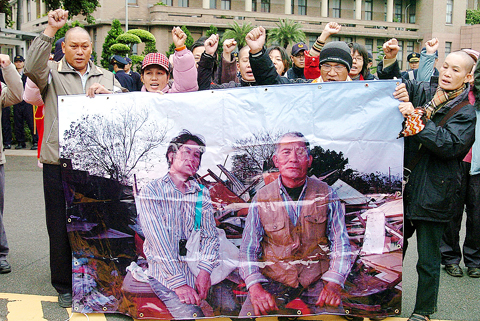 A group of Aboriginal residents from Sanying District in Shulin City of Taipei County yesterday stage a protest in front of the Executive Yuan in Taipei. The group called on the government not to demolish their houses and guarantee their right of abode in the area.
PHOTO: CHIEN JUNG-FONG, TAIPEI TIMES

Secretary-general of the Taiwan Aboriginal Society, Isak Afo, yesterday questioned the government's slow progress in actualizing Aboriginal autonomy. However, President Ma Ying-jeou (馬英九), said that rebuilding infrastructure in Aboriginal regions, rather than autonomy, should take priority.

"Just by looking at the Council of Indigenous Peoples' [CIP] policy agenda for the next year, it really worries us, the Aboriginal rights activists, that the government's Aboriginal policy seems to be under the guideline of 'welfare colonialism,'" Isak told a conference on Aboriginal policies organized by the Taiwan Indigenous Survival and Development Association in Taipei. "If this is true, the government is certainly breaking President Ma's campaign promise."

While Ma promised to inaugurate Aboriginal autonomy "on a trial basis," the CIP's policy agenda has been focused on repairing infrastructure damaged by natural disasters, giving out more scholarships for Aboriginal students and increasing the Aboriginal emergency assistance fund, Isak said.

Chinese Nationalist Party (KMT) Legislator Kung Wen-chi (孔文吉), who also attended the conference, disagreed.

He said that "what Aborigines need is not to join the UN or autonomy — they want repairs for roads and bridges in their disaster-devastated areas."

Located mostly in high mountains, Aboriginal communities have been more vulnerable to natural disasters than other areas for a long time.

Typhoons, earthquakes and heavy rainfall have damaged roads, bridges, schools and homes. In some cases, mudslides have wiped out entire villages.

Often communities are hit by new disasters before they are even able to recover from previous ones.

Ma, who was invited to deliver his remarks, echoed Kung's view.

"I visited Lishan [梨山] once last year," Ma said. "Although our fellow Aboriginal compatriots grow beautiful high-altitude fruits and vegetables there, they complained to me that they had no way to truck their produce to market because the Central Cross-Island Highway has long remained damaged."

A section of the Central Cross-Island Highway — connecting Taichung County and Hualien County — was damaged by the 921 Earthquake in 1999.

Out of the consideration that restoring the highway would cause damage to the local ecosystem, the former Democratic Progressive Party administration decided against repairing the road.

The decision was overturned after the KMT took over the government in May.

"This example shows that the very survival of many Aborigines is threatened because of damaged infrastructure, and thus we should make repairing infrastructure our priority," Ma said. "While autonomy is too big an issue, we should take time to do more research and carefully make a plan before putting it in place."
---
Taiwanese-Americans express 'grave concern' to Ma
 
By Charles Snyder
STAFF REPORTER, WASHINGTON
Friday, Nov 21, 2008, Page 3

The presidents of three leading Taiwanese-American organizations have sent a letter to the administration of President Ma Ying-jeou (馬英九) expressing "grave concern" over the recent detention of former president Chen Shui-bian and several other Democratic Progressive Party (DPP) politicians and officials without formal charges and urged that they be freed until any any formal charges are brought.

The letter also protests the conduct of police during the visit of Chinese envoy Chen Yunlin (陳雲林) to Taipei earlier this month, which they described as a "systematic infringement of the freedom of speech."

Meanwhile, some members of Congress are considering sending a letter to Ma concerning the detentions, but few details of the plans are known.

Other than that, however, the multiple detentions of opposition leaders in Taiwan have elicited little official response in Washington, which has been totally consumed by the financial crisis and president-elect Barack Obama's transition.

The State Department has been restrained in its remarks. In answer to a question on Tuesday, department spokesman Sean McCormack said: "we are confident in Taiwan's democracy and its legal system. We have every expectation that the process will be transparent, fair and impartial."

McCormack echoed statements by American Institute in Taiwan Director Stephen Young in Taipei recently.

But there is still some concern in Washington over the manner and timing of the detentions, coming as they did on the eve of Chen's visit and in light of the importance Ma placed on the visit as part of his policy of placating Beijing.

Stephen Yates, a former Asian affairs aide to Vice President Dick Cheney and now president of the consulting group, DC Asia Advisory, for instance, has questioned both the timing of the detentions and the absence of any charges.

"Given the provision of law that was cited as justification for the detentions, how is it that for the last six months the Republic of China was safe up until the eve of the visit of Chen Yunlin, [and only then] did these people needed to be locked up?" Yates said. "It's a little bit of a stretch of the imagination. And by the way, just because this law is on the books, it was written for a bygone era. Do the people of Taiwan still think this is a standard appropriate to their standard of living today?"

The three Taiwanese-American association officials who signed the letter, which was sent on Monday to Taipei Economic and Cultural office in Kansas City Director General Dale Jieh (介文汲), were Bob Yang (楊英育), president of the Formosan Association for Public Affairs (FAPA), Sue Lee, president of the North American Taiwan Women's Association, and Yang Mei-li (楊美麗), president of the Kansas City chapter of the Taiwanese Association of America.

The letter asked Jieh to convey to Ma's government "the grave concerns Taiwanese-Americans now have" over the detentions and Chen Yunlin's visit.

"Specifically, we are offended by the suppression of freedom of speech by the Ma Ying-jeou administration" during Chen Yunlin's visit, the recent arrests and the "undignified treatment meted out to Taiwan's former president Chen Shui-bian."

The signatories said Chen's treatment "epitomized the unequal application of law."

"[Former] president Chen has not been indicted. He had earlier been banned from leaving the country. Yet the prosecutors detained him without bail and chained him in handcuffs," the letter said. "Contrast this with the case of then Chinese Nationalist Party (KMT) chairman Ma Ying-jeou. He was formally indicted for corruption on Feb. 13, 2007. However, he was neither arrested nor handcuffed. In fact, he held a press conference that very day to announce his candidacy for Taiwan's president."

"We urge the Ma Ying-jeou administration to investigate corruption and other charges against KMT [members] as well as DPP [members]," the letter said.
---
Ma should amend the assembly law

Friday, Nov 21, 2008, Page 8

The bid to hastily amend the Assembly and Parade Law (集會遊行法), a relic of the post-Martial Law era that places restrictions on people's right to protest, floundered in the legislature on Wednesday after the Chinese Nationalist Party (KMT) suggested waiting for the Cabinet to put forward its own amendment.

The Democratic Progressive Party (DPP) caucus immediately accused the KMT of trying to delay the process and the session descended into partisan bickering.

It is no secret that whenever a party comes to power, it suddenly becomes deaf to calls to amend or scrap this archaic law, as having a statute on the books that can be used to limit protests is extremely useful for any ruling party. DPP lawmakers should not be feigning disgust, as their KMT counterparts are only doing what the DPP did during its eight years in power.

The people with real cause for grievance at the delay will be the "Wild Strawberry Movement," whose resolve to continue their two-week-long sit-in will be sorely tested as the weather turns colder and the pressure from their parents increases. The strawberries, a student movement formed in response to what they termed the "heavy-handed" policing of protests against Association for Relations Across the Taiwan Strait Chairman Chen Yunlin (陳雲林) earlier this month and which is dedicated to pushing for an amendment of the law, are now getting first-hand realpolitik experience. After a promising start that included visits from a Cabinet member during the first few days of their protest, it may be dawning on the students that they will need to stay put for much longer if they are to achieve any of their demands.

The government, as evidenced by Premier Liu Chao-shiuan's (劉兆玄) slip during a recent TV interview, is hoping the students will quietly disappear as it becomes clear their numerous demands will not be met.

KMT lawmakers' filibustering may also be an attempt to rescue President Ma Ying-jeou (馬英九) from a sticky situation, because although amending the law was one of his pre-election campaign promises, he cannot be seen to be bowing to any of the students' demands, especially since they have demanded he apologize and that his national security and police chiefs step down.

The best course of action for Ma and his government would therefore be to wait until the student sit-in has come to an end and then swiftly move to scrap the clause that requires organizers to apply for prior permission to protest.

Such a clause has no place in a democratic society.

KMT lawmakers' argument for "chaos theory," the idea that allowing protesters the right to march at will would lead to anarchy, just doesn't pass muster when one considers the nature of most protests in Taiwan.

The size of most rallies and the fact they are organized by political parties weeks in advance gives the police ample time to prepare.

While it is certain that once the law is changed there would be an initial spike in the number of small, single issue protests by special interest groups, these unplanned efforts would not attract people in any great numbers and would not last long.

Ma, for once, should keep his campaign promise and amend the law. After all, as we saw during Chen's visit, it's not as if the police can't handle a few rowdy protesters.
---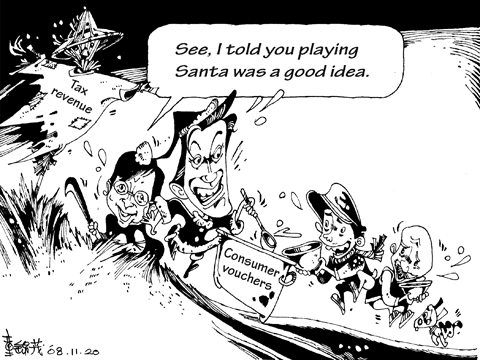 ---
Peace in the Strait? ORBAT says no
 
By J. Michael Cole 寇謚將
Friday, Nov 21, 2008, Page 8

Intelligence analysts are trained (sometimes mistakenly) to assume the worst in their field. The assumption that the other is up to no good is so endemic that even the absence of intelligence is often construed as an act of maliciousness. This phenomenon, though not restricted to counterterrorism, often manifests itself in two ways: either the individual or group is "inactive" or in "sleep" mode (as in so-called "sleeper cells"), or the target is so proficient that nefarious activities remain beyond the reach of surveillance, communications intercepts and intelligence officers.

In this world of the paranoid, Ockham's razor principle, whereby — to paraphrase the English logician from whom the principle gets its name — all other things being equal, the simplest explanation is best, absence of evidence is in and of itself incriminating, just as the infamous Team B in the 1970s sought to discredit absence of intelligence by the CIA on a secret Soviet submarine project by construing lack of intelligence as meaning that the Soviet Union had succeeded in developing subs that could not be detected, known as anti-acoustic submarines. No such subs were ever developed.

With this in mind, we have two ways to assess Beijing's recent conciliatory moves toward Taipei, which include dispatches of the Association for Relations Across the Taiwan Strait vice chairman and chairman to Taiwan last month and this month, and Beijing's supposed "goodwill" act of allowing President Ma Ying-jeou (馬英九) to send former Chinese Nationalist Party (KMT) chairman Lien Chan (連戰) to represent the country at the APEC leaders' summit in Lima, Peru, this weekend and for Ma to be referred to as president of "Chinese Taipei" — a first, we are told, since Taiwan joined the group in 1991.

The first more optimistic interpretation, if we were to abide by Occam's principle, would be to see these developments as proof that Ma's "diplomatic truce" is bearing fruit and that Beijing has become less strident on the Taiwan issue since the KMT regained power in March and replaced the pro-independence Democratic Progressive Party of former president Chen Shui-bian (陳水扁).

Under this scenario, the Ma administration's flexible interpretation of sovereignty and concessions to China, added to a series of measures taken in recent months to facilitate trade and travel between the two sides of the Taiwan Strait, are making war in the Strait less likely, as both sides see the advantages in stepping away from the brink.

The second more pessimistic interpretation — the one that intelligence analysts would probably favor — is that Beijing is bidding its time, putting Taipei, and perhaps the US, to sleep through deception by giving Taiwan crumbs, such as allowing Lien to represent the action at APEC, or even allowing Lima to refer to Ma as president.

In this view, absence of threat information and indications of reconciliation are smoke and mirrors and China's option of a military attack on Taiwan remains as real, if not more so, than it has been in the past 20 years or so.

To put this in counterterrorism terms, China is in "sleep" mode, seemingly inactive but readying for activation. China watchers all agree that the Chinese Communist Party (CCP) will never agree to anything less than "one China," with Taiwan as one of its provinces. Given this, Beijing's "goodwill" on such matters as APEC and cross-strait travel is counter to the CCP's ideology and must be something other than a heartfelt concession.

In other words, as there is no room for such a paradox in the CCP universe, the gifts must be something else.

So which option is most feasible, the optimistic view, or the pessimistic one?

All things being equal, the People's Liberation Army (PLA) Order of Battle (ORBAT) says it all. Despite the cross-strait rapprochement that we have seen in recent months, the PLA has failed to deactivate or redirect the odd-1,300 ballistic missiles it aims at Taiwan, something that even Ma has said would be a road block to negotiations — that he has chosen to negotiate despite this speaks volumes.

In other words, where confidence-building measures would be expected to accompany diplomacy, we have seen nothing that suggests the PLA is reducing its threatening posture. Furthermore, news this week that the PLA had deployed YJ-62A anti-ship missiles — that, with a reach of 400km, would bring most of Taiwanese ports within range — points to continued acceleration and refinement in range, precision and destructiveness of the arsenal at the PLA's disposal should it come to war.

Given the relatively weak Taiwanese navy, it is likely that the YJ-62As are meant to deter US Navy warships and aircraft carriers, which could be deployed to the Taiwan Strait should Washington feel compelled to come to Taiwan's assistance during a military crisis.

Also, despite Beijing's longstanding claims that the modernization of its military is in line with its growing global responsibilities rather than directed at Taiwan, the YJ-62A's 400km range means that their only use is for a Taiwan contingency, as the distance between Fuzhou and Xianyou, Fujian Province, where most of its DF-11 and DF-15 short-range missiles — and the YJ-62s — are likely deployed, and the closest likely target after Taiwan, namely Okinawa, is between 834km and 903km respectively and thus well beyond range.

While analysts often confuse "capability" — in other words, the ORBAT — with "intent," a growing and modernizing ORBAT with capabilities specific to a given target — in this instance Taiwan — that occurs parallel to "peace talks" is either an indication of malicious intent or the belief by one of the parties to the talks that a diplomatic resolution to the Taiwan question is unlikely.

J. Michael Cole is a writer based in Taipei.
---
The dire straits of Taiwanese democracy
 
By Allen Houng 洪裕宏
Friday, Nov 21, 2008, Page 8

President Ma Ying-jeou (馬英九) says he has no problem with changing the "permit system" in the Assembly and Parade Law (集會遊行法) to a "notification system" because the problem does not lie in the system but in the use of violence at protests.

How could violence be the problem?

No one disputes the fact that whoever commits violence should be punished in accordance with the law.

During Association for Relations Across the Taiwan Strait Chairman Chen Yunlin's (陳雲林) five-day visit, the government abused its power and suppressed the public's constitutionally protected rights of expression and assembly, leading citizens to fear that democracy in Taiwan was coming to an end.

Will the government eliminate the Taiwanese elite through blanket judicial oppression and other direct or indirect means? Will it create an atmosphere of terror reminiscent of the era of White Terror under dictators Chiang Kai-shek (蔣介石) and Chiang Ching-kuo (蔣經國)? Will it frighten the Taiwanese into accepting China's goal of annexing Taiwan?

Does Ma really understand what democracy is? As he emphasizes his respect for the Constitution, does he understand that it essentially is a law that protects human rights?

Does he know that sovereignty rests with the people, that they are the masters of this land and that the legitimacy of government authority comes from public consent?

Does he know that the basic human rights upheld by the Constitution are absolute rights that can only be restricted under extraordinary circumstances of clear and present danger?

These concepts of freedom have grown deep roots since they appeared during the European Enlightenment in the 18th Century.

It is also a fundamental value of democratic societies that democracy cannot be suppressed by social factors.

However, Ma says that "any system is negotiable as long as there is no violence," or, in other words, as long as there is violence, no system is negotiable.

What is the difference between him and the democratically elected Adolf Hitler, who established his authoritarian rule in the name of anti-communism? Democracy is the most fundamental value, and it must never be abandoned or sacrificed.

In the book, A Theory of Justice, US political philosopher John Rawls argues that the first principle of justice is that human and political rights are priority rights that must never be removed for any reason.

Ma is now threatening to abolish the public's constitutional rights. He is unaware that he does not have the power to treat human rights as a gift to be given to those who do as they are told.

Some Chinese Nationalist Party (KMT) legislators have echoed Ma, saying that an amendment to the Assembly and Parade Law must focus on maintaining social stability and public order.

Almost everyone in the Ma government believes that they need to restrict constitutionally enshrined human rights in the name of security and order.

This shows that Ma and his party are every bit as authoritarian as they used to be under the Chiang family. Taiwan's democratic reform over the past 20 years has not changed them.

They still believe in this authoritarian ideology. Indeed, Taiwan's democracy is in dire straits. I'm afraid that our efforts against the "blue terror" may be insufficient to stop it.

Over the next few years, if Ma does not stop before it is too late, street riots may become a fixture in Taiwan as the general public tries to safeguard its democracy.

Ma must not kill Taiwan's democracy.

Allen Houng is the director of the Institute of Philosophy of Mind and Cognition at National Yang Ming University.