APEC Web site removes data
 
BACKTRACK: MOFA said Taiwan was not the only country to have its data removed from the Web site, while the Presidential Office hailed the 'breakthrough' in relations
 
By Ko Shu-ling And Jenny W. Hsu
STAFF REPORTERS
Thursday, Nov 20, 2008, Page 3

The Presidential Office yesterday downplayed the removal of President Ma Ying-jeou's (馬英九) photograph and information from the APEC Web site, saying they were happy about the "breakthrough" the country made this year.

Presidential Office Spokesman Wang Yu-chi (王郁琦) called the "breakthrough" the "biggest" since APEC was established 17 years ago.

"It serves the interests of Taiwan if we continue to make progress," he said.

Ma on Tuesday acknowledged the organizer of this year's APEC summit for using his photograph and referring to him as "president" on the Web site and official documents, saying it indicated his more conciliatory cross-strait policies were working.

It marked the first time that the country's president was introduced in an APEC document and the first time since Taiwan became an APEC member economy in 1991 that a host country published a picture of a Taiwanese president on the Web site.

Ma's photograph and other information, however, were later removed from the Web site. Critics suspected China of interfering in the matter.

Since Taiwan and China joined APEC in 1991, Beijing has blocked Taipei's presidents and foreign ministers from attending the group's forums, citing a memorandum of understanding signed with China and Hong Kong before Taipei joined the group under the name "Chinese Taipei." Under this memorandum, the three economies entered the organization as a single economic entity.

Beijing's backroom bullying over Taiwan's participation at APEC reached a climax in 2001, when the meeting was held in Shanghai, and Beijing blocked Taiwan from attending the leaders meeting.

The Ministry of Foreign Affairs (MOFA) said yesterday that Taiwan's standing in APEC remained solid, adding that Taiwan was not the only country whose profile was erased from the APEC Web site.

"According to our understanding," said Director-General of the Department of International Organizations Paul Chang (章文樑), "the entire section that introduces all the heads of member economies was completely taken down."

He added that Taiwan was not singled out and the public should not read too much into the situation.

Chang insisted that the deletion was not specifically aimed at Taiwan and if APEC organizers made any gestures to demean Taiwan, "we will lodge a protest at an appropriate time."

MOFA is still investigating why the section was taken down, he added.

MOFA said that Lima commissioned its national news agency, Andina, to handle all media-related affairs and to post APEC-related information on the Web site.

The APEC summit, also known as the informal economic leaders' meeting, will be held in Lima from tomorrow through Sunday this year.

The reception is scheduled for tomorrow and business networking, tours and golf are planned for Sunday.

Leaders scheduled to speak at the summit include Australian Prime Minister Kevin Rudd, Canadian Prime Minister Stephen Harper, Chilean President Michelle Bachelet, South Korean President Lee Myung-bak, US President George W. Bush and Chinese President Hu Jintao (胡錦濤).

Former vice president and honorary Chinese Nationalist Party (KMT) Chairman Lien Chan (連戰) is standing in for Ma in Lima this year. Lien is the highest-ranking Taiwanese official to attend the event.

Former president Chen Shui-bian (陳水扁) proposed that former vice president Li Yuan-zu (李元簇) be the APEC representative, but the proposal was voted down by Beijing.
---
Chen returns to Tucheng detention center
 
STABLE: Doctors said the former president's medical condition was stabilizing, but he still refuses to eat. Chen's lawyer said that he misses his grandchildren
By Ko Shu-ling
STAFF REPORTER, WITH AFP
Thursday, Nov 20, 2008, Page 3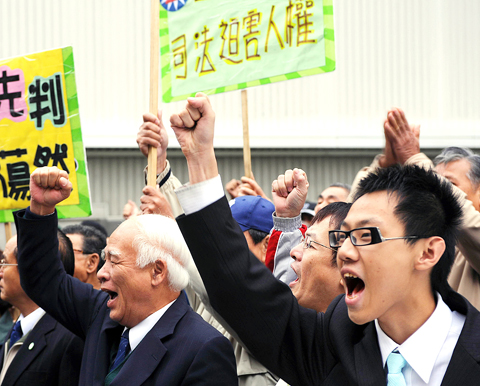 Supporters of former president Chen Shui-bian chant slogans to criticize Chen's ongoing detention outside a public hospital in Banciao, Taipei County, yesterday. Around 100 supporters protested outside the hospital, criticizing the ongoing detention as political persecution.

PHOTO: AFP

Former president Chen Shui-bian (陳水扁) was released from hospital and returned to a detention center yesterday after doctors said Chen was in stable condition, although he still refused to eat.

Chen left the Taipei County Hospital in Banciao (板橋) by ambulance while dozens of supporters gathered and honked air horns as he was driven back to the Taipei Detention Center in Tucheng (土城), Taipei County.

Chen has refused to eat since he was incarcerated last Wednesday. He was rushed to the Far Eastern Memorial Hospital on Sunday for a check-up after he complained about soreness and discomfort in his chest. He was transferred to Taipei County Hospital on Monday for security reasons.

Yang Chang-bin (楊長彬), county hospital deputy director, yesterday said that Chen could get in and out of bed by himself, bloating had been reduced and the ketone reaction in his urine had improved. His blood pressure, heartbeat, blood sugar, body temperature and liver functions remained normal, Yang said.

Chen's lawyer, Cheng Wen-long (鄭文龍), told reporters after visiting the former president that his client was still weak and felt cold most of the time. The former president also said he missed his four grandchildren very much, Cheng said.

Cheng said he would try to get some photographs of the former president's four grandchildren and bring them to his client.

In related developments, Next Magazine yesterday said that prosecutors were looking into whether Chen and his former right-hand man Chiou I-jen (邱義仁) had pocketed US$25 million in diplomatic funds.

The magazine alleged that Chiou claimed US$5 million in cash from the foreign ministry to promote Taiwan's WHO bid. Another US$20 million, which Chiou also received in cash, was supposed to be given to ally Panama's leader Martin Torrijos as a "political donation" to prevent the country from switching diplomatic recognition to China, the magazine said.

The magazine cited an unnamed source as saying prosecutors suspected Chen could have deposited the cash in overseas bank accounts while he was on state visits abroad.

In response, Chen's office issued a statement dismissing the allegations as "a malicious attempt to confuse public opinion" and to "smear the former government's diplomatic efforts."

Meanwhile, in related news, US State Department Spokesman Sean McCormack yesterday said they were confident in Taiwan's democracy and its legal system.

"We have every expectation that the process will be transparent, fair and impartial," he said.

McCormack made the remarks in response to a question about whether the US government has concerns about Taiwan's legal system.

Meanwhile, Chiayi County Commissioner Chen Ming-wen (陳明文), who began a hunger strike on Nov. 11, has agreed to start eating after his wife, Liao Su-hui (廖素惠), visited yesterday and urged him to eat.
---
Legislators bicker over assembly law
 
WAR OF WORDS: DPP and KMT lawmakers traded barbs over amendments to the law, which one KMT legislator said was sure to lead to unrest and daily demonstrations
 
By Loa Iok-sin
STAFF REPORTER
Thursday, Nov 20, 2008, Page 4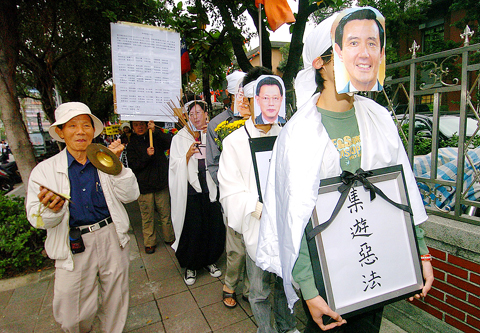 Protesters demand amendments to the Assembly and Parade Law outside the legislature in Taipei yesterday. The protesters walked around the Legislative Yuan, saying that the law was unconstitutional in its current form.

PHOTO: CHIEN JUNG-FONG, TAIPEI TIMES

Chinese Nationalist Party (KMT) and Democratic Progressive Party (DPP) lawmakers waged a war of words yesterday as they accused each other of slowing down or blocking the Assembly and Parade Law (集會遊行法) revision process.

The legislature's Internal Administration Committee had been scheduled to review draft amendments submitted by both parties yesterday.

However, DPP caucus whip William Lai (賴清德) protested when KMT Legislator Wu Yu-sheng (吳育昇), the committee's convener, said the legislature should wait for the Cabinet to propose its own draft amendment and hold a public hearing next Thursday.

"You're trying to delay the [law revision] process by holding yet another public hearing next week," Lai said.

"We should start an article-by-article review after a general discussion today," he said.

Wu disagreed, saying that the goal of a public hearing was "to hear opinions from different people, including the Wild Strawberries," in a bid to improve the quality of the amendment.

The "Wild Strawberry Movement" refers to a group of college students staging a silent sit-in protest at Liberty Square in Taipei since Nov. 6. Their demands include revision of the law.

"If the DPP is opposed to a public hearing, then you should go out and tell the Wild Strawberries," Wu said.

The dispute intensified when DPP lawmakers accused the KMT of having a long history of blocking revisions to the law.

"During a meeting in 2006 over which you, Wu Yu-sheng, presided, you tried to block the Assembly and Parade Law amendment process," Lai said.

"I've always respected you, Legislator Lai, but as a politician, you should not lie," Wu shouted back.

"Yes, there was a public hearing in 2006, and yes, I presided over the meeting — but it was the DPP that opposed an article-by-article review [of the Assembly and Parade Law] afterwards," Wu said.

Several DPP and KMT lawmakers joined their colleagues in the debate, but the two sides failed to reach a consensus, leaving the Assembly and Parade Law amendment process stalled.

Later, a few KMT legislators including Wang Jin-shih (王進士) expressed concern that revising the Assembly and Parade Law might result in too many protests.

If the requirement for event organizers to seek approval from law enforcement authorities before holding a rally is rescinded, "then there may be demonstrations every day, which could lead to social unrest," Wang said.

"As long as people don't open their minds, and bear hatred in their minds, they will take it to the street every day," Wang added.
---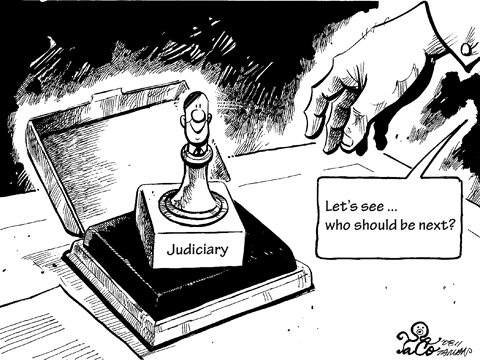 ---
Ma Ying-jeou as musical instrument

Thursday, Nov 20, 2008, Page 8

"I am not into wishful thinking and I am not naive. Our efforts have obviously generated a lot of goodwill across the Taiwan Strait," President Ma Ying-jeou (馬英九) said on Tuesday, claiming that his conciliatory cross-strait policies were bearing fruit.

In this case, the piece of fruit was rather small: Ma had been referred to as "president" on APEC's official Web site.

Shortly after it came to light, Ma chalked up this minor development as a victory for Taiwanese diplomacy. But then the fruit became rotten: the Web site changed, and the page that described Ma as the "president of Chinese Taipei" was nowhere to be seen.

The Chinese Nationalist Party (KMT) administration was quick to find excuses for the temporary nature of its triumph, downplaying the significance of the setback rather than facing it squarely and pinpointing the reasons for the charade.

The Presidential Office insisted yesterday that the Web page — however short-lived — was "a diplomatic breakthrough nonetheless," while the Ministry of Foreign Affairs said the scrapping of the page was not directed at Taiwan because the entire section introducing APEC members had been taken down.

It is really quite sad to see the Ma government mastering and enhancing the petty point scoring, absurd rationalizations and complacency of the previous government over what was likely a small but "beautiful mistake" on the part of the unsuspecting APEC host country.

Meanwhile, China continues to have a field day slapping Taiwan around on the international stage as Taiwan's diplomats pore through their dictionaries looking for other ways of saying "diplomatic breakthrough."

While some political observers suspect that China was responsible for the removal of the Web page, others wonder whether some sort of much more elaborate conspiracy is at hand, with the Ma government in a two-step with Beijing's strategists. Could it be, they wonder, that the whole thing was set up to make the Ma government look good at home by having him briefly addressed as president — thus making China look reasonable and friendly toward Taiwan — before having the page removed on the assumption that no one in Taiwan could be bothered to look at the page later on?

Such ludicrous theories suggest that far too many analysts have little real information to share. What can be confirmed is this: The Ma government has a greater interest in deploying security forces that violate citizens' rights than standing up to China's symbolic and procedural aggression at international forums such as APEC.

Ma has insisted that his "mutual non-denial" approach to diplomacy is working well and that China has responded to it positively.

This self-assessment does not sit well with available evidence. When Association for Relations Across the Taiwan Strait Chairman Chen Yunlin (陳雲林) met Ma earlier this month, he addressed him as "You ... you … you ..." rather than the large number of respectful options that were available to him.

The truth is that China is playing Ma like a musical instrument that is oblivious to its own sound. Another word for such a person is "naive" and another expression for such a person's state of mind is "wishful thinking."
---
A lesson in rights for this 'stupid president'
 
By Lin Chien-cheng 林健正
Thursday, Nov 20, 2008, Page 8

'Police ruthlessly disperse protesters who shout slogans against Ma, and some have even been taken in for questioning just for booing Minister of Justice Wang Ching-feng.'

Allen Chu (朱成志), a stock market analyst who often appears on television, recently wrote an article for investment advice magazine Marbo Weekly under the title "A lesson in credit transactions for a stupid president." Subsequently, the Financial Supervisory Commission ordered Chu to stop writing articles, giving lectures or participating in TV talk shows for one month on the grounds that his article contained incorrect figures that would mislead investors and disrupt the stock market.

There is no precedent for a government department imposing such a severe penalty on a market analyst just for quoting incorrect figures.

Many investment analysts, including Chu, predicted that the TAIEX would rise to above 10,000 points following the election of President Ma Ying-jeou (馬英九), but the index has plunged since Ma's inauguration on May 20. The commission has not imposed any penalties on these analysts for "misleading investors." Many media commentators are asking whether the real reason for Chu's punishment was his use of the word "stupid."

Mistaken reports about the stock market are common in the media, so why is Chu the only one to be punished? If the treatment meted out to Chu is going to set a pattern for the Ma government's handling of such cases, what will become of freedom of speech and publication?

If criminal prosecutors operated in the same way as the commission then people would cry selective prosecution.

In the six months since Ma became president, his government has forbidden people from wearing anti-Ma T-shirts near the Presidential Office, ordered Central News Agency reporters to write according to the government line and prevented citizens from carrying the national flag, taking part in certain assemblies and marches or even playing the Song of Taiwan.

Each time there is a big street demonstration, the government treats protesters as suspects, blanketing the area with police and monitoring the event with video cameras. Opposition figures are being selectively prosecuted on trumped-up charges. Police ruthlessly disperse protesters who shout slogans against Ma, and some have even been taken in for questioning just for booing Minister of Justice Wang Ching-feng (王清峰).

The state of human rights after six months of Ma's administration is plain for all to see. Quite frankly, Ma's performance in upholding Taiwan's freedom and human rights compares poorly with his predecessor's, but as the saying goes: "A stupid horse will never know the length of its face."

Market guru Allen Chu gave the "stupid president" a lesson in credit transactions. What the president needs even more is for the public to give him a lesson on human rights.

Lin Chien-cheng is a professor in the Department of Materials Science and Engineering at National Chiao Tung University.