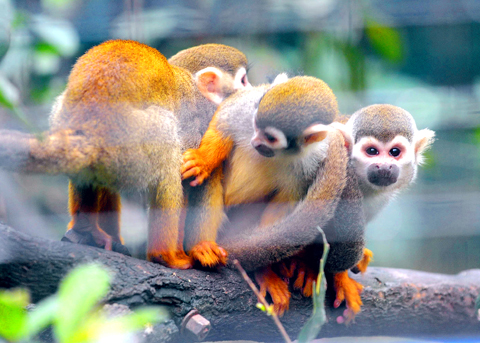 FRIENDS FOREVER
Squirrel monkeys huddle together to stay warm in the cold weather at Taipei City Zoo yesterday.

PHOTO: CNA
---
Bar association defends Chen Shui-bian's lawyer
 
By Rich Chang, Lin Chun-hung and Liu Chih-yuan
STAFF REPORTERS
Saturday, Jan 03, 2009, Page 1

The Taipei Bar Association yesterday expressed regret over the decision by the Taipei District Prosecutors' Office to refer former president Chen Shui-bian's (陳水扁) lawyer Cheng Wen-lung (鄭文龍) to a disciplinary committee.

Despite a resolution approved by the Taipei Bar Association last month not to take any disciplinary action against Cheng over his handling of Chen's case, the Taipei District Prosecutors' Office on Wednesday decided that Cheng had violated legal ethics and his case has been submitted to a disciplinary committee consisting of three judges, one prosecutor and five lawyers for review.

Taipei Bar Association chairman Liu Chih-peng (劉志鵬) yesterday reiterated that Cheng had not violated any regulations during the case, adding that the bar had found Cheng's actions were not aimed at helping Chen to escape, destroy evidence nor share testimony information with other witnesses or defendants in the case, and that he was merely doing his job as a lawyer.

However, Chief Prosecutor Hou Ming-huang (侯名皇), after reviewing recordings of Cheng's visits with Chen during the latter's detention and material containing Cheng relaying statements from Chen, concluded on Wednesday that Cheng's remarks that "the judiciary has reached a decision prior to the trial" and that the judiciary "indicted Chen on [their superiors'] directive" had violated principles of legal ethics.

Hou said Cheng's remarks constituted a malicious attack on the judiciary, did not fulfill his responsibility to promote democracy and maintain a good social standing and had obstructed prosecutors' attempts to investigate and establish the facts of the case.

On Dec. 5, the Taipei Bar Association stated that the Attorney Act (律師法) and legal ethics did not preclude a lawyer from talking to the press. Making reference to legislation in the US and other developed countries, the association said it was the responsibility of the bar association, and not the Ministry of Justice, to determine the extent to which lawyers could talk to outsiders. The information Cheng relayed to the press was unrelated to Chen's case and did not constitute a violation of the Attorney Act, the bar association said.

In response to the move made by the Taipei District Prosecutors' Office, Cheng said prosecutors were ignoring the rights of lawyers to defend themselves, as well as the resolution passed by the bar association. He said it was unreasonable for prosecutors to act as both a player and the referee.

In related news, two senior judges found themselves in a war of words with two Chinese Nationalist Party (KMT) legislators over Chen's case.

Shortly after the Taipei District Court's decision last week to change the presiding judge in Chen's case, Huang Jui-hua (黃瑞華), president of the Ilan District Court, and Shilin District Court Judge Hung Ying-hua (洪英花) published articles criticizing the decision and panning the procedures as flawed.

On Thursday, KMT Legislator Alex Tsai (蔡正元) accused Hung of being Chen's "secret guard in the judiciary" during a political talk show on TVBS.

Moments later, the show's host told the audience that Hung had just called in and asked Tsai to apologize for the remark, or else she would sue Tsai on Monday Tsai refused to apologize.

KMT Legislator Chiu Yi (邱毅), another guest on the show, claimed that Huang has been called a "judicial Rambo" because she presided over a corruption case against former Pingtung County commissioner Wu Tse-yuan (伍澤元) and had passed a heavy sentence.

Chiu said that Huang had learned that former vice president Lien Chan (連戰) had given Wu a loan and that Wu had leaked the information to Democratic Progressive Party legislators to make it public.

Huang yesterday dismissed Chiu's allegations as "bullshit."

In response, Chiu said he planned to sue Huang over the response.
---
Funeral to honor self-immolator
 
By Chen Feng-li
STAFF REPORTER
Saturday, Jan 03, 2009, Page 3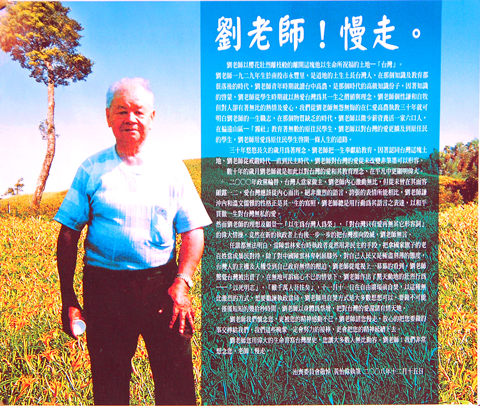 This image shows Liu Po-yen, who set himself on fire on Nov. 11 to protest against human rights violations after President Ma Ying-jeou took office in May, and a plaque written in recognition of Liu.

PHOTO: CHEN FENG-LI, TAIPEI TIMES

Calling Liu Po-yen (劉柏煙) a martyr for Taiwan, the committee organizing his funeral invited anyone who loves the country and agrees with Liu's ideas to attend the service today in Nantou County.

Liu, an 80-year-old retired teacher and previously a long-time Chinese Nationalist Party (KMT) member, set himself on fire on Nov. 11 to protest against human rights violations after President Ma Ying-jeou (馬英九) took office in May, including the government's handling of anti-China protesters when Association for Relations Across the Taiwan Strait Chairman Chen Yunlin (陳雲林) visited Taipei in November.

During Chen's visit, police officers confiscated Republic of China flags from people who stood along roads that Chen's convoy was to pass and many demonstrators were beaten and seriously injured by the police.

Leaving an open letter condemning Ma for kowtowing to Chen and compromising Taiwan's sovereignty, Liu set himself on fire at Liberty Square in Taipei, where members of the Wild Strawberry Student Movement were staging a sit-in protest against police brutality and demanding revision of the Assembly and Parade Act (集會遊行法).

Liu was immediately rushed to the nearby National Taiwan University Hospital and died a month later.

Liu Yueh-kui (劉月桂), Liu Po-yen's daughter, said that before her father departed for Taipei, he told neighbors that he wanted to protect the Wild Strawberries and said his spirit would stay in the square to protect the students.

Huang Yi-wei (黃怡偉), a member of the Central Taiwan Society and the funeral organizing committee, said that Liu Po-yen had loved his country all his life and was proud of being Taiwanese.

Liu Po-yen's decision to voice his concern by sacrificing himself reflected what he considered the "spirit of Taiwan," Huang said.

While many of his friends and former students chose to keep a low profile for political reasons and had not come to pay their respects after Liu Po-yen's death, Liu Yueh-kui said she had received encouragement from many who did not know her father, but came to pay tribute to him because they supported his ideas.

Of those who visited, Liu Yueh-kui said she remembered two of the mourners well. One of them was Liu Po-yen's classmate Chiang Ting-chueh (江廷玨), who vowed to avenge his death, and the other was a man named Lin Ching-tien (林清田), who drove to Nantou County from Tainan County to present a memorial placard honoring Liu Po-yen as an "explorer in human rights and dignity" and a "defender of values in Taiwan."

The service will begin at 9am today with Democratic Progressive Party Chairperson Tsai Ing-wen (蔡英文) attending as the chairperson of the funeral organizing committee and 40 Wild Strawberry representatives will also attend the service.

Liu Po-yen's four children said they would donate to charity whatever was left of the NT$200,000 in donations they received from the public for their father's medical treatment.
---
Critic of KMT allegedly blacklisted by Beijing
 
ANTI-KMT STANCE: An NTU Hospital doctor said it appeared there was a link between his criticism of the government and China's refusal to grant him a visa
 
By Wei Yi-chia and Su Yung-yao
STAFF REPORTERS
Saturday, Jan 03, 2009, Page 3

A Taiwanese doctor mocked Chinese President Hu Jintao's (胡錦濤) recent comments on improving cross-strait exchanges after Chinese authorities refused to accept his visa application because he possessed "special status."

National Taiwan University Hospital intensive care unit section chief Ke Wen-cher (柯文哲), who has openly criticized the Chinese Nationalist Party (KMT) and President Ma Ying-jeou (馬英九) in the past, told reporters that his "Taiwanese compatriot travel documents" (台胞證) application was rejected despite the fact that he was invited to speak at a series of medical lectures in China.

"Taiwanese compatriot travel documents" are issued by authorities in China to Taiwanese who wish to travel to China.

"It is quite ironic that I was rejected the same day as Hu's proclamation on boosting cross-strait exchanges," said Ke, adding that Chinese consular officers had refused to process his applications because they said Ke was a man of "special status."

Ke said he had traveled to China at least a dozen times during the former Democratic Progressive Party's rule. However, despite warming cross-strait relations and Hu's purported efforts to increase cross-strait exchanges, he said has now been restricted from entering China.

"If my criticism of Ma and the KMT is the reason why I have been blacklisted, then I will take the rejection as a sign that the Taiwanese public approves of me and that I have made some contribution to society," he said.

Ke, known for being outspoken, made news when he volunteered to treat a man who had been speared by a metal pole during the protests against Chinese envoy Chen Yunlin (陳雲林) during his visit to Taiwan in November.

The Straits Exchange Foundation, which represents Taiwan in all cross-strait negotiations and communications, said it was looking into the matter.
---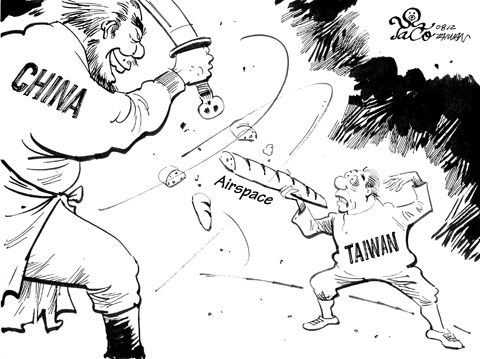 ---
Still alert? You deserve an award
 
By Johnny Neihu 強尼內湖
Saturday, Jan 03, 2009, Page 8

The last of the fireworks have fizzled out and now everyone can go back to being thoroughly depressed about the state of the economy and life in general.

Happy New Year.

'Tis no longer the season to be jolly — but do not fear. Johnny's here to spread a little happiness — among members of the journalistic fraternity at least — with a stocking full of gongs in the second-ever Neihu Awards.

I decided to make them a biennial affair after last year slipped by in a kaoliang-induced haze. But enough of my personal foibles (have you ever met a genuine journalist who didn't have an alcohol or drug problem?), so let's waste no more time and get on with the first award.

It is on a sad note that I have to present the George W. Bush Award for tragic waste of life posthumously to Liu Po-yen (劉柏煙), the 80-year-old near-lifelong Chinese Nationalist Party (KMT) member who died in recent days after torching himself at Liberty Square on Nov. 11 in protest at President Ma Ying-jeou's (馬英九) ass-kissing cross-strait policy.

Poor old true blue Liu would probably have refrained from such drastic action if he had realized how his death would make him a poster boy for the pan-green camp and attract several Democratic Progressive Party (DPP) bigwigs to his memorial service on Tuesday.

Even more tragic, however, was the reaction to Liu's act from his Chicom-courting comrades. Type Liu's Chinese name into a Google News or Yahoo News search engine and there is not one single mention of him from our colleagues in the pro-unification press.

If that wasn't bad enough, when quizzed about Liu's membership status, a KMT spokesman said at the time that the party had no record of Liu's membership after 2000 and so he wasn't their problem.

Compassion for the laobaixing lives on in the KMT.

Another posthumous award, this time for underachievement, goes to the former DPP presidential candidate, freaky Frank Hsieh (謝長廷), following the death of his political career.

Wanky Franky certainly deserves a mention for what had to be the most uninspiring presidential election campaign in recent history (and when you consider the Lien Chan (連戰)-James Soong (宋楚瑜) effort in 2004, that's really some achievement).

Instead of talking about what he could do for his country, Hsieh spent 90 percent of the campaign obsessing about a Ma Ying-jeou green card that never was and that no one bar him and a few parrots in the pro-independence press was interested in.

Now, and deservedly so, he has been reduced to a role in the shadows with his new NGO, the aptly named Taiwan Shadow Government. The saddest thing is that this group's Web site (www.shadowgov.tw) even has a counter showing the number of days since Ma admitted he once had a green card.

Good luck to you, Frank. But remember, not much survives in the shade for long.

While we're on the subject of foreign affairs, the Barefaced Cheek Award has to go to journalist-turned-politician Diane Lee (李慶安), who as a former member of the local press pack should have known that you can never keep anything secret forever, let alone 14 years (tip of the hat to Next Magazine).

Not only did the brazen Diane manage to keep her dual nationality concealed for more than a decade, once rumbled she had the nerve to continue spouting bullshit with a straight face — a trick she no doubt learned over at Chinese Television System (CTS).

Poor old Di becomes the second of the Lee clan to fall from grace, following in the footsteps of her older sister Lee Ching-chu (李慶珠), whose career as a budding civil servant was cut short when pan-blue nemesis and then-DPP legislator Chen Shui-bian (陳水扁) exposed her civil service exam thesis as a piece of plagiarism.

Two down, two to go.

Expect to see dear Di's Neihu award on eBay sometime soon, as with an estimated NT$110 million (US$3.3 million) in salary to repay she will need every NT dollar she can get.

Next up is the Lien Chan Special Prize for narcolepsy-inducing monotony, which goes to Taiwan's very own illegal alien cable channel TVBS and its flagship "talk show" Quanmin Kai Jiang (Speaking Your Mind at 2100), whose stalker-like obsession with jailbird former prez A-bian would be cause for worry for any concerned psychologist. At last count the show had done 127 consecutive programs on the former president and showed no signs of changing tack, even though most of the show's viewers probably changed channels long ago.

The only reason I watch it anymore is on the off chance that recently denuded KMT attack dog Chiu Yi's (邱毅) rug will fall off as he blows his top during one of his hate-filled tirades against the former prez.

Talking of the bewigged one, Chiu's so very obvious feud with A-bian was in the running for the I'm Gonna Git You Sucka Award for most public vendetta.

This after the Apple Daily reported this week how Chen supposedly burned NT$25 million in ghost money to get the hairless terrier off his back.

But even Chiu's loathing for Chen pales in comparison to TV celebrity Pai Ping-ping's (白冰冰) hatred for the aforementioned Hsieh who, following the murder of Pai's daughter Pai Hsiao-yen (白曉燕) in 1997, offered to defend the lead suspect for free in a bid to encourage him to surrender.

Pai has obviously never forgiven Hsieh for this, and so she became Ma's celebrity-cheerleader-in-chief during the election campaign, doing her utmost to ensure Hsieh lost.

But as I've already detailed, she needn't have worried. Hsieh's campaign was about as successful as Pai's chain of 40 shaved-ice stores, which had to close in November, a mere six months after her main man Marky Mark Ma took office promising to "save" Taiwan's economy.

While on the same subject, the reluctance of certain sections of the media to cast Ma's thus-far-disastrous presidency in a negative light sees this year's Golden Neihu Award for Taiwanese journalism go to Fei Fan Television for their logic-defying caption on Aug. 29 during one of several pieces devoted to the first 100 days of the Ma regime.

In what can only be described as extreme economy with the truth, a story about the stock market included an onscreen caption that read: "Ma: 100 days in office, TAIEX breaks 7,000."

What the TV station's editors neglected to tell viewers was that just 100 days earlier the TAIEX had been hovering around 9,300 points.

An office source tells me that Fei Fan used to be a reasonably serious business-oriented channel when it started up a few years ago, but after its owner embarked on plans to expand his influence in the local media market, the quality and impartiality of its reporting nose-dived faster than the stock market under Ma.

Finally, there was only ever one horse in the running for the Robert Mugabe Award for contribution to media freedom.

In just seven short months since it reassumed power, the black-gloved hand of the KMT has managed to throttle the life out of just about every evenhanded news institution (not that there were many to start with).

Management reshuffles, legislative shenanigans and midnight visits from investigators are just a sample of the underhand tactics that have already come to light.

Public Television System is the latest honorable outlet to find itself under threat, but at least it seems to be going down with a fight.

Yes, dear reader. It is a depressing time for those who care about real media freedom in Taiwan. (Are you listening, Freedom House?)

But as I predicted two years ago during my last glittering award ceremony, not even a Ma presidency can erode the Taiwanese ability to stay alert and see through media bullshit.

I hope I was right.

Got something to tell Johnny? Go on, get it off your chest. Write to johnnyneihu@gmail.com, but be sure to put "Dear Johnny" in the subject line or he'll mark your bouquets and brickbats as spam.
---
Ma's policy approach: all ups and no downs
 
By Chen Po-chih 陳博志
Saturday, Jan 03, 2009, Page 8

Every economic policy has advantages and disadvantages. Sound policymaking involves a balance so that benefits are maximized and drawbacks minimized. A corollary of this is that policymakers ought not take significant risks to gain small advantages.

President Ma Ying-jeou (馬英九) and his administration are focusing on only the benefits of their cross-strait economic and trade policies and ignoring their disadvantages.

The result of this approach is that necessary precautions for the possible negative consequences of these policies are being ignored.

If this behavior only applied to the occasional policy, it would be understandable and forgivable.

OVERLOOKING

But there is growing evidence that the Ma administration is overlooking almost every possible negative consequence of its cross-strait initiatives.

Direct cross-strait flights are one example of this approach. Ma has repeatedly said that the flights would make it easier to sell Taiwanese produce to China and would therefore benefit Taiwanese farmers.

However, he has neglected to mention that the reverse is also true: Direct flights will make it easier for China to sell its produce in Taiwan — thus adversely affecting the domestic agricultural industry.

The fact is that the amount of produce and processed agricultural products that China exports to Taiwan already exceeds the amount that Taiwan exports to China by a factor of five to six.

With the convenience of direct cross-strait links, it is very likely that this situation will persist. China will continue to sell five or six times more produce and processed goods in Taiwan than Taiwan sells in China.

COVERING UP

However, the Ma government has tried to cover up the repercussions of its poorly designed policies and has managed to convince the public that direct flights will be a complete success as far as Taiwanese farmers are concerned.

The government has also failed to take necessary precautions against the negative consequences that will follow from this.

The Ma administration promotes direct flights by saying that they are likely to attract more Chinese tourists, but again it has avoided mentioning that it will also be more convenient for Taiwanese tourists to visit China.

Considering that a three-day trip to China currently costs less than a trip to Kenting (墾丁), Hualien or Taitung, many holidaymakers are likely to prefer taking their vacation in China rather than staying in Taiwan.

ABOLISHED

In addition, the government recently abolished regulations stipulating that public servants could only apply for subsidies using their Citizen's Travel Card (國民旅遊卡) while traveling abroad. This will have a serious impact on the development of the domestic recreation and tourism industries.

Moreover, those traveling to China will bring back low-priced products.

This will in turn harm the nation's retailers.

The Ma administration isn't taking this likely fallout seriously, and the result is that it has not mapped out complementary measures to reduce the impact.

Many such incidents demonstrate that the Ma administration and associated individuals have attempted to conceal the risks of the government's cross-strait policies by exaggerating the benefits.

Chen Po-chih is chairman of Taiwan Thinktank.