MND unmoved by PRC missile report
 
NO BIG DEAL: After a report that China was mulling a plan to remove missiles aimed at Taiwan, a ministry spokeswoman said that such a move would be purely symbolic
 
By Rich Chang
STAFF REPORTER
Sunday, Jan 04, 2009, Page 1

The Ministry of National Defense (MND) said yesterday it would not cut back on the nation's defense despite a media report that said China could gradually decrease the number of missiles targeting Taiwan.

China is believed to have deployed around 1,300 missiles across the Taiwan Strait, a figure that has steadily risen for years.

The latest issue of the Chinese-language Yazhou Zhoukan, a Hong Kong-based magazine, reported that after Chinese President Hu Jintao's (胡錦濤) suggestion last week that Taiwan and China discuss a military confidence-building mechanism, the Chinese government and military were mulling the option of gradually decreasing missiles aimed at Taiwan once military exchanges had begun.

"The ministry welcomes the idea of China withdrawing missiles and believes it would be a positive development between the militaries of both sides," ministry spokeswoman Major-General Lisa Chi (池玉蘭) said.

But, she said, removing missiles would be purely symbolic because they could be easily redeployed.

The ministry would not let down its guard, she said.

On the issue of military exchanges, Chi said the ministry felt that cross-strait economic and political exchanges must come first. The ministry would follow the government's policy, she said.

Commenting on the Yazhou Zhoukan report, Democratic Progressive Party (DPP) Chairperson Tsai Ing-wen (蔡英文) yesterday said the government and the public should not mistake an alleged offer by Beijing to decrease the number of missiles targeting Taiwan as a gesture of goodwill.

"Cross-strait relations are extremely complex. Do not take this reported overture by Beijing as the goodwill gesture it seems to be, because removing the missiles cannot be done overnight," she said.

Separately, Chinese Nationalist Party (KMT) Legislator Lin Yu-fang (林郁方) said yesterday that if China withdrew missiles without setting preconditions — such as requiring Taiwan to withdraw troops from Kinmen and Matsu or to stop procuring weapons from the US — then it would be a goodwill gesture.

If China were to remove some of the missiles aimed at Taiwan, it would be better for China's short-range missiles in Guangdong, Fujian and Jiangxi provinces to be withdrawn first, as those constitute the greatest and most immediate threat to Taiwan, he said.
---
Government using media as a tool, critics say
 
By Shih Hsiu-chuan
STAFF REPORTER
Sunday, Jan 04, 2009, Page 3

The way the government runs state-owned media reveals its failure to understand that the media is not a political tool to sway public opinion, but a means to promote the interests of the public, critics said yesterday.

On Thursday, thousands of people took to the streets in Taipei to protest against a draft motion by Chinese Nationalist Party (KMT) Legislator Lin Yi-shih (林益世) that would empower the government to screen Public Television Service's (PTS) news coverage and programming.

Lin's motion requires the public broadcaster to obtain an item-by-item approval from the Government Information Office (GIO) for its budget expenditure and an expansion of its board seats.

If the proposal were passed, the government would also be empowered to exercise censorship and oversight over the programming policy and daily operation of Taiwan Indigenous Television Service, Taiwan Hakka Television, and Taiwan Macroview Television.

Although GIO Minister Su Jin-pin (蘇俊賓) said on Thursday he was still in talks with Lin and "there is still room for negotiation [on the motion]," the government appears to be watching idly while the KMT caucus attempts to interfere with PTS.

For one, the KMT-dominated legislature has frozen half of PTS' budget of NT$900 million (US$27.42 million) in the past year, media observers said.

PTS' plight was not the first case to arouse activists' concern over curbs on freedom of speech and media independence under the KMT administration.

"In the eyes of the KMT, the media is an important tool for winning elections. This is the biggest problem," said Chuang Feng-chia (莊豐嘉), head of the Association of Taiwan Journalists.

The veteran journalist said that "the KMT did not fully realize this eight years ago as it had never lost power before."

However, "after realizing it can influence elections through media manipulation, it sought to control the media and annihilate new agencies it deemed unfriendly," Chuang said.

Chuang said such a mindset explains why Lo Chih-chiang (羅智強), a spokesman for KMT presidential candidate Ma Ying-jeou (馬英九) during the presidential campaign earlier last year, was appointed deputy president of the state-owned Central News Agency (CNA), and Wang Tan-ping (汪誕平), head of the KMT's policy research department, was named director of the state-owned Radio Taiwan International (RTI).

The KMT also nominated four legislators to new positions on the review committee in charge of selecting PTS board member candidates.

Placing members of Ma's team in the state-owned media was tantamount to putting up a screening mechanism at these media outlets to ensure cooperation with the KMT administration, Chuang said.

Reports have emerged of infringement on media freedom at CNA and RTI — some reporters could not get their reports published or aired, others were told to write down reports about the Democratic Progressive Party (DPP) or to downplay unflattering news about the government, and a number were transferred to other beats at the request of officials.

None of these developments were publicized for reasons that could include fear of losing one's job, Chuang said, adding that no one can compel the persons concerned to come forward to defend media freedom and run the risk of losing their salary.

Another concern about political intervention in media is the practice of embedded marketing, in which the government pays media outlets in exchange for media coverage.

During the presidential campaign, Ma had vowed to forsake this practice — which was also widely used by the former DPP government — when he met media reform groups.

Media Watch chairman Kuang Chung-shiang (管中祥), an assistant professor of communication at National Chung Cheng University, said that Ma had "broken his campaign pledge."

The KMT government not only co-hosts forums on various issues with the media, which would then run a report on the meetings, as the DPP had done in the past, but it has extended the practice of embedded marketing through interviews with government officials, Kuang said.

Premier Liu Chao-shiuan's (劉兆玄) interviews in the Chinese-language newspapers United Daily News, the China Times and the Commercial Times in November were the products of this practice, so were many other interviews with officials published afterwards, he said.

Lin Lih-yun (林麗雲), an associate professor of journalism at National Taiwan University, said the main purpose of embedded marketing was to make the media less critical of the government.

The acceptance of embedded marketing can only deal a harsh blow to the reputation of the media, Kuang said.

"Who will believe the media if the audience knew that they are getting paid to publish the news?" he asked.
---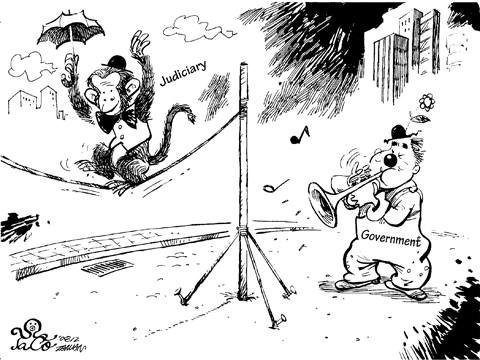 ---
Taiwan's Dreyfus Affair

Those familiar with French history might know that last century "l'Affaire Dreyfus" split French public opinion down the middle, just as the "l'Affaire Chen Shui-bian [陳水扁]" threa tens to do in Taiwan nowadays.

First of all, whether I regard Chen as guilty or innocent of the charges brought against him is irrelevant right now. It is the procedure followed against Chen that matters.

The procedure that has been used might be normal in countries like China or North Korea, but should have no place in a democratic country like Taiwan claims to be.

I am no legal expert, but I do know that in countries like Ireland, Britain and most other European countries, any action aimed at influencing an upcoming trial is a criminal offense known as "Contempt of Court."

And if a prosecutor like Chen Yun-nan (陳雲南) were to engage in such an offense, aside from being immediately kicked out of the judiciary, he would have certainly been charged, along with Justice Minister Wang Ching-feng (王清峰), Legislator Chiu Yi (邱毅) and many other Chinese Nationalist Party (KMT) officials for their gross acts of interference in the ongoing proceedings against Chen.

Going back to Captain Dreyfus, thankfully he was eventually found innocent and rightly so. But regarding Chen, despite the numerous "J'accuse [I accuse]" and "Nous accusons [we accuse]" launched by human rights campaigners and legal experts from the world over, I would not hold my breath.

For a start, France at that time was already a country somehow committed to democratic values, while the ruling KMT does not have the foggiest idea what such values are.

The KMT believes that it is not accountable to anyone (except the Chinese Communist Party) and that it can get away with everything.

By now it should be crystal clear that KMT is the cancerous growth that must be eradicated from Taiwanese public life, but how do you achieve this?

I have seen messages on pro-Taiwan discussion boards calling for things like revolution, civil war, and so on, but as an Irishman (whose country has gone through all this before), I don't agree.

I do believe that the Taiwanese can start their rebellion against the KMT dictatorship with a peaceful Gandhi-style campaign. The campaign would include extremely noisy protests and demonstrations, strikes (especially in companies owned by the KMT or pro-KMT business-folks), boycotts (like postal workers refusing to handle mail directed to the government or KMT offices, dock workers refusing to handle ships coming from or bound for China), blockades, occupations, refusals to pay taxes or fines and many more acts of civil disobedience. The list is endless.

I know that in Taiwan there is not the same militant and rebellious mentality as, say, in Greece, but for the sake of Taiwan's future, all Taiwanese who care one iota about their country's future had better learn from the Wild Strawberries, and fairly quickly.

ALAN MULCANY
Swords, County Dublin, Ireland
---
New system yields same old 'black' legislature
 
By Ku Chung-hwa 顧忠華
Sunday, Jan 04, 2009, Page 8

The legislative election early last year was the first to be held using the new single-district, double ballot election system. In addition, the number of legislators was cut by half. Everyone hoped the legislators elected under the new system would be the most outstanding candidates in each constituency, and that the changes would result in a new and better legislature.

A year later, however, we have to say that we are bitterly disappointed, because legislative performance during last year's two sessions was largely devoid of merit. It has made no substantial difference. Worse, democracy is on the retreat. Citizen Congress Watch conducted a poll to choose the one word people think best describes legislative performance over the past year. The lucky winner was "black" — an indication of public anger and dissatisfaction.

Let us consider some recent issues on which the legislature has given a poor performance. There is the case of Legislator Diane Lee's (李慶安) alleged dual citizenship. The ruling KMT, with its overwhelming majority, has been unwilling to deal with the case in a forthright manner, exposing its irresponsibility and lack of principle. Lee has now resigned from the KMT but, according to the terms of the Nationality Act (國籍法), the legislature should turn the case over to judicial authorities for investigation and possible trial. Instead, its procrastination confirms the public's impression of legislators' wanton disregard for the law. As a result, public esteem for the legislature has sunk to a new low. If Lee really has been breaking the law for 14 years, she will fully deserve the title of "black-hearted legislator."

Another reason it hard for the public to trust the legislature is the way the body has failed to properly review the government's budget for the coming year, which it passed almost untouched. This only strengthens the public's impression that legislators' decisions are governed solely according to which side of the political divide they stand on, not the rights and wrongs of the matter at hand. It seems that all efforts to make the legislature more professional have been in vain.

Even more outrageous is the fact that the four cross-strait agreements reached at talks between Taiwan's Straits Exchange Foundation (SEF) and China's Association for Relations Across the Taiwan Strait (ARATS) automatically came into effect only a short time after ARATS chairman Chen Yunlin (陳雲林) left Taiwan, without the legislature — Taiwan's highest representative body — having any say on the agreements at all. If things continue like this, the legislature might as well close its doors.

Taiwan's parliamentary procedure still lacks transparency, allowing lawmakers to play backroom politics. We hope that the legislative procedure publicity committee proposed by Legislative Speaker Wang Jin-pyng (王金平) quickly finishes setting up a video-on-demand system accessible through the Internet so that people can see for themselves how things are done in the legislature.

A legislature veiled in obscurity is not what the electorate thought they were voting for. Some legislators have appealed to the public not to "blacken the name" of their institution, but civic groups would not provoke the legislature if it weren't for the fact that time after time another incident crops up to show that it is not doing a proper job.

Let's hope that in the new year the legislature will get its act together and stop acting like a rubber stamp, turning out bills that run contrary to the wishes of the public. Let's hope a beam of sunlight will shine into the dark corridors of the legislature so it is "black" no more.

Ku Chung-hwa is chairman of Citizen Congress Watch.