Pentagon wary of PRC-Taiwan ties
 
RED FLAGS: Officials at the US Department of Defense said that military-to-military exchanges between Taiwan and China could jeopardize US arms sales to Taiwan
 
By William Lowther
STAFF REPORTER, WASHINGTON
Wednesday, Jan 07, 2009, Page 1

Pentagon officials are worried that increasingly warm relations across the Taiwan Strait could give China new opportunities to spy on Taiwan's US-made weapons systems.

"Quite properly and appropriately it's an issue that is raising a lot of red flags right now," said John Pike, head of the highly-respected Global Security military think tank in Washington.

"There is concern within the Pentagon. If this new era of closer-contact results in friendly military-to-military meetings, then obviously such meetings will increase the opportunity for espionage," he said. "Taiwan has some sensitive US weapons and is in line to get more. There is a well-founded fear that the Chinese could learn things about those weapons that we don't want them to know."

Pike's words were echoed within the Pentagon by officials who said the matter was "too sensitive" to allow their names to be used.

But one said that concern had increased last week when Chinese President Hu Jintao (胡錦濤) called for military exchanges with Taiwan.

"The two sides can pick the right time to engage in exchanges on military issues and explore setting up a military and security mechanism to build mutual trust," Hu said during a speech marking the 30th anniversary of Beijing's "open letter to Taiwanese compatriots."

President Ma Ying-jeou (馬英九) has also indicated that he wants to arrange military exchanges.

This potential conflict with the Pentagon comes as US president-elect Barack Obama has picked former congressman Leon Panetta — who served as chief of staff to former US president Bill Clinton — to run the CIA and retired US Navy admiral Dennis Blair to serve as director of National Intelligence.

Panetta has almost no direct intelligence experience and is expected to lean heavily on Blair, who is the former commander-in-chief of US Pacific Command and a former senior CIA official.

Blair is well informed on Taiwanese affairs and is understood to be very cautious about letting Chinese officials too close to US weapons systems in Taiwan.

It is unlikely, however, that the issue would be raised in diplomatic contacts or even classified intelligence meetings until after Obama formally takes over the White House on Jan. 20.

But Pentagon sources speaking strictly off the record said they would want detailed clarifications about any proposal for military cooperation between Taiwan and China.

It is an issue that will also be of concern to incoming vice president Joe Biden, former head of the Senate Foreign Relations Committee.

When the proposal to sell Taiwan the advanced Aegis missile defense system was first being seriously considered, Biden said: "We should only sell that system if we think that it is needed by Taiwan and if it is in our interests."

"If the Aegis is needed to keep our commitment to Taiwan, then we should sell it. I have an open mind about that," he said.

After a long delay, in October Washington approved a US$6.5 billion arms package to Taiwan including Apache attack helicopters, Patriot missile batteries and other air defense systems.

But the US continues to ignore a separate request by Taiwan for 66 advanced F-16 fighter aircraft that some security analysts say Taiwan urgently needs to maintain a balance of air power over the Taiwan Strait.

More than anything, the Pentagon is determined to keep Chinese intelligence-gathering agencies and their spies away from the state-of-the-art Aegis system, the Patriot missile batteries and advanced F-16 fighter jets.

If the Pentagon's top brass become seriously afraid that such technology could fall into Chinese hands as a result of sales to Taiwan, those sales could be canceled.
---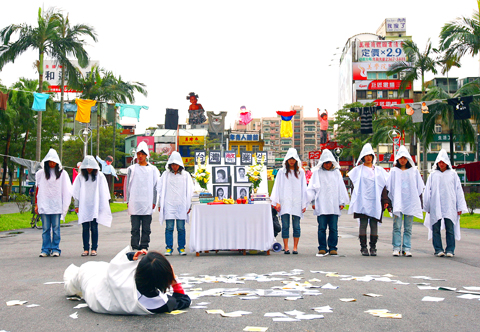 TEN GRADS AND A FUNERAL
Students from various universities and colleges hold a mock funeral at the entrance to the National Taiwan University campus in Taipei yesterday to express their concern that many students will find themselves unemployed after graduation.

PHOTO: CNA
---
Aboriginal protesters call for minister's resignation
 
EGGS: In front of the CIP office in Taipei, protesters bused in from Pingtung, Taitung and Nantou demanded Chang Jen-hsiang discuss the accusations leveled against her
 
By Jenny W. Hsu
STAFF REPORTER
Wednesday, Jan 07, 2009, Page 2

Over 300 protesters from the Aboriginal community yesterday threw eggs at the Council of Indigenous Peoples (CIP) building yesterday, demanding the resignation of CIP Minister Chang Jen-hsiang (章仁香) for "betraying her own people" by disregarding tribespeople's land and hunting rights.

The council denied the accusations and stressed it had always striven to preserve the rights of the community.

According to the Alliance to Safeguard the Aboriginal Basic Law, the council failed to protect two Aboriginal villages in Pingtung and Taitung County when Chang allegedly agreed to let the Atomic Energy Council (AEC) dump hazardous nuclear waste in the community.

In a statement, the CIP said the accusation was completely false because no AEC officials had visited Chang since she took up the position in May.

The alliance also asked the council to respect the Puyuma tribe's traditional annual hunt by removing the requirement that they first obtain permission from the Forestry Bureau.

One Puyuma woman surnamed Chung said the annual hunt was an integral part of the tribe's culture and did not understand why the tribe needed to seek the Forestry Bureau's approval for the event that has been going on for over 100 years.

The CIP statement said that the Forestry Bureau was in charge of wildlife protection and therefore all hunting activity had to be cleared by the bureau.

Standing in the pouring rain in front of the CIP office in Taipei, protesters bused in from Pingtung, Taitung and Nantou demanded Chang face the crowd and give an explanation to the accusations leveled against her.

The angry protesters threw eggs at the building when Chang refused to meet them. The group later protested in front the Legislative Yuan, Executive Yuan and the Presidential Office.

About 100 protesters scaled a fence in an attempt to enter the Cabinet headquarters, clashing with more police.

Independent Legislator Kao Chin Su-mei (高金素梅), a member of the Atayal tribe, held a press conference at the same time as the protest echoing the demonstrators' demands to remove Chang from office.

"The political party will continue to trample on our rights if we don't make our voices heard. When that happens, we will not have a future," she said, adding she would mobilize more street protesters if the Executive Yuan failed to name another CIP minister by Feb. 1.
---
TSU slams Yahoo over e-mail tag
 
ATTACHED AD: E-mail users in Taiwan with yahoo.com accounts see their outbound e-mail automatically show the Web address for Chinese Yahoo, cn.mail.yahoo.com
 
By Ko Shu-ling
STAFF REPORTER
Wednesday, Jan 07, 2009, Page 3

"Last year, [Yahoo] received harsh criticism for leaking the information of a Chinese dissident to the Chinese government, leading to his arrest. Now they are doing this. If they pay that much attention to China, they should focus on the Chinese market."— Chow Mei-li, Taiwan Solidarity Union spokeswoman

The Taiwan Solidarity Union (TSU) yesterday called on the public to stop using their Yahoo e-mail accounts if the US search-engine giant continues to attach the Web site address of Chinese Yahoo for users in Taiwan.

E-mail users in Taiwan with yahoo.com accounts see their outbound e-mail automatically show the Web site address for Chinese Yahoo (http://cn.mail.yahoo.com) at the bottom of their message if they access their account from Taiwan's Yahoo, Yahoo Kimo.

TSU Spokeswoman Chow Mei-li (周美里) yesterday lambasted the US company, saying it had a notorious record of currying favor with Beijing.

"Last year, it received harsh criticism for leaking the information of a Chinese dissident to the Chinese government, leading to his arrest," she said. "Now they are doing this. If they pay that much attention to China, they should focus on the Chinese market."

Chow was referring to Yahoo's cooperation with Chinese police in tracking down cyber dissidents.

In November last year, the US Congress sharply rebuked Yahoo CEO Jerry Yang (楊致遠) and the company, which he co-founded, over Yahoo's role in landing Chinese journalist Shi Tao (師濤) behind bars.

Shi was convicted in 2005 of divulging state secrets after he e-mailed to an overseas Web site a Chinese government order forbidding media organizations from marking the anniversary of the Tiananmen Square Massacre.

Police identified Shi as the sender of the e-mail using information provided by Yahoo. He was sentenced to 10 years in jail.

In response to pressure from Congress and rights organizations, Yahoo held talks with industry partners, academics, civic groups and investors on an industry code of conduct governing the behavior of global technology and communication companies operating in "challenging markets."

Yang has been campaigning for prisoners of conscience and has established a human rights fund to offer humanitarian and legal support to political dissidents imprisoned for expressing their views online.

Chow yesterday said if Yahoo did not stop attaching its Chinese Yahoo Web site address to its US Yahoo e-mail users in Taiwan, they would continue to ask Taiwanese users of Yahoo to drop their accounts with the company.

Yahoo Kimo said yesterday that the attachment of the address for Chinese Yahoo resulted from the language the user chose and the country operating the system.

Users get the tag line of China Yahoo because China is the country managing the Web site of US Yahoo in Chinese, said Kelly Hsu (?m), public relations manager of Yahoo Kimo, adding that the message was an advertisement posted by the system operator.

If the users do not want the ad, they can alter the content preferences for their account, she said.
---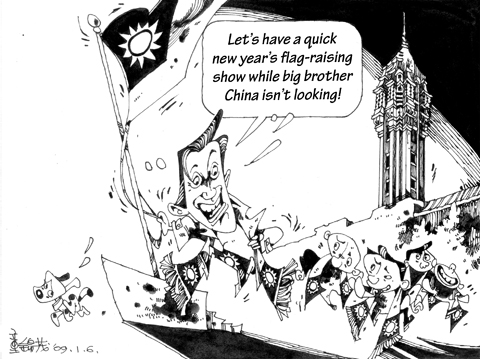 ---
KMT, leave the judiciary alone

Wednesday, Jan 07, 2009, Page 8

Political meddling in the case of former president Chen Shui-bian (陳水扁) took a bold turn on Monday, when a judge who had expressed concerns about procedural flaws was targeted in the legislature.

At a meeting of the Judiciary and Organic Laws and Statutes Committee, lawmakers gave the Judicial Yuan one month to carry out an investigation into Shilin District Court Judge Hung Ying-hua (洪英花) and to report back to the legislature on the matter.

The request came after Hung authored a newspaper editorial finding fault with the replacement of Chou Chan-chun (周占春) with Tsai Shou-hsun (蔡守訓) as presiding judge in the case against Chen at the Taipei District Court.

In an earlier editorial, Hung had also criticized the actions of the Ministry of Justice in connection with the Chen case, but her latest statement — which Chinese Nationalist Party (KMT) legislators called "audacious" — seems to have pushed the envelope too far.

KMT Legislator Chiu Yi (邱毅) unsurprisingly spearheaded the attack against Hung. Pressure from Chiu may also have played a role in the removal of Chou, whom he said should be impeached for releasing Chen earlier.

Chiu said that Hung's criticism of Tsai was nothing more than a personal vendetta against a judge who had presided over a case that saw Hung's brother convicted of fraud. He further cast doubt on Hung's integrity as a judge by saying that her brother, as well as another brother he said had been convicted in a crooked business deal, had used his link to Hung to solicit kickbacks.

The claims Chiu made against Hung are severe indeed, and should they prove to be false or misleading, Chiu — who has a penchant for casting unfounded aspersions — should be held responsible for again indulging in his favorite pastime.

The KMT, meanwhile, must take a clear stand against the tactics employed by Chiu and the committee, which is dominated by its lawmakers. The party has repeatedly professed its resolve to deepen the nation's democracy, which includes upholding the impartiality of the judiciary.

This latest example of political pressure in the Chen case is sure to send a signal to other critical voices in the judiciary. With legislators like Chiu threatening uncooperative or skeptical judges with judicial investigations and impeachment, concerned judges, lawyers and prosecutors may think twice before daring to question judicial integrity.

That would be bad news for the judicial system, which must be able to bear scrutiny from within and without and come out unscathed — particularly in this most politically charged of cases.

The KMT must stop its lawmakers from taking or threatening action against the judges — and lawyers — in the cases involving the former first family, or risk leaving its marks throughout the proceedings. If Chen is guilty, only a fair trial free of partisan pressure will ensure that his crime can be punished without the stain of political vendetta.

Indeed, the questionable actions of KMT lawmakers and the Ministry of Justice, which has turned a blind eye to apparent leaks of information by prosecutors, may have already crossed a threshold, ensuring that any conviction of Chen or his family members will lack credibility.
---
IOC blaming Tibetans?

In his year-end reflections on the Beijing Olympics, International Olympics Committee (IOC) president Jacques Rogge blamed Tibetans for the difficulties faced by the IOC in dealing with the Chinese government ("IOC was surprised by Tibet unrest, Rogge says," Jan. 1, page 20). At a time when the violent conflict in the Middle East continues to escalate and the need for peaceful reconciliation is ever more urgent, it is irresponsible and inaccurate to accuse the Tibetans of turning to violence and "bloody unrest."

The overwhelming majority of more than 130 protests against Chinese rule that swept across Tibet last year were peaceful, largely because of the example led by the Tibetans' exiled leader — Nobel Peace Laureate the Dalai Lama — and the influence of Tibetan Buddhist culture. But the crackdown against them by the Chinese government was brutal.

Rogge's comments are in line with Beijing's propaganda, which seeks to represent the six-month cycle of largely peaceful dissent in Tibet as one violent riot in March.

The reality is that last year, Tibetans risked their lives to convey the message to the outside world that the Dalai Lama represents their interests, not the Chinese state, and to express their resentment against repressive policies undermining their religion and culture. In response, the Chinese government resorted to repressive and heavy-handed tactics that owe more to the political extremism and paranoia of the Maoist era than to a 21st century would-be superpower.

KATE SAUNDERS
Washington, DC
---
Taiwan: Falling into China's orbit?
 
By Stephen Nelson
Wednesday, Jan 07, 2009, Page 8

LET'S FACE IT: For most people outside this small corner of Asia, Taiwan isn't even on the radar. At best, it is seen as a satellite of China, a satellite that merely obfuscates their view of that great celestial body; a rogue moon that must be brought into permanent orbit, like Hong Kong and Macau. Or, in Beijing's view, it is like Tibet.

Sure, Taiwan is a high-tech powerhouse, an economic tiger (on its good days) and a beacon of democracy in Asia.

But with the world's headlines full of terrorist strikes and economic meltdowns, it is understandably hard for outsiders to see Taiwan's struggle for democracy as anything more than a tempest in a teapot — a China teapot at that.

Of course, there are those who do see Taiwan as something more than "a renegade province of China" (the official line from Beijing).

They understand that Taiwan has a parallel but separate history and that it has never been part of the People's Republic of China. They may even know that for the first half of the 20th century Taiwan was part of the constellation of Japan. And that for much of the latter half, Taiwan has been virtually a US outpost, deep inside "Chinese space."

But during this past year, as the world's attention was often elsewhere, Taiwan has lurched into closer alignment with China.

Most of the so-called China experts have portrayed this shift as a positive development. Peace in our time. The universe unfolding as it should.

But what might be the cost in democratic terms if this movement continues this year?

For pundits, the return to power of the old Chinese Nationalist Party (KMT) in January last year was seen as a return to peace, order and good government by Taiwan's "natural governing party."

For most analysts, KMT President Ma Ying-jeou (馬英九) had "the right stuff." His new trade and transportation agreements with China were viewed as "one small step for Taiwan," but "a giant leap" for regional peace and prosperity.

Even the occasional tempest that disrupted this sea of tranquillity — such as the KMT government's raft of arrests, detentions and imprisonment of former officials – was seen as a campaign designed to root out corruption and bring evil-doers to justice.

Never mind that every one of those interrogated, imprisoned and indicted — including former president Chen Shui-bian (陳水扁) and his entire family — are political foes of the reborn KMT, members for the most part of the opposition Democratic Progressive Party (DPP).

To the stargazers, Taiwan's future can only grow brighter by bathing in the light of Beijing, particularly now that resurgent China is on such an economic grand march.

But others observers see things very differently. They fear that Taiwan is far from ascending, far from waxing brighter. They fear that Taiwan is in retreat and that democracy and human rights are waning in the process, returning in fact to the darkness of martial law tactics that defined Taiwanese life for almost 40 years.

For much of last year, many Taiwan watchers saw a very different night sky; bright heavens in which all the stars seemed to be lining up in favor of Ma and the KMT.

The return of the old regime was largely hailed as a good thing in both Beijing and Washington, a rare celestial event on its own.

Beijing found itself with a Taiwanese president and government that is not only pro-China but also clearly subscribed to the idea that Taiwan is, and has always been, part of "one China."

Washington, for its part, felt it had a Taiwanese president it could work with. With Ma, there would be no worries about Taiwan acting like a sovereign country, challenging the status quo and upsetting Beijing.

Indeed, the international community saw the pro-business Ma as a breath of fresh air — after eight years of nonsense about democracy and sovereignty — so it could get on with what really mattered: investing, trading and making money.

The KMT's prosecution of opposition politicians was largely seen as an opportunity to root out the endemic graft and corruption in Taiwan.

But these observations ignored the fact that these actions are designed to consolidate the KMT's grip on power, shut down any opposition to the deals with China and settle old scores with its old nemesis, the DPP.

Those less starry-eyed see a dark shadow moving across the face of Taiwan, an ill omen of Taiwan becoming another Hong Kong or Macau.

Clearly, this year will prove to be a critical year for Taiwan. Either it will continue on course with the great Asian experiment in democracy, or it will become just another subservient satellite of China.

And whatever course it takes, it must be ever mindful that China has about 1,400 missiles pointed at it — ready to blow up this "satellite" if Beijing things have gone off course.

To find out which way the solar wind is blowing, we need to look no further than President Ma himself, someone critics have called "a windsock" and "a chameleon on a weather vane."

An early indicator will be how Ma intends to proceed against his old political foes.

Many observers have called on the president to stop what they call a witch hunt and make sure all the accused get fair and open trials. Such actions are necessary, they say, because the legal system itself is neither neutral nor democratic, but a law unto itself.

If Ma does step in, it will be a sign that he is prepared to do the right thing — the democratic and just thing — even if he has to be shamed into it.

Another indicator will be how the new Democratic government in Washington's approach to Taiwan. If the US goes ahead with its proposed weapons sales to Taipei, it means Washington feels that Taiwan still has a future as a de facto independent democracy: a moon in Chinese space, but not necessarily a Chinese moon.

But if the US decides to deep-freeze these weapons sales, it means that Washington believes Taiwan has already moved too close to China and that Taiwan cannot be trusted as an ally.

In that case, if the Taiwanese want to be pulled out of China's orbit, they'll have to do it themselves.

To many outside Taiwan — indeed to many in Taiwan who focus on trade with China — Taiwan's fall to earth (and return to more authoritarian rule) won't be anything more than a slight prick of conscience.

To others, though, the disappearance of even one democracy makes the whole sky that much darker.

Stephen Nelson is a Canadian freelance journalist based in Toronto.