Chen lawyer files appeal against detention
 
'POLITICAL PRESSURE': Cheng Wen-lung said flaws in the judicial procedure in the case were not only detrimental to the ex-president, but to the judiciary as a whole
 
By Rich Chang and Ko Shu-ling
STAFF REPORTERS
Tuesday, Jan 06, 2009, Page 1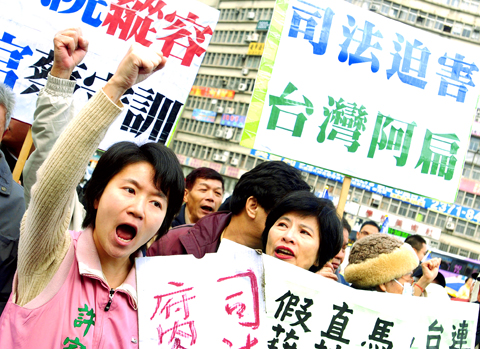 Supporters of former president Chen Shui-bian hold slogans reading "The legal system is persecuting Taiwan's A-bian" yesterday in front of the Control Yuan in Taipei.

PHOTO: AP
Former president Chen Shui-bian's (陳水扁) lawyer yesterday filed an appeal with the Taiwan High Court against Chen's detention ahead of his trial on corruption charges.

"We said in the appeal that the vote that saw Presiding Judge Tsai Shou-hsun [蔡守訓] take over the Chen case from Chou Chan-chun [周占春] was the result of political pressure and that it violated the law and the Constitution, and that Chen was perturbed by the selection of Tsai," Chen's lawyer Cheng Wen-lung (鄭文龍) told reporters in front of the Taiwan District Court yesterday afternoon.

The appeal also said that Chen's behavior during the 16 days since his release proved it was unnecessary to detain him, Cheng said.

Chou's decision to release Chen without bail was a final ruling, Cheng said, and the prosecutors' appeal to the Taiwan High Court and that court's ruling that the District Court reconsider Chen's release were therefore illegal.

Cheng said the flaws in judicial procedure in this case were not only detrimental to Chen, but a setback for the nation's judiciary.

Tsai said last Tuesday that Chen would be detained, but that the court would not prohibit him from seeing visitors.

The former president was detained on Nov. 12 and held until Dec. 13, when he was indicted along with 13 others on charges of embezzlement, corruption and money laundering.

On Dec. 25, the Taiwan High Court ordered the Taipei District Court to reconsider its Dec. 18 decision confirming Chen's release.

The High Court's order was in response to an appeal filed by the Special Investigative Panel of the Supreme Prosecutor's Office.

Also yesterday, a legislative committee dominated by the Chinese Nationalist Party (KMT) asked the Judicial Yuan to investigate a district court judge who criticized Tsai and present a report on the matter within a month.

The Judiciary and Organic Laws and Statutes Committee asked the Judicial Yuan to probe Shilin District Court Judge Hung Ying-hua (洪英花), whose criticism of Tsai was described by some of the KMT committee members as "audacious."

Shortly after the Taipei District Court last week changed the presiding judge in Chen's case, Hung and Huang Jui-hua (黃瑞華), president of the Ilan District Court, published articles saying the move violated judicial procedures.

On Nov. 17, Hung also criticized the Ministry of Justice over the Chen case in the Liberty Times (the Taipei Times' sister newspaper).

The committee also asked the Judicial Yuan to probe an allegation that Hung's two brothers had used her position for extortion by promising to fix a land deal and a legal case. A report on the allegations and on Hung's criticism of Tsai should be completed within a month, the committee said.

The committee's decision came after KMT Legislator Chiu Yi (邱毅) alleged during the question-and-answer session that one of Hung's brothers was convicted of fraud in 1995 for accepting NT$3 million (US$30,000) in bribes in return for promising to fix a legal case.

Chiu said the presiding judge in that case had been Tsai and that he suspected Hung's criticism of Tsai reflected a personal grudge.

Another of Hung's brothers was convicted for his involvement in an illegal land deal, Chiu said, yet Hung was made judge of Shilin District Court. Chiu questioned her qualifications, saying that the courtroom was like a way station to her as she traveled back and forth between the judiciary and public office.

Chiu also said that Hung had once alleged that former president Lee Teng-hui (李登輝) had asked former Examination Yuan president Hsu Shui-teh (?w) to give her NT$300 million in October 1993 to talk her out of running for Changhua County commissioner.

Judicial Yuan Deputy Secretary-General Shen Shou-jing (沈守敬) said the yuan would launch an investigation into the matter.

At the same setting, Minister of Justice Wang Ching-feng (王清峰) told the committee that the ministry would amend the Detention Act (羈押法) after the Council of Grand Justices ruled on Dec. 26 that it was unconstitutional to deny a detainee the right to file a court complaint alleging maltreatment by the detention center.

The grand justices said that Article 6 of the Detention Act and Article 14 of the Act's regulations for implementation should be amended within two years.

Wang said legal revisions to the Detention Act were necessary because the legislation was outdated. The Detention Act was enacted in 1946 and implemented in 1947.

Committee members across party lines expressed support for the amendments.

Meanwhile, Chen has urged the Democratic Progressive Party (DPP) to unite, saying in a letter that the party's opponent was not President Ma Ying-jeou (馬英九) but Chinese President Hu Jintao (胡錦濤).

DPP Legislator Ker Chien-ming (柯建銘) told reporters after visiting Chen at the Taipei Detention Center that Chen was planning to write 50 letters, including to Hu and Ma, and would compile them into a book.

Ker said Chen had written eight so far, and that in one of the them, he urged the DPP to unite and emphasized that the party's antagonist was Hu, not Ma.

Chen is suspected of money laundering, accepting bribes, forgery and embezzling NT$15 million (US$450,000) during his presidency.

He has accused the KMT administration of "political persecution" and of waging a "political vendetta" against him to curry favor with China.

His wife, Wu Shu-jen (吳淑珍), has been charged and is being tried.

Ker said yesterday that Chen planned to pay his respects to Liu Po-yen (劉柏煙) after he gets out.

Liu, an 80-year-old retired teacher and former long-time KMT member, set himself on fire on Nov. 11 to protest actions by the KMT administration, including the government's handling of anti-China protesters when Association for Relations Across the Taiwan Strait Chairman Chen Yunlin (陳雲林) visited Taipei.

Ker visited the former president with Chen's son, Chen Chih-chung (陳致中), and daughter-in-law, Huang Jui-ching (黃睿靚), both of whom have been indicted for corruption and money laundering in connection with the case.

The couple filed a document to prosecutors last month saying they would like to clear up any misunderstanding about the source of the NT$570 million (US$17 million) in the pair's overseas bank accounts and help prosecutors have the money transferred to Taiwan.

Wu's lawyer, Lee Sheng-hsiung (李勝雄), also visited the detention center yesterday and asked Chen Chih-chung to take two books to the former president.

Lee said Wu wanted to visit her husband, but could not because of her poor health.
---
Groups threaten siege over Lee
 
By Rich Chang
STAFF REPORTER
Tuesday, Jan 06, 2009, Page 3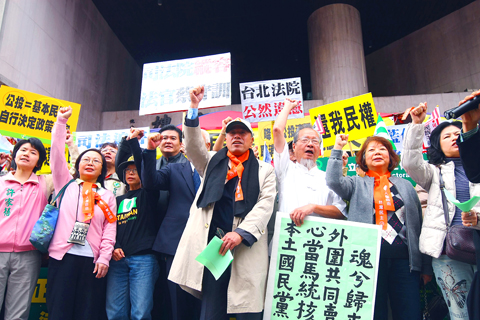 Members of the Taiwan Association of University Professors and other pro-Taiwan groups protest outside the Legislative Yuan in Taipei yesterday. They demanded that the legislature relieve Diane Lee of her duties.

PHOTO: CNA
Pro-localization groups said yesterday they would lay siege to the legislature from Friday if Legislator Diane Lee (李慶安) was not relieved of her duties. Lee resigned from the Chinese Nationalist Party (KMT) last week after accusations that she possessed US citizenship. The Nationality Act (國籍法) bans government officials from holding dual citizenship.

"If the legislature does not rule that Diane Lee and [KMT Legislator] Mark Li (李明星) should be relieved of their duties as legislators during Friday's plenary session, then we will stage a 'siege' of the legislature, and the siege will continue for 24 hours a day until such a ruling is made," Taiwan Association of University Professors chairman Tsai Ting-kuei (蔡丁貴) told a press conference in front of the legislature yesterday.

Lee and Li clearly took up their seats before relinquishing their US citizenship, but the legislature has neglected its duties in not dealing with the cases, and therefore people have the right to exercise "people power" and ask the legislature to do what it should have done, Tsai said.

He added the protest would be held under the principles of "do not enter the legislature, do not hurt anyone, do not oppress anyone, do not retreat, do not hit back and do not answer back."

The demonstration would be co-sponsored by the Taiwan Association of University Professors, the Taiwan Calling for Referendum Amendment Alliance, the Taiwan Teachers' Alliance and others.

Meanwhile, Democratic Progressive Party Chairperson Tsai Ing-wen (蔡英文) said yesterday that she had asked the legislature to deal with Lee's case before next Tuesday — the day the legislative session finishes.

"I am going to the legislature tomorrow [today] to ask the legislature to clear up Lee's case on the floor and conduct a vote to decide on Lee's dual citizenship case," Tsai told reporters yesterday.

She said that a legislator had had dual citizenship for so long and the legislature's inability to deal with it had hurt the nation's political system.

The KMT agreed to let Lee withdraw from the party on Wednesday, but stopped short of meting out punishment to the four-term legislator.

Despite a US statement that Lee still possesses US citizenship, the Legislative Yuan resolved on Dec. 26 not to rule on her eligibility to be a lawmaker until the US responded to the Ministry of Foreign Affairs' request for a more detailed nationality probe.
---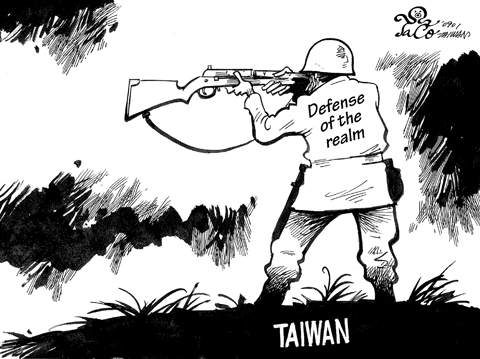 ---
China: Rising and responsible?
 
By Parris H.chang 張旭成
Tuesday, Jan 06, 2009, Page 8

A Chinese naval fleet consisting of two destroyers and a supply ship departed on Dec. 26 on a mission to fight pirates in the Gulf of Aden and Somali waters. The mission is China's first outside the Pacific in modern times.

Piracy off the Somali coast intensified last year with 20 percent of the 1,265 Chinese ships passing through the area coming under attack.

The UN has passed three resolutions since July calling for the international community to respond to the piracy problem. More than a dozen warships, including vessels from the US, Russia, the UK, France, India and Saudi Arabia, have answered the call, leaving China the only major power not taking an active part in the process.

By participating in such a mission, China's image as a world power may improve. Until now, China's external behavior can hardly be described as that of a responsible international stakeholder worthy of the status of a permanent member of the UN Security Council.

For example, US Assistant Secretary of Defense for Asian and Pacific Security Affairs James Shinn told US Congress that Chinese state-owned companies have repeatedly violated UN Security Council sanctions that ban the sales of weapons, military equipment and nuclear technology to Iran. Shinn said in his testimony that he was particularly concerned at China's sales of weapons to Iran and accused Tehran of arming and supporting militant groups in Iraq, Lebanon and Afghanistan that "target and kill Americans and our allies."

On several occasions, the US has imposed sanctions on Chinese firms for selling Iran weapons, weapons-related products and other dual-use commodities that can have a military use, but Beijing has protested and condemned those US moves.

China has been on the record opposing UN sanctions against Iran, which has withstood three rounds of limited sanctions because of its suspected development of nuclear technology. Tehran can continue to count on China — a longstanding and staunch ally of Iran — and Russia, now at odds with the West over Georgia, to delay, obstruct and water down any stronger punitive measures sought by the US and the EU.

While some European companies have cut trade with Iran or withdrawn investments to pressure Tehran to suspend its uranium enrichment activities, Chinese firms have stepped in to fill the void and take the business. For example, Royal Dutch Shell and French oil giant Total pulled out of planned investments in Iran — only for China National Offshore Oil Corp and Iran's Pars Oil and Gas company to reach an agreement last July to exploit the North Pas gas field. More than 100 Chinese State companies are working in Iran on airports, ports, highways, dams, steel manufacturing and telecommunication projects. Two-way China-Iran trade is expected to reach US$11 billion, making China Iran's No. 2 trading partner, behind only the United Arab Emirates.

Since the Shah's ouster in 1979, Beijing has viewed the Islamic Republic of Iran as a highly valuable anti-Western partner and sought to cultivate and forge a strategic partnership with Tehran. China and Iran share the belief that "my enemy's enemy is my friend" and have closely cooperated to challenge and counterbalance US domination in the Middle East.

Iran has repeatedly threatened to close the Strait of Hormuz, the only way in and out of the Persian Gulf. Such a threat is taken seriously, as Iran has large numbers of Chinese made C-801 and C-802 anti-ship missiles deployed in coastal batteries along the eastern shore of the waterway and Chinese-supplied Houdong fast patrol boats equipped with C-802s, capable of launching high-speed attacks against the US Fifth Fleet's warships.

It should be emphasized that Sino-Iranian cooperation on arms also includes nuclear weapons technology, biological weapons and chemical weapons. While Beijing has vehemently denied accusations of secret sales of weapons of mass destruction to Iran and other rogue states, international intelligence agencies have over the years collected enough evidence that identifies China as among the world's leading proliferators.

For diplomatic and other reasons, the US and the EU rarely blow the whistle on China's illicit and outrageous violation of international anti-proliferation goals.

As China rises in economic and military strength, the world has a stake in China being genuinely peace-loving and responsible, and showing respect for human rights, international rules and institutions.

Parris H. Chang, professor emeritus of political science at Pennsylvania State University, is chairman of the Taiwan Institute for Political, Economic and Strategic Studies.