¡@
Chen floats idea of forming party
¡@
By Ko Shu-ling
STAFF REPORTER
Tuesday, Mar 10, 2009, Page 1

Former president Chen Shui-bian (³¯¤ô«ó) yesterday expressed the hope that pro-independence groups would form a new party.

The Alliance of Referendum for Taiwan Chairman Tsay Ting-kuei (½²¤B¶Q) told reporters after visiting Chen at the Taipei Detention Center in Tucheng (¤g«°), Taipei County, yesterday that the former president thought Taiwan needed a party to push for its sovereignty and that he would like to see pro-independence groups establish it.

¡§Taiwan is not part of China,¡¨ Tsay quoted Chen as saying. ¡§Taiwan and China are two different countries on each side of the Taiwan Strait. Taiwan must shake off the constraints imposed by the Republic of China.¡¨

Tsay said that Chen hoped to see such a declaration clearly enshrined by the proposed party.

When asked about Chen¡¦s role in the new party, Tsay said they did not have time to talk about details. He said that the purpose of the new party would not be to reduce the power of the Democratic Progressive Party (DPP), but to assume different responsibilities.

¡§Since the DPP is preoccupied with elections, the new party will be tasked with the mission of pursuing an independent Taiwan and building a new republic,¡¨ he said.

Meanwhile, former first lady Wu Shu-jen (§d²Q¬Ã) also visited Chen yesterday. Accompanied by DPP Legislator Ker Chien-ming (¬_«Ø»Ê) and other friends, Wu brought food to Chen.

It was the second time Wu has visited Chen since the former president was sent back to the detention center on Dec. 30.

Also yesterday, Chen¡¦s office issued a statement requesting the Taiwan High Court release him, arguing that he would not abscond, collude with other witnesses or attempt to destroy evidence.

The office also canceled a press conference that they had planned to hold yesterday about DVDs of prosecutors¡¦ interviews with witnesses in the case. The office yesterday said that it needed more time to watch the videos.

Speculation was rife that the office and Chen¡¦s legal team did not see eye to eye on whether to disclose the videos, but the office yesterday dismissed this.

In related news, the Special Investigation Panel yesterday called Yuanta Financial Holding Co chief operating officer Michael Ma (°¨ºû¨°) to question him as a defendant.

Ma was listed as a defendant on suspicion of helping Chen and Wu transfer money overseas.

Ma and his brother, Yuanta Financial Holding Co president Victor Ma (°¨ºû«Ø), allegedly wired US$180,000 to foreign accounts in the name of Wu¡¦s friend Tsai Ming-che (½²»Ê­õ), prosecutors said last month.

Chen is scheduled to attend pre-trial hearings today and tomorrow.
¡@
---
¡@
Former Tibetan guerrilla yearns for direct action
¡@
DEFENDING CIVILIZATION: Lhasang Tsering believes Tibetans must choose between surrendering to evil or using violence to defeat the evil; there is no ¡§middle way¡¨

DPA, DHARAMSALA, INDIA
Tuesday, Mar 10, 2009, Page 5
¡@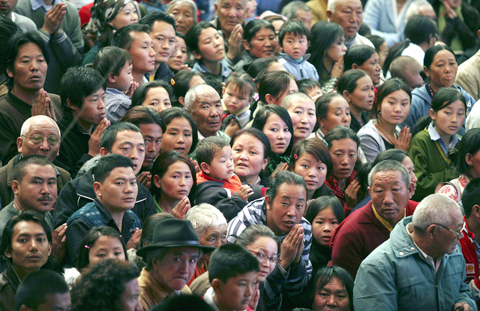 Exiled Tibetan Buddhists wait to catch a glimpse of the Dalai Lama after a prayer session in Dharmasala, India, yesterday on the eve of the 50th anniversary of the failed uprising that forced the Dalai Lama and hundreds of thousands of his people into exile.

PHOTO: AP
¡@
Amid growing anger among Tibetan exiles at China¡¦s subjugation of Tibet and its monasteries, bitter memories of a failed armed struggle haunt former guerrilla fighter Lhasang Tsering.

Over five decades, the Tibetan movement has drawn international attention and support for being among the world¡¦s rare non-violent struggles, which has been credited to the Dalai Lama¡¦s ¡§middle way¡¨ approach, which stresses conciliatory negotiations with China.

Although the policy has made little headway with Beijing, the Dalai Lama was awarded the Nobel Peace Prize in 1989 for leading Tibet¡¦s non-violent struggle.

Against such a backdrop, 15 years of a violent conflict for Tibetan independence beginning in the late 1950s is looked at as a ¡§deviation¡¨ that many Tibetans do not like to talk about.

With the passage of time and the fighters fading into congested refugee settlements, the episode has nearly been forgotten and is spoken about only in hushed tones.
¡@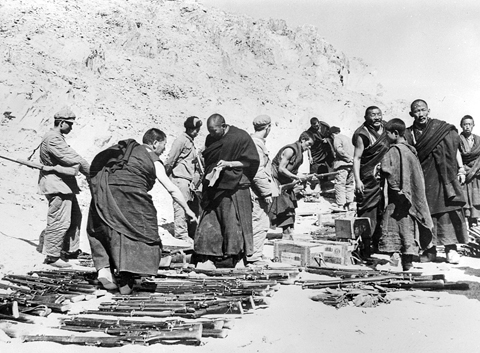 Tibetan monks, surrounded by People¡¦s Liberation Army troops, lay down their arms at an undisclosed location in the Tibetan mountains in April 1959 after an unsuccessful armed uprising against Chinese rule.

PHOTO: AFP

But for Tsering, the armed struggle is as real as the day he joined it in northern Nepal¡¦s Mustang district in 1972.

Among the prominent dissidents of the Tibetan diaspora, Tsering once worked with the Tibetan government-in-exile but resigned in 1990 to protest the Dalai Lama¡¦s decision to give up the demand for an independent Tibet in favor of seeking autonomy within China.

A slight man with a goatee, Tsering, who also headed the Tibetan Youth Congress, has for decades criticized the middle way policy of the Dalai Lama.

¡§From my moral standpoint, the non-violence in surrendering to an evil is far worse than the use of violence to overcome the evil,¡¨ said Tsering, who now runs a bookshop in Mcleodganj, a suburb of Dharamsala, India.

If Tibetans do not defend themselves against a ¡§colonial China,¡¨ they would one day disappear like the Inca civilization in South America, said the former fighter, who is now in his mid-50s.

The armed resistance against the Chinese began after the invasion of Tibet¡¦s eastern Kham and Amdo regions by the People¡¦s Liberation Army in the 1950s.

The Khampa fighters of the region announced the formation in 1958 of the Chushi Gangdruk ¡X which means ¡§four rivers, six ranges¡¨ and refers to Kham ¡X to stop the Chinese army¡¦s advance into Lhasa.

When the March 10, 1959, uprising against the Chinese failed, the Gangdruk guerrillas helped the Dalai Lama flee to India, Tsering said, adding that the fighters then retreated to Mustang, from where they conducted raids into Tibet and waged war with the Chinese army for 15 years.

At its peak, the force consisted of an estimated 2,000 Tibetans and received support like arms, ammunition and training from the CIA.

¡§We were certainly few to win against the Chinese but enough to create a lot of problems for them,¡¨ he said.

But with the US government¡¦s rapprochement with China, aid and supplies from the CIA began to wane in the late 1960s. Nepalese troops also began a crackdown to crush the fighters.

Chushi Gangdruk¡¦s operations finally ceased in 1974 after the Dalai Lama taped a message telling the fighters to lay down their weapons and surrender.

¡§The fighters could not say no to the Dalai Lama, but several committed suicide as they had vowed to fight to the bitter end,¡¨ Tsering said, choked with emotion and with tears in his eyes. ¡§They could find freedom and dignity only in death.¡¨

Others were arrested, killed or escaped.

Tsering still justified an armed struggle for his homeland and said he would be ready to put his ¡§life on the line¡¨ were there an opportunity.

¡§It takes two to shake hands, but the Chinese found no need to shake hands with a bunch of helpless refugees,¡¨ he said, adding as an afterthought: ¡§It takes only one to deliver a punch.¡¨

Tsering said the exiled Tibetans have been confused and frustrated with talks with China because their movement lacks clarity of purpose. Frustration has also grown after the lack of progress after 50 years of exile following the flight of the Dalai Lama from Tibet on March 17, 1959.

Mentioning that Tibetans in Tibet were sacrificing their lives for independence, Tsering pointed toward the residence of the Dalai Lama and said: ¡§If only the holy one would restore clarity of purpose and return to the cause of freedom.¡¨

¡§He is our spiritual leader, and Tibetans are not in a position where they can question His Holiness, but to force Tibetans to choose between freedom and faith is not right,¡¨ Tsering said.
¡@
---
¡@
An unkillable yearning for freedom

Tuesday, Mar 10, 2009, Page 8

Half a century ago today, People¡¦s Liberation Army (PLA) forces were launching their final assault on Lhasa, forcing the Dalai Lama and eventually hundreds of thousands of Tibetans to flee their homeland. Fifty years ago, Tibet as a free state was disappearing, engulfed by China, which expanded its empire dramatically.

During the last 50 years, the Dalai Lama has become a symbol of peace, religious wisdom and self-determination, welcomed by crowds and governments alike, praised and showered with honorifics.

Still, the reality is that the Dalai Lama¡¦s charisma and universal appeal, as well as the peaceful resistance that he espouses, have failed. Today, generations of Tibetan exiles are no closer to going home than they were when the tanks first turned their turrets toward the old capital. In fact, the tanks are still there. Half a century of occupation and repression has taken its toll on symbols of Tibetan religion and culture, while society has become polarized between the subjugated and those who, out of self-interest or for other reasons, are now repeating the Chinese Communist Party (CCP) line that the PLA ¡§liberated¡¨ Tibet.

Facing growing criticism within his ranks, the Dalai Lama has himself admitted that peaceful resistance ¡X or the ¡§middle way¡¨ ¡X hasn¡¦t worked, that the CCP has been a dishonest negotiator and that hope is dwindling. So humiliating has been Beijing¡¦s lack of response to the Dalai Lama¡¦s call for ¡§meaningful autonomy¡¨ for Tibet that other, younger generations have been wondering if means other than pacifism might not be the solution. That this implies taking on China¡¦s formidable tool of repression, the PLA, shows the level of desperation and frustration ¡X and hope ¡X that flows in their veins.

Despite its success in crushing rebellion and peaceful resistance, Beijing has failed to understand one precious lesson of history ¡X ¡§the indestructibility of man¡¦s yearning for freedom,¡¨ as Soviet war correspondent and author Vasily Grossman, who was among the first to report on the Nazi extermination camps, wrote in his critique of Fascism and totalitarianism, Life and Fate.

A totalitarian or authoritarian regime¡¦s ability to control the masses is contingent on the use of force or the threat of the use of it. Either it uses ¡§eternal violence¡¨ until a point is reached where there is no one left to kill, or it dies of its own choosing by relinquishing its prerogative to violence. The CCP not only faces this challenge with Tibetans, but also with Uighurs in Xinjiang, Falun Gong practitioners, ordinary Chinese who strive for freedom and, should it come to this, Taiwanese.

By making force the principal agent of its legitimacy and its primary means to remain in power, the CCP is ensuring its eventual demise. For while it can use or promise ¡§eternal violence,¡¨ the human thirst for freedom will always be stronger ¡X as strong as life itself. It is this spirit of hope, of unremitting resistance to oppression even when the odds are bad, that we cherish today as we remember the terrible events of half a century ago.

¡§Man¡¦s fate may make him a slave,¡¨ Grossman wrote, ¡§but his nature remains unchanged.¡¨
¡@
---
¡@
Looking for clues in the past to PRC ambitions
¡@
By Richard Halloran
Tuesday, Mar 10, 2009, Page 8

For 10 years, the Clinton, Bush, and now Obama administrations have lamented what their political and military leaders said was a lack of transparency in China¡¦s military strategy. Most recently, this was an underlying theme in US Secretary of State Hillary Clinton¡¦s visit to Beijing last month.

Now comes a US military assessment of the future with a somewhat different and refreshing view of Chinese thinking. It says that a look at Chinese history and current efforts to modernize China¡¦s forces make their objectives more apparent.

The Joint Forces Command, with headquarters in Norfolk, Virginia, has published an appraisal of what it terms the ¡§Joint Operating Environment¡¨ to provide ¡§a perspective on future trends, shocks, contexts, and implications for future joint force commanders and other leaders and professionals in the national security field.¡¨ True to the US military addiction to acronyms, it is perhaps better known as JOE.

On China, JOE says that the advice of late Chinese leader Deng Xiaoping (¾H¤p¥­) for China to ¡§disguise its ambition and hide its claws¡¨ may represent a forthright statement. The Chinese think long-term, JOE says, ¡§to see how their economic and political relations with the United States develop.¡¨ The Chinese calculate that ¡§eventually their growing strength will allow them to dominate Asia and the Western Pacific.¡¨

While cautioning that JOE is speculative, it says ¡§history provides some hints about the challenges the Chinese confront in adapting to a world where they are on a trajectory to become a great power. For millennia, China has held a position of cultural and political dominance over the lands and people on its frontiers that has been true of no other civilization.¡¨

JOE says the continuities in China¡¦s civilization have a negative side: ¡§To a considerable extent they have isolated China from currents and developments in the external world. China¡¦s history for much of the twentieth century further exacerbated that isolation.¡¨

JOE points to civil wars, the Japanese invasions of the 1930s and 1940s and ¡§the prolonged period of China¡¦s isolation during Mao¡¦s rule,¡¨ referring to late Chinese leader Mao Zedong (¤ò¿AªF). Former US ambassador to Beijing James Lilley wrote: ¡§It was tricky keeping China engaged when its leadership seemed content to shut itself off.¡¨

JOE continues: ¡§Yet, one of the fascinating aspects of China¡¦s emergence over the past three decades has been its efforts to learn from the external world. This has not represented a blatant aping nor an effort to cherry pick ideas from history or Western theoretical writings on strategy and war, but rather a contentious, open debate.¡¨

Some China hands, however, would argue that the Chinese are still ignorant of the outside world and that this could cause them to miscalculate military power. Leaders of the US Pacific Command have, one after the other, cautioned their Chinese opposite numbers against misjudging ¡X and underestimating ¡X US capabilities and intentions.

¡§Above all, the Chinese are interested in the strategic and military thinking of the United States,¡¨ JOE says. ¡§In the year 2000, the PLA [People¡¦s Liberation Army] had more students in America¡¦s graduate schools than the U.S. military, giving the Chinese a growing understanding of America and its military.¡¨

¡§As a potential future military competitor,¡¨ JOE concludes, ¡§China would represent a most serious threat to the United States, because the Chinese could understand America and its strengths and weaknesses far better than Americans understand the Chinese.¡¨

Maybe that¡¦s the reason US leaders have repeatedly urged the Chinese to be more transparent, while Beijing has said it has gone as far as it will go.

Richard Halloran is a freelance writer in Hawaii.
¡@