Tensions high as China braces for Tibet protests

AFP, BEIJING
Monday, Mar 09, 2009, Page 1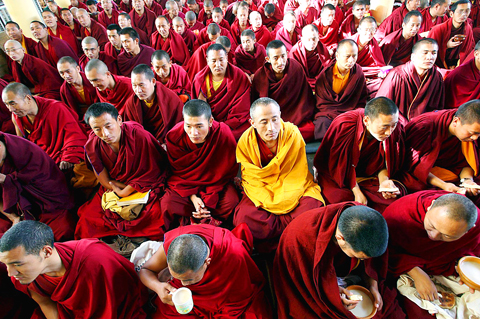 Tibetan monks pray during a commemoration of Tibetans killed in China at a monastery in Dharamshala, India, yesterday.

PHOTO: EPA
Chinese authorities have imposed a security lockdown in Tibet as the Himalayan region this week marks the sensitive 50th anniversary of a failed uprising that sent the Dalai Lama into exile.

China's leaders are desperate to prevent protests by Tibetan monks and nomads after violent unrest last year embarrassed the leadership in the lead-up to the Olympics in Beijing.

The Dalai Lama has called on his Buddhist followers to remain true to his non-violent cause, while also warning that worsening Chinese repression could provoke further confrontations.

"The situation in Tibet is very tense and discontentment over Chinese rule is simmering," said Tsering Shakya, a Tibetan exile and historian now working as a researcher with the University of British Columbia in Canada.

ANNIVERSARY

Tomorrow marks half a century since Tibetans rose up against Chinese rule, a brutal period when exiles say more than 80,000 were killed in China's military response.

Last year's anniversary saw unrest that not only angered Chinese leaders, but made Tibet a top agenda item for world leaders dealing with Beijing.

Tibetan exiles say more than 200 people died when Chinese security forces clamped down, although China denies this and says "rioters" were responsible for 21 deaths.

The Beijing government has sent in extra forces in a bid to quell support for the Dalai Lama and ensure no repeat of last year's violence in Tibet and neighboring areas of western China with Tibetan populations.

Those areas cover roughly one quarter of China's landmass and have just 6 million Tibetans, many of whom remain nomads.

"Tibetans are living under de-facto martial law, all their most basic and cherished freedoms are denied," said Matt Whitticase of the London-based Free Tibet.

Kate Saunders, a spokeswoman for US-based International Campaign for Tibet, said China's response to last year's unrest had been to intensify the hardline policies seen throughout its 58-year rule of Tibet.

MAINTAINING STABILITY

China's Xinhua news agency published a commentary yesterday that appeared aimed at countering criticism of the security crackdown.

"Is it not crucial for the central government to take action to maintain social stability in Tibet, to protect the innocent from harm?" the commentary said. "Any other government in the world would be on alert, too, had they been in China's shoes."

It is extremely difficult to assess the situation on the ground as foreign tourists have been banned from Tibet this month, travel agents and hotels say, although the government denies any such restrictions.

International media are also barred from visiting Tibet independently. Foreign journalists who have sought to report from the other trouble spots of western China recently have faced police harassment.

Residents contacted by reporters in some of the most sensitive towns say they are too fearful of repercussions from local authorities to speak to foreigners.

Nevertheless, reports of protests have filtered out.

One monk in the flashpoint region of Aba, Sichuan Province, set himself alight in a protest over Chinese rule, with state media confirming the incident after activist groups first reported it.

Beijing plans to hold the first annual "Serfs Emancipation Day" on March 28 to celebrate bringing "democratic reform" to Tibet.

"Over the past 50 years ... Tibet has experienced a process from darkness to brightness, from poverty to prosperity," the government asserted in a document outlining its version of events.
---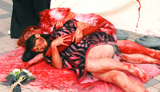 GRUESOME TWOSOME
Animal rights activists cover themselves in blood-colored paint in an anti-fur protest in Taipei yesterday.

PHOTO: AFP/PATRICK LIN
---
DPP caucus calls for task force on China policies
 
'FAMILY AFFAIR': Ker Chien-ming said the government's inking cross-strait pacts without the legislature's approval was putting the nation's democratic system in jeopardy
 
By Rich Chang
STAFF REPORTER
Monday, Mar 09, 2009, Page 3

The Democratic Progressive Party (DPP) caucus yesterday proposed an interparty legislative task force to monitor the government's cross-strait policies and interaction with China.

DPP caucus whip Ker Chien-ming (柯建銘) said that while the Ministry of Economic Affairs would soon brief Chinese Nationalist Party (KMT) legislators about the proposed economic cooperation framework agreement (ECFA) with China, DPP legislators were to be excluded from the session.

"The KMT treats cross-strait relations as a family affair," Ker said.

Ker said the DPP caucus wanted Legislative Speaker Wang Jin-pyng (王金平) to convene talks this week on creating an interparty task force on cross-strait relations.

The task force would facilitate monitoring the government's performance on sensitive cross-strait issues, he said.

Ker said the government's signing important treaties with China without legislative approval had jeopardized the nation's democratic system.

The DPP has asked that agreements with China be approved by the legislature and then put to a referendum before being signed, but the KMT will not cooperate, he said.

President Ma Ying-jeou (馬英九) has said he hopes Straits Exchange Foundation Chairman Chiang Pin-kung (江丙坤) will discuss the possibility of signing an economic agreement while meeting Association for Relations Across the Taiwan Strait Chairman Chen Yunlin (陳雲林) at the next round of cross-strait talks, which are expected in May or June.

Ker said the DPP was concerned that the government would not consult legislators about the ECFA before the talks in Beijing.

The four agreements signed in November by Chiang and Chen concerning food safety and direct cross-strait sea links, flights and postal service took effect in December without completing a legislative review.

Article 95 of the Statute Governing Relations Between Peoples of the Taiwan Area and the Mainland Area (兩岸人民關係條例) stipulates that a cross-strait agreement automatically takes effect 30 days after being inked if the legislature does not reject it within that period.

KMT caucus whip Lin Yi-shih (林益世) said his party had reservations about creating a task force, depending on the purpose of the body.

If the goal would be to discuss an ECFA, he said, the legislature already has various committees to review aspects of the deal. Establishing a task force could undermine the committee system, Lin said.

Lin said the DPP needed to explain why a task force was needed.
---
Massacre victims remembered in Keelung
 
By Loa Iok-sin
STAFF REPORTER
Monday, Mar 09, 2009, Page 3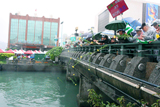 People toss chrysanthemums into the Keelung Harbor yesterday in remembrance of those killed by Chinese Nationalist Party (KMT) troops in the aftermath of the 228 Incident. Troops dispatched to Taiwan at the time landed at Keelung and opened fire on civilians.

PHOTO: WENG YU-HUANG, TAIPEI TIMES
More than 100 people marched in Keelung yesterday in remembrance of those killed by Chinese Nationalist Party (KMT) troops that landed on March 8, 1947, in the aftermath of the 228 Incident.

"It's raining today [yesterday], and so it was on this day 62 years ago when the KMT troops landed at Keelung in the afternoon," Chang Yen-hsien (張炎憲), chairman of the 228 Care Association and a historian specializing in modern Taiwanese history, told people gathered at Keelung Harbor's west pier.

"As soon as they disembarked, soldiers started shooting indiscriminately at people. There were dead bodies everywhere, in the city and floating in the harbor," Chang said.

The troops were sent by dictator Chiang Kai-shek (蔣介石) to quell an uprising against KMT rule that broke out in Taipei on Feb. 28, 1947, and quickly spread.

Chou Chen-tsai (周振才) recalled the trauma.

"The KMT troops began to knock on doors randomly on the morning of March 9 searching for young people [who may have been involved in the uprising] and arrested my uncle and brother," Chou said, adding that his uncle and brother had not taken part in the uprising and that his father was a KMT Keelung City councilor at the time.

"As soon as my mother — who was pregnant at the time — heard the news, she took a large sum of money and rushed to 'buy' their lives," Chou said.

Chou's brother returned after his mother bribed officials, but it was too late to save his uncle, who had already been executed and thrown into Tianliao River.

Although Chou's father was a KMT member, he remained in hiding for months because the government accused him of helping anti-KMT guerillas by stockpiling rice.

"In reality he was handing out rice to poverty-stricken Keelung residents hit by the severe inflation at the time," Chou said.

After observing a minute of silence, the marchers — holding flowers — proceeded through the city, recounting the details of massacre through a loudspeaker.

The march concluded on a bridge near the mouth of Tianliao River at Keelung Harbor, where marchers threw their flowers into the river to remember those who died.
---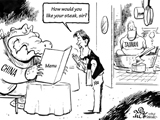 ---
An alphabet soup filled approach to unification
 
By Lu Chun-wei 盧俊偉
Monday, Mar 09, 2009, Page 8

'As the government debates an ECFA or a CECA, it exaggerates the gains and glosses over the losses, just like it has done when pushing for other policies to open up to China.'

The government claims that if an economic cooperation framework agreement (ECFA) or a comprehensive economic cooperation agreement (CECA) is not signed with China, Taiwan's export competitiveness will plunge. However, half of Taiwan's exports are electronics and information-technology products, which are already exempt from customs duties thanks to Information Technology Agreements signed with other countries. This means that these products will not be affected by any free-trade agreement (FTA) between other countries or any regional economic cooperation.

Exports to East Asia are mostly raw materials and component parts for re-export. Since these countries have export tax-refund measures in place, imports are in effect tax-exempt. Although Taiwan will be hurt to a certain degree by the launch of the ASEAN Plus Three — China, Japan and South Korea — the damage will be lower than 0.2 percent of the nation's GDP. It will neither devastate the economy nor obstruct and marginalize development.

Economic and trade opening and cooperation always has its pros and cons, but as the government debates an ECFA or a CECA, it exaggerates the gains and glosses over the losses, just like it has done when pushing for other policies of opening up to China.

For example, President Ma Ying-jeou (馬英九) has repeatedly emphasized that the opening of direct links would make it more convenient to sell agricultural products to China, while ignoring the fact that this would make it easier to sell Chinese agricultural products in Taiwan. Since the opening of direct transport links, the amount of cheaper Chinese agricultural products sold to Taiwan is actually five times greater than that of Taiwanese agricultural products sold to China. With the ECFA or CECA proposal, the government would make things even worse.

Government officials and others say the signing of an ECFA or CECA will attract trans national enterprises to invest in Taiwan. They said the same thing when they promoted the relaxation of restrictions on Chinese investment by Taiwanese businesses and the opening of direct links. However, the expected benefits have not materialized. As a result, they now claim that since products imported to China from Singapore and other ASEAN member states are duty-free, Taipei must sign an ECFA or a CECA with Beijing in order to improve Taiwan's export competitiveness.

Looking at how the government keeps telling bigger lies to cover up for previous lies, I wonder if an ECFA will be followed by claims that Taiwan is unable to compete with Shanghai because Shanghai uses the same currency and laws as the rest of China, so Taiwan should use the same currency and laws. Are we on the road to unification?

Lu Chun-wei is a research fellow at Taiwan Thinktank.