TECRO official removed from post: GIO
 
By Flora Wang
STAFF REPORTER
Tuesday, Mar 17, 2009, Page 1
 
"I should be able to meet a higher standard as an official based at a mission abroad. I'm no longer fit for the job."— Kuo Kuan-ying, director of the information division at the TECRO office in Toronto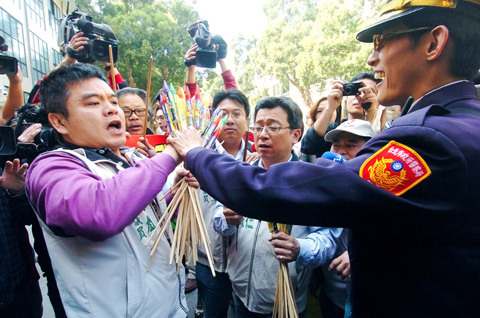 Democratic Progressive Party Taipei City Councilor Chuang Ruei-hsiung, left, protests with other demonstrators against Toronto-based official Kuo Kuan-ying by setting off rockets in front of the Information Office in Taipei yesterday.

PHOTO: GEORGE TSORNG, TAIPEI TIMES
The Government Information Office (GIO) said yesterday it would refer a Toronto-based official whose alleged anti-Taiwan remarks caused an uproar to the Commission on the Disciplinary Sanctions of Functionaries of the Judicial Yuan for investigation.

At a press conference after a meeting, GIO Vice Minister Hsu Chiu-huang (許秋煌) said Kuo Kuan-ying (郭冠英), director of the information division at the nation's representative office in Toronto, would be removed from his position.

"The articles he published created an uproar … and seriously sabotaged the image of the government and the GIO," Hsu said.

Hsu said the office would transfer Kuo to a "non-managerial" post after he hands over his duties to someone else in Toronto.

Kuo became the center of a controversy after Democratic Progressive Party (DPP) Legislator Kuan Bi-ling (管碧玲) last Wednesday alleged that Kuo had published numerous articles online that defamed Taiwan and Taiwanese using the pen name Fan Lan-chin (范蘭欽).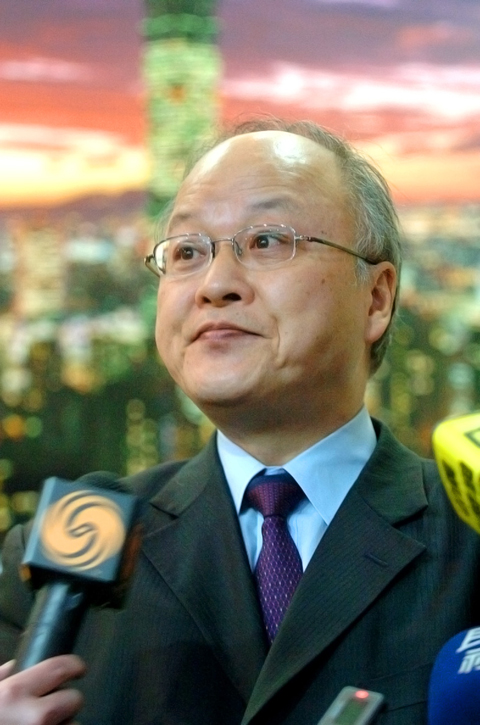 Kuo Kuan-ying, director of the information division at Taiwan's representative office in Toronto, Canada, answers questions from reporters during a meeting in Taipei yesterday.

PHOTO: GEORGE TSORNG, TAIPEI TIMES
The articles referred to Taiwanese as taibazi (台巴子), meaning "Taiwanese rednecks" and wokou (倭寇), or "Japanese pirates."

The author said "the imposition of martial law had been a benevolent act of the then government," and that "[China] should spend many years suppressing [people in Taiwan] instead of granting any political freedom [to them] once it has taken Taiwan by force."

Kuo was summoned back to the GIO for questioning during a meeting yesterday.

GIO Minister Su Jun-pin (蘇俊賓) told reporters prior to the meeting that the office took the controversy seriously and would deal with Kuo according to the law.

Hsu said the GIO would refer Kuo to the commission because there was a "substantial gap" between the evidence collected by government ethics personnel and Kuo's version.

If the allegations prove true, Kuo could be fired or given a demerit in accordance with the Act on Discipline of Civil Servants (公務人員懲戒法).

Asked whether the office would mete out further punishment, Hsu said summoning Kuo back to Taiwan was part of his punishment.

Kuo apologized to the public, but stopped short of admitting the articles were his.

"I should be able to meet a higher standard as an official based in a mission abroad. I'm no longer fit for the job. Regardless of how the GIO deals with me, I'll handle it," he said.

Kuo said he was related to Fan, but "our only relation was that our articles would all later be posted on his Web blog."

Chinese Nationalist Party (KMT) caucus deputy secretary-general Hsiao Ching-tien (蕭景田) backed the GIO's decision, saying that any public official who makes insulting remarks against the country and its people should be severely disciplined.

Kuan said yesterday that the Information Bureau should remove Kuo from his official post or at least suspend him rather than initiate an investigation.

"The investigation will take a while and Kuo will retain his status as a public official and continue to receive his salary," Kuan said.

The GIO covered for Kuo and disregarded the feelings of Taiwanese, Kuan said, adding that the DPP caucus could not accept such a decision.

Kuan said research had shown that aside from the pen name, Kuo had also written under the pseudonym Chao Teng-gi (趙天楫) to publicize dozens of articles defaming Taiwan and its people.
---

TRA doesn't reflect reality: Yates
 
PEOPLE POWER: The president of DC Asia Advisory, a former adviser to former US vice president Dick Cheney, said Taiwan must reach a consensus on cross-strait policy
 
By Jenny W. hsu
STAFF REPORTER
Tuesday, Mar 17, 2009, Page 3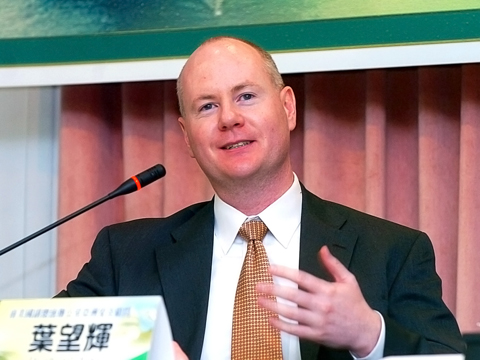 Stephen Yates, president of DC Asia Advisory, talks about Taiwan-US-China relations at the Taiwan National Security Institute in Taipei yesterday.
PHOTO: WANG MIN-WEI, TAIPEI TIMES
The 30-year-old Taiwan Relations Act (TRA) does not accurately reflect present reality, but Washington is unlikely to make any changes to the document given its preoccupation with other issues, such as the economy and the Iraq War, an Asia policy expert said yesterday, urging Taiwanese to stand up and fight for what they want.

Speaking at a forum held by the pro-independence Taiwan National Security Institute, Stephen Yates, the president of DC Asia Advisory and a former advisor on Asian affairs to former US vice president Dick Cheney, said despite the TRA's incompleteness, the US administration at this time was unlikely to amend it or establish a new law to define US-Taiwan relations.

The US Congress passsed the TRA in 1979 after Washington established diplomatic ties with Beijing. The landmark legislation has served as the backbone of bilateral relations ever since. It is also the only US domestic law that stipulates the US government conduct relations with another nation.

The TRA fit circumstances 30 years ago, but because of the rapid changes in Taiwan, the US and China in recent years, especially the last decade, the document now has "gaps" on the issues such as Taiwan's participation in international organizations and human rights, Yates said.

In the TRA, the US' policy toward Taiwan's membership in international organizations is stated in the negative, he said.

"At the time, Taiwan was a member of several international organizations and so it was important to say we opposed Taiwan being excluded or expelled. But now, the issue is not whether Taiwan is to be expelled, but whether it can come back in," Yates said.

If the context now was similar to what it was 30 years ago, "I am confident the US Congress would have stated that the US supports Taiwan's membership in international organizations," he said.

He also said the TRA stipulated very little about US policy on Taiwan's human rights, "but it might be useful post-democratization to address some of these issues."

At the time of the TRA's composition, no one foresaw the current rapprochement between Taiwan and China and, therefore, the legislation did not state what the US would deem as acceptable if any agreements were to be signed by Taipei and Beijing, he said.

Yates, a longtime supporter of Taiwan, also panned Washington for refusing to acknowledge the reality that Taiwan was a democratic country by ignoring the fact that conflict in the Taiwan Strait was not merely limited to Beijing and Taiwan, but a grave concern to the whole region.

One of three major tenets of the TRA is the US commitment to avert possible Chinese aggression against Taiwan. But instead of taking active measures on the rapid modernization of the People's Liberation Army in recent years, many people in Washington are telling Taipei "to stay quiet" and not to stir up possible conflict.

Calling attention to the growing cross-strait imbalance that has given China the upper hand, Yates encouraged Taiwanese to use their power to force the government to behave in line with the majority of public opinion.

Taiwan, he said, must reach an internal consensus on what it wants before any country, including the US, can help, he said.
---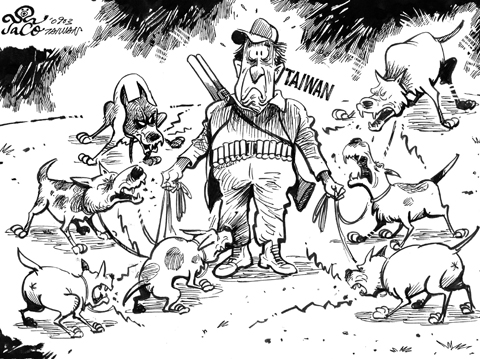 ---
A new role for the PLA Navy?

Tuesday, Mar 17, 2009, Page 8

Military analysts have been slowly coming to grips with Beijing's decision in December to dispatch naval forces to the Gulf of Aden to combat piracy — China's first deployment of such forces abroad since the 15th century.

China's decision was part of its goal to play a role commensurate with its status as a "great power," US National War College professor Bernard Cole said on March 4 during testimony before the US-China Economic and Security Review Commission.

Aside from considerations of image — a show of force to consolidate the Chinese Communist Party's (CCP) grip on power — the mission was meant to safeguard China's international interests.

Furthermore, by participating in a UN-sanctioned, multinational effort to combat piracy at sea, China is sending a signal that it is willing to — and now capable of — being a responsible stakeholder.

By interacting with naval forces of other countries, making port calls abroad and securing transit agreements, China is strengthening the image of a "peaceful rise" and "peaceful development" advocated by Chinese President Hu Jintao (胡錦濤) and other Chinese leaders.

What this mission also tells us is that for the first time, the People's Liberation Army (PLA) Navy is capable of sustaining task group operations outside its waters for an extended period of time. The current deployment consists of three ships and about 800 crew, and Beijing has announced that it could be relieved by a similar group after three months if the situation warrants it.

Rather than content itself with port calls and "showing the flag" in international waters, the PLA Navy is engaging in actual combat and, in Cole's assessment, is performing in a "well-planned, professionally competent fashion."

Cole then told the commission that Beijing's "considerable expenditure of resources" in the anti-piracy mission could also stem from its growing confidence that the Taiwan contingency — until now the focus of the PLA — is well under control and that cross-strait talks initiated after President Ma Ying-jeou (馬英九) and the Chinese Nationalist Party (KMT) came to power last year have made it possible for the PLA to operate in other theaters.

While this may be true for the Navy, Cole's assessment fails to mention that since Ma came into office, the PLA has continued to increase the number of missiles it aims at Taiwan and has not relented in its vow to use force against Taiwan if necessary.

More likely, the deployment to the Arabian Sea was an opportunity — and Cole only mentioned this in passing — to gain precious combat experience. In other words, by joining the efforts, it was killing two birds with one stone.

There is no doubt that the Gulf of Aden mission is contributing to the transformation of the PLA Navy from a coastal defense force to one capable of operating offensively at long range and for an extended period of time.

The mission is also increasing the capabilities of the Navy should it be called upon to use force in the Taiwan Strait. The deployment will have given it firsthand experience of other navies at work, during which commitment we can expect that intelligence will have been collected and analyzed back in Beijing.

Yes, China is helping fight piracy in international waters and appears to be doing a good job. But the battle it is gearing up for is still in the future — and much closer to home.
---
Why hurry for Chinese integration?
 
By Sushil Seth
Tuesday, Mar 17, 2009, Page 8

'It won't be much fun being in that situation when China is faced with problems such as the serious concern about the adequacy of the US$585 billion stimulus plan China announced in November, as well as its distribution and the level of transparency involved.'

During the course of his recent speech in the National People's Congress (NPC), Chinese Premier Wen Jiabao (溫家寶) said the process of Taiwan's economic integration with China would continue, adding that if Taiwan were to behave, this might eventually become the basis for a free trade agreement.

There was nothing new in Wen's remark about Taiwan regarding closer political and economic relations. It was vague and lacking in specifics.

For instance, Wen called for "fair and reasonable arrangements" for Taiwan's participation in international organizations. But there was nothing to suggest how to go about it nor what the scope of Taiwan's international participation would be.

In the same way, he talked about a formal cessation of hostilities with Taiwan. He didn't indicate, however, if there would be a formal peace treaty or some other defined mechanism of dialogue or cooperation between the militaries of the two countries.

The administration of President Ma Ying-jeou (馬英九) is focusing on the economic aspects of the relationship, and is not too keen to take up the political and military aspects.

This approach is dangerous, because over time the relative weight of China's economic and political power might become so overwhelming that Taiwan would not have any option but to wind up as another Hong Kong.

It won't be much fun being in that situation when China is faced with problems such as the serious concern about the adequacy of the US$585 billion stimulus plan China announced in November, as well as its distribution and the level of transparency involved.

Some of the stimulus money is said to be a repackaging of the old spending plans.

Of the overall planned spending, nearly US$175 billion will come from the central government and the rest from banks, investors and local governments.

Without specific guidelines, all this seems to be a questionable arrangement, to say the least.

There will be very little transparency, particularly with regard to spending by local governments and other agencies on pet projects, which will involve corruption and wasteful expenditure. Obviously, much of the stimulus money will go into infrastructure projects like building roads and railways.

Some party elders are worried about this on two levels. First, they would like more spending for social sectors like health and education. Their second worry is the lack of transparency and the consequent need for democratic functioning.

Talking about the priorities of the stimulus package, Du Guang (杜光), a party elder, reportedly said: "You have to look at how to expand demand in the long term … Social spending is more important than building railways, expressways and other basic infrastructure."

And there is serious concern about corruption, as expressed in a Jan. 20 letter from some elders to Chinese President Hu Jintao (胡錦濤) and the party leadership.

A New York Times report quoted the letter as saying: "We are extremely worried that the privileged and the corrupt will seize this opportunity to fatten themselves … and intensify social conflict."

They therefore urged the party leadership to free the media and let courts operate without interference to ensure greater transparency and a fairer judicial process.

In other words, the party should take this opportunity of economic slowdown to readjust economic priorities with greater focus on social spending, combined with democracy.

As one elder said: "The greater the difficulties, the greater the need for democracy."

The letter in a way reaffirmed China's "Charter 08," which listed the sad political reality of the country and the need for democratic reforms.

The charter said, in part: "The political reality, which is plain for anyone to see, is that China has many laws but no rule of law; it has a Constitution but no constitutional government. The ruling elite continues to cling to its authoritarian power and fights off any move toward political change."

This in turn has led to "endemic official corruption … crony capitalism, [and] growing inequality between the wealthy and the poor ... The decline of the current system has reached a point where change is no longer optional."

But the people of China shouldn't hold their breath expecting things to change. The chairman of the nominal NPC has categorically rejected any notion that the party might even consider political liberalization.

While addressing the NPC, Standing Committee Chairman Wu Bangguo (吳邦國) warned the legislators that without the Chinese Communist Party in control, China "would be torn by strife and incapable of accomplishing anything."

Not only did he reject the idea of Western-style multi-party democracy for China, he even argued that China's one-party rule was superior. And therefore it was imperative that China should maintain "the correct political orientation" laid down by the party.

How the party manages social stability in a country of 1.3 billion people in the midst of growing social unrest from increasing unemployment will be interesting to watch.

Under one-party rule, when there are no legitimate channels of expressing dissent and dissatisfaction, the only conceivable way would be through coercion, fear and control.

Yet, with the current economic slowdown, unemployment is getting worse. Twenty million rural migrants have already lost their jobs in the cities, which is bound to further add to an uneasy situation in rural areas with their already depressed economy.

As Wen told a Cabinet meeting in January: "The country's unemployment situation is extremely grim."

Against such a grim background, it defies comprehension that the Ma administration is so keen on integrating with China.

Sushil Seth is a writer based in Australia.