China approves Lhasa makeover
 
MODERNIZATION: The plan called for capping the downtown population and limiting the land allowed for development to create a 'modern metropolis'

AGENCIES , BEIJING
Wednesday, Mar 18, 2009, Page 5

China has approved a "modern redesign" of the Tibetan capital, state media said yesterday, including a limit on its downtown population.

Overseas rights groups have long complained that the Chinese government has failed to protect Lhasa and accuse Beijing of trying to flood the region with Han Chinese to dilute its ethnic makeup and assert greater control.

China rejects these charges, saying it has invested billions to improve lives in a region once blighted by serfdom and poverty and is committed to protecting its unique way of life and customs. By 2020, Lhasa will become an "economically prosperous, socially harmonious and eco-friendly modern city with vivid cultural characteristics and deep ethnic traditions," a document carried on the central government's Web site said.

The China Daily said the plan would make Lhasa "a coordinated and distinctive modern metropolis by 2020."

Lhasa's downtown population would be capped at 450,000 — the city only has 500,000 residents in total today — and just 75km² of land would be allowed to be used for urban development.

Lhasa is divided between an older, more traditional, Tibetan section, and a newer section where Han Chinese migrants dominate, complete with shopping malls and night clubs.

The urban makeover plan said local authorities should "pay great attention to protecting the historical, cultural and aesthetic characteristics" of Lhasa. That includes controlling the number, height and even color of buildings.

"Pay attention to the legal preservation of sites of necessary religious activities [and] satisfy the needs of the religious lives of believers," the document said.

The China Daily said that when Beijing conducted its first census in Tibet in 1953, "Lhasa's residents totaled only 30,000 and 4,000 of them were beggars."

In related news, assailants threw a bomb into a newly built police station in a Tibetan area, a police official said yesterday amid heightened tensions and security during a volatile anniversary period. No injuries were reported.

The explosion just after midnight on Monday shattered windows at the station in Bogexi, a town in the predominantly Tibetan Ganzi prefecture, said Liu Xiaojun, a police official.

The building was not yet occupied and an investigation was under way, said Liu, who works at the public security bureau in Batang county, which oversees the town. Batang, in Sichuan Province's far west, is about 7km from the Tibetan border.

The China Daily blamed "terrorists" for the blast, but provided no other details.

The incident came just days after the one-year anniversary of March 14 anti-Chinese riots in Lhasa. The violence last year spread to three other provinces in western China — Sichuan, Gansu and Qinghai — and was the most sustained and widespread Tibetan uprising in decades.

This month also marks the 50th anniversary of a failed March 10 revolt against Chinese rule in the Himalayan region that sent the revered Tibetan leader, the Dalai Lama, into exile.

Ganzi is known for its strong Tibetan identity and has been at the center of dissent for years. It saw some of the most violent protests last spring.

Last week, officials said they received an emergency notice from Sichuan's provincial government to seal off the town of Kangding to foreigners, the last corner of Ganzi to remain open.
---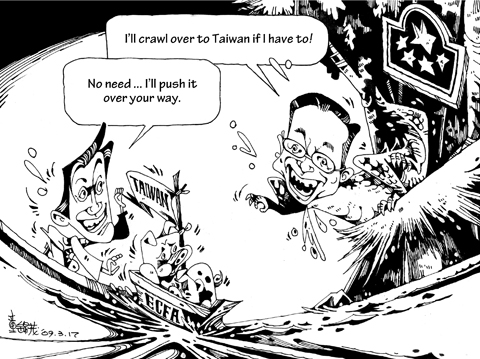 ---
Pray for Tibet, struggle for Taiwan
 
By Su Tseng-chang 蘇貞昌
Wednesday, Mar 18, 2009, Page 8

March is a significant month for Taiwan in many ways. Taiwan's first presidential election, its first handover of power from one party to another and its first nationwide referendum all happened in March.

March of this year marks the 19th anniversary of the Wild Lilies student movement (野百合學運), the 13th anniversary of the Taiwan Strait missile crisis and the fourth anniversary of the enactment of China's "Anti-Secession" Law.

These anniversaries represent the course of the Taiwanese people's struggle for democracy and peace, their refusal to be intimidated by China and their brave determination to defend Taiwan.

March is also an unforgettable month for Tibetans. Fifty years ago, the Chinese government tore up its 17-point agreement with Tibet and sent in its army. Amid the bloodshed, many Tibetans fled abroad, never to return to their homeland.

China has never ceased its oppression in Tibet during the following five decades. A year ago, serious unrest erupted in Lhasa, the truth about which remains unclear. Indeed, for Tibetans, March is a month of harsh and painful memories.

Tibetan blood, tears and pain should serve as a warning to Taiwan that, when confronted with an oppressive power, compromise and concessions will not bring peace.

Four years ago, China enacted its "Anti-Secession" Law, specifying at what time and under what conditions China would use armed force against Taiwan. The passage of this law was a blatant attempt to intimidate the Taiwanese.

At the time, I was chairman of the Democratic Progressive Party. Determined to protest in the strongest terms against China's threats and to make Taiwan's voice heard around the world, our party joined 500 civic groups to launch a major demonstration.

Demonstrators converged on downtown Taipei along 10 routes — 40km altogether. One million people answered the call to take part, marching shoulder-to-shoulder and shouting, "democracy, peace, defend Taiwan," sentiments that were heard and understood all around the world. The following year, I was appointed premier.

During my premiership, I declared that March 14 each year would be "Anti-Aggression Day" as an expression of the Taiwanese people's determination not to tolerate aggression by their powerful neighbor.

Other parties, however, took a different attitude. At the very time that our country was being threatened, former Chinese Nationalist Party (KMT) chairman Lien Chan (連戰) and People First Party Chairman James Soong (宋楚瑜) chose to visit China, thereby helping Beijing to give the world a false impression of detente across the Taiwan Strait.

President Ma Ying-jeou (馬英九), who was at the time mayor of Taipei, publicly criticized me for organizing a mass demonstration against China's "Anti-Secession" Law, calling it a "provocation," and he downplayed the size of the protest, claiming that only 270,000 people joined the march.

Every key point in history serves as a test of people's words and actions.

Last year, four days before ballots were cast in the presidential election, Ma proclaimed six points of solemn protest against China's bloody suppression of Tibetans following unrest in Lhasa.

Ma denounced Chinese Premier Wen Jiabao (溫家寶) as "arbitrary, unreasonable, arrogant and foolish," and said that if China continued its oppression in Tibet, he would not rule out boycotting the Beijing Olympics.

Ma appeared to be taking a strong moral stance in condemning China and supporting Tibet.

Two-and-a-half months after Ma took office as president, it was a different story.

In its Handbook for Spectators at the Beijing Olympics, the Sports Affairs Council warned Taiwanese who went to watch the Games in Beijing not to take national flags into the sports venues, as to do so would be in breach of Chinese laws.

Later, when asked by a foreign journalist about the Dalai Lama's declared wish to visit Taiwan, Ma ruled out such a visit, saying that the timing was inappropriate.

This year marks the 50th anniversary of the Tibetan Uprising. Ordinary Taiwanese sympathizing with the Tibetans have organized several activities in support of Tibet.

Ma, however, has not uttered so much as a word of support.

KMT Legislator Wu Yu-sheng (吳育升), a favorite of Ma, went so far as to propose in his draft Memorial Days and Festivals Act (國定紀念日與節日法) to remove Mar. 14, Anti-Aggression Day, from the list of official memorial days.

Ma's silence in the face of China's hegemony and oppression is a cause for disappointment among Tibetans and anger among Taiwanese.

In this month of March, let's pray for Tibet and resolve to fight for Taiwan.

Despite our disappointment and anger, we have many tasks before us.

We have a long way to go in defending Taiwan.

As long as we choose the right road and keep walking, we will surely reach our goal.

Let's move forward together.

Su Tseng-chang is a former premier.