Taiwan Strait needs farsighted leaders, former US ambassador to China says
 
By Ko Shu-ling
STAFF REPORTER
Monday, Apr 13, 2009, Page 1

"This resilience, or dynamic status quo, is of crucial importance for peace and stability for East Asia."— President Ma Ying-jeou

A former US ambassador to China said yesterday in Taipei that one of the looming problems in the Taiwan Strait is security and that it would require strong and farsighted leaders on both sides to benefit, not beggar, their neighbor.

"One can hope that increasing economic ties, bilateral dialogue and general momentum will lead to progress," said Winston Lord, who served as US ambassador to China from 1985 to 1989 and was assistant secretary of state for East Asian and Pacific affairs between 1993 and 1997. "So far the picture is not encouraging."

Lord made the remarks in a keynote speech during the morning session of the "International Conference on 30 years of the Taiwan Relations Act (TRA) — Retrospect and Prospects."

Referring to a recently released Pentagon report, Lord said China continues to build up its missile force and its general military capabilities. Fleeting references to confidence-building measures have not yielded concrete steps, he said.

Looking ahead, Lord said that although the global economic crisis has clouded the immediate vision, it is in the interests of all to benefit, not beggar, their neighbors.

"This will require strong, farsighted leaders," he said. "It will test the fiber of the people. Patriotism must supplant partisanship."

Lord said it was necessary to craft security assurances and that the TRA has helped to safeguard the "inspiring journey of Taiwan in the jaws of powerful headwinds," but that was hardly sufficient.

While Taiwan's security has been safeguarded, China's military buildup continues unabated, he said, adding that Taiwan must pull its weight in its own defense and further strengthen its democracy.

Good relations with Beijing need not harm Taiwan's fortunes, he said. A crucial factor for recent and future progress is steady consultation and mutual trust between Taipei and Washington.

Lord said Washington should not mediate between Taipei and Beijing in any fashion, even in the highly unlikely event that the two sides sought to cast the US in that role.

"As always, the future relationship between Taiwan and the PRC [People's Republic of China] should be resolved between them directly, peacefully and with the support of the people," he said.

One of the immediate issues is Taiwan's international space, on which Lord said he would like to see Beijing move from halting, limited steps to a posture consistent with Taiwan's dignity and stature.

President Ma Ying-jeou (馬英九) said he hoped to see the TRA continue to strengthen and through cooperation between Washington, Beijing and Taipei, he believed it would create a win-win-win situation.

"The TRA has served to anchor peace and stability across the Taiwan Strait for the past three decades," Ma said in English at the opening ceremony of the conference. "Its very existence changed the evolutionary course of cross-strait development by stabilizing the trilateral relationship among Taiwan, the US and mainland China."

Describing the TRA as the "second best choice" in an imperfect world, Ma said it has served to accommodate Taiwan's needs by keeping all aspects of US-Taiwan relations intact, despite Washington's switching of diplomatic recognition from the Republic of China to the People's Republic of China in 1979.

The TRA also created a resilient triangular framework for relations between the US, Taiwan and China, he said.

"This resilience, or dynamic status quo, is of crucial importance for peace and stability for East Asia," Ma said.

The TRA was drafted when former US president Jimmy Carter's administration transferred diplomatic relations from Taipei to Beijing in 1979. Washington announced the termination of its defense treaty with Taiwan, but wished to maintain robust non-governmental relations and pledged to continue selling defensive weapons.

Bonnie Glaser, a senior associate at the Center for Strategic and International Studies, said that a key element of the TRA was the preservation of choice for Taiwanese about their future.

Many changes had taken place since the passage of the TRA, she said, including the weakening of congressional support for Taiwan and a dramatic shift in the cross-strait military balance in favor of China.

Against this background, Glaser said she did not think the TRA required any amendment to adjust to new realities in Taiwan or to the changing situation in the Taiwan Strait, because the TRA addresses US policy interests, not outcomes.

However, if Taiwan opts to fundamentally redefine its relationship with the US and with China, then the TRA and US policy toward Taiwan may need to be adjusted, she said.

As Taipei continues to negotiate with Beijing, Glaser said Ma will want to ensure that ties with Washington are strong and that the US commitment to Taiwan's security is steadfast, "lest Taipei be vulnerable to Chinese pressure and coercion."
 
---
Media freedom weakening: think tank
 
INFLUENCE: Taiwan Thinktank chairman Chen Po-chih said China is seeking to gain control over the content of news in Taiwan by investing in or buying media outlets
 
By Loa Iok-sin
STAFF REPORTER
Monday, Apr 13, 2009, Page 3

Taiwan's hard-won freedom of expression is under threat from Chinese attempts to gain control of media outlets, as well as the policies of the administration of President Ma Ying-jeou (馬英九), critics said yesterday.

"The freedom of expression we enjoy in Taiwan today is the hard-earned fruit of the sacrifices of many human rights pioneers," Taiwan Thinktank chairman Chen Po-chih (陳博志) told a forum on freedom of speech in Taipei yesterday.

"Unfortunately, this freedom has come under threat recently because of the meddling of a foreign authoritarian government, the authoritarian mentality of our government and its collaboration with a country that is hostile to us," Chen said.

China is that foreign country, he said.

Chen said China was trying to gain control over media in Taiwan by investing in or buying outlets, while the Taiwanese government eliminated information from media reports that portrays itself or China negatively.

The government is accomplishing this by "excluding targeted media outlets from government-sponsored projects or by pulling commercials from those media outlets," he said.

Former Presidential Office secretary-general Yeh Chu-lan (葉菊蘭), also took part in the forum, saying she was concerned that most people in Taiwan were not aware of the threat.

"When media bosses are thinking about investing in China or when they get their money from China, how do you expect the media to provide balanced and fair reports when it comes to anything related to China?" Yeh asked.

"It's sad that most people in Taiwan are not aware of it — they're like frogs gradually cooking alive in warm water: By the time they realize the water is boiling, it'll be too late," she said.

National Taiwan University professor of economics Chang Ching-hsi (張清溪), who practices Falun Gong, said when New Tang Dynasty TV (NTDTV), a Chinese TV network based outside China, was trying to buy a channel to broadcast in Taiwan in 2007, no cable system owners would sell them one.

NTDTV has a strong focus on Falun Gong and human rights-related developments in China, including coverage on Beijing's persecution of the spiritual movement.

"They told me they didn't want to earn 'troublesome money' from us because we're Falun Gong," Chang said. "When you take a closer look at these cable system companies, you find that most of them have investments in China."

Association of Taiwan Journalists chairman Leon Chuang (莊豐嘉), meanwhile, criticized Ma for giving former aides management positions at the state-owned Radio Taiwan International and the Central News Agency (CNA) after taking office in May.

Chuang, who was then CNA's deputy editor-in-chief, resigned in protest.

He also panned the Chinese Nationalist Party (KMT) caucus for freezing part of the budget for the Taiwan Broadcasting Systems (TBS) and its proposal that TBS projects be subject to legislative review.

"Although most people are not aware of it, freedom of expression is weakening and the situation is very bad," Chuang said. "We're forced to see the world through the eyes of China and some people still believe that it can be called 'global perspective.'"

In other news, former national policy adviser Huang Hua (黃華) continued his hunger strike for the sixth day yesterday at Liberty Square in Taipei in honor of democracy movement pioneer Deng Nan-jung (鄭南榕), who committed suicide by self-immolation 20 years ago.

Huang, who initiated the New Country Movement with Deng in 1988, is protesting the government's plan to sign an economic pact with China.

He had expected police to remove him by force last night because of a memorial concert held at the square to mark the 100th anniversary of former president Chiang Ching-kuo's (蔣經國) birth.

The Taipei City Police Department said yesterday they would leave Huang alone because they were "having a very busy day."
 
---
KMT caucus proposes easier trips to China
 
By Rich Chang And Ko Shu-ling
STAFF REPORTERS
Monday, Apr 13, 2009, Page 3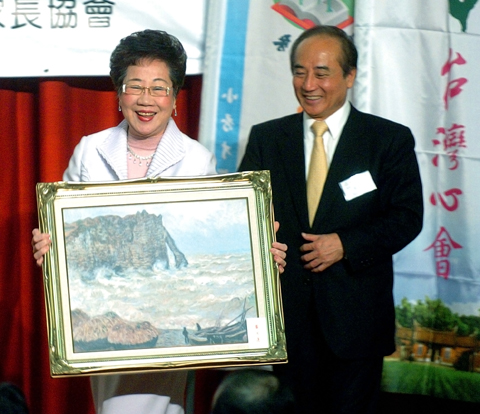 Former vice president Annette Lu holds a painting that she gave to Legislative Speaker Wang Jin-pyng, right, at a fundraising event in Taipei yesterday. Lu and Wang disagreed on the value of Chinese Nationalist Party (KMT) talks with the Chinese Communist Party.
PHOTO: GEORGE TSORNG, TAIPEI TIMES
Chinese Nationalist Party (KMT) lawmakers have proposed an amendment to the Act Governing Relations between the Peoples of the Taiwan Area and the Mainland Area (兩岸人民關係條例) that would allow mayors and county commissioners to visit China without seeking permission.

The proposal, initiated by KMT legislators Chu Fong-chi (朱鳳芝), Chang Ching-chung (張慶忠) and others, would also lift cross-strait travel restrictions on high-ranking public servants and police officers.

The Act requires senior public servants, senior police officers and officials of various agencies related to national security to apply with the Ministry of the Interior (MOI) for approval to travel to China.

It also requires mayors and commissioners to obtain approval from a committee of officials from the MOI, the Ministry of Justice (MOJ), the Mainland Affairs Council (MAC) and the National Security Bureau (NSB) before visiting China.

Chu said the restrictions make trips to China inconvenient and ineffective for mayors and county commissioners.

Mayors and county commissioners could promote Taiwan's agricultural products, tourism, business and culture in China, she said, adding that their posts did not concern issues of national security.

The proposal says that only officials from the Ministry of National Defense, the NSB, the MOJ's Investigation Bureau and public servants working with national security issues should be restricted from visiting China.

The legislature's Internal Administration Committee is scheduled to review the amendment on Wednesday.

The Democratic Progressive Party (DPP) caucus said it opposed the amendment.

Senior officials could leak information on national security if they make frequent visits to China without restrictions, DPP caucus whip Lee Chun-yee (李俊毅) said.

Lee said that in a number of cases, government officials from various agencies had been charged with spying for China.

"The proposed amendment would hurt Taiwan's national interests and put the county in danger," Lee said. "Such an amendment is irresponsible because it was proposed without a thorough review of its potential impact on national security."

In related news, former vice president Annette Lu (呂秀蓮) and Legislative Speaker Wang Jin-pyng (王金平) yesterday disagreed on communication between the KMT and the Chinese Communist Party (CCP).

While Lu said she was in favor of abolishing the party-to-party platform, Wang said it remained essential.

The two made the remarks at a fundraising event in Taipei.

Wang said the KMT and CCP had both been founded in China and had been at odds for a long time. Now they have begun interacting and set up a platform that serves as a buffer and a preliminary communication channel, he said.

Lu said she could not know whether any secret deals were being made between the KMT and CCP, but that the KMT could not represent the government or President Ma Ying-jeou (馬英九) in negotiating.
---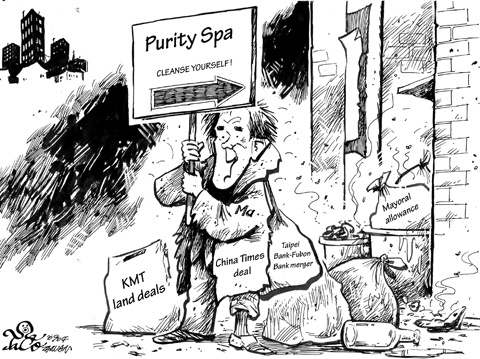 ---
A crisis of sovereignty and party maneuvers
 
By Lin Cho-shui 林濁水
Monday, Apr 13, 2009, Page 8

Taiwan's diplomatic situation has been extremely difficult since the 1970s, but with the help of the US and other countries, it has adopted an internationalization strategy and gradually returned to the international community through entry into APEC in 1991 and the WTO in 2002. Although Taiwan has made compromises on its status to join these organizations, it does not accept the view that it is a part of China as a prerequisite for membership. Taiwan considers the pursuit of full membership to be its goal.

However, in a 2005 agreement signed by former Chinese Nationalist Party (KMT) chairman Lien Chan (連戰) and Chinese President and Chinese Communist Party (CCP) Chairman Hu Jintao (胡錦濤), the two parties proposed that there be cross-strait negotiations on Taiwan's participation in the international arena under the "one China" principle.

After Ma Ying-jeou (馬英九) was elected president, he confirmed the Lien-Hu agreement. There now seems to be a consensus between the KMT and the CCP that talks on Taiwan's participation in international activities should be negotiated between these two parties.

Since coming to power, Ma has based his policies on the "1992 consensus" and "one China, with each side having its own interpretation," as well as a consensus between the KMT and the CCP to discuss Taiwan's diplomatic space and a diplomatic truce, while emphasizing that the issue can be addressed without US intervention.

In addition, both sides have abandoned dual recognition of allies, while cross-strait relations are no longer state-to-state relations, but those between areas of one country.

The government's thinking on Taiwan's status has therefore undergone substantial change. In the Ma administration's way of thinking, Taiwan holds a higher status than Hong Kong because it is still able to exercise relative autonomy and elect its own president and parliament.

But Taiwan's status is lower than Belarus and Ukraine during the Soviet era because it is unable to become a UN member. It even has lower status than imperial China's protectorates, such as Korea, because it is unable to exchange ambassadors with most other states, as Korea could.

Lastly, Taiwan has now yielded its de jure and de facto sovereignty.

The government's view of Taiwan's status is that it is superior to the second party in the "one country, two systems" approach, but substantially inferior to the protectorates of old. It is therefore abandoning its status as an independent, sovereign state and downgrading itself into a protectorate of China.

But even this is rejected by Hu's "six points," which were proposed on Dec. 31, because Beijing stresses that it will not accept Taiwanese independence or semi-independence.

Political parties unite in the face of external pressure; this is a fundamental political principle. Unfortunately, in recent years the use of foreign influences has become the norm when engaging in domestic conflict.

One result of this is the annual KMT-CCP forum, an occasion for KMT officials to visit China and make friends with a state apparatus that has territorial ambitions, a government that wants to annex Taiwan and join the KMT in fighting its political opponents.

This powerful and bizarre confusion of ally and enemy is causing Taiwan to rapidly lose its sovereignty and will continue to intensify domestic confrontation.

The attitude that Taiwan is a political satellite of Beijing has become the government's collective approach and is the cause of this country's crisis of sovereignty.

Lin Cho-shui is a former Democratic Progressive Party legislator.