Thai troops crack down on protesters
 
THIS IS OUR FINAL STAND: While buses were commandeered and tires set on fire, a building at the Ministry of Education complex was set ablaze by molotov cocktails

AP AND AFP, BANGKOK
Tuesday, Apr 14, 2009, Page 1

Thousands of Thai troops firing automatic weapons and tear gas forced anti-government protesters rampaging across Bangkok to retreat yesterday to their main encampment ringing the seat of government. The demonstrators said they were prepared for a "final stand."

In a major escalation of Thailand's ongoing turmoil, protesters and combat troops were locked in a series of tense confrontations and cat-and-mouse chases for 12 hours. At least 79 people were reported injured. The army spokesman said troops fired blank bullets into the crowds and live shots overhead.

As evening fell, some of the 6,000 troops deployed in Bangkok began moving toward Government House, where the protesters have been holding out since March 26. An estimated 5,000 of the demonstrators were gathered in the Government House area.

"This will be our final stand. I beg that you return here and face them together," protest leader Jatuporn Phromphan shouted from a platform near the seat of government. "We will use peaceful means and stay right here to end their violence."

Army spokesman Colonel Sansern Kaewkamnerd said troops were narrowing the area of unrest.

"It's going to take time and we are trying to cause as little loss as possible," he said.

Hundreds of soldiers and police assembled at the Royal Plaza, about 1.6km from Government House, confronting about 100 female protesters who knelt down and screamed: "Please stop, brothers."

Some hugged the soldiers.

"I don't mind dying right here if it means we become a real democracy. You can kill me right here. I am not here to cause trouble. I just want my rights," said Tanyawalai Wongsuriyaneth, 46, a female protester returning to join the rally at Government House.

The demonstrators are demanding the resignation of Thai Prime Minister Abhisit Vejjajiva, saying his four-month-old government came to power illegally.

Earlier, the protesters were stationed at a half-dozen points in Bangkok, defying government-imposed state-of-emergency measures that ban gatherings of more than five people.

Protesters commandeered public buses to block several key intersections, set tires and vehicles on fire and sent two unmanned buses, one of them burning, hurtling toward lines of soldiers. The bus swerved and then ricocheted off trees on the side of the road before coming to a halt, with no one injured. The other bus also crashed without injuring anyone.

Former prime minister Thaksin Shinawatra accused the government of lying to cover up deaths in an army crackdown on protesters yesterday.

Speaking to CNN from an undisclosed location, the fugitive tycoon said soldiers who were seen earlier firing rounds into the air to disperse his rioting supporters in Bangkok had killed "many."

"They trapped the people … Many people died … They even take the dead bodies up on the truck and take them away. They're trying to confuse everything," Thaksin told the channel.

"You try to lie to the whole world, you try to lie to the people, but … it's impossible," he added.

Later last night, a security guard said that a building in the education ministry complex was ablaze after being hit by petrol bombs.

Protesters also seized seven buses and set them on fire in front of the nearby UN building, sending flames shooting high into the sky.

"There were several bomb blasts at 5pm and suddenly the fire broke out," education ministry security guard Pradap Wongdara said.
---
Mother visits incarcerated Chen
 
MISTAKES: In his new book, the former president says he was too benevolent to 'enemies' such as Ma Ying-jeou and that his wife said he was too softhearted
 
By Shelley Huang and Ko Shu-ling
STAFF REPORTERS
Tuesday, Apr 14, 2009, Page 3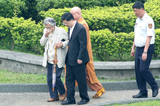 Chen Lee Shen, left, the mother of former president Chen Shui-bian, is pictured after visiting the former president in custody at the Taipei Detention Center yesterday.
PHOTO: GEORGE TSORNG, TAIPEI TIMES
Former president Chen Shui-bian's (陳水扁) mother visited him at Taipei Detention Center yesterday for the first time since his detention.

Chen Lee Shen (陳李慎), 85, who lives in Tainan, arrived in Taipei by high-speed rail yesterday morning accompanied by her daughter.

DPP Legislator Chen Chi-yu (陳啟昱) told reporters that when mother and son saw each other both broke down in tears.

He said that Chen Lee Shen said she believed her son could not have done anything wrong and was worried about his deteriorating health.

Chen Shui-bian's daughter and son-in-law last week said he was suffering from arthritis, a rash and gum problems.

The former president has been there since December and was in court last week for the first of several alleged corruption cases he said have been orchestrated by a vindictive government angered by his anti-China views.

Chen and members of his family have been charged with embezzlement, money laundering and taking bribes.

Meanwhile, Chen Shui-bian blamed himself in his new book for failing to restrain his wife, who he said had taken money and wired a large sum overseas without his knowledge. He said he should shoulder political and ethical responsibility.

The book, titled Voices that Can't Be Locked Up (關不住的聲音), hit the book shelves on Wednesday. Chen's office held a press conference yesterday to promote the book, the second he has written during his period of incarceration.

It is a collection of 50 letters by Chen to himself, his family and other politicians, including President Ma Ying-jeou (馬英九) and Chinese President Hu Jintao (胡錦濤).

In a letter addressed to himself, he said he made eight mistakes during his eight-year presidency.

Among them was a "laissez-faire" attitude toward his wife. Chen said he owed the public and his supporters an apology but he wanted to make clear that he was not in charge of family finances. He emphasized that he was not afraid of his wife but tolerated and respected her.

"I would like to apologize to Taiwan, the party, my fellow party members and our supporters," he said. "I know your pain and shame. Not even an execution can atone for my sins."

He also regrets not seriously tackling the problems caused by transitional justice, he said. He said he was not audacious or evil enough to persecute former Chinese Nationalist Party (KMT) officials or reclaim the KMT's stolen assets.

"Your enemies are never merciful to you," he said. "If you are benevolent to your enemy, you are cruel to yourself."

Chen said Ma had tried to divert attention away from his own incompetence by waging a political vendetta against him, adding that his wife always said that he was too soft-hearted.

While he had protected former president Lee Teng-hui (李登輝), Chen said Lee was not grateful. Nor were People First Party (PFP) Chairman James Soong (宋楚瑜) and former KMT chairman Lien Chan (連戰), he said.

"You asked for it because you were too nice to your enemies," he said.

Chen said he did not appoint a successor, leading party heavyweights to fight among themselves, and thereby losing the presidential election.

Chen revealed that he had intended to retain former premier Yu Shyi-kun's position so there would have been no contest between Yu and former premier Su Tseng-chang (蘇貞昌). If Yu had run with former president Annette Lu (呂秀蓮), Chen said, the pair would have garnered more than 41 percent of the vote.

Chen also said he should not have stepped down as party chairman following the 2004 legislative election, which the DPP lost.

Chen said had he not nominated DPP Chairperson Tsai Ing-wen (蔡英文) as a legislator-at-large, she would not have taken the party's helm.

He also said he did not want to believe Tsai had "green skin but blue bones," but wondered how much time she needed before she could effectively lead the party.

In addition, Chen said while he donated money to the party and its members running for public offices, some candidates admitted they had taken the money, some kept quiet, some denied it and some avoided the question.

Finally, Chen said he should not have pursued a political career and that he should have been killed long ago, highlighting an assassination attempt on him and Lu on the eve of the 2004 presidential election.
---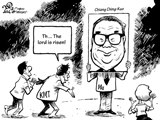 ---
Independence from the ROC

The US Court of Appeals in Washington was right in its decision on Wednesday to rule in favor of the US Government, arguing that the court does not deal with political matters ("US Court sidesteps Taiwan's sovereignty," April 10, page 1).

The US' policy toward Taiwan has historically been deliberately vague. In a country where separation of the judicial and executive branches of government is paramount, it is not for a court to voice an opinion on foreign affairs. Pronouncing upon the claims of Roger Lin et al would do precisely that.

When the Republic of China (ROC) was founded, Taiwan — a Japanese colony — was not part of its inheritance as a result of the terms of the 1895 Treaty of Shimonoseki.

Subsequent repudiations of this treaty and allied wartime declarations such as the Cairo Declaration have no legal standing and can be ignored, as the US and the UK have done and continue to do.

After 1945, the US gave its tacit approval, encouragement even, of the annexation of Taiwan by the ROC. The US never occupied Taiwan; the analogy drawn with Guam and Puerto Rico is flawed. Rather, the ROC effectively gained Taiwan through the spoils of war. That the San Francisco Peace Treaty named the US as the "principal occupier" does not actually mean it was the named occupier of Taiwan. The treaty is unclear: That is precisely the point.

Rather than attempt to solve Taiwan's international status in the US courts, the only option for Taiwan is to declare independence from the ROC. The only issue that should be decided by referendum is whether a new Republic of Taiwan wants to join the People's Republic of China or any successor government — but hopefully only once China has attained a similar or higher level of democracy than Taiwan enjoys.

PAUL DEACON
Kuishan, Taoyuan County
---
TRA faces challenges under Ma government
 
By Lo Chih-cheng 羅致政
Tuesday, Apr 14, 2009, Page 8

'These peaceful changes to the 'status quo' and gradual movement toward unification are creating a situation that is difficult to deal with based on the TRA.'

April 10 marked 30 years since the Taiwan Relations Act (TRA) came into law. The TRA is an important US law that regulates US relations with Taiwan. For a long time, it has also been an important part of US cross-strait policy. However, President Ma Ying-jeou's (馬英九) accession to power has brought changes to cross-strait relations that pose a challenge to the TRA.

One of the key goals of the TRA is to guarantee peace, security and stability and to provide a promise and legal foundation to supply Taiwan with defensive weapons. The law states that it is the policy of the US "to consider any effort to determine the future of Taiwan by other than peaceful means, including by boycotts or embargoes, a threat to the peace and security of the Western Pacific area and of grave concern to the United States."

The problem is that China's goal and the heart of the Ma administration's China policies consist of appearing to strive for peace, security and stability while in fact slowly pushing toward unification.

These peaceful changes to the "status quo" and gradual movement toward unification are creating a situation that is difficult to deal with based on the TRA, since these changes sidestep the expression "other than peaceful means."

If, for example, Taiwan and China signed a peace agreement, the TRA's promise to provide Taiwan with defensive weapons would be called into question. In the same way, Ma's policy of prioritizing cross-strait relations above foreign relations — including relations with the US — means that Taiwan is all but certain to restrict its relations with the US because of government fears of how Beijing would react if the US wants to remain faithful to the TRA and perhaps even strengthen US-Taiwan relations.

If there have been concerns in the past few years over whether the US would remain faithful to the TRA, Ma's accession to power means that the greatest challenge to the TRA now is whether Taiwan hopes for or is willing to lobby for active implementation of the TRA.

The Ma administration has said it hopes to develop both cross-strait relations and Taiwan-US relations. But a crucial issue that cannot be ignored — and one that China will force Taiwan to deal with — is what the Ma administration would do if it became necessary to make a zero-sum choice between cross-strait relations and US-Taiwan relations. The government's priority seems clear.

Thirty years after the TRA was enacted, we are faced with unprecedented changes to the cross-strait situation. Washington no longer needs to consider how to implement the TRA; rather, it must consider how it would react if Taipei and Beijing jointly requested that the US weaken or abolish the TRA.

Lo Chih-cheng is an assistant professor of political science at Soochow University and the secretary-general of the Taiwan Society.