US Marines considering Taiwan post
 
'A POSSIBILITY': A senior US government official said that the Marine Corps held a meeting with the State Department on posting officers at the new AIT compound
 
By William Lowther
STAFF REPORTER IN WASHINGTON
Thursday, Apr 16, 2009, Page 1

The US Marine Corps is considering a controversial plan to use a detachment of Marine security guards to protect the new American Institute in Taiwan (AIT) headquarters that will be built in Neihu District (內湖), Taipei City.

If the plan goes through, the Marine guards would be the first US military forces stationed in Taiwan since the US switched diplomatic recognition from Taipei to Beijing in 1979.

It would be "a politically sensitive decision that could raise the ire of neighboring China," the Marine Corps Times reported earlier this week.

A Washington source told the Taipei Times last month it was "highly unlikely" that Marines would replace the local guards used by the AIT.

However, a senior US government source told the Taipei Times that the Marine Corps — which is assigned to protect US government facilities abroad — held a special meeting with US State Department officials earlier this month in Washington to discuss proposals for protecting a number of new US embassy buildings.

The Marines had put the soon-to-be-built AIT headquarters in Taipei on the list.

The meeting ended before the matter could be addressed. It is now on the agenda for a future meeting.

Nevertheless, the fact that the AIT building was on the Marines' list indicated that the idea may have support within the military.

"For 30 years, the US has operated what is widely described as a 'de facto embassy' in Taiwan, carrying out official business while functioning without a major piece of a US Embassy's security plan: Marines. Soon, that could change," the Marine Corps Times said.

"The Marine Corps and State Department may move forward with a plan to place a detachment of Marine security guards in Taiwan," it said.

Almost a year ago, the Taipei Times reported there was a "possibility" that a barracks for US Marine security forces would be built at the new AIT headquarters, but at the time there were no plans to station Marines at the complex.

"There are discussions about having a new compound or new complex built to replace the existing AIT structure in Taipei," US State Department spokesman Tom Casey said at the time.

"The notices that have gone out have included the broadest possible kinds of elements that might be included in there. But at this point I'm not aware that there are any plans to station US Marines at AIT in Taipei," he said.

"Again, this is a request for proposals on a range of options for a new building and for a new compound. And again, there certainly would be a security element to that. There's a security element in AIT there right now, though it isn't US Marines that are providing it," Casey said.

After the State Department gave the financial go-ahead last month to build a US$170 million new office complex for the AIT, the announcement of the phase one contract made no mention of a Marine facility, but said that the new complex would include "guard quarters."

The Marine Corps Times quoted Richard Bush, director of the Center for Northeast Asian Policy Studies at the Brookings Institute and who served as chair of AIT's Washington office from 1997 to 2002, as saying: "Taiwan would be somewhat happy because [having Marines assigned] is a sign of officiality, but China would protest."

The article also said that the Marine Corps Embassy Security Group had provided it with a list of 10 new duty stations "expected to open around the world in coming years" and that Taipei was on it.

Walter Lohman, director of the Asian Studies Center at the Heritage Foundation in Washington, told the Marine Corps Times that while the move would probably chafe the Chinese, "it just shouldn't be a big deal."

"If it's OK to have Marine guards in Hong Kong in our consulate there, there shouldn't be any problem with this," he said.

Attempts by the Taipei Times to obtain a response from the US Marine Corps were not successful.
 
---
Ministry denies Chen's judge will be changed again
 
CONSTITUTIONAL CHAOS?: A report said that at a recent meeting of the Council of Grand Justices it was agreed that original judge Chou Chan-chun should be reinstated
 
By Shelley Huang
STAFF REPORTER
Thursday, Apr 16, 2009, Page 3

The Ministry of Justice yesterday denied reports that the judge in former president Chen Shui-bian's (陳水扁) embezzlement and corruption case would be switched again.

The denial came after Chinese-language weekly Next Magazine reported that a recent meeting of the Council of Grand Justices reached a consensus that the decision to relieve Judge Chou Chan-chun (周占春) of Chen's case and hand it over to Judge Tsai Shou-hsun (蔡守訓) was unconstitutional.

The case may be returned to Chou, and Chen could be released from detention as early as next month, the magazine reported.

When Chou was presiding over Chen's case last year, he twice ruled against detaining Chen, saying that Chen had no opportunity to flee because as a former president he was constantly protected and escorted by special agents.

However, when the case was switched to Tsai, he repeatedly ruled to keep the former president behind bars because he said Chen might collude with witnesses or try to abscond.

In December last year, a panel of judges ordered that Chou be replaced by Tsai, who would preside over the four new cases filed against the former president. The switch was controversial and skeptics questioned whether the decision to merge the trials was procedurally flawed and politically motivated.

Chen's lawyer Shih Yi-ling (石宜琳) yesterday said he would be glad to see the grand justices rule Chen's detainment was against the law.

"If the grand justices rule that the former president's case was procedurally flawed, it would have a positive impact on litigation rights," Shih said.

In response, the ministry denied reports of any plans to hand the cases back to Chou.

"The grand justices are still in the process of gathering and sifting through the information," ministry spokesperson Hsieh Wen-ting (謝文定) said.

He said there was no timeline on when the grand justices would announce their ruling.

When asked for comment, Chinese Nationalist Party (KMT) Legislator Lee Ching-hua (李慶華) said: "They [grand justices] should not make a constitutional interpretation that contradicts mainstream public opinion."

Saying that 10 of the 15 Grand Justices were nominated by the former president, Lee said: "This is not the time for you to repay [Chen] for his nomination."

 
---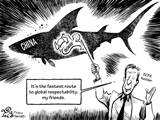 ---
Constructing Asia's missing links
 
By Fidel Ramos
Thursday, Apr 16, 2009, Page 8

'Understandably, the opposition Democratic Progressive Party has taken the stand that Taiwan should seek closer ties with ASEAN countries rather than depend too much on mainland China, but Ma does not see the two efforts as being mutually exclusive.'

Beijing has just announced that Chinese Premier Wen Jiabao (溫家寶) will be the main speaker at this year's Boao Forum for Asia, where the roster of leaders expected to participate is a virtual Who's Who of the continent: Pakistani President Asif Ali Zardari, Kazakh President Nursultan Nazarbayev, Togolese President Faure Gnassingbe, Mongolian Prime Minister S. Bayar, Burmese Prime Minister Thein Sein, Vietnamese Prime Minister Nguyen Tan Dung, New Zealand Prime Minister John Key and Thai Deputy Prime Minister Kopsak Saphawasu.

Such meetings are vital for Asia because the continent lacks the dense institutional infrastructure that Europe has built over the past five decades. This year's Boao Forum has become even more important because of the cancelation of the ASEAN summit following violent protests.

Multinational companies increasingly treat Asia as a single economic space, at least as far as production is concerned. This, of course, does not mean that Asia is, or is becoming, a single market, but rather that is now something of a tight-knit pan-national supply chain.

But, although Asia is becoming more like Europe in terms of economic integration, political and diplomatic integration lags behind.

As such, because Asia lacks such institutional arrangements, personal diplomacy of the type that the Boao Forum represents, like the annual global winter gathering at Davos, remains vitally important.

Indeed, it was at last year's Boao Forum that Chinese President Hu Jintao (胡錦濤) began to express optimism about the positive trends in mainland China-Taiwan relations.

That rapprochement was possible because Taiwan's then-newly elected vice president was given permission by China to attend the forum, where he was able to meet informally with Hu.

In February, I headed a 40-member trade delegation to Taipei.

That mission's highlight was my dialogue with President Ma Ying-jeou (馬英九), who stressed the importance of connecting Taiwan to the China-ASEAN Free Trade Area (CAFTA) in the light of warmer relations developing between the mainland and Taiwan.

At this time of global economic turmoil, increasing Taiwan's formal economic links with China and its regional partners can only benefit everyone involved, because an inevitable side-effect will be a lessening of tension.

Unfortunately, some analysts suggest that a Taiwan-ASEAN Free Trade Agreement like CAFTA may not yet be possible, so, in the interim, the Ma administration is striving to achieve separate free-trade agreements with various members of ASEAN.

Understandably, the opposition Democratic Progressive Party has taken the stand that Taiwan should seek closer ties with ASEAN countries rather than depend too much on mainland China, but Ma does not see the two efforts as being mutually exclusive.

From a wider perspective, Ma and I exchanged views on the synergy of an emerging "Central East Asia Growth Polygon" (CEAGPOL) consisting of the Philippines, Taiwan, Hong Kong, Macau, and the mainland Chinese provinces of Guangdong and Fujian — plus, eventually, Hainan, Okinawa and Guam/Marianas.

With goodwill on all sides, real advantages can materialize from building up this informal grouping, as it is a gateway to the huge markets of Southeast and Northeast Asia.

An economic bonus of such an effort for the entire region would come from an increased opening of direct flights and sea transport across the Taiwan Strait.

CEAGPOL could even become a building block for a Northeast Asian version of ASEAN — an "Association of Northeast Asian Nations." As a result of historical suspicion between China, Japan and Korea, Northeast Asia's economic heavyweights are the world's last remaining regional bloc that still lacks an inter-governmental organization of the likes of ASEAN.

The EU is even more instructive, because centuries of war, culminating in the two world wars of the 20th century, inspired, rather than deterred, European economic, political and security integration.

At this time of worldwide uncertainty, Asia-Pacific leaders must redouble their efforts to exploit their partnerships and strategic combinations to foster stability and growth.

The easing of tensions between China and Taiwan can, perhaps, set a tone for all of Northeast Asia.

At the 30th anniversary of the "Message to Compatriots in Taiwan" in December, Hu offered six proposals to improve relations: Abandon the Taiwan independence movement; stop confrontation and reach peaceful agreements; increase military contacts/exchanges; discuss Taiwan's participation in international organizations under the "one China" umbrella; establish a Comprehensive Economic Cooperation Agreement; and promote China's traditional civilization with strengthened spiritual ties.

There is now real hope that talks along these lines can succeed.

But there is a major obstacle to easing tensions: the proposed US$6.5 billion sale by the US to Taiwan of 30 Apache attack helicopters and 330 Patriot missiles.

China-US talks on defense cooperation had earlier stalled because of such arms negotiations. They have since been restarted, an olive branch sent to the administration of US President Barack Obama by China's government.

All three parties involved will need to tread with care to make certain the thaw in China-Taiwan relations is not set back by this proposed arms deal.

For, if Asia is to begin to build the type of dense institutional infrastructure that has brought Europe peace and prosperity, the flashpoint between China and Taiwan will need to be transformed into a foundation stone of regional cooperation.

Fidel Ramos, a former president of the Philippines, has been chairman of the Boao Forum for Asia since 2001.
 
---
US appears fearful of Taiwan's democracy
By Lai I-chung 賴怡忠

Thursday, Apr 16, 2009, Page 8

On the eve of the 30th anniversary of the passage of the Taiwan Relations Act (TRA), former American Institute in Taiwan (AIT) director Richard Bush published an article in the China Times on April 9 saying that the US' commitment to Taiwan's security is based on the premise of a shared strategic view held between the two countries. Bush also said Taiwan's democratization and China's rise are the two key factors interfering with the maintenance of a common Taiwan-US view of strategy.

His first comment shows how laws that are treated like policies can change over time. His second comment shows that he views self-awareness and self-determination brought by Taiwan's democracy as key factors that interfere with the US and Taiwan sharing common strategic viewpoints.

We have to ask whether the TRA depends on a consistent US-Taiwan strategy and whether the US would alter its policies to suit its interests, which would mean that its commitment as stated in the TRA would no longer exist unless Taiwan also altered its policies.

Under former US presidents Bill Clinton and George W. Bush, the US repeatedly redefined its China strategy. At the time of the Tiananmen Square Massacre, the US viewed China as a butcher. Later, the US viewed it as a strategic partner, then a competitor and even a responsible stakeholder. Will the US' commitment to Taiwan change because of its China policies? This is the risk when laws are treated as policies.

Although the former AIT director said that there were two key factors interfering with the two countries' strategic views, he seems to believe that Taiwan's democracy is mostly to blame because it has given rise to national recognition within Taiwan and concepts of a secure future. This view of Taiwan's democratization as a problem, and not a means to a solution, is common among the "China experts" in Washington.

The former AIT director said that as China's national strength grows, the US and China share more interests and that he was worried Taiwan's democracy would challenge the basic interests of the People's Republic of China and obstruct Sino-US cooperation. These "China experts" saw former president Chen Shui-bian's (陳水扁) insistence on national recognition as destructive to the "status quo," and view Taiwan's democratization as running counter to the "one China" principle.

Richard Bush — who is close to US President Barack Obama's administration — is revealing Washington's eagerness to get rid of Taipei to make room for Beijing. In the Martial Law era, he associated and sympathized with opposition parties in Taiwan. But with statements like his, it is frightening to imagine the attitude of other "China experts."

From the visit of Chinese envoy Chen Yunlin (陳雲林), the agreement signed by him and his Taiwanese counterpart Chiang Pin-kung (江丙坤) and the proposed economic cooperation framework agreement (ECFA), we can see how President Ma Ying-jeou's (馬英九) government has oppressed freedom and democracy in the name of promoting cross-strait relations. Bush's article also explains why AIT Chairman Raymond Burghardt endorses Ma's government on behalf of Washington even as Taiwan's freedom and democracy are regressing.

Will Taiwan's democracy collapse and the country be annexed by China because of misconduct by the Ma administration and encouragement and tolerance from the Obama administration?

There are many examples of democracy being quashed throughout history. Taiwanese need to maintain a critical view of these "China experts" and make their own decisions.

Lai I-chung is an executive committee member of the Taiwan Thinktank.