SEF head regretful over son's PRC ties
 
A MATTER OF TRUST: The Democratic Progressive Party said that Chiang Pin-kung should step down immediately because Taiwanese could no longer believe him
 
By Ko Shu-ling and Rich Chang
STAFF REPORTERS
Wednesday, Apr 15, 2009, Page 1

"They should stop sullying the name of a person who has devoted himself to serving the nation."— Lin Yi-shih, KMT caucus whip

Straits Exchange Foundation (SEF) Chairman Chiang Pin-kung (江丙坤) yesterday expressed regret after allegations that his son had obtained a special permit from China to sell steel, saying he had asked his family to reduce business ties with China after taking office.

The SEF issued a statement yesterday afternoon saying that his son's business did not require any special permit from the Chinese government. Although his son's company won a contract to represent China's state-owned steel company, it did not need a special permit because any private company can sell the products. Besides, Chiang said, the contract expired in January and was not renewed, he said.

The office in Shanghai is closed and he had asked his family to decrease business ties with China since he took office, he said.

Chiang said he knew very little about his son's business and rarely asked about it. He also said that he had not used his position to secure any business deals for his son.

The statement said Chiang had resigned from a joint venture and a foundation to avoid any conflict of interest.

He said he hoped the media would be more supportive of him and the cross-strait negotiation team.

Chiang also dismissed a report published in yesterday's Chinese-language China Times claiming that Chiang was tired of his job and might quit after the upcoming cross-strait talks with his Chinese counterpart, Association for Relations Across the Taiwan Strait Chairman Chen Yunlin (陳雲林).

Chiang said he was not tired and that his top priority was his meeting with Chen.

Mainland Affairs Council (MAC) Chairwoman Lai Shin-yuan (賴幸媛) said yesterday she was not aware of any reshuffle and had nothing to say about the criticism directed at Chiang.

She said, however, that Chiang was not a "policymaker" or "negotiator" in cross-strait affairs, but rather the "executor" of the council's policy and that the Chiang issue was therefore "irrelevant."

Chiang's quitting the two positions did not mean there were problems, she said, adding that he had not made personal gains from the six agreements Taipei signed with Beijing.

Lai said that both sides are scheduled to hold a preparatory meeting in Taipei on Saturday to discuss the time and place of the Chiang-Chen talks. She said it was possible that both sides would hold a second preparatory meeting.

Both sides had agreed at their last meeting that the next one would be held outside Beijing, while Taipei has proposed that it be held in Nanjing. While the upcoming meeting is scheduled for next month or in June, Lai has said that it would be held sooner rather than later if both sides could reach a consensus on the matter.

While some people have expressed concern over the possibility of protests during the preparatory meeting, Lai said she believed the public would be rational and act with maturity.On whether the two sides would address the economic cooperation framework agreement (ECFA), MAC Deputy Minister Fu Don-cheng (傅棟成) said he hoped it would be a "talking point" at the upcoming Chiang-Chen meeting, provided both sides reached a consensus.

If both sides are interested in the topic, the council will follow up by authorizing the SEF before the Chiang-Chen meeting, he said.

On the allegations surrounding Chiang's son, Democratic Progressive Party (DPP) Legislator Gao Jyh-peng (高志鵬) said yesterday: "If this situation occurred in any other country, the official would have to step down."

It was "unbelievable" that Ma would use a person with business interests in China to represent the country in dealing with Beijing, Gao said, adding that Taiwan's interests might have been harmed.

Gao said it was no surprise that the Chinese Nationalist Party (KMT) government was rushing to sign an ECFA with Beijing because such a treaty would help it make large sums of money.

DPP caucus whip Lee Chun-yee (李俊毅) said Ma should remove ­Chiang from his position, as Taiwanese could no longer trust him.

At a separate setting, DPP Chairperson Tsai Ing-wen (蔡英文) said the government should clarify whether the Chiang family's business in China posed a conflict of interest.

Officials at the National Security Council, the MAC and the SEF should be investigated, Tsai said.

At a press conference, KMT caucus whip Lin Yi-shih (林益世) urged the DPP not to discredit Chiang.

"They should stop sullying the name of a person who has devoted himself to serving the nation," Lin said.

Lin said the DPP's criticism was unreasonable as "by DPP logic, family members of a company chairman should all be barred from working for a company and depend on [the chairman] for a living."
---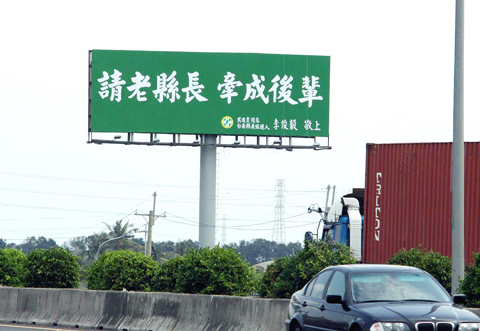 MAKE WAY
A billboard bearing the name of the Democratic Progressive Party's (DPP) candidate for Tainan County commissioner, Lee Chun-yee, stands near the Sun Yat-sen Freeway in Tainan County yesterday. It called on DPP veteran Mark Chen to "make way for the younger generation" by not standing against him in the year-end election. Chen served two terms as Tainan County commissioner from 1993 to 2001.
PHOTO: CNA
---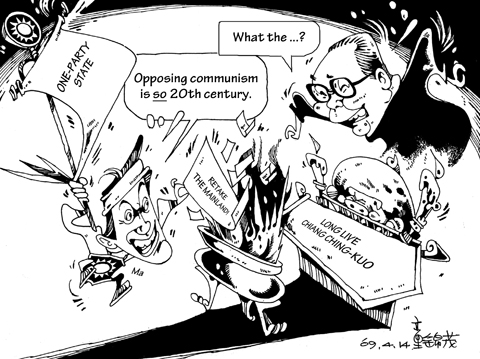 ---
Changes in Taiwan, China, US ties
 
By Nat Bellocchi 白樂崎
Wednesday, Apr 15, 2009, Page 8

The US and Taiwan marked the 30th year of the passage of the Taiwan Relations Act (TRA) on April 10. The legislation provides an institutional framework and legal basis for US relations with Taiwan, including a promise of continued support for Taiwan's self-defense.

Through the years, the TRA has helped maintain the "status quo" in relations between Taiwan and China, as well as the US' relationship to both. However, it has done little to advance the cause of Taiwanese or their fight for a place in the world community.

The TRA anniversary is a good time to reflect on the status of trilateral relations. The US, like most countries, is unsure just how well it can overcome the challenges facing the economy. China has a different economy in many ways, but it has as many concerns. Taiwan is in an especially difficult position given the political infighting, a sinking economy, few diplomatic allies and a huge country that wants to absorb it.

The new administration of US President Barack Obama has undertaken enormous efforts to repair the world's largest economy, as well as working with many other governments to assist them in fixing their problems. Obama at the same time is working to strengthen understanding with other world leaders. However, this is not the case with regard to Taiwan, with many senior State Department officials trying to avoid or circumvent the issue.

During a visit to Taipei last month, American Institute in Taiwan Chairman Raymond Burghardt reiterated US support for Taiwan, but said that the level of cross-strait engagement should be decided by Taiwan and China. Washington will support Taiwan whenever it can in international bodies, he said, but would not mediate between the two sides. He added that military dialogue between Taiwan and the US would continue.

With the administration of President Ma Ying-jeou (馬英九) favoring closer ties with China, relations between the US, China and Taiwan have changed.

Taiwan and China are considering signing a cooperation agreement — initially called the comprehensive economic cooperation agreement, or CECA. However, as the name was closely associated with the Closer Economic Partnership Arrangement between Hong Kong and China, it drew strong public resistance. The Ma government then decided to change the name to economic cooperation framework agreement (ECFA).

The ECFA continues to be a controversial issue in Taiwan. Terms for such an agreement are still unclear, but the main objective is to facilitate the movement of goods, services and capital across the Strait.

While the Ma administration has admitted that Taiwan has been in contact with China on the subject, it has refrained from revealing too many details for fear of jeopardizing upcoming cross-strait talks between Straits Exchange Foundation (SEF) Chairman Chiang Pin-kung (江丙坤) and Association for Relations Across the Taiwan Strait Chairman Chen Yunlin (陳雲林).

Such admissions have raised eyebrows because proper procedures have been ignored. Normally, after having completed the consultation and evaluation process with the public and industry, the result is supposed to be submitted to the Legislative Yuan before actual discussion with China begins.

The Democratic Progressive Party has accused the Chinese Nationalist Party (KMT) of conducting secret meetings with China and demanded openness and transparency during negotiations with China on any trade agreement.

The Ma government has stated repeatedly that signing an EFCA with China is vital to Taiwan's competitiveness in the world market and that failing to do so would result in Taiwan being marginalized when China and ASEAN forms a trade bloc next year. The government, however, overlooks the fact that China has tried in every way to block Taiwan's efforts to sign free-trade agreements with other countries.

The Ma administration has also said that signing an ECFA would normalize cross-strait trade relations and raise Taiwan's GDP growth by 1.37 percent. The Mainland Affairs Council has not yet authorized the SEF to negotiate with China on signing an EFCA. Furthermore, the Ma administration has not presented the basis for its projected growth findings.

The opposition in Taiwan charges that entering such an agreement with China may only be beneficial to select, big industries, including electronics, petrochemicals, machinery and automobile parts, but detrimental to small industries and will ultimately increase unemployment in Taiwan. Some experts estimate that the Taiwanese economy could lose at least 120,000 jobs, especially when Beijing insists on its "one China" political framework.

January figures showed that Taiwan's trade surplus decreased 57 percent from a year ago, the lowest in eight years. Except for ships, boats and floating structures, all exports to China, especially optical products, organic chemicals, electrical machinery and copper products, were affected by the global economic downturn.

The ECFA issue in Taiwan is still not clear. Many Taiwanese are looking to the US — especially Congress — for support. Chinese President Hu Jintao (胡錦濤) insists that Beijing is willing to negotiate with Taiwan on joining international organizations as long as it does not support "two Chinas" or "one China, one Taiwan."

However, one wonders whether it is wise to tie Taiwan's economy to what is now a faltering export-driven economy in China. Another question is whether the US Congress might seek to restrict trade with its largest importer and perhaps work for some gains for Taiwan in terms of recognition in the international community.

Nat Bellocchi is a former chairman of the American Institute in Taiwan and a special adviser to the Liberty Times Group. The views expressed in this article are his own.
---
Tears of 'gratitude' for Chiang Ching-kuo
 
By Hsu Chien-jung 許建榮
Wednesday, Apr 15, 2009, Page 8

The late president Chiang Ching-kuo (蔣經國) has been praised for initiating Taiwan's democratization. I find this very interesting. Chiang and his father stole from the public what belonged to them — democracy. In his later years, he returned less than half of what he stole, and for that, Taiwanese shed tears of gratitude.

What was democracy like under Chiang? Let's think about such things as the bloody Lin family murders in 1980 when members of pro-democracy activist Lin I-hsiung's (林義雄) family were murdered in his home; the death in Taipei of US-based Taiwanese academic Chen Wen-chen (陳文成) in 1981; or the monitoring and blacklisting of Taiwanese students overseas.

The political commentator Sun Ching-yu (孫慶餘) has said that Chiang used spies to rule Taiwan and would label anyone a communist bandit spy. He orchestrated the arrests of Sun Li-jen (孫立人), a former general, Lei Chen (雷震), a founder and publisher of the Free China journal, and the Kaohsiung Incident, and we must remember the questions surrounding the strange death of his mistress, Chang Ya-juo (章亞若).

The spies he used during his time at the Taiwan Provincial Security Command (台灣省保安司令部), the Taiwan Secrecy Bureau (台灣保密局) and the General Political Warfare Department (總政戰部) were of the same ilk as Lavrenty Beria, the former head of Soviet security and secret police. In addition, to uphold the image of democracy without letting it grow strong, he went campaigning for the KMT with deceit and violence, and stories about vote-rigging were common.

Economically speaking, figures undeniably improved. During his rule, average annual income increased from just above US$1,000 to more than US$5,000, but there are commentators who say the foundation for the export-led economy was laid in the 1960s before Chiang came to power, and the technology and capital-intensive industrial upgrade that began in the 1970s and 1980s was not actively pursued until Lee Teng-hui (李登輝) took over as president.

The Ten Major Infrastructure Projects follow the same logic as the idea that Chiang was the great initiator of democracy, and it is ample evidence of the Taiwanese public's servility.

Infrastructure is the duty of any government that takes taxpayers' money. Chiang only initiated the infrastructure projects that any government should, but in his case it has been called "virtuous government." During the presidential election campaign last year, presidential candidate Ma Ying-jeou (馬英九) said that he would deal with skyrocketing oil and consumer prices by emulating Chiang. However, if we look at the price indexes from Chiang's time in power, we see that consumer prices skyrocketed during the two oil crises that occurred on his watch, 47.5 percent in 1974 and 19.01 percent in 1980. Who would have thought that a large swathe of the public would agree with Ma's nostalgic views of the past?

There are of course also reasons to praise Chiang. He used many members of the Taiwanese elite. Although many historic studies take the view that he did so to co-opt Taiwanese, the fact that he did offered a channel for local talent to put their abilities to work. He also gradually increased the proportion of Taiwanese in the KMT's Central Standing Committee, and in his later years, he suppressed conservative forces in the party. Such formal changes effectively paved the way for Lee's pro-localization policies.

More important, Chiang's statement that "I am also Taiwanese" is something that Ma's campaign statement that he will be Taiwanese even if he is burnt to ashes can never measure up to.

Hsu Chien-jung is a doctoral candidate at Monash University in Australia.