US journalists face criminal trial in North Korea
 
PAWN: Analysts said Laura Ling and Euna Lee have become another 'negotiating chip' for the North as it embarks on talks with the US and its allies over the nuclear impasse

AP, SOUTH KOREA
Saturday, Apr 25, 2009, Page 1

Two US journalists accused by North Korea of crossing into the country illegally from China and committing "hostile acts" will be tried on criminal charges, Pyongyang said yesterday.

Laura Ling (凌志美) and Euna Lee, who work for San Francisco-based Current TV, a media venture founded by former US vice president Al Gore, were arrested on March 17 near the North Korean border while reporting on refugees living in China.

Ling is a Taiwanese-American whose family emigrated to the US several years ago and now lives in Los Angeles.

North Korea's official Korean Central News Agency confirmed their detention late last month, saying indictments were being prepared as an investigation into suspected illegal entry and unspecified "hostile acts" continued.

A dispatch yesterday said the investigation had concluded, and the journalists would stand trial "on the basis of the confirmed crimes." It did not say exactly what charges they face or when the trial would take place.

The Americans' prolonged detention and pending trial come amid mounting diplomatic tensions between Pyongyang and the international community, including the US, over its rogue nuclear program.

Andrei Lankov, a North Korea expert at Kookmin University in Seoul, called the Americans another "negotiating chip" for Pyongyang as it embarks on negotiations with Washington and its allies over the nuclear impasse.

Putting them on trial "means that they want to increase their pressure on the US, much in line with their recent tactics," he said yesterday.

Communist North Korea is one of the world's most isolated nations, and details about the circumstances of the two Americans' capture remain scant more than a month after they disappeared along the Tumen River dividing China and northeastern North Korea.

A South Korean who helped organize their reporting trip, the Reverend Chun Ki-won of Durihana Mission, said the women traveled to the border region to interview women and children who had fled impoverished North Korea and were trying to build new lives in China.

He said he warned them repeatedly to stay away from the long and often unmarked border. Armed North Korean guards are known to threaten journalists who venture to the region to get a glimpse into the reclusive nation.

A cameraman, Mitch Koss, and the group's guide apparently eluded the guards.

Under North Korea's criminal code, conviction for illegal entry could mean up to three years in a labor camp.

Espionage or "hostility toward North Koreans" — possible crimes that could be considered "hostile acts" — could mean five to 10 years in prison, South Korean legal expert Moon Dae-hong said.

Past detentions of Americans have required diplomatic help. In 1994, New Mexico Governor Bill Richardson, then a congressman, went to Pyongyang to secure the release of a soldier captured after his helicopter strayed into North Korea. He went back in 1996 to help free an American held for three months on spying charges after going for a swim in the Yalu, another river dividing North Korea and China.

Washington, which does not have diplomatic ties with Pyongyang, has relied so far on the Swedish embassy in Pyongyang to negotiate on its behalf. A Swedish envoy has met with both journalists, US officials said.
---
Legislators stall plenary session
 
DANGER: A DPP legislator said Taiwan would turn into a police state if proposed amendments to the Assembly and Parade Act were to be passed
 
By Loa Iok-sin and Jenny W. hsu
STAFF REPORTERS
Saturday, Apr 25, 2009, Page 3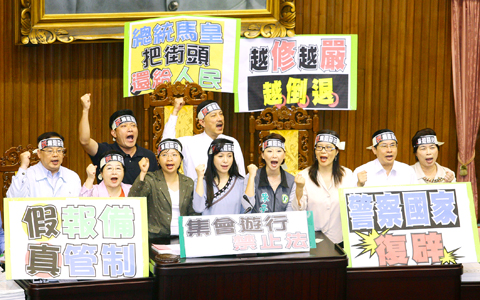 Democratic Progressive Party legislators protest in the legislature yesterday over the Cabinet's version of a revised Assembly and Parade Act. They said the Chinese Nationalist Party (KMT) was attempting to impose martial law in the guise of domestic welfare.

PHOTO: CNA

The legislature's plenary session was stalled for the entire day yesterday by Democratic Progressive Party (DPP) legislators upset by amendments to the Assembly and Parade Act (集會遊行法).

"No to the martial law-like Parade and Assembly Act! Give the streets back to the people!" DPP legislators shouted as they took over the podium at the Legislative Yuan's assembly hall yesterday morning.

DPP lawmakers wore headbands and held placards showing their opposition to the Cabinet's version of the Parade and Assembly Act amendments.

According to amendments proposed by the Cabinet, organizers must notify police authorities of the event time, location, or parade route five days in advance of any protest — violators could be fined up to NT$50,000 (US$1,480).

Police would reserve the right to prohibit the rally or change the parade route if they believed it would jeopardize national security, social order or public interest.

It would also give the police the right to order the break up of any rally blocking traffic.

"The Cabinet version of the revision gives too much power to the police," DPP Legislator Wong Chin-chu (翁金珠) said. "It's anti-democratic, anti-human rights, it's almost like martial law for rallies."

KMT legislators, who supported the Cabinet version, condemned the DPP for stalling the meeting and holding back reviews of amendments to the Tobacco and Alcohol Tax Act (菸酒稅法) and the Income Tax Act (所得稅法).

"I don't understand why the DPP is blocking bills related to public welfare," KMT legislative caucus secretary-general Yang Chiung-ying (楊瓊纓) said.

"The KMT has a majority and is in control of the Procedure Committee," DPP Legislator William Lai (賴清德) said. "If they really care about public welfare, they should have put the tax reform bills before the controversial Assembly and Parade Act revision."

The real cause of the stalemate does not lie with the DPP's boycott, "but the absolute incompetence of the Ma administration," he said.

At press time, DPP lawmakers were still occupying the podium, while most KMT lawmakers had left the venue.

The Taiwan Association for Human Rights also condemned the Cabinet version.

"The Assembly and Parade Act amendments proposed by the Cabinet and certain KMT legislators are no different from the original version as it still requires mandatory advance notice to the police and maintains buffer zones [around certain government offices]," the group said in a statement.

"Moreover, it provides a new measure through which violators may be fined repeatedly for the same act [if it continues]," it said.

Earlier in the day, the DPP had said passage of the revised act would jeopardize Taiwan's freedom of assembly.

"The Assembly and Parade Act is an evil law in its truest form. Our stance is very clear. We want to abolish it. It is the same stance upheld by President Ma Ying-jeou (馬英九) when the KMT was the opposition party," DPP Legislator Tsai Huang-liang (蔡煌瑯) told a press conference at the DPP Caucus.

Tsai vowed his party would fight the KMT tooth and nail on the issue.

DPP Department of Youth Development director Chao Tien-lin (趙天麟) said if the amendments were passed, Taiwan would turn into a police state, citing the example of the visit by Chinese envoy Chen Yunlin (陳雲林) last November.

"Such behavior would be legalized if the [amendment] were passed. It means in the future, as long as Ma or anyone from his administration wishes not to see any protests, authorities could deploy as many policemen as they wanted to keep protestors away from officials," he said.

He went on to say the KMT could easily put a halt to the upcoming DPP-sponsored May 17 anti-Ma rally by registering the right to use the land around the parade route with the local precincts.
---
DPP legislators say Chen welcome to rejoin party
 
By Jenny w. hsu
STAFF REPORTER
Saturday, Apr 25, 2009, Page 3

"Any application would be reviewed by a three-person committee and the committee retains the right to accept or reject any application."— Cheng Wen-tsang, DPP spokesman

Several Democratic Progressive Party (DPP) legislators yesterday said they would welcome former president Chen Shui-bian's (陳水扁) return to the fold, while party headquarters declined to comment.

Chen, detained on graft, bribery and embezzlement charges, withdrew from the party in August last year after it was found that campaign funds had been mismanaged. His wife wired an unspecified amount of money overseas that Chen had received for his two Taipei mayoral and two presidential election campaigns between 1993 and 2004.

On Thursday, an executive committee member of the DPP Taipei City Branch, Hsu Chieh-yuan (許界元), said that during his last visit to Chen the latter had said that if the party were to invite him to rejoin he would be willing to do so.

"Chen is not the only one facing lawsuits. The party welcomes any comrades that had to leave the party temporarily for some reason to return to the team and together work toward the 2010 presidential election" said Lee Chun-yi (李俊毅), DPP caucus whip and the party nominee for the year-end's Tainan County commissioner race.

Lee said he was confident that with Chen's support the party would have no problem clinching victory and continue its governance of the traditional pan-green stronghold.

DPP Legislator Gao Jyh-peng (高志鵬), Chen's protege, said the former president's return would do the party some good. However, he quickly said it would be "ideal" if Chen could come back after his legal issues had been resolved.

Huang Wei-cher (黃偉哲), another DPP lawmaker, also extended a welcome, saying if Chen intended to return to the party, it should not ignore his wishes.

"The party has the necessary mechanisms to deal with issues such as this," he said.

Entertainer-turned-DPP Legislator Yu Tien (余天) pointed out that Chen relinquished his membership on his own initiative. He said the law stipulates that all are innocent until proven guilty and therefore Chen should be welcomed back.

DPP spokesman Cheng Wen-tsang (鄭文燦) said so far the party has not received any concrete information from Chen's office on any plans to rejoin the party, but said that according to the party charter, individuals who have withdrawn their membership were entitled to reapply for it.

"Any application would be reviewed by a three-person committee and the committee retains the right to accept or reject any application," he said.

DPP secretary-general Wu Nai-jen (吳乃仁) declined to comment on the issue.

Wu said his committee held an inter-governmental agency meeting on March 24 to review the regulations and suggested that the Ministry of the Interior work with other agencies to relax the rules.
---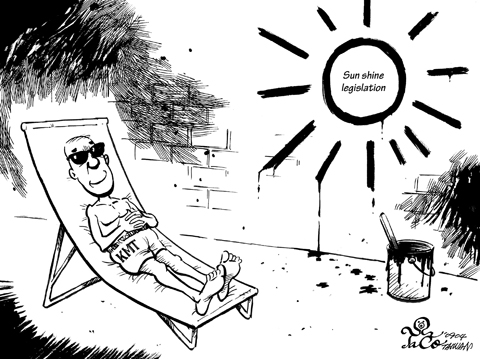 ---
ECFA: An instrument of betrayal

Saturday, Apr 25, 2009, Page 8

In a videoconference with a US think tank a few days ago, President Ma Ying-jeou (馬英九) referred to a poll by the Mainland Affairs Council (MAC) that claimed 70 percent of people support an economic cooperation framework agreement (ECFA) with China. He said this was because the public realizes that none of the six agreements China and Taiwan have reached over the past 10 months sacrificed Taiwan's sovereignty, and that the government retained the public's trust. Ma also said there was no question that the "six points" in Chinese President Hu Jintao's (胡錦濤) New Year speech were a positive development for cross-strait relations, and that the ECFA proposal was based on concrete suggestions in those points.

Ma's jokey dismissal of concerns that he is selling Taiwan down the river is worlds away from the public's position on this issue. He has not acknowledged that the "70 percent support" in the MAC poll is inexplicable. He privileges inflated opinion polls over genuine public opinion. Before the MAC poll came out, a media outlet conducted a poll that showed 90 percent of respondents felt the government should explain what an ECFA would entail — and that more than 70 percent did not know what an ECFA meant. A sizable majority of the public thus has no idea why the government is in such a frenzy. That raises doubts about the MAC poll's credibility.

It is frightening how Ma is connecting the ECFA to Hu's "six points," the first of which states that China is committed to "one China" and that China and Taiwan belong to "one China." Other issues — a comprehensive cross-strait economic agreement, Taiwan's international participation and a peace agreement — must be handled within a "one China" framework.

Ma said that Hu's "six points," which aim to annex Taiwan, were a "positive development" and he has proposed that the ECFA follow on from this "progress." The ECFA — in the guise of an economic pact — is thus a platform for binding Taiwan to China. Relinquishing Taiwan's power and humiliating its people while claiming that sovereignty is not being compromised is balderdash. Ma must think the public is easily deceived, or else how would they fall for this ganging up with China to advance unification by economic means?

During Ma's election campaign, he stressed he was running for the presidency of a sovereign nation, but all actions since his inauguration have aimed at roping Taiwan to China in order to achieve his dream of unification. He has exposed Taiwan to China like a moth to a flame, with no regard for a decaying economy and the tough times the public are experiencing.

Judging from his policy choices, Ma believes the public will accept China out of utter desperation if the economy continues to plummet. According to figures released by the Directorate-General of Budget, Accounting and Statistics, unemployment increased again to 5.81 percent last month, while an IMF report stated that unemployment reached 6.3 percent. When graduates enter the picture later this year, these numbers will grow. Tough times may please Ma, because the unemployed may fantasize about the Chinese economy finding them work, and this could increase support for an ECFA.

The use of phony opinion polls makes a farce of democracy. In Ma's videoconference, he said that Taiwan is a democracy, that no one can sell out Taiwan and that all citizens must decide on its future. But this contradicts his actions: keeping the details of an ECFA secret, not allowing the legislature to monitor any agreement and dismissing calls for a referendum on the matter.

By "all citizens," then, does Ma mean all 1.3 billion Chinese?

Ma's rhetoric and trickery have gone largely uncontested for almost a year. Now, he is creating an irreversible trend toward unification using hypnotic slogans that entice the unwary. Once this goal's foundations, such as an ECFA, are complete, Taiwan will be helpless when dealing with China and there will be no turning back. Look at Hong Kong: Apart from having their economic fantasies shattered, Hong Kong's residents can't even elect their own chief executive.

This leads to the key question: Will Taiwanese simply stand around as Ma sells Taiwan to Beijing?