Human rights classes win awards
 
ABSTRACT CONCEPT: Teachers designed classes for students of varying ages about the struggle for human rights so they could avoid repeating the mistakes of the past
 
By Loa Iok-sin
STAFF REPORTER
Sunday, Apr 26, 2009, Page 2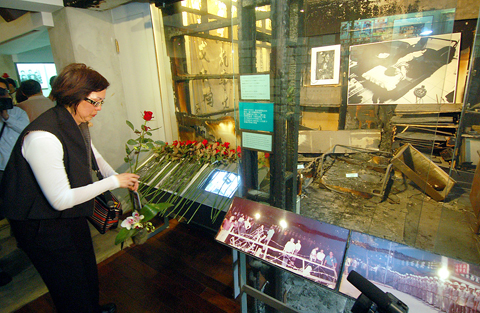 A woman on April 4 places a red rose outside the office where democracy activist Deng Nan-jung set himself on fire in 1989 to protest the lack of freedom of speech under the rule of the Chinese Nationalist Party (KMT) regime.

PHOTO: LO PEI-DER, TAIPEI TIMES

Through board games, drama, debates and field trips, teachers who yesterday won a human rights curriculum design award want more elementary and high school students to get a firsthand idea of the abstract concept of human rights.

"I was shocked when I first walked into this place, and I think my students will feel the same, too," said Tsai Ming-huang (蔡銘晃), a civic education teacher at Taipei Municipal Fuxing Senior High School, as he described how he felt when he first visited the well-preserved site where late human rights activist Deng Nan-jung (鄭南榕) set himself aflame in 1989 to protest the lack of freedom of speech under the authoritarian rule of the Chinese Nationalist Party (KMT) regime at the time.

The award ceremony was held there yesterday.

Tsai worked with his colleague Kuo Wen-ying (郭文瑛) to design one curriculum about the site and another on the 228 Memorial Museum — both of the designs won recognition.

"A major problem that we often run into when we teach students about human rights is that it's a very abstract idea," Tsai said. "But here, everything is so well preserved that as you walk into this place, you feel you've traveled through a time warp and can actually feel the atmosphere."

While Tsai and Kuo's curriculum focused mostly on visiting sites where actual historic events took place, four teachers from Anshun Primary School in Tainan worked together to incorporate field trips, drama, debate and even a board game modeled after Monopoly into the curriculum they designed.

"We realized in class that kids today know 228 Day more as a holiday and don't often have a good idea about what the 228 Incident was," said Tseng Kui-feng (曾桂鳳), one of the teachers. "So we decided that maybe we should take the kids to places where things actually happened and tell them the stories."

However, as Tseng and her team started to work, different ideas popped up.

Tseng's colleague, Chen Ping (陳稟), who had taken part in drama training, wrote a short play featuring fighting between different animals in a park to show the boundary between freedom and abuse of freedom.

Huang Mei-hua (黃美華), another teacher on Tseng's team, created a board game in which players would be asked a question related to human rights each time they moved to a new block.

To show how the human rights issue was not something "far away," Tseng asked students to debate on whether parents should be allowed to read their children's letters without permission.

Tsao Chin-jung (曹欽榮), a member of the Truth and Reconciliation Association, said that it was important to teach about human rights to prevent repeating the mistakes of the past.

"It's been only 20 years since Deng set himself on fire — is it a long time? No, it's not, but it's long enough for our younger generation born after martial law was lifted to not know about it," he said. "That explains why we need to start [teaching about human rights] now."
---
Analysts skeptical over recent legislation
 
By Ko Shu-ling
STAFF REPORTER
Sunday, Apr 26, 2009, Page 3

A series of bills and amendments passed recently and touted as progress in promoting human rights and tackling corruption has some analysts concerned that the changes will do little to improve the situation while distracting attention from continuing human rights problems.

George Liu (劉志聰), a researcher at the Center for Peace and Strategic Studies, said the government and legislature were inconsistent on their support for human rights.

"The legislature recently passed two UN covenants on human rights, yet [there are concerns] about the actions of police in clamping down on the public and infringing on civil rights when Chinese negotiator Chen Yunlin [(陳雲林) of the Association for Relations Across the Taiwan Strait] was here," he said.

On March 31, at the request of President Ma Ying-jeou (馬英九), the legislature ratified the International Covenant on Civil and Political Rights and the International Covenant on Economic, Social and Cultural Rights and approved a statute giving them legal force.

Liu said he welcomed reforms to improve human rights, but was concerned by a lack of concrete results.

Shih Cheng-feng (施正峰), a professor of politics at Tamkang University, expressed similar concerns, saying the covenants were being used to "create a semblance of peace."

It remains to be seen whether the covenants are implemented effectively, Shih said, adding: "The Chinese Nationalist Party [KMT] hasn't changed a bit."

CORRUPTION

Earlier this month, lawmakers passed legislation at Ma's behest that included amendments to the Act for the Punishment of Corruption (貪污治罪條例), which provides for further criminal charges against civil servants who have been convicted of corruption if they fail to account for any abnormally large increases in their assets in the three years after the crime.

The version was altered from that proposed by the Executive Yuan, which would have applied to all civil servants under investigation for corruption.

A stricter version of the Democratic Progressive Party (DPP) would also have applied retroactively to all civil servants who are required to declare assets under the Public Functionary Disclosure Act (公職人員財產申報法) and not just defendants found guilty of corruption.

But Shih called the amendments an example of showcase legislation. Ma and the legislature had little choice but to amend the anti-corruption law to appease the public, he said, but they watered down the legislation to avoid landing KMT members in trouble.

Nanhua University professor Wang Szu-wei (王思為) said the legislative successes were an attempt to allay public anger over government corruption and international concerns that human rights are eroding under the Ma administration.

Wang echoed those concerns, saying the administration may be retrogressing toward the "liberal dictatorship" of Singapore.

Liu said despite the president's vows to establish clean government, Ma had pinned the blame for corruption on the former DPP administration, which indicated that his statements were politically motivated.

But Tang Shao-cheng (湯紹成), a researcher at National Chengchi University's Institute of International Relations, said he had no serious concerns about the revised anti-corruption law.

The revision is necessary to prevent future cases like that involving former president Chen Shui-bian (陳水扁), Tang said.

PARADE LAW

Public pressure may also have led Ma's administration to pledge to "give the streets back to the people" by seeing the Assembly and Parade Act (集會遊行法) amended.

The government has come under fire for allegedly using the legislation to restrict freedom of assembly.

A row over the amendments broke out on Friday, when DPP legislators boycotted a reading, bringing proceedings to a halt for the entire day.

The DPP legislators were angered by the KMT caucus' decision to place the amendment on the day's agenda ahead of less controversial bills that concerned people's livelihood and would not require cross-party negotiations.

KMT legislators, for their part, accused the DPP of blocking the bills scheduled for later in the day.

Liu said the DPP should offer a clear account of its opposition to the amendments so the public would understand the motivation for its boycott.

Shih, meanwhile, said he was worried that the amendments would be a step backward in terms of freedom of assembly.

The amendments have been criticized by civic groups who say they would not loosen police control over peaceful demonstrations.

RESPONSIBLE OPPOSITION

Frank Liu (劉正山), a professor at National Sun Yat-sen University's Institute of Political Science, said it was regrettable that the DPP was consumed by infighting at a time when serious concerns were being raised about the actions of the government and legislature.

The party is not fulfilling its duty to monitor the KMT's political manipulation, he said.

The DPP must become a more responsible opposition party and expose the threat of one-party rule, he said.
---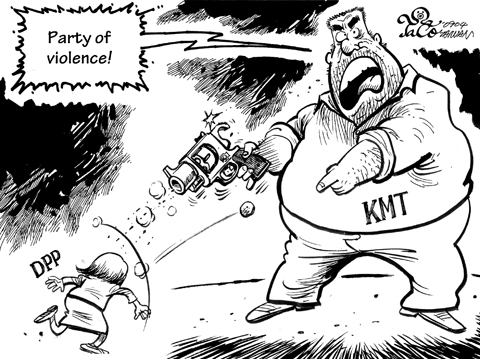 ---
A way out of the Tibetan morass
 
By Robert Barnett
Sunday, Apr 26, 2009, Page 8

China survived the 50th anniversary of the failed uprising by Tibetans against Chinese rule in 1959 without major protests. But, to keep Tibetans off the streets, China's government had to saturate the entire Tibetan plateau with troops and secretly detain hundreds of people in unmarked jails for "legal education." Those moves suggest that Tibet has become an increasingly serious concern for China's rulers, one that they are still unable to handle without damaging their standing in Tibet and around the world.

A year ago, Chinese and Western intellectuals competed in dismissing popular interest in Tibet as a childlike confusion with the imaginary Shangri-la of the 1937 film Lost Horizon. But after more than 150 protests in Tibet against Chinese rule over the past 12 months, concerns about the area seem anything but fanciful. Indeed, Tibet could soon replace Taiwan as a factor in regional stability and an important issue in international relations. The areas populated by Tibetans cover a quarter of China; to have such a large part of the country's territory under military control and cut off from the outside world weakens the Chinese Communist Party's claims to legitimacy and world power status.

Last year's protests were the largest and most widespread in Tibet for decades. Participants included nomads, farmers and students who in theory should have been the most grateful to China for modernizing Tibet's economy. Many carried the forbidden Tibetan national flag, suggesting that they think of Tibet as a separate country, and in about 20 incidents government offices were burned down. In one case, there were even attacks on Chinese migrants, leading to 18 deaths. It is hard not to see these events as a challenge to China's rule.

The government's reaction was to blame the problem on outside instigation. It sent in more troops, hid details of protesters' deaths, gave a life sentence to an AIDS educator who had copied illegal CDs from India and for months banned foreigners and journalists from the Tibetan plateau. In November, Chinese officials, live on national TV, ridiculed Tibetan exiles' proposals for negotiation. They canceled a European summit because of a meeting between French President Nicolas Sarkozy and the Dalai Lama and regularly imply that Tibetans are terrorists.

On March 28, Tibetans in Lhasa were encouraged to celebrate "Serf Emancipation Day" to endorse China's explanation for its takeover 50 years ago. But class-struggle terminology reminds people of the Cultural Revolution and, because such language would be unimaginable in other areas of China today, only makes Tibet seem more separate.

Although both sides claim to be ready for dialogue, they are talking at cross-purposes: The exiles say that talks must be based on their autonomy proposals, while China says that it will discuss only the Dalai Lama's "personal status" — where he would live in Beijing should he return to China. Visceral sparring matches continue, with the Dalai Lama recently describing Tibetans' lives under China as a "hell on earth." He was almost certainly referring to life during the Maoist years rather than the present, but his remarks enabled China to issue more media attacks and raise the political temperature.

Western governments have been accused of interference, but it is unlikely that any want to derail their relations with China, especially during an economic crisis. In October, British Foreign Minister David Miliband was so anxious to maintain Chinese goodwill that he came close to denouncing his predecessors' recognition of Tibet's autonomy 100 years ago. But concerns over China's mandate are understandable: Tibet is the strategic high ground between the two most important nuclear powers in Asia. Good governance on the plateau is good for everyone.

China could help lessen growing tensions by recognizing these concerns as reasonable. The Dalai Lama could cut down on foreign meetings and acknowledge that, despite China's general emasculation of intellectual and religious life in Tibet, some aspects of Tibetan culture (like modern art, film and literature) are relatively healthy. Western observers could accept the exiles' assurances that their proposals on autonomy are negotiable and not bottom-line demands, rather than damning them before talks start.

All sides would gain by paying attention to two Tibetan officials in China who dared to speak out last month. A retired prefectural governor from Kardze told the Singapore paper Zaobao that "the government should have more trust in its people, particularly the Tibetan monks" and the current Tibet governor said that some protesters last year "weren't satisfied with our policies," rather than calling them enemies of the state.

Beijing has so far been following a more conventional strategy: Last week it sent a delegation of officials to the US composed solely of Tibetans and had its leader, Shingtsa Tenzin Choedak, tell journalists that Tibetans enjoy freedom of religion.

But as anyone who has worked in Tibet recently knows well, this was an inexactitude: Since at least 1996, all Tibetans who work for the government and all Tibetan students in Tibet have been forbidden from practicing Buddhism, even though Chinese law stipulates that people cannot be banned from practicing any of the country's official religions.

The Chinese government could improve the situation overnight by sacking the officials responsible for such illegal policies and by apologizing to Tibetans for overlooking such abuses. It could also start reassessing its Tibetan policies instead of increasing controls and allegations. Until then, China's quest for international respect is set to remain elusive and Tibet is likely to stay on the world's agenda.

Robert Barnett is director of the Modern Tibetan Studies Program at Columbia University.