World governments act as flu spreads
 
HEALTH CHECKS: Mexico's death toll has reached 103, the WHO has opened its 24-hour 'war room' command center and an EU official warned against non-essential travel

Reuters and DPA, MEXICO CITY, PARIS and WASHINGTON
Tuesday, Apr 28, 2009, Page 1
 
"I think the spread of this virus in humans cannot possibly be contained within a short time ... There are already cases in almost every region ...We are counting down to a pandemic."— Guan Yi, a virology professor at the University of Hong Kong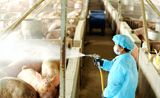 A member of the government's animal disease department works to disinfect a pig farm yesterday as a precaution in Sijhou, Changhua County. Department of Health Minister Yeh Chin-chuan said the government has begun taking preventive measures against the outbreak of swine flu and he urged the public not to over-react.

PHOTO: SAM YEH, AFP
Governments around the world acted to stem a possible flu pandemic yesterday, as a virus that has killed 103 people in Mexico and spread to northward was confirmed to have reached Europe.

While the swine flu virus has so far killed no one outside Mexico, the fact that it has proved able to spread quickly between humans has raised fears that the world may finally be facing the flu pandemic that scientists say is long overdue.

Shares and oil prices fell in Asia and Europe, as investors feared a further shock to an already fragile global economy, if trade flows are curbed and manufacturing is hit.

Spain became the first country in Europe to confirm a case of swine flu when a man who returned from a trip to Mexico last week was found to have the virus.

But his condition, like that of 20 cases identified in the US and six in Canada, was not serious. A New Zealand teacher and around a dozen students who recently returned from Mexico were also being treated as likely mild cases.
 
Thermal images are pictured on a monitor showing recent arrivals to Taoyuan International Airport in Taoyuan yesterday. Department of Health Minister Yeh Chin-chuan said yesterday that any visitor with a fever who has traveled to swine flu-affected countries will be quarantined for two days for testing.

PHOTO: AP
Cases of the flu, which has components of classic avian, human and swine flu viruses but has not actually been seen in pigs, were also suspected in Britain, France, Italy and Israel.

Many countries have stepped up surveillance at airports and ports, using thermal cameras and sensors to identify people with fever, and the WHO has opened its 24-hour "war room" command center.

The EU's health chief urged citizens to avoid non-essential travel to areas affected by swine flu, and the European Commission called an urgent meeting of health ministers.

The US declared a public health emergency on Sunday. Although most cases outside Mexico were relatively mild, a top official at the US Centers for Disease Control and Prevention said she feared there might be US fatalities.

US President Barack Obama yesterday urged Americans to remain calm saying the illness was a "cause for concern" but not alarm.

"This is obviously a cause for concern and requires a heightened state of alert. But it is not a cause for alarm," Obama told a meeting of the National Academy of Sciences.

But top US disease control officials yesterday rejected as unwarranted an EU warning that appeared to call on Europeans to avoid travel to the US, Mexico and other areas hit by the outbreak.

The WHO has declared the flu a "public health emergency of international concern" that could become a pandemic, or global outbreak of a serious disease.

Its emergency committee was due to decide yesterday whether to raise its pandemic alert level, currently at 3 on a scale of 1 to 6.

"If we go to phase 4 because of the swine flu virus, it basically means that we believe that a potential pandemic virus has potentially shown it can transmit from person to person and cause large outbreaks," WHO Acting Assistant Director-General Keiji Fukuda said on Sunday.

In Mexico, life has slowed dramatically in cities as schools have been closed and public events called off to slow the spread of the virus. The city government is considering halting public transport.

Health Minister Jose Angel Cordova said on Sunday that the flu had killed 103 people in Mexico, and about 400 people had been admitted hospital. But he noted that a majority of infected patients had recovered.

The Mexican government will get US$205 million from the World Bank, including US$25 million immediately, to combat the swine flu epidemic.

Mexican Finance Minister Agustin Carstens said in Washington that the US$25 million would be used "to take care of more immediate needs," including medicine and equipment to help contain the epidemic. Another US$180 million would come over the "medium term" to build up the country's health institutions, Carstens said.

Health authorities across Asia tried to give reassurance, saying they had enough stockpiles of anti-flu drugs to handle an outbreak.

However, Guan Yi (管軼), a professor of professor at the University of Hong Kong who helped to fight SARS and bird flu, said a pandemic looked inevitable.

"I think the spread of this virus in humans cannot possibly be contained within a short time ... There are already cases in almost every region. The picture is changing every moment ... We are counting down to a pandemic," Guan said.

The virus should not be called "swine flu" as it also contains avian and human components and no pig has been found ill with the disease so far, the World Organization for Animal Health (OIE) said yesterday.

A more logical name for it would be "North-American influenza," a name based on its geographic origin, just like the Spanish influenza, another human flu pandemic of animal origin that killed more than 50 million people between 1918 and 1919.

The OIE warned that if the virus was shown to cause disease in animals, virus circulation could worsen the regional and global situation for public health.
---
DPP chief slams cross-strait talks as failure
 
LITANY OF COMPLAINTS: Tsai Ing-wen said the government should allow for a legislative review of the pacts as she urged the public to join a rally on May 17
By Rich Chang, Flora Wang and Ko Shu-ling
STAFF REPORTERS
Tuesday, Apr 28, 2009, Page 1
 
"We will work toward the [fifth] freedom while both sides of the Taiwan Strait remain at peace. We hope our friends at the DPP will stop politicizing economic issues."— Yang Chiung-ying, KMT caucus secretary-­general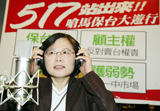 Democratic Progressive Party Chairperson Tsai Ing-wen makes a recording in Taipei yesterday calling on the public to participate in an anti-government demonstration scheduled for May 17.

PHOTO: CNA

Democratic Progressive Party (DPP) Chairperson Tsai Ing-wen (蔡英文) said yesterday that Sunday's round of cross-strait talks were a failure that made concessions on sovereignty but did not help Taiwanese businesses.

Tsai said the failure of the talks was inevitable given President Ma Ying-jeou's (馬英九) "mindset."

She said the Ma government made four mistakes: It made concessions on sovereignty before the talks; it relied too much on China's goodwill and the Chinese economy; it avoided consultation with or supervision from the legislature and opposition parties; and it had no way of ensuring that national security officials and the government's negotiators had no conflict of interest.

Tsai said Ma had made a comment supporting Chinese President Hu Jintao's (胡錦濤) speech marking the 30th anniversary of Beijing's "open letter to Taiwanese compatriots," which highlighted the "one China" principle, and which was a concession on sovereignty.
 
DPP complaints
• The Ma government made concessions on sovereignty before Sunday's round of cross-strait talks.

• The government relied too much on China's goodwill and its economy.

• The government avoided consultation with or supervision by the legislature and opposition parties.

• The government has no way to confirm that national security officials or its negotiators do not have a conflict of interest over matters discussed at the talks.

• The government did not negotiate on the "fifth freedom of the air."
The government also gave up negotiations on the "fifth freedom of the air," essentially implying that cross-strait flights are domestic flights, she said.

The DPP leader also criticized the government for failing to ink an extradition agreement with China and said the latest financial agreement would only give Taiwan nominal equality because the terms were unfavorable to Taiwan.

Tsai called on the public to join a rally on May 17 against the Ma government's China-leaning policies and "poor performance."

Meanwhile, DPP Legislator Gao Jyh-peng (高志鵬) said if the Chinese Nationalist Party (KMT) government avoided putting the three agreements to a legislative vote and allowed them to be enacted by default, it would face a huge protest on May 17.

Article 95 of the Statute Governing Relations Between Peoples of the Taiwan Area and the Mainland Area (兩岸人民關係條例) stipulates that a cross-strait agreement automatically takes effect 30 days after being signed if the legislature does not reject it within that period.

Gao warned the government against allowing the pacts to take effect on June 25, saying the four agreements signed at the previous round of talks were enacted by default last December despite the DPP's opposition.

He said Article 63 of the Constitution granted the legislature the power to decide by resolution on treaties, and if the KMT-dominated legislature stalled a legislative review of the three new agreements or rejected the legislature's resolution powers, the DPP and the public would make their voices heard on the streets.

Gao said the legislature should immediately review the pacts and summon National Security Council (NSC) Secretary-General Su Chi (蘇起), Straits Exchange Foundation (SEF) Chairman Chiang Pin-kung (江丙坤), Mainland Affairs Council Chairwoman Lai Shin-yuan (賴幸媛) and other officials for questioning.

Presidential Office Spokesman Wang Yu-chi (王郁琦) said that Su was unlikely to report to the legislature because Ma disagreed with the DPP's request, which he thought was "unreasonable."

The president believed that if Su complied with the request it would create a constitutional controversy because Su was an adviser, not a decision maker, Wang said.

Except during reviews of the NSC's budget and its organic law, Su was not legally required to report to the legislature, Wang said. If the DPP legislative caucus made an official request, Ma would instruct Su to ignore it, the spokesman said.

Meanwhile, Chinese Nationalist Party (KMT) caucus ­secretary-­general Yang Chiung-ying (楊瓊瓔) urged the DPP not to politicize the cross-strait economic agreements.

Yang said the Fifth Freedom of the Air needed to be negotiated "in proper sequence" in future cross-strait talks.

"We will work toward the [fifth] freedom while both sides of the Taiwan Strait remain at peace. We hope our friends at the DPP will stop politicizing economic issues," she told a press conference.

She also urged the government to focus on improving the quality of the nation's tourism industry to attract more tourists from China.

When approached for comment, KMT Legislator Chang Hsieh-yao (張顯耀), a member of the Foreign and National Defense Committee, said the third round of cross-strait talks had been successful because progress had been made in terms of regular cross-strait charter flights, cross-strait financial cooperation and crime-fighting.

Chang dismissed media speculation that China had dominated the talks, saying that "domination only happens during negotiations, but this was a meeting."

When asked for comment on the omission of an economic cooperation framework agreement (ECFA) on the agenda for future talks, KMT Legislator Wu Den-yih (吳敦義) said it was more important for politicians across party lines to reach a consensus regarding an ECFA.

Wu said the KMT respected the DPP's plan to hold the May 17 rally, but he urged the DPP to respect those who would not join the demonstration.

Meanwhile, former vice president Annette Lu (呂秀蓮) called for transparency in cross-strait negotiations, saying they must be conducted under legislative supervision.

Lu said she was curious to know who authorized Chiang to negotiate with Association for Relations Across the Taiwan Strait (ARATS) Chairman Chen Yunlin (陳雲林) and why the public was kept in the dark about the content of the three agreements. Lu made the remarks before attending a panel discussion on Taiwan's sovereignty at her office yesterday morning.

Lu said cross-strait negotiations, regardless of the scope or nature of the issue, must be conducted in a transparent fashion.

Before negotiations, Lu said, the issue and content of any agreement should be made public and the government should seek a public consensus.

After an agreement has been signed, it must undergo legislative oversight, she said.

Without legislative oversight, Lu said, there was no justice and the agreement should be deemed invalid.

She urged the public to scrutinize the entire process of cross-strait negotiations.
---
China remains a punters' game
 
By Sushil Seth
Tuesday, Apr 28, 2009, Page 8

Interestingly, Chinese President Hu Jintao's (胡錦濤) "harmonious society" does not feature as prominently in official Chinese propaganda as it did a while ago. This is not entirely surprising, considering the social unrest that China has been experiencing in different parts of its territory.

And this is not just because of the economic downturn, which is making things worse. The crisis has worsened the employment situation, sending millions of rural migrants back to the countryside, where things are more dire.

The diversion of resources from the rural hinterland to develop an industrial economy had already created a wide gap between the countryside and urban areas.

Aside from arbitrary local taxes and entrenched corruption among party hacks, people in rural areas have had their land taken away (with little or no compensation) to make it available for the industry.

The diversion of water for urban use and/or pollution from industrial chemical waste has further compromised rural economies and quality of life.

The pillaging of rural assets to subsidize the urban economy has forced millions of rural workers to flock to urban industrial centers in search of jobs.

And since these workers are not entitled to the social and legal benefits of urban residency, they are easy prey for employers and virtually anyone else powerful enough to exploit them.

They are paid abysmal wages (held in arrears in many cases), with little or no recourse to legal process.

That they still came in millions to work in urban ghettoes is a sad commentary on the state of the rural economy.

This is how China's economy became internationally competitive, making it, as many call it, the factory of the world.

Commenting on the axis between party elites and developers, Zhao Ziyang (趙紫陽), who was deposed as party secretary-general for opposing the 1989 Tiananmen Square Massacre and subsequently spent rest of his life under house arrest until his death, reportedly said: "The government seizes land from the people, pushing the price down to a minimum, then hands it over to developers to sell it at a huge markup."

As a result, he said, "We now have a tripartite group in which the political elite, the economic elite and the intellectual elite are fused."

"This power elite blocks China's further reform and steers the nation's policies toward service of itself," he said.

But popular resistance has been building up for a number of years. In December 2005, for example, a riot in Dongzhou, Guangdong Province, against plans to build a power plant on land taken without compensation resulted in the killing of 20 people at the hands of security forces.

Lately, there have been instances of protests organized across provinces, as in the case of taxi drivers striking against the high cost of cab rental.

The cumulative economic and social pressures over the years and the desperate need for a political outlet to air grievances is starting to fray the tripartite bond between the "political elite, the economic elite and the intellectual elite" described by Zhao.

The most telling example was the signing of Charter 08 in December by several hundreds of Chinese intellectuals and others seeking the end of one-party rule and its replacement by real democracy based on freedom, respect for human rights, equality and rule of law.

As usual, the Chinese government tends to tighten the system to suppress dissent, while obfuscating the issue of political freedom with platitudes.

The most recent example was the National Human Rights Action Plan of China, 2009-2010, which ostensibly aims to make government more responsive to popular concerns regarding governance.

However, the document is silent on the question of freedom, an independent judiciary and political plurality — competing political parties that could challenge the monopoly of the Chinese Communist Party.

The document focuses instead on improving the situation within the existing system of one-party rule.

The point, though, is that in theory the Chinese Constitution already incorporates democratic provisions. In practice, however, it doesn't work because the party has interpreted it to suit its own power imperatives.

The question, then, is: Why would anyone believe that the new action plan would work any better than the Constitution?

All the provisions of the Constitution are easily obviated through a system of administrative detention without trial, which often imposes sentences such as "re-education through labor."

The arbitrariness of the system, in which everything goes if the party or its minions so decree, has resulted in growing resistance within the populace to corruption.

Li Datong (李大同), a Chinese political analyst, recently told a visiting academic in Beijing: "The government has been skilful in convincing the middle class it is futile to protest … but you only need one spark for that to change."

Whether the present economic crisis will provide that spark is difficult to say. At a minimum, it is another building block — and a significant one at that — in the growing social unrest in the country.

Because the political system is so top-heavy and unresponsive, there are no built-in safety valves to let off steam through mass protests. There is also very little transparency and accountability.

In a recent investigative report on China's mining disasters, which far too often result in fatalities, the New York Times quoted Hu Xingdou (胡星斗), an economics professor at the Beijing Institute of Technology, as saying: "We don't have grassroots democracy. We don't have independent labor unions. We don't have checks and balances. We don't have any system of official accountability."

Hu's observations sum up what is wrong with China.

What this means is that unless the political system develops grassroots democracy, it will remain prone to sudden periodic shocks.

In the absence of institutionalized democratic shock absorbers like popularly elected assemblies, a free media, independent judiciary and rule of law, China will remain a punters' game.

Sushil Seth is a writer based in Australia.