CRS study urges review of US-Taiwan ties
 
CHALLENGES: The study says the Ma government's tilt toward China may enhance regional stability, but changes in the past 15 years necessitate a comprehensive review
 
By William Lowther
STAFF REPORTER, WASHINGTON
Wednesday, Apr 29, 2009, Page 1

A new congressional study says that the deepening of Taiwan-China economic and social links under President Ma Ying-jeou (馬英九) poses "increasingly difficult, competing policy challenges for the United States."

Ma's changes have led, the study says, "to periodic discussions about the efficacy of current US policy and whether or not it should be reviewed or changed."

The Taipei Times recently reported that US President Barack Obama's administration was now actively considering a major new Taiwan Policy Review.

The study by Kerry Dumbaugh, a specialist in Asian Affairs with the Congressional Research Service (CRS), is entitled Taiwan-US Relations: Developments and Policy Implications.

Ma's initiatives are welcomed by many, the study says, for contributing to greater regional stability.

But it adds: "More pessimistic observers see growing PRC [People's Republic of China]-Taiwan ties eroding US influence, strengthening PRC leverage and, particularly in the face of expanding economic links, jeopardizing Taiwan autonomy and economic security."

The study says that among Obama's policy challenges are "decisions on new arms sales to Taiwan, which are anathema to the PRC; how to accommodate requests for visits to the US by President Ma and other senior Taiwan officials; the overall nature of US relations with the Ma government; whether to pursue closer economic ties with Taiwan; what role, if any, Washington should play in cross-strait relations; and, more broadly, what form of defense assurances to offer Taiwan."

Changes under Ma have led, the study says, to questions about "whether the United States should conduct a reassessment of its Taiwan policy in light of changing circumstances, and what the extent of such a possible reassessment should be."

"At the very least, some say, the US needs to consider doing another comprehensive review of its Taiwan policy in order to revisit once again the 1979-1980 Taiwan Guidelines that govern US government interactions with Taiwan and with Taiwan officials," the study says.

"Furthermore, since the 1993-'94 policy review, there have been dramatic developments in Taiwan's political development. Taiwan has become a fully functioning ­democracy. In addition, since 1995 the PRC has undertaken a substantial military buildup along the coast opposite Taiwan and in 2005 Beijing adopted the anti-secession law suggesting hostile intent against Taiwan. These significant developments since 1993-94, according to this view, justify another Taiwan Policy Review to make selected changes in US policy," it said.

"The implications of a Taiwan policy review for US-PRC relations likely would depend on the nature of the policy review itself. A substantial or comprehensive public review undoubtedly would raise concerns both in the PRC and likely in Taiwan," the study said.
---
DPP's Taipei branch approves bid to reinstate Chen
 
By Mo Yan-chih
STAFF REPORTER
Wednesday, Apr 29, 2009, Page 3

The Democratic Progressive Party's (DPP) Taipei City branch yesterday approved a proposal to allow former president Chen Shui-bian (陳水扁) to return to the party.

All 15 members attending the branch's executive committee provisional meeting voted for the proposal and agreed that the DPP should allow Chen to return.

"Chen could help solve disputes among different factions if he returned to the DPP, and it should have a positive effect in terms of party unity," branch director Huang Ching-lin (黃慶林) said after the meeting.

Huang said he would take a membership application form with him when he visits Chen at the Taipei Detention Center today. The branch will ask the party to approve Chen's application.

Chen and his wife Wu Shu-jen (吳淑珍) withdrew from the DPP last August after he admitted that Wu had wired an unspecified amount of money overseas from donations he had received during his two Taipei mayoral and two presidential election campaigns.

Executive committee member Hsu Chieh-yuan said Chen had expressed a wish to return to the party when he visited him last Thursday and so the branch had proposed inviting Chen back into the fold.

Huang said Chen withdrew from the DPP to prevent the pan-blue camp from using his case to attack the party.

The prosecutors' handling of Chen's case has been problematic, Huang said.

"I believe the public can clearly see that political manipulation has been involved in the handling of Chen's case," he said.

Huang and other committee members urged the party to listen to the local branch and not to ignore Chen's influence.

DPP spokesman Cheng Wen-tsang (鄭文燦) told a press conference that if Chen submitted a membership application, a review committee consisting of three Central Standing Committee members would review the application.

He said Chen had voluntarily withdrawn from the party to avoid damaging the party.

Cheng said Chen should focus on his judicial cases, protect his judicial rights and the party would help Chen fight for a fair trial.
---
Treaty confirmed sovereignty: Ma
 
ANNIVERSARY: The president said it was easy to read between the lines of the Treaty of Taipei and see that the ROC government is the legitimate ruler of Taiwan
 
By Ko Shu-ling
STAFF REPORTER
Wednesday, Apr 29, 2009, Page 3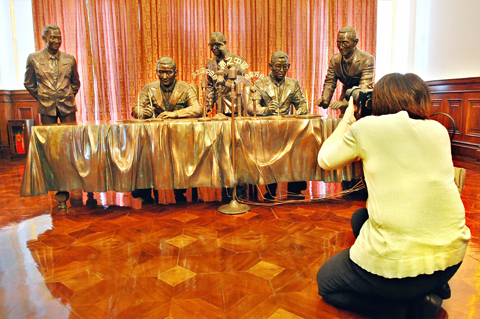 A photographer kneels yesterday to take a shot of a new bronze sculpture at the Taipei Guest House depicting the signing of the 1952 Sino-Japanese Peace Treaty, better known as the Treaty of Taipei. The sculpture forms part of an historical exhibition that will be open to the public one weekend a month.

PHOTO: CNA

President Ma Ying-jeou (馬英九) said yesterday that the 1952 Treaty of Taipei affirmed the transfer of Taiwan's sovereignty from Japan to the Republic of China (ROC).

Ma's statement deviated from his previous claim that it was the 1943 Cairo Declaration that gave the ROC its claim to Taiwan.

"While the 1952 treaty does not specify the legal successor government [of Taiwan], it was clear between the lines," he said. "Japan would not have signed the accord with the ROC if it did not intend to concede the territories to the ROC."

Ma said the 1952 pact had three meanings: It not only affirmed the "de jure termination of war between Japan and the ROC" after Tokyo's surrender in 1945, but reasserted the "de jure transfer of Taiwan's sovereignty to the ROC" as well as "restoring friendly and normal relations with Japan."

Ma made the remarks at an unveiling ceremony at the Taipei Guest House of a bronze sculpture depicting representatives of Japan and the ROC signing the treaty on April 28, 1952. The statues are part of an exhibition marking the 57th anniversary of the treaty.

The Sino-Japanese Peace Treaty, better known as the Treaty of Taipei, affirms the 1951 San Francisco Peace Treaty, and states that the Japanese government would renounce any claim to Taiwan, Penghu, the Spratly Islands and the Paracel Islands. It did not, however, specify the legal successor government of the territories.

Pro-unification groups, including the Chinese Nationalist Party (KMT), have long claimed that the 1943 Cairo accord and the Potsdam Declaration of 1945 gave China the right to resume sovereignty over Taiwan and Penghu. They say the Cairo Declaration was a legal document that establishes the ROC's claim.

Independence activists, however, doubt the validity of the 1943 declaration, saying it was little more than a press release and cite the 1952 treaty to argue that Taiwan's international status remains undefined.

Ma said yesterday that although Tokyo nullified the 1952 treaty when it established diplomatic ties with Beijing in 1972, the disposition of the property and nationality of the inhabitants of Taiwan remained unchanged.

Academia Historica President Lin Man-houng (林滿紅) said that Ma had specifically instructed her to "tell more stories."

Lin has said she "discovered" from the Treaty of Taipei that Japan handed sovereignty over Taiwan to the ROC in 1952.

The anniversary exhibition's literature states that Taiwan's international status was settled because Japan restored territorial sovereignty over Taiwan and Penghu to the ROC government after Japan's surrender in 1945 and reaffirmed the ROC's claim in the 1952 accord.

To begin with, it says the treaty was signed between the ROC and Japan.

Second, Article 3 of the treaty states that "the disposition of property of Japan and its nationals in Taiwan and Penghu and their claims, including debts, against the authorities of the Republic of China in Taiwan and Penghu" shall be "the subject of special arrangements between the Government of the Republic of China and the Government of Japan."

Third, Article 10 of the treaty considers the 6 million inhabitants of Taiwan at the time as having ROC nationality and "naturally signifies that Japan regarded Taiwan as belonging to the ROC, otherwise there would have been no such provision."

Meanwhile, former vice president Annette Lu (呂秀蓮) said Ma's attendance at yesterday's ceremony was tantamount to recognizing the Treaty of Taipei.

The 1952 pact superseded the 1943 Cairo Declaration, she said.

On Monday Lu had challenged Ma to declare "two Chinas" and to apologize for citing the Cairo Declaration as the KMT's rationale that Taiwan is part of China and that the ROC is the legal government of Taiwan.

She also urged the president to modify high school history books to show that the ROC was not the legitimate government of Taiwan.

The Treaty of Taipei anniversary exhibition at the Taipei Guest House will be open to the public once a month to coincide with the weekend openings of the Presidential Office.
---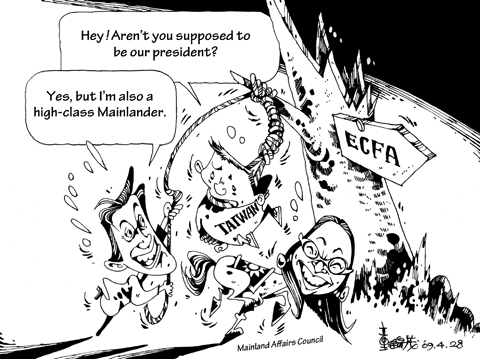 ---
An Obama TPR: Too little, too late?

Wednesday, Apr 29, 2009, Page 8

While reports of an imminent Taiwan Policy Review (TPR) are premature, it would be a useful exercise as part of a global strategic review of China's emerging pre-eminence.

China is now the second-most powerful nation on earth. Its economy has already surpassed Japan and Germany in terms of industrial output. It has massive financial clout with which it has bought incredible political patronage across the map. It has a rapidly modernizing military — as the celebrations last week of the Chinese navy's 60th anniversary demonstrated.

There is no wisdom in confronting China head-on in Asia, and a TPR by the administration of US President Barack Obama must take this into account. But if the US is to balance China's looming rise with a coalition of Asian democracies, Taiwan must be a key policy element.

With Kurt Campbell's nomination as Obama's — and US Secretary of State Hillary Clinton's — assistant secretary of state for East Asian and Pacific affairs, Obama's national security appointments offer a prospect that his administration might actually salvage some of the Asia policy wreckage of the administration under former president George W. Bush. Campbell understands the looming crisis in Asia policy — the challenge of China's rise — as does his fellow nominee at the Pentagon, retired Marine Lieutenant General Wallace "Chip" Gregson, for assistant secretary for Asian and Pacific security affairs, and his deputy, Derek Mitchell.

Unfortunately, "geostrategic considerations," when it comes to Taiwan (or China, for that matter) have long been absent in Washington policy circles. Former intelligence officer and White House Asia expert Robert Suettinger, in his book Beyond Tiananmen, admits that "the notion that American policy [toward China] is directly driven by strategic considerations ... is grossly inaccurate." It had been driven instead by business pressures — if not by sheer intellectual inertia — long after the US' strategic imperatives with proudly authoritarian China evaporated in the 1992 collapse of the Soviet Union and the 1989 reversal of China's political reforms at Tiananmen.

Former president Bill Clinton's China policy quietly changed in August 1999 after spectacular increases in Chinese missile deployments and jet fighter sorties in the Taiwan Strait. Clinton's defense department secretly began to build up military cooperation with Taiwan — a momentum that continued without publicity through the Bush years — and Campbell was at the center of that initiative. He was an advocate of strong alliances with Japan and Australia — alliances that Bush minimized in an unhealthy reliance on Beijing's influence in Asia.

The cascade of Asia policy disasters in the last four Bush years stemmed from the president's preoccupation with Iraq and Afghanistan and his chronic inattention to geopolitics or strategy anywhere else. The erosion of the US-Japan alliance; permitting North Korea to drive the US' Asia policy; complete neglect of Southeast Asia; inattention to a strategic partnership with India; abandoning democratic Taiwan in the face of war threats from undemocratic Beijing — that was the Bush Asia policy.

All of these failures sprang from the miscalculation that China was an active, responsible stakeholder in East Asian security, trade, humanitarian relief, the environment and so on. The Bush administration also persuaded itself that Taiwan was of such existential urgency to Beijing that China's viciousness was excusable. Beijing therefore was permitted to alter the "status quo" with its missile deployments and its 2005 "Anti-Secession Law," but Taiwan could never react.

When it came to Japan's security and its panic over China's vast military buildup, Bush rebuffed Tokyo's appeal for F-22s, fearing (it is said) it would "alter the strategic balance." The default mode for Bush's Asia policy was China-centric to the exclusion of all other considerations. It was a common affliction in Washington, one that author Jim Mann famously dubbed "the China Fantasy."

"Fantasy" indeed. As my friend Yuan Peng, a think tank researcher for China's intelligence services, has written: "In the world today, virtually all of America's adversaries are China's friends." You name them: North Korea, Burma, Iran, Sudan, Zimbabwe, Syria, Hamas (through Syria) and Hezbollah, have I missed any? China gives them both weapons they use in the field and diplomatic cover they need in the UN. Why? As China's foremost US expert, professor Wang Jisi (王緝思), has said: "Facts prove that it is beneficial for [China's] international environment to have the United States — both militarily and diplomatically — deeply and inextricably sunk in the Middle East." This has nothing to do with Taiwan, and everything to do with China's freedom of action in Asia.

Even today, China's poor record on issues of greatest concern to the US — nonproliferation, territorial pressures on US friends and allies (Japan, India and Taiwan, to name a few), supplying arms (via Iran and Syria) to insurgents in Iraq, Afghanistan and the Levant, consumer product safety, global warming, environmental despoliation, intellectual property, currency manipulation, locking up oil and mineral resources, dumping and cybersecurity, not to mention human rights and political freedoms — is embraced with a "what-me-worry" insouciance among Washington's foreign policy, business and financial elites.

Taiwan's significance in Asia is eclipsed in this China fantasy. Taiwanese now feel they have nowhere left to go but China. The rest of Asia watches US-Taiwan trends to see if the US might draw some line with China. All Asian governments understand Taiwan's strategic importance to the US. I say this despite the comments of my good friend and former Chinese-language classmate, American Institute in Taiwan Chairman Ray Burghardt, who said on March 19 that "a geostrategic character to American policy toward Taiwan ... isn't really there."

Taiwan's strategic value was not discussed in the Condoleezza Rice State Department or in the Bush White House. However, Taiwan's significance to US security is not dismissed by defense and intelligence officials who observe China's expanding military power: They must plan for weapons systems 20 years into the future and China's military, naval, missile and cyberspace modernization keeps them awake. Taiwan's geographic location in Asia and its geopolitical disposition are essential to monitoring these developments.

Whether State Department or White House Asia policy aides often think of these things is beside the point. They are facts: Taiwan is positioned astride sea lanes plied by vast fleets of Asian shipping; Taiwan's lofty mountains provide phased-array radar coverage of missile and aerospace activity 1,930km into continental East Asia; submarines moving from the East Asian coast into the Western Pacific go through Taiwan's waters to avoid Japan's extensive anti-submarine acoustic detection; Taiwan occupies the two largest islands in the South China Sea, Taiping and Pratas.

More important, Taiwan is the US' poster-child for democracy in Asia; the US' 10th-largest export market; and the world's fourth-largest foreign exchange reserves holder. Taiwan's GDP is bigger than any in Southeast Asia. Taiwan's population is bigger than Australia's. In short, US equanimity at the prospect of democratic Taiwan's absorption by communist China is a clear signal to the rest of Asia that the US has bought on to the "Beijing Consensus" — Asia may as well go along, too.

Sooner or later there will be an Obama "Taiwan Policy Review." But it won't amount to much. An Obama TPR will judge that the powerful momentum in cross-strait dynamics is pushing Taiwan rapidly into full economic dependence on China. It will conclude that Taiwan's inextricable economic dependence on China — absent counterbalancing action — will quickly drive the country beyond its "tipping point" toward political and, ultimately, security dependence on Beijing. At that point, Obama can dust off his hands and say: "Oh well, I really wanted to help Taiwan, but it was too late." Some will say, "It's not so bad, look at Hong Kong." Others will say, "Oh well, it was Bush's fault."

It may already be too late. For, despite China's resolute disruption of US "hegemonistic" human rights and nonproliferation goals in Asia (and Africa, too, for that matter), key Bush White House aides believed China was one of "Washington's New Comrades" and foresaw (in the words of former White House Asia expert Victor Cha) a new Northeast Asian "regional architecture" in which "Washington looks forward to China assuming a major role as a real problem solver in the region."

Obama is unlikely to be confrontational with China or anyone else. But democratic Asia needs US leadership if it is to balance China, and the test of the Obama administration's Asia policy will be to provide that leadership. A Taiwan Policy Review will only be a small subset of that calculation. Now that Campbell has been nominated, Obama has an outline of an "Asia Team" that can begin to reassess the US' erosion in the Western Pacific. If Campbell can't stop the collapse of the US' Asian interests in Taiwan, it's hard to see where he can do it.

John Tkacik is a retired US foreign service officer who had postings in Taipei, Beijing, Hong Kong and Guangzhou. He was chief of China intelligence at the State Department's Bureau of Intelligence and Research in the first Clinton administration.