WHO invites 'Chinese Taipei' to WHA
 
PARTICIPATION: Department of Health Minister Yeh Ching-chuan said an invitation to attend the WHA meeting as an observer without voting rights was a breakthrough
 
By Shih Hsiu-chuan, Ko Shu-ling and Jenny W. Hsu
STAFF REPORTERS
Thursday, Apr 30, 2009, Page 1

Taiwan has received a letter from the WHO inviting it to attend as an observer at this year's World Health Assembly (WHA) meeting next month under the name "Chinese Taipei," Department of Health (DOH) Minister Yeh Ching-chuan (葉金川) said yesterday.

"I wish to invite the Department of Health, Chinese Taipei, to attend the 62nd World Health Assembly as an observer. The Assembly will be convened at 10:00 on Monday, 18 May, 2009, in the Palais des Nations, Geneva, Switzerland," the letter from WHO Director-General Margaret Chan (陳馮富珍) to Yeh reads. "I would appreciate if you could confirm the attendance of the Department of Health, Chinese Taipei, and the names of the attendees at your earliest convenience."

Taiwan's presence at this annual meeting of the decision-­making arm of the WHO would mark the first time the country has been allowed to participate in a meeting or activity of a specialized UN agency since losing its UN membership to China in 1971. Taiwan launched a campaign to participate in the WHO in 1997, but to no avail amid opposition from China.

After consulting President Ma Ying-jeou (馬英九), Yeh accepted the invitation yesterday after receiving it by fax at 9pm on Tuesday.

"The [original] letter is still on its way," Yeh told a press conference at the Government Information Office.

The minister said the public should note key words in the letter, such as the reference to "Chinese Taipei" and the recipient being referred to as a "minister."

Yeh said the acceptance of Taiwan under the name "Chinese Taipei" was a "breakthrough."

Participating in the WHA ­meeting as an observer means Taiwan would have no voting rights in the assembly or at the WHO. Observers are granted speaking rights at the WHA meeting, but can only attend the meetings and committee sessions held during the annual two-week assembly.

Yeh said that WHA observer status would ensure Taiwan has direct contact with the WHO in exchanging information to protect public safety and would enable Taiwan to share its expertise in public sanitation and disease prevention with other countries.

Yeh said Taiwan's representative office in Geneva would liaise with the WHO secretariat to iron out the details of Taiwan's participation in the WHA meeting, including Taiwanese reporters' coverage of the event. In past years, the UN Office in Geneva rejected applications from Taiwanese journalists for press credentials to cover WHA meetings because Taiwan is not a member of the WHO.

The officials at yesterday's press conference declined to say what had transpired between Chinese and Taiwanese negotiators that led to Taiwan being granted WHA observer status.

"Health officials on both sides exchanges ideas on the matter technically, but we will not reveal the process ... in conformance with international practices," Vice Minister of Foreign Affairs Andrew Hsia (夏立言) said.

Taiwan would enjoy the same rights as the six other observers scheduled to attend the WHA ­meeting, he said.

At a separate setting yesterday, Ma attributed the breakthrough to his cross-strait policy and Beijing's goodwill.

Ma said three factors had contributed to the invitation: the joint efforts of the public and all political parties; the support of the international community, including Taiwan's diplomatic allies and non-allied countries; and the goodwill of the "mainland authorities."

Addressing a high-level meeting at the Presidential Office yesterday morning, Ma said the invitation had a lot to do with his administration's effort to improve cross-strait relations and push the diplomatic policy of "modus vivendi."

Cross-strait rapprochement had received international recognition and cultivated trust among Taiwan's diplomatic allies, he said.

"Over the past few months, the government has been pushing the matter in a low-profile fashion to avoid any misunderstandings or difficulties," he said.

Saying he was gratified at this year's result, Ma added that he would offer a clearer account of the matter and outline future policy today.

Asked for comment, Chinese Nationalist Party (KMT) Legislator Chang Hsien-yao (張顯耀) said the development could be interpreted as a goodwill gesture from China.

"Although there is still a long way to go before we can gain full membership of the organization, this is a breakthrough and a sign of progress," he said.

Democratic Progressive Party (DPP) Legislator William Lai (賴清德) said the government should publicize the process of Taiwan's participation in the WHA, and tell the public the truth about whether any secret negotiations had been involved in gaining China's approval.

He said the DPP suspected the KMT and the Chinese Communist Party had reached an agreement that Taiwan would consult with China and not with the international community on the WHA bid, that Taiwan would not challenge the "one China" framework and that the WHA would review Taiwan's observer status annually under the title "Chinese Taipei."

"We need to observe whether Taiwan will gain substantial benefits through participating in this year's WHA, such as receiving the latest information on health matters and epidemic control measures to combat swine flu," DPP Legislator Huang Wei-cher (黃偉哲) said.

At another meeting with reporters later yesterday, Hsia was adamant that "no secret deals" had been made between Taiwan and China and that Taiwan's observer status came "without condition."

The designation of "Chinese Taipei" has always been an acceptable option, even though "Republic of China" would be much preferred, he said.

Nonetheless, the name "Chinese Taipei" was not derogatory because Taiwan has used the title in other international organizations, Hsia said.

The Taiwanese delegation Yeh plans to lead to the WHA meeting will include 11 health officials and three experts attending in a non-official capacity, Chen Chien-jen (陳建仁) and Chen Pei-jer (陳培哲), both distinguished research fellows at the Genomic Research Center of Academia Sinica, and Chang Shen-chwen (張上淳), vice superintendent of National Taiwan University Hospital.
---
Yiin details Chinese investment plan
 
COMING SOON: The minister of economic affairs said that restrictions would be gradually loosened and rules would prevent PRC firms from gaining a monopoly
 
By Shih Hsiu-chuan and Ko Shu-ling
STAFF REPORTERS
Thursday, Apr 30, 2009, Page 3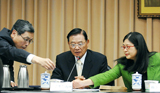 Mainland Affairs Council Chairwoman Lai Shin-yuan, right, and Straits Exchange Foundation (SEF) Secretary-General Kao Koong-lian, left, reach to switch on SEF Chairman Chiang Pin-kung's microphone as he prepares to report on recent cross-strait talks.

PHOTO: CNA
Minister of Economic Affairs Yiin Chii-ming (尹啟銘) said yesterday the government will issue guidelines regulating the influx of Chinese capital by the end of next month at the latest.

Yiin said that in the initial stage, the government plans to allow Chinese capital to invest up to 30 percent in 212 types of manufacturing industry, 21 percent in 113 types of service industry, and 14 percent in 81 types of public construction industry.

Yiin however declined to elaborate on items to be listed on the positive list for each industry, except to say that construction of airports, harbors and tourism and recreation facilities will be incorporated in the public construction industry.

The regulations governing Chinese investment would be strict before they are loosened gradually, Yiin said, adding that a safeguard clause would be written into the regulations that would prevent Chinese capital from investing in an industry that might lead to a monopolistic position.

Asked why the government's plan to sign an economic cooperation framework agreement (ECFA) with China was not discussed in the just-concluded cross-strait talks, Yiin said the result did not mean China had no intention of signing such a deal with Taiwan.

Both Taiwan and China are studying the impacts of an ECFA and will discuss the issue "at the appropriate time," he said.

Meanwhile, Mainland Affairs Council Chairwoman Lai Shin-yuan (賴幸媛) said yesterday the council and the Straits Exchange Foundation (SEF) would report to the legislature next Wednesday on the achievements of last weekend's meeting between SEF Chairman Chiang Pin-kung (江丙坤) and his Chinese counterpart, Association for Relations Across the Taiwan Strait (ARATS) Chairman Chen Yunlin (陳雲林).

Lai made the remarks while meeting Chiang after his return from Nanjing yesterday afternoon.

Chiang and Chen signed three pacts on the launch of regular cross-strait passenger flights, financial cooperation and mutual judicial assistance and cross-strait crime fighting. A consensus was also reached on the opening of Taiwan to Chinese investment.

Lai yesterday pledged to put the three agreements signed by both sides into practice.

In related news, Democratic Progressive Party (DPP) legislators yesterday said the agreement on combating crime denigrated Taiwan's sovereignty.

DPP Legislator Gao Jyh-peng (高志鵬) said the talks opened a new chapter of self-deprecation because of the unparalleled rankings of both sides' negotiators.

The rankings of Taiwan's government officials at the negotiation table were lower than those of their Chinese counterparts, he said, adding that he was worried Beijing would take advantage of the agreement to demand the deportation of Falun Gong practitioners and supporters of Tibetan independence.

DPP Legislator Ker Chien-ming (柯建銘) said many people were disappointed with the agreement, which Ker said was little more than a "word game."

Taipei had originally wanted to "extradite" fugitives, but the wording was changed to "transfer."

Minister of Justice Wang Ching-feng (王清峰), however, dismissed Ker's criticism, saying the agreement did not change the fact that she is still the "minister of justice of the Republic of China" and that the country's sovereignty was not at all compromised.

"The Chinese Nationalist Party (KMT) administration accomplished what the former DPP government could not when it was in power," she said.
---
A mess of upgrades and mergers
 
Thursday, Apr 30, 2009, Page 8

'This government ... has never bothered getting down to the humble but important business of putting Taiwan's administrative house in order.'

In an attempt to make good on President Ma Ying-jeou's (馬英九) election promises, earlier this month the legislature hurriedly passed amendments to the Local Government Act (地方制度法). The hasty and slapdash piece of legislation is tailor-made for the merger of Taichung City and County and their scheduled upgrade to municipality status next year.

The move has been denounced as unfair by residents of other cities and counties around Taiwan, with calls for administrative reform to be applied across the board. Amid the clamor, there has been speculation that the KMT will use an upgrade of Taipei County's status to manipulate the outcome of the county's local government elections at the end of the year.

Reform of administrative divisions is an essential and urgent task for maintaining the nation's competitiveness. However, a blueprint for the reforms has not been made available to the public. Until then, attempts to manipulate the issue to promote individual parties or politicians at the expense of the public interest must be monitored. If the public remains vigilant, those in power will have to act with restraint.

With various counties and cities stating their cases, at least seven schemes for administrative upgrading have been put on the table.

These include the merging of and a status upgrade for Taichung County and City, Kaohsiung County and City, Tainan County and City, and Yunlin and Chiayi counties, as well as a status upgrade for Taipei, Taoyuan and Changhua counties. The reason why so many jurisdictions are clamoring for this treatment is that they are mindful of the government and legislature's desire to avoid breaking a key election commitment.

But the government and the legislature have failed to come up with complementary measures dealing with inequalities in tax revenue distribution. And in amending the Local Government Act, the legislature added a supplementary resolution that prevents the Ministry of the Interior from unilaterally deciding which counties and cities can be upgraded.

Instead, all proposals must first be submitted by local governments and approved by county and city councils. Thus, the president's top-down conception of implementing these reforms has been overturned and turned into a bottom-up enterprise. County and city governments and councils, fretting that they might end up as second-class citizens, have clamped themselves to the upgrade debate.

Ma's election promises go beyond next year's merger of Taichung County and City. They say that by 2014 Taiwan will be reorganized into three municipalities (north, central and south) and 15 counties.

But Ma's agenda must overcome several challenges. It had been suggested that Taipei City and County merge with Keelung City to create a northern metropolis, but now, with Taipei County residents demanding that their county be upgraded on its own, there are reports that Taipei County will be elevated ahead of any merger. Therefore, there is also talk that the year-end election for Taipei County commissioner may be postponed. Conspiracy theories abound, asserting that the noble idea of upgrading the county's status has been manipulated for political reasons. One way or another, the overall result is central government mismanagement.

Taipei County, with a population of more than 3.8 million, does meet the conditions for an upgrade. In lobbying for this, Taipei County Commissioner Chou Hsi-wei (周錫瑋) of the Chinese Nationalist Party (KMT) and his predecessor threatened to resign if a merger between Taichung County and City took place before Taipei County's upgrade. Last year, when Chou was pressing the central government to upgrade his county, Ma would not meet with him. Delivering a report to the Taipei County Council recently, Chou again declared that he would quit politics if Taipei County were upgraded to a municipality even one day later than Taichung. There is a suggestion, then, that Chou's renewed pledge shows he has reached an unspoken agreement with Ma and the KMT.

Greater Taichung's imminent upgrade and Taipei County's possibly independent upgrade highlight the fact that Taipei County has for decades possessed the most suitable conditions for a change in status — but to no avail. Though Ma's team originally intended for Taipei County to merge with Taipei City and Keelung and thus be upgraded five years from now, it now seems Taipei County may be upgraded ahead of time.

The KMT's thinking is based on ulterior motives. Notably, the party's position that Taipei County should be dealt with as part of a third wave of local authority upgrades has been replaced by the strong possibility of postponing the year-end county election. There is a school of thought that this delay would enhance the KMT's prospects for re-election in the county; the KMT's opponents are therefore calling it a "sly move." But if the KMT respects the intelligence of voters, and if the incumbent county commissioner's ratings and performance are as awful as polling suggests, the KMT should face the public instead of trying to find a way for him to hang around for another year.

Taiwan's administrative divisions demand an overhaul. Under Japanese rule, Taiwan was just one among several Japanese colonies and Tokyo was a faraway place. Yet top Japanese officials organized teams of bureaucrats to change Taiwan's divisions no less than seven times in 50 years — from the original single prefecture and several counties to the final layout of five rural and three urban prefectures.

In the five decades since the KMT took over Taiwan, the political and administrative environment has changed dramatically. Society has been transformed from one of extended families and clans to nuclear families with a highly mobile population. It has moved from an agricultural economy to one highly dependent on imports and exports, with flourishing industry, commerce and services. The population has grown tremendously over the same period.

Yet this government, with its capital on Taiwanese soil, has never bothered getting down to the humble but important business of putting Taiwan's administrative house in order. Even present plans for upgrades are no more than a patchwork solution.

Ma's government must closely consider plans for upgrades of all counties and cities and determine the best distribution of administrative resources.

Above all, this issue must be separated from election strategizing in its entirety. The ruling party must reject the temptation to manipulate the issue to favor its candidates, and it must not allow the pressure of local political forces to sway its judgment.

If, on the other hand, the KMT uses its near monopoly on power to do as it pleases, this will provide ready ammunition for the party's opponents in the elections. The KMT could end up gaining a little but losing a lot.