Loyalist groups in Northern Ireland decommission arms

REUTERS, BELFAST
Monday, Jun 29, 2009, Page 1

Pro-British paramilitary forces on Saturday completed an historic step in the Northern Ireland peace process by scrapping their weapons in front of independent witnesses.

The moves, confirmed by the British and Irish governments, underscored commitment across the sectarian divide to ending violence, but did not remove a threat from hard-line splinter groups operating on both sides.

"The struggle has ended," said the Ulster Defense Association, which has also begun to fully decommission arms. "Peace and democracy have been secured and the need for armed resistance has gone."

An Ulster Volunteer Force (UVF) statement was read to reporters in Belfast by a man representing the UVF and the Red Hand Commando (RHC) and wearing an ordinary suit, a change from when paramilitary spokesmen addressed the media wearing masks and toting guns.

'BEYOND USE'

"The leadership of the Ulster Volunteer Force and Red Hand Commando today confirms it has completed the process of rendering ordnance totally and irreversibly beyond use," the UVF and the RHC statement said.

The UVF killed more than 540 people during 30 years of conflict with pro-Irish nationalists.

Northern Ireland has enjoyed relative peace since a 1998 deal ended the predominantly Catholic Irish Republican Army's (IRA) military campaign to end British control of Ireland.

"In recent years, loyalist organizations have been making effective progress towards conflict transformation, and today is an important landmark in this process," Irish Foreign Minister Micheal Martin said.

UNDER PRESSURE

Mainly Protestant military organizations that want to keep Northern Ireland within the UK have been under pressure for years to get rid of arms, following the IRA's decision to dispose of its weapons in 2005.

"The leadership of the UVF and RHC have delivered on what they said they would do," said Shaun Woodward, British Secretary of State for Northern Ireland, confirming the UVF and RHC had completed decommissioning in cooperation with the Independent International Commission on Decommissioning.

In Washington, US Secretary of State Hillary Clinton welcomed the move.

"The announcements underscore the remarkable progress that has taken place in Northern Ireland over the years," Clinton said in a statement. "All parties agree, as the people of Northern Ireland do, that the only way forward is through peace and reconciliation and not through violence."
---
S Korea acquiring US missiles: report
 
SABER-RATTLING:: With North Korea preparing to test a long-range missile, Seoul is stocking up on missiles that can hit targets up to 160km away, Yonhap said

REUTERS, SEOUL
Monday, Jun 29, 2009, Page 4

South Korea is acquiring 40 US-made missiles for an Aegis destroyer this month to boost its defenses amid reports North Korea may soon test-fire missiles, Yonhap news agency yesterday quoted a military source as saying.

North Korea, which rattled regional security with a May 25 nuclear test, is preparing to test a long-range missile that could hit US territory and mid-range missiles that could hit all of South Korea, a South Korean presidential Blue House official said last week.

The surface-to-air missiles for the Aegis destroyer, designed to track and shoot down objects including missiles, can hit targets up to 160km away, Yonhap quoted the source as saying.

North Korea has also warned ships to stay away from waters off its east coast city of Wonsan, Japan's Coast Guard said last week, in a possible indication of a missile test.

North Korea in April launched a rocket it said was carrying a satellite. The move was widely seen as a disguised test of its long-range Taepodong-2 missile and a violation of UN resolutions barring the reclusive state from ballistic missile testing.

The UN Security Council punished it for the missile launch by tightening existing sanctions and imposing new ones after the nuclear test to halt its arms trading, one of the few items the cash-short state with a broken down economy can export.

The US Navy has said it is monitoring a North Korean ship under the new UN security resolutions imposed after the nuclear test. A South Korean intelligence source said the ship was likely carrying missiles and parts, and it could be heading to Myanmar, broadcaster YTN said.

At the weekend, the prickly North Korea warned in an official media report that it would shoot down any Japanese military plane that breached North Korean air space.

South Korean officials have said the North's recent saber-rattling may be a way for leader Kim Jong-il to build internal support as he prepares for succession in Asia's only communist dynasty.
---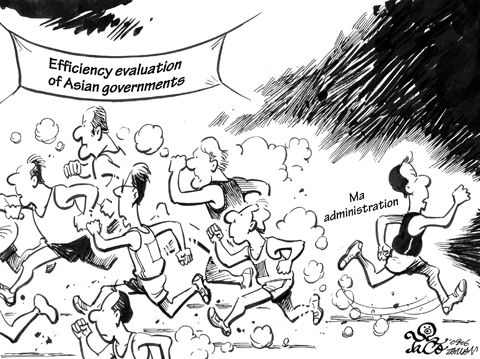 ---
Is Ma oblivious to China's abuses?

Monday, Jun 29, 2009, Page 8

Prominent Chinese dissident Liu Xiaobo (劉曉波) has been formally arrested on charges of subversion after being held under "residential surveillance" for half a year. Investigations against Liu may last for as long as seven months. China has drawn criticism from around the world for subjecting dissidents to such dubious legal procedures, and on such absurd grounds.

Liu's case has caught international attention not only out of concern for Liu himself, but because he might be the first domino among many to fall. Recently, more than 100 human rights activists, academics and writers have been put under supervision and house arrest. They, too, may face formal arrest and imprisonment.

The Beijing Public Security Bureau announced that Liu was arrested on charges of "agitation activities, such as spreading rumors and defaming the government, aimed at subversion of the state and overthrowing the socialist system." But it is widely thought that the real reason for Liu's detention is his role in promoting Charter 08, a manifesto calling for an end to one-party rule launched last year on Dec. 10, International Human Rights Day.

Charter 08 was initially signed by more than 300 people, including lawyers, academics, writers and artists, and later by a further 7,000 people around the world. The charter advocates universal values of freedom, human rights, democracy and constitutional government, which angered the Chinese authorities. Ironically, the Chinese government last year signed two international covenants on the protection of human rights that are essentially the same as those proclaimed by Charter 08. All the more absurd, then, that Liu should be detained and charged merely for exercising his freedom of speech.

China's handling of Liu's case seems rather familiar to people in Taiwan. In the days of its authoritarian rule, the Chinese Nationalist Party (KMT) government used similar means to suppress the opposition. Following the Kaohsiung Incident of Dec. 10, 1979 (also Human Rights Day), the KMT government rounded up and imprisoned opposition and democracy activists on grounds of "subversion." On the surface, this assault on Taiwan's democracy movement looked like a victory for the KMT, but in reality the Kaohsiung Incident woke the Taiwanese public up to the arbitrary nature of the KMT dictatorship and to the vital importance of democracy, freedom and human rights.

It was a watershed for Taiwan's democracy movement, following which democratization became a mainstream trend in Taiwan. In the years that followed, the Democratic Progressive Party (DPP) was established, limits on press freedom were removed and direct elections were held for all seats in the National Assembly and Legislative Yuan. Support for the DPP kept growing as more and more voters rejected the KMT. Finally, the KMT lost the 2000 presidential election and government power was transferred peacefully to the DPP. China should learn from Taiwan's democratic experience that oppression cannot suppress people's thirst for democracy, and prison walls cannot contain their yearning for freedom. In fact, the more pressure the Chinese government applies, the greater the backlash will be.

In his published observations on the 20th anniversary of the crackdown on China's 1989 democracy movement, President Ma Ying-jeou (馬英九) said that China had made progress with regard to human rights. Seeing the treatment given to Liu and other dissidents, can Ma, who advocates eventual reunification with China, be oblivious to the gulf that exists between Taiwan and China in terms of human rights? Will he remain silent as China's rulers trample civil rights underfoot? Ma claims to cherish human rights and the rule of law. Is what we see in China today the standard of freedom and civil rights that Ma would like to see applied to Taiwan in the future?
---
Democracy regressing

"Well, look at Taiwan, look at [South] Korea, different places," US House Speaker Nancy Pelosi said recently. ("PRC stalling on human rights: House speaker," June 7, page 1). While Taiwanese joined others in discussing the slow progress of human rights in China on the 20th anniversary of the Tiananmen Square protest, how many of us noticed that democracy in Taiwan is moving backwards?

Why were the parents of a Tamkang University student warned by police after their child attended the protest held by the Democratic Progressive Party (DPP) on May 17? Why was a student arrested and investigated by the police just for shouting "Ma Ying-jeou [馬英九] step down!" at a Taiwan High Speed Rail station in March? Why was Sunrise Records shut down by police because they were playing patriotic Taiwanese music when Association for Relations Across the Taiwan Strait Chairman Chen Yunlin (陳雲林) visited Taipei last year?

I can't believe all these incidents happened in a so-called democratic country. Living in Taiwan in the 21st century, we are supposed to have the basic human right of freedom of speech. Martial Law was lifted in 1987 by former President Chiang Ching-kuo (蔣經國), but maybe Ma forgot about that. Otherwise, why was I warned by an unfriendly policeman with fierce eyes and a pointing finger for having a yellow ribbon with the words "Taiwan is my country" tied to my car?

SALLY WU
Taipei City
---
Benefits of China's 'peaceful rise'
 
By Wen Liao
Monday, Jun 29, 2009, Page 8

For two decades, Chinese diplomacy has been guided by the concept of the country's "peaceful rise." Today, however, China needs a new strategic doctrine, because the most remarkable aspect of Sri Lanka's recent victory over the Tamil Tigers is not its overwhelming nature, but that China provided Sri Lankan President Mahinda Rajapaksa with both the military supplies and diplomatic cover he needed to prosecute the war.

Without that Chinese backing, Rajapaksa's government would have had neither the wherewithal nor the will to ignore world opinion in its offensive against the Tigers. So, not only has China become central to every aspect of the global financial and economic system, it has now demonstrated its strategic effectiveness in a region traditionally outside its orbit. On Sri Lanka's beachfront battlefields, China's "peaceful rise" was completed.

What will this change mean in practice in the world's hotspots like North Korea, Pakistan and Central Asia?

Before the global financial crisis hit, China benefited mightily from the long boom along its eastern and southern rim, with only Burma and North Korea causing instability. China's west and south, however, have become sources of increasing worry.

Given economic insecurity within China in the wake of the global recession, China's government finds insecurity in neighboring territories more threatening than ever. Stabilizing its neighborhood is one reason why China embraces the six-party talks with North Korea, has become a big investor in Pakistan (while exploring ways to cooperate with US President Barack Obama's special representative, Richard Holbrooke), signed on to a joint Asia-Europe summit declaration calling for the release from detention of Burmese opposition leader Daw Aung San Suu Kyi, and intervened to help end Sri Lanka's 26-year civil war.

The calculus behind China's emerging national security strategy is simple. Without peace and prosperity around China's long borders, there can be no peace, prosperity and unity at home. China's intervention in Sri Lanka, and its visibly mounting displeasure with the North Korean and Burmese regimes, suggests that this calculus has quietly become central to the government's thinking.

For example, though China said little in public about Russia's invasion and dismemberment of Georgia last summer, Russia is making a strategic mistake if it equates China's public silence with tacit acquiescence in the Kremlin's claim to "privileged" influence in the post-Soviet countries to China's west.

Proof of China's displeasure was first seen at last year's summit of the Shanghai Cooperation Organization (SCO), a regional grouping that includes former Soviet countries that share borders with China and Russia. Russian President Dmitri Medvedev pushed the SCO to recognize the independence of Abkhazia and South Ossetia. But the SCO balked. The group's Central Asian members — Kazakhstan, Kyrgyzstan, Tajikistan and Uzbekistan — would not have stood up to the Kremlin without China's support.

At this year's just-concluded SCO summit, the pattern continued. The brief appearance of disputed Iranian President Mahmoud Ahmadinejad may have made all the headlines, but China's announcement of a US$10 billion fund to support the budgets of financially distressed ex-Soviet states, which followed hard on a US$3 billion investment in Turkmenistan and a US$10 billion investment in Kazakhstan, provides more evidence that China now wants to shape events across Eurasia.

Russian Prime Minister Vladimir Putin famously described the break-up of the Soviet Union as the greatest geopolitical catastrophe of the 20th century. From China's standpoint, however, the Soviet collapse was the greatest strategic gain imaginable. At a stroke, the empire that had gobbled up Chinese territories for centuries vanished. The Soviet military threat — once so severe that Mao Zedong (毛澤東) invited then-US president Richard Nixon to China to change the Cold War balance of power — was eliminated. China's new assertiveness suggests that it will not allow Russia to forge a de facto Soviet Reunion and thus undo the post-Cold War settlement under which China's economy flourished and security increased.

So far, China's rulers have regarded emerging strategic competition with India, Japan, Russia and the US as a jostling for influence in Central and South Asia. China's strategic imperatives in this competition are twofold: to ensure that no rival acquires a dangerous "privileged influence" in any of its border regions, and to promote stability so that trade, and the sea lanes through which it passes (hence China's interest in Sri Lanka and in combating Somali pirates), are protected.

In the 1990s, China sought to mask its "peaceful rise" behind a policy of "smile diplomacy" designed to make certain that its neighbors did not fear it. China lowered trade barriers and offered soft loans and investments to help its southern neighbors. Today, China's government seeks to shape the diplomatic agenda to increase China's options while constricting those of potential adversaries.

Instead of remaining diplomatically aloof, China is forging more relationships with its neighbors than any of its rivals. This informal web is being engineered not only to keep its rivals from coalescing or gaining privileged influence, but also to restrain the actions of China's local partners to dampen tension anywhere it might flare up.

China's newfound assertiveness, rather than creating fear, should be seen as establishing the necessary conditions for comprehensive negotiations about the very basis of peaceful coexistence and stability in Asia: respect for all sides' vital interests. In recent years, such an approach ran counter to the US' foreign-policy predisposition of favoring universalist doctrines over a careful balancing of national interests. With the Obama administration embracing realism as its diplomatic lodestar, China may have found a willing interlocutor.

Wen Liao is chairwoman of Longford Advisors, a political, economic and business consultancy.