CKS memorial restored amid low-level protests
 
HE'S BACK: A handful of protesters turned up as workers, protected by as many as 600 police officers and barbed wire fences, refixed the dictator's name plaque to the hall
By Flora Wang and Jenny W. Hsu
STAFF REPORTERS
Tuesday, Jul 21, 2009, Page 1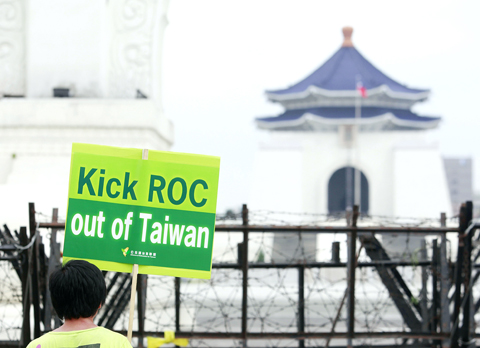 A protester holds a placard outside police barricades as workers put back a sign reading ''Chiang Kai-shek Memorial Hall'' at the landmark in Taipei yesterday.

PHOTO: NICKY LOH, REUTERS

The Chinese Nationalist Party (KMT) government yesterday restored dictator Chiang Kai-shek's (蔣介石) name to National Taiwan Democracy Memorial Hall in Taipei, reversing a move two years ago by the then-­Democratic Progressive Party (DPP) administration to remove relics of authoritarianism.

The replacement of the plaque began at about 8:10am after some 300 police officers secured the hall with barricades overnight and put up an official document stating that the hall would be closed for 24 hours for "official business."

Workers cut the granite plaque bearing the title "National Taiwan Democracy Memorial Hall" that hung over the main building into pieces. The removal was completed by noon, after which workers proceeded to reinstate the Chiang plaque.

The replacement project is expected to have cost NT$1.1 million (US$33,000), said the Ministry of Education, which is in charge of the restauration.

In 2007, the DPP administration renamed the memorial National Taiwan Democracy Memorial Hall. It also changed the inscription dazhong zhizheng (大中至正) to "Liberty Square" (自由廣場) and redecorated the hall.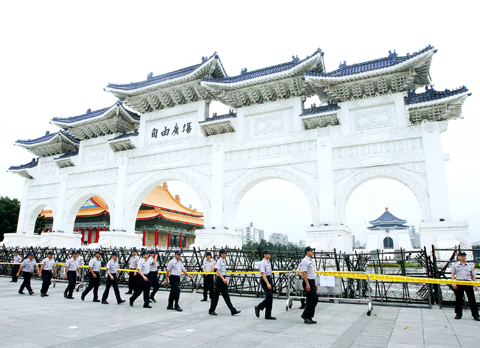 Police stand on guard next to barbed wire barricades in front of the National Taiwan Democracy Memorial Hall in Taipei yesterday as workers begin to replace the plaque at the entrance with one that bears characters for Chiang Kai-shek Memorial Hall.

PHOTO: CNA
At the time, the pan-blue camp called the removal of Chiang's plaque illegal, as the legislature had not abolished the Organic Act of CKS Memorial Hall (中正紀念堂組織條例) or passed a proposed act concerning the organization of the Taiwan Democracy Memorial Hall.

The removal of Chiang's plaque led to physical clashes between the pan-blue and pan-green camps.

During the pan-blue-dominated legislature's review of government budget proposals in January, lawmakers passed a resolution saying that the ministry should complete reinstatement of the Chiang plaque as soon as possible.

"We decided to reinstate the Chiang Kai-shek plaque today in accordance with the law. We also decided, after gauging the views of opinionmakers in different sectors, to retain the 'Liberty Square' inscription," Vice Minister of Education Lu Mu-lin (呂木琳) told a press conference yesterday.

Lu was referring to the three forums in which academics and experts on politics, sociology, community management and urban development deliberated over how to resolve the controversy surrounding the name of the hall.

"This compromise should contribute to social harmony," he said.

Lu said the ministry had done everything it could to properly plan and execute the plaque change, adding that on many occasions the ministry had told the public the replacement would take place this month.

"We understand that people have different memories of and emotional reactions to [Chiang], but we also hope that everyone will respect and tolerate different opinions and promote social harmony," Lu said.

In a press release, the ministry said it supported the creation of a hall to showcase the nation's efforts at democratization.

"But replacing the Chiang plaque with National Taiwan Democracy Memorial Hall in an illegal and undemocratic fashion was not a manifestation of Taiwan's democracy. Instead, it was ironic," it said.

DPP Taipei City Councilor Chuang Ruei-hsiung (莊瑞雄) was forcefully evicted after he slipped through the barbed wire barricades. A small number of pro-­independence supporters shouted "police violence" and "death to Dictator Ma" as police took him away.

At 2pm, only 11 protesters remained at the sit-in, including two Buddhist monks, an elderly man and a small child.

Screaming anti-Ma slogans, protesters compared Ma to Adolf Hitler and said the KMT government was no different from the Nazi Party in its oppression of Taiwanese.

"If the KMT really believes that what it is doing is righteous, then why does it have to remove the plaque like a thief in the middle of the night?" said Peter Wang (王獻極), a leading member of the Taiwan Nation Alliance.

The protesters laid out banners showing pictures of the execution orders signed off by Chiang during his reign.

Two American tourists who declined to give their names asked why there were so few protesters Chiang was the cruel dictator many have accused him of being.

"If someone was to erect a statue of a Ku Klux Klan leader in the US, you bet you would for sure see a huge turn out of demonstrators, both black and white folks," one said.

Wang said he rushed to the memorial after learning about the change on TV, adding that this probably accounted for the low protester turnout.

Executive Yuan Spokesman Su Jun-pin (蘇俊賓) said that the Executive Yuan respected due procedure and differing opinions.

KMT Legislator Shuai Hua-ming (帥化民) lauded the ministry's move, saying it was following legislative resolution.

DPP Chairperson Tsai Ing-wen (蔡英文) condemned the change, saying the party could not condone a "measure under which the nation's public assets are used to commemorate a dictator who slaughtered his own people."

Chiang was responsible for the massacre that began on Feb. 28, 1947 — known as the 228 Massacre — in which as many as 20,000 people were killed by KMT troops.

"President Ma Ying-jeou (馬英九) said renaming CKS Memorial Hall was a public issue that should be decided by the public. But his government … replaced the hall name in sneaky fashion," Tsai said.

DPP Legislator Wang Sing-nan (王幸男) told a separate press conference that Ma's paying tribute to Chiang and restoring the name to CKS Memorial Hall would spark ethnic controversy and rub salt on Taiwan's historical wounds.

Chuang criticized the Taipei City Police Department for wasting public resources by mobilizing at least 600 officers to fend off protesters.

Aside from 600 officers deployed at the hall, Zhongzheng First Police District Director Chen Ming-cheng (陳銘政) said there were around 300 others in the nearby area, including all MRT exits.

Chen said that the number of officers deployed was "completely in line with protocol."

"Out of concern over possible riots, CKS hall management asked Taipei City police provide the necessary assistance," he said, confirming that the district had received the request on Sunday.

Taipei Mayor Hau Lung-bin (郝龍斌) said later yesterday that the police deployment was one-tenth the size deployed when then DPP government renamed the hall, although police in 2007 said there were around 600 officers deployed. Hau also said the hall was under the jurisdiction of the Ministry of Education and city police were merely responding to a request.

Japanese tourist Emi Fukuda and her companions said yesterday they were disappointed when they realized tourists were barred from entering the memorial.
---
China to promote anti-separatist laws in Xinjiang

AP, BEIJING
Tuesday, Jul 21, 2009, Page 1

The top legislator from China's riot-hit Xinjiang said authorities would speed up local legislation against separatism in the western region that has a long-running independence movement by minority Uighurs, state media reported yesterday.

China faced its worst unrest in decades this month when tensions between the dominant Han Chinese and the Turkic-speaking, Muslim Uighurs descended into violence in the regional capital of Urumqi.

Nearly 200 people died in the unrest.

Chairman of the Standing Committee of the Xinjiang Regional People's Congress Eligen Imibakhi blamed the July 5 riots on "three forces" — extremism, separatism and terrorism — both at home and abroad, Xinhua news agency reported.

Imibakhi said the public's lack of understanding about laws was an "urgent problem," adding that the government would distribute legal booklets in ethnic minority languages to farmers and herdsmen across the region.

China already has a national law against secession, though there are no similar regional laws. Xinjiang is working on legislation that would "provide legal assistance to Xinjiang's anti-secession struggle and the cracking down on violence and terrorism," Imibakhi said.

The violence began when police in Urumqi intervened at a peaceful protest by Uighurs, who went on a rampage, smashing windows, burning cars and beating Han Chinese. Two days later, vigilante groups of Han took to the streets and attacked Uighurs.

The government says 197 died in the unrest, with more than 1,700 hurt.

Chinese authorities claim that many of the dead were Han Chinese, though Uighurs say they believe many more of their community were killed in the ensuing government crackdown.

On the weekend, the government said rioters had stockpiled weapons and planned synchronized attacks across Urumqi.

Local police said they had received reports of attacks on people and property in more than 50 locations across Urumqi by 9pm on July 5, Xinhua said. Targets included the offices of the Xinjiang regional committee of the Chinese Communist Party, the public security and fire departments and media organizations.

Xinjiang Governor Nur Bekri said police shot the "mobsters" on July 5 after firing warning shots and said 12 people died. He did not say which ethnic group the "mobsters" belonged to.
---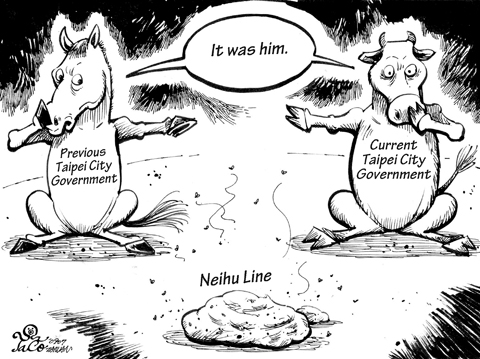 ---
The tyrant is back in the hall

Tuesday, Jul 21, 2009, Page 8

In a perfectly apt scene involving barbed wire barricades and hundreds of police officers, National Taiwan Democracy Memorial Hall was restored yesterday to its original name, the Chiang Kai-shek Memorial Hall.

It was no small irony that the reversal occurred almost 22 years to the day since the lifting of martial law, declared in 1949 by dictator Chiang Kai-shek (蔣介石) himself. What followed were decades of the White Terror, during which thousands of Taiwanese and Chinese who opposed Chiang's rule were murdered — both at home and abroad — or disappeared.

Some — ostensibly those who favor the renaming of the hall back to the name of a despot — argue that Chiang defended Taiwan and prevented the island being taken by the Chinese Communist Party (CCP) while slowly developing its economy.

If defending Taiwan and developing its economy were the prerequisites for naming the hall, then surely it should be called the United States Memorial Hall instead, given that it was US assistance in the form of the Mutual Defense Treaty, security guarantees and arms sales that gave Taiwan the space to grow.

In fact, Chiang's adventurism and disconnect from reality — from his vow to retake the mainland by force to fanciful plans for entry into regional conflicts — created unnecessary danger for Taiwan and brought Asia closer to nuclear war.

The CKS Memorial, therefore, is not a means to honor a man who stood up for Taiwan, but rather a symbol of "one China." Aside from an instrument to score political points domestically, the renaming of the monument by former president Chen Shui-bian's (陳水扁) administration was an attempt to distance Taiwan from China by removing symbols of their supposed common destiny. In the process, Chen was also following a trend in co-opting memorials to antidemocratic leaders.

Back in China, the reviled Nationalist leader's image has gradually been rehabilitated, so much so that in recent years there has been growing interest among domestic tourists in his refurbished former residence in Chongqing. Chinese tourists are also eager to visit his mausoleum in Taiwan. But Chiang's rehabilitation in China is not the result of a decision by the CCP to "forgive" its old nemesis. It is, rather, part of Beijing's strategy to narrow the divide between Taiwan and China and so bolster the image of a big happy Chinese family divided by Western and Japanese colonialism and the "unequal treaties."

With the Chinese Nationalist Party (KMT) back in power, it is now the KMT's turn to cater to its domestic constituency by renaming the hall. The party will also claim that the move is part of its policy of mending fences with Beijing — as if the CCP leadership cared what a block of granite in downtown Taipei is called.

More to the point, in renaming the hall, the KMT once again reaffirms its ideology as a party that sees Taiwan not as a sovereign entity, but rather as a part of China.

And so, the murderous little tyrant rears his ugly head once again, laughing at a people who suffered so much under his guard.
---
Dutch history augurs PRC's future
 
By James Holmes
Tuesday, Jul 21, 2009, Page 8

For a Renaissance scribe, Hugo Grotius is much in the news this year. That's because he published Mare Liberum (Freedom of the Seas), precisely four centuries ago, helping usher in the golden age of Dutch sea power. Holland was the first modern sea power, possessing the full triad of foreign commerce, forward bases and merchant and naval fleets. Indeed, in some ways its rise to great power status presaged China's maritime rise. Beijing has studied the Dutch case closely.

Grotius' tract reaffirmed a longstanding pattern: Nations interpret international law to suit their own interests. Mare Liberum disputed European empires' practice of barring foreign shipping from vast expanses. Spain claimed the Pacific, the Caribbean and the Gulf of Mexico; Portugal claimed the Indian Ocean and the south Atlantic, and England the waters east and south of the British Isles. Holland needed access to those waters to build up sea power of its own.

Having established footholds in the Indian Ocean at the close of the 16th century, Dutch traders wanted to consolidate and expand their position. Mare Liberum provided the intellectual firepower, portraying the high seas as the common property of mankind, where no nation could lawfully interfere with merchant shipping. Grotius took on the guardians of the status quo, seeking nothing less than to remake the maritime order in Holland's favor.

This was a zero-sum contest; Dutch gain meant a rival power's loss. Englishmen, Spaniards and Portuguese clung to their prerogatives. English scholar John Selden answered Mare Liberum with a treatise of his own, Mare Clausum (The Closed Sea). Selden's work proclaimed that the sea was "not common to all men" but subject to national sovereignty. The English king was the rightful "lord of the sea" washing against British coasts.

Today's debate over maritime law in Asia rhymes with that of Grotius' day. Like 17th-century Holland, China craves its own golden age of sea power. It already enjoys abundant foreign commerce. Beijing is negotiating basing rights in the Indian Ocean region and extending the seaward reach of the People's Liberation Army Navy (PLAN).

Like Grotius, Chinese leaders conscript international law as an ally, interpreting it selectively. They apply different rules to different seas. Selden's closed-sea doctrine fits both with Chinese strategic traditions and with Chinese interests close to home, where Beijing's power is at its apex. The waters landward of the first island chain form part of the historic Chinese periphery. These expanses can be enclosed and managed, protecting the heartland.

Andrew Nathan and Robert Ross call this a "Great Wall strategy," founded on "the perception that one controls territory by surrounding it." The PLA has deployed an array of shore-based weaponry, along with increasingly lethal ships, submarines and aircraft. It has unveiled a forward base on Hainan Island. And it covets Taiwan to anchor its Great Wall strategy off China's East Asian coast.

In the Indian Ocean, where its navy remains weak, Beijing has struck a more conciliatory attitude, performing missions intended to uphold freedom of the seas or, in contemporary parlance, "good order at sea." For instance, PLAN units have joined the multinational fight against piracy off Somalia. By most accounts, the PLAN units have worked well with foreign navies in the Gulf of Aden — including the US Navy, China's main rival in East Asia.

Again, this disparity is mostly a function of naval power and geographic distance. Beijing can interpret its authority over its exclusive economic zones in East and Southeast Asia broadly, so it does. For now, free navigation is the best Chinese leaders can hope for in South Asia, so they embrace multinational cooperation. There's nothing unusual about this. Now as in 17th-century Europe, weaker sea powers appeal to law to restrain the strong, while strong sea powers resist legal curbs on their endeavors.

Amsterdam's appeal to principle was not entirely altruistic. Dutch merchant oligarchs saw no contradiction between their monopoly over the carrying trade in European waters and their demand for freedom of the sea farther abroad. Once entrenched in the Indian Ocean, furthermore, the Dutch East India Co guarded its monopoly as jealously as any Portuguese shipping magnate. Legal principle bent to national interests and power.

If Dutch history is any guide, China will assert itself more forcefully in the Indian Ocean as its ability to project naval power grows, letting Beijing put steel behind its regional strategy. For a glimpse of China's future, look to the Netherlands' maritime past.

James Holmes is an associate professor at the US Naval War College. The views voiced here are his alone.
---
Put limits on Chinese investment

Tuesday, Jul 21, 2009, Page 8

Since taking office, President Ma Ying-jeou (馬英九) has sped up the process of opening up to China, making Taiwan more reliant on its giant neighbor. His rationale is the claim that his predecessors Lee Teng-hui (李登輝) and Chen Shui-bian (陳水扁) hindered Taiwan's economic development through isolationist policies. The two big items on Ma's agenda are allowing Chinese investment in Taiwan and signing an economic cooperation framework agreement (ECFA).

Ma's Chinese Nationalist Party (KMT) can boast of being in complete charge of all branches of government. The legislature does not play its role of supervisor and counterbalance to the administration and has become a mere rubber stamp for Ma's policies.

Surprisingly, however, the legislature's Organic Laws and Statutes Bureau recently released a research paper on the prospects for Chinese investment in Taiwan that presents strong doubts about the government's policy of attracting Chinese investment with few safeguards. The questions raised in the report are both substantial and pertinent and should trigger some alarms. It is by no means certain, however, that this report will wake Ma and his ministers from their stupor.

The report makes two main points. First, it criticizes the Ministry of Economic Affairs' regulations governing Chinese investment as unclear, since they make no mention of safeguarding industrial technology. The report suggests that regulations governing cross-strait commerce should clearly prohibit Chinese investment in areas that concern national security and that have a monopolistic nature.

It also suggests the government appoint a committee to establish a threshold for investment in key industrial technologies and draw up measures for protecting commercial secrets.

Second, the bureau urged the government to prevent China from coercing Taiwanese doing business in China into acting as agents for Chinese investment. The report suggests the government refer to South Korean regulations to establish the real identity of investors.

The report suggests a mechanism be established to monitor the flow of Chinese investment. It notes that China prohibits private individuals from investing abroad, which means that almost all Chinese investment abroad is state-owned capital.

Taiwan must prevent politically motivated acquisitions by Chinese investors, and regulations on cross-strait investment should include precautions against the strategic withdrawal of investments. The government should be prepared to take over businesses with Chinese investment for the sake of national security if necessary.

We have been expressing such concerns for a long time. Over the past year, we have pleaded with Ma's government to take note of these worries, though our advice has fallen on deaf ears. Unfortunately the Ma administration has clung obstinately to its course.

China has changed its unification strategy to a carrot-and-stick approach, with economic integration the main element in the softer side of the strategy and cross-strait investment playing a key role. China's investments abroad require official approval, which is granted according to Beijing's interests.

Chinese investment in Taiwan will, therefore, be geared to use Beijing's enormous foreign exchange reserves to acquire major firms and technology and to hollow out Taiwan's industrial base. It will be used to speculate on financial markets in order to turn Taiwan into an economic colony.

China may use its stakes in Taiwanese companies or contracts for public construction projects to make Taiwanese firms subordinate to their Chinese counterparts and act as their agents in Taiwan. They may then be used to influence elections and policies and gradually gain political control of Taiwan.

Our reservations about Chinese investment are not just ideological.

Even the distinguished Japanese writer Kenichi Ohmae, known for his unending praise for China, has expressed similar doubts.

Interviewed recently by Taiwanese media, Ohmae trumpeted China's economic virtues. When asked about Taiwan's policy of opening up to Chinese investment, however, he expressed concern, warning that it would be unwise to allow unlimited Chinese investment.

It is clear enough, then, that allowing China to invest in Taiwan is like allowing a fox into a henhouse. If we want to ensure the survival of Taiwanese manufacturing, we should not allow Chinese investment at all.

Unfortunately the Ma administration has its mind set on opening the door to Chinese investment, and the legislature offers almost nothing to stop it. Only now has the Organic Laws and Statutes Bureau spoken out, advising the government to amend the regulations governing cross-strait relations to limit Chinese investment. Even at this late stage, perhaps such limitations could reduce the harm done by Ma's erroneous policies.

Considering the Ma administration's near monopoly on power, the bureau is to be commended for its professionalism and courage in voicing opinions that challenge government policy.

Ma's Cabinet has shown itself to be mediocre. It is barely competent to handle day-to-day affairs. When the global financial crisis struck last year, the government was so helpless it was embarrassing. No wonder its approval rates have plunged — from winning over half the votes in last year's elections to today's situation — where it has completely lost the public's confidence.

If Ma were willing to face up to his failures, he could avoid doing great harm to the country. However, if he persists in trying to fool the public into believing that he can save Taiwan, he will be nothing more than a quack.

In opening Taiwan to Chinese investment and pushing for an ECFA, however, he is more like Pandora opening her legendary box. Rather than exorcising evil spirits, he is inviting the Chinese devil into Taiwan. With the Ma government on one side and the Chinese ogre on the other, Taiwanese are in a sticky situation indeed.