Chinese activist claims MJIB is monitoring him
 
By Rich Chang
STAFF REPORTER
Wednesday, Jul 22, 2009, Page 3

Chinese democracy activist and political commentator Paul Lin (林保華), a Taipei resident, yesterday accused Taiwan's government of harassing him because of his anti-China remarks.

In an opinion piece in yesterday's Chinese-language Liberty Times (the Taipei Times' sister newspaper), Lin said his wife received a telephone call from Ministry of Justice's Investigation Bureau (MJIB) last Tuesday saying they had received information that Lin was connected to Uighur independence activists that Next Magazine alleged last week had entered Taiwan.

Lin said a MJIB official asked to visit Lin at his home; later in the call, the official said he was already outside Lin's residence.

Lin said he told his wife to tell the official he would not agree to a meeting unless the official came with an official notice.

In his article, Lin said that ever since he established the Taiwan Youth Anti-Communist Corps last month, police had visited him outside his home and told him he was on a monitoring list.

A few days after the phone call, Lin said his home computer broke down and the computer expert who repaired it said it had been hacked so that even when he was not online, his documents could still be accessed unless he unplugged his Internet cable.

Lin, a Taipei Times contributor, said he suspected his home telephone has been bugged because he often hears weird sounds in the receiver.

The Chinese Communist Party (CCP) considers him a dissident because he has published numerous articles promoting democracy for China and human rights in Xinjiang, Lin wrote, adding that he now appeared to be a marked person in the eyes of the Chinese Nationalist Party (KMT).

Lin said he was concerned for his personal safety, fearing that the KMT has joined hands with the CCP to go after him.
---
China defends minorities policies
 
'MEDIA BLITZ': : A leading activist said that Beijing will think that it can act with impunity unless governments speak out against its efforts to demonize the Uighurs

AP, BEIJING AND WASHINGTON
Wednesday, Jul 22, 2009, Page 5

China yesterday defended its policies on ethnic minorities, saying the violence in Xinjiang that killed nearly 200 people this month was triggered by separatists and not its treatment of Uighurs.

During a televised news conference, the vice minister of the State Ethnic Affairs Commission blamed an underground Uighur separatist movement and said China will never tolerate secession in its far western region.

"We know those behind the violence were ... seeking the independence of Xinjiang. To this, I can clearly tell them it will never happen," Wu Shimin (吳仕民) said. "We can, however, continue to meet the reasonable demands to improve the lives of all ethnic groups in the Xinjiang region."

Wu said China intends to continue the "success" of its current ethnic policies that focus on the economic development of the rugged Central Asian region — policies that Uighurs say have diluted or repressed their religion, language and culture in favor of the dominant Han ethnic group.

Tensions between the groups led to the country's worst unrest in decades on July 5. The government says 197 people died and more than 1,700 were wounded.

Most of the dead were Han Chinese, though Uighurs say they believe many more of their community were killed in the ensuing government crackdown. Chinese officials this week said police killed 12 people during the rioting.

Liu Wanqing (劉萬慶), director of the supervision department of the State Ethnic Affairs Commission, said the violence was not due to religious or ethnic tensions.

"It should be said that people of all ethnic groups, including the Uighur people, were victims of the violent crimes. Therefore, we say that this was not an ethnic issue nor an issue of ethnic relations nor does it affect the national unity of our country," he said.

China has repeatedly blamed outside agitators and the influence of the "three evil forces" — extremism, terrorism and separatism.

Specifically, it has blamed leading Uighur activist Rebiya Kadeer with instigating the protests that led to violence when police stepped in.

Kadeer, who lives in exile in Washington, has denied it.

On Monday, she urged the administration of US President Barack Obama to more strongly condemn what she called China's continuing crackdown on Uighurs.

Kadeer told reporters that Beijing will determine that it can act with impunity unless governments speak out against China's "international media blitz" aimed at demonizing her and the Uighurs.

Kadeer, speaking through an interpreter, said she hopes the US will not remain "silent and indifferent" to the Uighurs' plight and warned of the executions of those detained following the riots.

Kadeer also called for an investigation into the violence and crackdown, saying China is still "hunting down" Uighurs.

The Chinese embassy in Washington released a statement during the violence that said Kadeer and her supporters were trying "to clear themselves of their evil acts, vilify the image of the Chinese government and mislead the American public."

US State Department spokesman Ian Kelly said last week that the US wanted "China to handle the situation as they go forward in a transparent manner."

"As they work to restore order, we believe that it's important that they respect the legal rights of all Chinese citizens," Kelly said.

 
---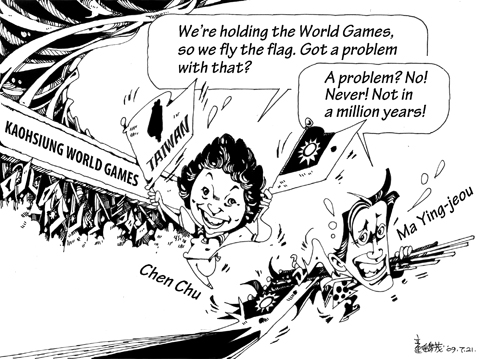 ---
The upshot of believing in the CCP

Wednesday, Jul 22, 2009, Page 8

Religious repression in China has nothing to do with the faiths involved. China does not oppress Buddhism in Tibet nor Islam in Xinjiang because of any qualms with their tenets. Nowhere is this more evident than in the persecution of the Falun Gong spiritual movement.

In the 1990s, Falun Gong was encouraged by the authorities, which hoped its principles would help combat corruption. But the relationship soured, and those practitioners who fell afoul of the powers that be bore the first lash of anger. Falun Gong practitioners say it was retaliation after some were hired to teach the faith to government employees, but declined to incorporate Chinese Communist Party (CCP) doctrines into their lectures.

Falun Gong practitioners misjudged the situation, and their ingenuousness proved fateful: Believing that a mistake had been made that should be brought to the government's attention, an estimated 10,000 Falun Gong followers held a silent protest outside Zhongnanhai in April 1999, apparently taking the Chinese leadership by surprise.

Falun Gong practitioners may have believed that by demonstrating the principles that the CCP had earlier welcomed — truth, forbearance and compassion — they would win support. By instead launching an official, nationwide campaign of persecution two months later, it seems Beijing caught Falun Gong followers equally off guard.

Ten years later, protests by Falun Gong followers around the world — including in Taiwan — marked the 10th anniversary of that persecution on Monday. Two things were clear: China's wrath toward Falun Gong has not subsided, nor has the commitment of Falun Gong followers to their beliefs. The two are locked in a struggle that shows no sign of ending.

Falun Gong followers, as they sit cross-legged outside the world's landmarks, embody China's fear of peaceful protest. Their presence is a visual rebuttal to anyone who says China is improving its rights record, and a testimony to China's ability to make enemies.

Falun Gong was apolitical from the start and its founder, who has retreated from the public eye, seems to have had no political ambitions. But now the CCP faces millions of devoted practitioners — by some estimates, tens of millions inside China alone. There is no sign that their ranks have fallen, no sign they are losing spirit. On the contrary, their resolve seems to have strengthened and the movement has spread across the globe, if not grown in numbers.

Their campaign has won over many independent voices, including China's most renowned human rights lawyer, Gao Zhisheng (高智晟), and former Canadian lawmaker David Kilgour and lawyer David Matas, who together researched allegations of organ harvesting and wrote an influential report in 2006.

In the US, 62 members of Congress called on President Barack Obama this week to publicly condemn China's crackdown on Falun Gong.

Whether the brutality and organ harvesting in China is as widespread as Falun Gong followers and some researchers claim is difficult to ascertain. But Obama, President Ma Ying-jeou (馬英九) and other leaders do not need to wait for a verdict. Persecution is taking place and Beijing has in no ambiguous terms vowed to exterminate Falun Gong. Governments must speak out.

The story of Falun Gong is one of betrayal, cruelty and above all, suffering. When it comes to the CCP, no one is more familiar with the fine line between being its friend or foe than the Falun Gong.

The intensity of the crackdown holds lessons for anyone who touts China's peaceful rise. Beijing's moves to constrain Falun Gong activities even in Hong Kong, where it is legal, are a warning to anyone who believes that China is capable of respecting democratic freedoms.

Taiwan, more than any country, has cause to heed these lessons and remain vigilant.
---
Thanks for nothing, Mr Ma

Wednesday, Jul 22, 2009, Page 8

President Ma Ying-jeou (馬英九) is the most pretentious of all presidents in the world. It is clear that he has no interest in Taiwan's sovereignty, as he has shown throughout the preparations for the World Games. He showed no interest until he decided to attend the Games two days before the opening ceremony.

Sovereignty is what we could find in the opening ceremony of the Games through its amazing performances that all related to Taiwan's culture.

Due to the government's shameless cut to the budget for the World Games, students and local dancers were hired to perform at the opening ceremony with all their heart. The various Taiwanese teams in the World Games also received little or no support from the government, but have performed amazingly, even winning gold medals.

Yet when he decided to appear at the World Games just days before the opening ceremony, Ma had the cheek to say that the Games show that ties with China have improved.

This is an inappropriate remark. Former Kaohsiung mayor Frank Hsieh (謝長廷) applied for the World Games and succeeded in bringing them to his city. China tried to sabotage Taiwan's effort.

Kaohsiung Mayor Chen Chu (陳菊) took over after Hsieh and made this the best show Taiwan has ever performed on the world stage — and the best show Taiwan has performed to show its position as a unique and independent country.

Meanwhile, Ma has embarrassed himself by recording an online speech in advance and lying about his knowledge about computers before his graduation in 1972.

Ma has also restored former dictator Chiang Kai-shek's (蔣介石) name to the memorial hall in Taipei, even as the public celebrates Taiwan's sovereignty through the World Games. Ma ought to be ashamed of himself for choosing this timing to restore the name of the memorial.

More examples of Ma's uninterest in Taiwan's sovereignty can be found in the news every day. His actions would be considered scandalous abroad, but not so in Taiwan.

As long as Ma is president, it will be a shame for this country and a shame for the world to see such a puppet of China pretending to govern.

ALEX RAYMOND
Niaosong,
Kaohsiung County