Taiwan considering PRC media swap
 
BIASED REPORTING: The Mainland Affairs Council deputy minister said that China has not respected Taiwanese journalists' right to cover news when they are in Beijing
By Ko Shu-ling
STAFF REPORTER
Friday, Jul 24, 2009, Page 1

The Mainland Affairs Council (MAC) said yesterday it was considering relaxing regulations to allow Chinese media outlets to establish branches in Taipei and vice versa.

Currently, only individual Chinese reporters, not media organizations, are allowed to enter Taiwan on three-month visas. The same rule applies to Taiwanese journalists in China.

MAC Vice Chairman Liu Te-shun (劉德勳) told a press conference yesterday that the issue would require negotiations between the Straits Exchange Foundation and its Chinese counterpart, the Association for Relations Across the Taiwan Strait.

With the spokesman for China's Taiwan Affairs Office, Yang Yi (楊毅), is scheduled to visit Taipei on Monday, Liu said he expected that both sides would exchange opinions on the issue.

Taiwan began its first media contacts with China in September 1987 when former Independence Evening Post reporters Hsu Lu (徐璐) and Lee Yuan-te (李永得) flouted government rules by reporting from Beijing. The government barred them from leaving the country for a year after they returned.

Beijing first sent its correspondents to Taiwan in 1991 and allowed Taiwanese journalists to base themselves in China starting in 1994. In November 2000, Taiwan allowed Chinese journalists to be stationed here.

Because Beijing only allowed certain Taiwanese media outlets to send their reporters to China, Liu said the government had often expressed the hope that Beijing would respect Taiwanese correspondents' right to cover news, but the result had not been satisfactory.

Liu said that allowing Chinese media outlets to enter the local market was different from letting Chinese businesses invest here because the journalism business is unique.

Since taking office in May last year, the administration of President Ma Ying-jeou (馬英九) has held three high-level rounds of cross-strait talks with China, signing nine agreements.

The agreements have focused on boosting trade and investment, such as regular and direct transportation links.

To promote "Chinese culture," Ma last month proposed that both sides jointly publish a "Greater China dictionary."

The idea was echoed by the recent Chinese Nationalist Party (KMT)-Chinese Communist Party (CCP) forum. The forum agreed to push for cross-strait cultural and educational cooperation and strengthen media exchanges.

In September, the two sides are scheduled to hold a "cultural summit" in Beijing to discuss several issues important to the promotion of cross-strait cultural exchanges.

Officials are preparing to negotiate issues such as arranging exchange visits by cultural officials, organizing exhibitions, protecting intellectual property rights and cooperating on film production.
---
Chen still silent as trial nears close
 
By Shelley Huang
STAFF REPORTER
Friday, Jul 24, 2009, Page 3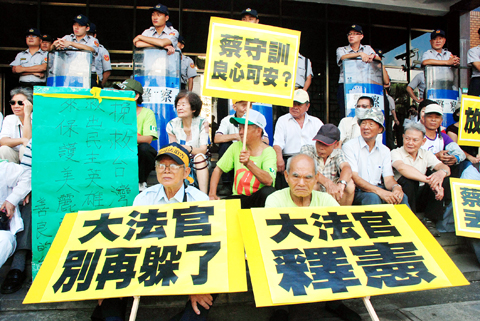 Members of the Southern Taiwan Society and other civic groups demonstrate in support of former president Chen Shui-bian outside Taipei District Court yesterday as Chen's trial continued. The defense team and prosecutors will present their closing arguments on Tuesday.

PHOTO: CNA
Former president Chen Shui-bian (陳水扁) yesterday again refused to answer questions at his trial at Taipei District Court.

Presiding Judge Tsai Shou-hsun (蔡守訓) scheduled yesterday's session to have Chen examine case files. All of Tsai's questions to the former president regarding whether he had any comments about the files went unanswered.

As usual, the former president kept silent and did not make any gestures to protest what he has called an unfair judicial system.

Chen has relinquished his right to call witnesses or speak in his defense, saying he did not need to do so because he was innocent.

Prosecutors and Chen's court-appointed attorney, Tseng Te-rong (曾德榮), also said little yesterday, telling the court they would save their comments until a later date for closing arguments.

Tsai set Tuesday as the date for the closing arguments.

Outside the courthouse, more than 100 of the former president's supporters from groups including the Southern Taiwan Society and the Northern Taiwan Society gathered to demonstrate against his continued detention.

Holding up signs that read "Unjust judiciary" and "Release A-bian now," the protesters called on the Grand Council of Justices to declare the switching of judges in Chen's case unconstitutional.

Huang Yung-tien (黃永田), who was among the hundreds of protestors who gathered on July 10 for a detention hearing, returned yesterday, protesting with his hands in handcuffs.

Several protesters shouted "Tsai Shou-hsun, go to hell" and "A-bian is innocent."

In January, Chen's office asked the council to rule on the legitimacy of his pre-trial detention and the switching of judges from Chou Chan-chun (周占春) to Tsai.

While Chou presided over Chen's case, he twice ruled against detaining Chen. Tsai has repeatedly ruled to detain him.

In December last year, a panel of judges ordered that Chou be replaced by Tsai, who would preside over all of Chen's cases, which would be merged.

The switch was controversial, with some claiming it was and politically motivated. Some legal experts said the decision to merge the trials had violated judicial procedures.
---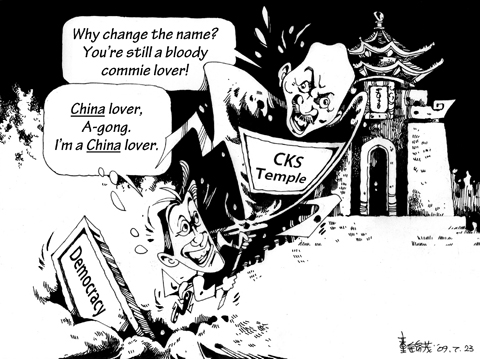 ---
Preserving Taiwan's hard-won dignity
 
By Lin Cho-shui 林濁水
Friday, Jul 24, 2009, Page 8

President Ma Ying-jeou (馬英九) opened the 2009 World Games in Kaohsiung in his capacity as president of the Republic of China (ROC) at the invitation of International World Games Association (IWGA) chairman Ron Froehlich last week. It was the first time in many years that Taiwanese were able to cheer and wave ROC flags at an international sports event.

The Presidential Office sought to downplay its significance, saying it was only normal for the president of the host country to open an international event. Ma's followers went a step further by saying that it was the result of the president's hard work improving cross-strait relations.

China's relatively low-key response to Ma opening the Games is not evidence that cross-strait relations have improved. Neither does any improvement in cross-strait relations mean it was only natural for Ma to open the Games as the president of the ROC and that the audience could wave the ROC flag. Indeed, prior to the start of the Games, the IWGA was under pressure from Beijing and thought a Chinese official — not Ma — should open the World Games. Many still remember how Froehlich was angered by the display of an ROC flag at the press conference to launch the World Games theme song last year. Thus it was hard work — rather than par for the course — that allowed Ma to open the Games and let ROC flags into the venue.

Past experience shows that the Chinese Communist Party (CCP) and the Chinese Nationalist Party (KMT) seem to consider it a matter of course that, at any international event held in China or Taiwan, symbols that signify or imply Taiwanese sovereignty have to be removed. This was the case when former KMT chairman Lien Chan (連戰), as well as incumbent KMT Chairman Wu Poh-hsiung (吳伯雄) and Vice President Vincent Siew (蕭萬長) visited China, and when Chinese envoy Chen Yunlin (陳雲林) visited Taiwan last year.

When Ma served as Taipei mayor, the public even clashed with police over the ban on displaying ROC flags at a sports meeting. Frequent clashes between the public and police have only strengthened public sentiment on this issue. On Oct. 25, 600,000 people demonstrated to express their dissatisfaction with the government's attitude. And on Nov. 6, Chen was stuck in a Taipei hotel as protesters demonstrated outside.

If not for these two incidents, if Kaohsiung Mayor Chen Chu (陳菊) had not called Ma "the president of our central government" during her visit to China, if the World Games were not held in a city with a Democratic Progressive Party mayor, and if Chen Chu had not striven to communicate with the IWGA, Ma would not have opened the World Games, nor would the audience have been waving ROC flags. However, even after Chen Chu called Ma "the president of Taiwan" in China, neither KMT members nor Chinese authorities followed suit.

The public used to think of the KMT as the party that spared no effort to protect national symbols such as the flag and the presidential title, while the DPP did the opposite. However, this only seems to apply to domestic politics. At international events, it is the DPP that safeguards these symbols, while the KMT tries to avoid or even remove them. This change in attitude has even affected KMT supporters. As such, although DPP members have fought for their right to wave the national flag at the World Games, very few of them do, and so only a few ROC flags are seen at the World Games.

Chen Chu worked hard to break the old routine and helped the president maintain his dignity. It is therefore ridiculous to say — like Ma did — that it was normal procedure.

Lin Cho-shui is a former Democratic Progressive Party legislator.