DPP gives ministry three days to pull 'racist' comic
 
NOT FUNNY: The DPP said a comic meant to explain the proposed ECFA to Taiwanese is based on an 'extremely offensive' and derogatory portrayal of ethnic groups
 
By Jenny W. hsu
STAFF REPORTER
Thursday, Jul 23, 2009, Page 1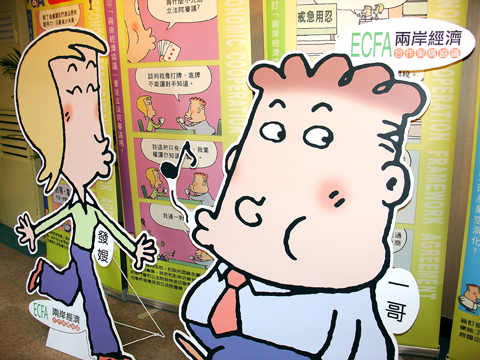 Cartoon characters Fa Sao, left, and Yi-ge are seen in Taipei on Monday standing in front of comic strips designed to inform the public about the contents of the proposed economic cooperation framework agreement (ECFA) between Taiwan and China.

PHOTO: CNA
A comic strip published by the Ministry of Economic Affairs (MOEA) to promote a proposed economic cooperation framework agreement (ECFA) with China is marred by racist, derogatory and "extremely offensive" content, the Democratic Progressive Party (DPP) said yesterday.

The party threatened to report the ministry to the Control Yuan unless it suspended the comic strip within three days.

On Monday, the ministry unveiled a four-frame comic strip featuring a male character named Yi-ge (一哥) and his female counterpart Fa Sao (發嫂) as part of its efforts to advertise the ECFA.

A ministry press release said the purpose of the comic strip was to "allow people of all ages to easily and clearly understand the purpose and content of the ECFA."

The comics portray Yi-ge as a 45-year old Hoklo-speaking man from Tainan City who works as a salesman in an unspecified traditional industry. According to his profile, Yi-ge is a vocational school graduate who speaks "Taiwanese Mandarin" and knows very little about the proposed ECFA. He is content being a follower in all things, but when it comes to protecting himself, he "goes all-out."

"For example, if he were ever accidentally short-changed by a clerk at a breakfast restaurant, he would do almost anything to get the money back, even if it is just NT$5," the description says, adding that he was the kind of person who talks tough but never takes action.

His profile also says that he lacks the sensitivity for danger, lives life in a carefree manner and never cares to improve himself because he has a steady job. He has had some conversations with his colleagues about the ECFA and even though he knows nothing about the subject, he is worried about losing his job once the pact is signed.

One of Yi-ge's acquaintances is Fa Sao, a 40-year-old Hakka from Hsinchu who works as a supervisor at an import-export company. She is described as an active, self-motivated and highly capable married woman who is fluent in English, Mandarin, Hoklo and Japanese. She is always hungry for knowledge and eager to learn more about money-management. Her profile suggests she keeps herself well-informed and is a keen observer of market trends. Fa Sao was recently promoted to company spokesman. Her knowledge of cross-strait trade has prompted her to learn all about the ECFA.

"The comic strip is extremely offensive and derogatory. It describes those who oppose the ECFA as stupid and unaware of current events. This is glaring racial and class discrimination," DPP Spokesman Cheng Wen-tsang (鄭文燦) said.

Cheng said the comic strip was full of echoes of Kuo Kuan-ying (郭冠英), the former Government Information Office staffer who was impeached on Tuesday for writing prejudicial essays against Taiwan and Taiwanese.

Cheng said if the ministry did not suspend distribution of the comic strip within three days, the DPP would file a malfeasance charge with the Control Yuan against the ministry.

When reached by the Taipei Times, MOEA Deputy Minister John Deng (鄧振中) said it was "absolutely not" the ministry's intention to discriminate against anyone from any social stratum.

Deng said the two characters were the result of long, painstaking efforts by public relations experts to reflect the make-up of the general public.

The purpose of the comic was to explain a complicated issue in a simple and easily understood way so that people of all ages can understand the proposed agreement and was not meant to vilify anyone, he said.
---
US worried about N Korea-Myanmar nuclear links

REUTERS, PHUKET, THAILAND
Thursday, Jul 23, 2009, Page 5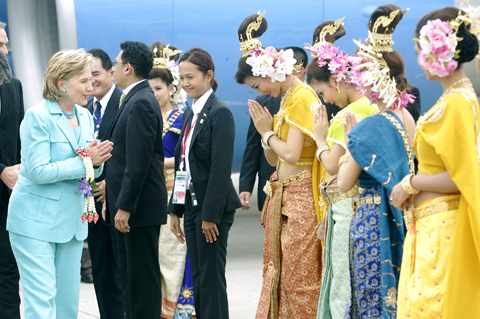 US Secretary of State Hillary Clinton, left, is greeted by Thai women in traditional dress as she arrived for the ASEAN Regional Forum in Phuket, Thailand, yesterday.

US Secretary of State Hillary Clinton, left, is greeted by Thai women in traditional dress as she arrived for the ASEAN Regional Forum in Phuket, Thailand, yesterday.

The US is concerned about the possible transfer of nuclear technology from North Korea to Myanmar, US Secretary of State Hillary Clinton said yesterday.

Clinton's comments, during a visit to Bangkok, came ahead of a regional security meeting in the Thai resort of Phuket, where the most contentious topics will likely be Pyongyang's nuclear program and how to promote democracy in Myanmar.

"The threat that I have always worried about first and foremost is the proliferation of nuclear weapons and weapons of mass destruction," Clinton said in a TV interview in Bangkok to be broadcast later.

"So obviously we are very concerned about North Korea and recent reports about perhaps their dealings with what we call Burma," she said.

Talk of Myanmar-North Korea military ties was fueled after a North Korean ship, tracked by the US last month and this month on suspicion of carrying banned arms, appeared headed toward Myanmar before turning around.

North Korea has a long history of arms proliferation and US officials believe it helped Syria build a nuclear reactor that was destroyed by Israeli bombers in 2007.

On Tuesday, Clinton said she was worried about the possibility of military links between the two countries, both regarded as pariahs in the West.

She said such military cooperation would pose a direct threat to Myanmar's neighbors. Both North Korea and Myanmar are represented at the Phuket talks, although Pyongyang has only sent a low-level delegation.

Clinton was expected to consult regional players later yesterday in Phuket about giving North Korea a choice between tighter sanctions if it pursues its nuclear program and wider incentives if it abandons them, US officials said.

She plans separate meetings with the foreign ministers of China, Japan, Russia and South Korea to plot strategy on how to persuade North Korea to give up its nuclear ambitions.

Those talks precede Asia's biggest annual security gathering, the ASEAN Regional Forum, which takes place today.

In the last two months North Korea has conducted its second nuclear test, test-fired seven ballistic missiles and boycotted talks on ending its nuclear program.
---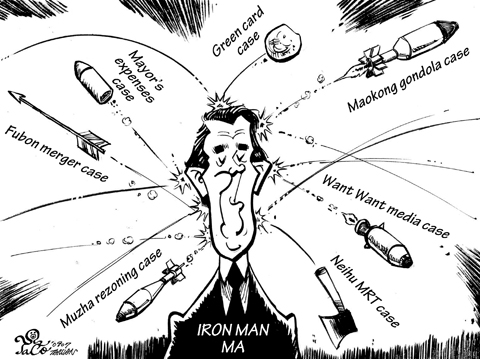 ---
Daring prosecutors over injustice
 
By Lin Feng-jeng 林峰正
Thursday, Jul 23, 2009, Page 8

On July 13, Aboriginal folk singer Panai (巴奈) performed at a press conference organized by academics and social activists to symbolically "surrender" under the Assembly and Parade Act (集會遊行法). More than 120 academics and social activists decided to turn themselves in to prosecutors for breaking the assembly law in a show of support for two professors who have been indicted for contravening the same act. Before singing, Panai asked who should turn themselves in.

The government should turn itself in, she said, and broke into song, playing her guitar. Panai's music deeply moved those present.

Taiwan Association for Human Rights chairman Lin Chia-fan (林佳範) was indicted last month for standing outside the legislature and reading a eulogy for the Assembly and Parade Act.

National Taiwan University (NTU) sociology professor Lee Ming-tsung (李明璁) was indicted in May for supporting members of the Wild Strawberry Student Movement at a peaceful sit-in against proposed amendments to the act that are unconstitutional and would limit freedom of speech and assembly. The professors were expressing their disdain for an outdated and unacceptable law through non-violent, civil disobedience.

Freedom of assembly and association are ensured in Article 14 of our Constitution and on March 31, the legislature approved the ratification of the International Covenant on Civil and Political Rights and the International Covenant on Economic, Social and Cultural Rights, the latter of which guarantees the rights of our people to assemble and protest peacefully.

On May 14, President Ma Ying-jeou (馬英九) signed both covenants at a press conference at the Taipei Guest House in front of domestic and foreign journalists.

The implementation regulations for the covenants state that the government should identify and review any laws or administrative procedures that violate the covenants within two years. The Assembly and Parade Act should be first up for review. It is a relic of authoritarian rule.

The prosecutors responsible for indicting the professors were unwise: They hastily charged the pair under Article 29 of the Assembly and Parade Act, even though it may soon be scrapped. This attracted strong opposition from academics, prompting the biggest protest movement within years from the academic circle.

Support for the protest quickly grew. Participants dared prosecutors to indict them, too, admitting that they had engaged in similar actions to Lee and Lin. The Judicial Reform Foundation gathered more than 50 lawyers in no time to back up the protest.

Are we supposed to believe that the prosecutors are unaware that the assembly law violates the Constitution? At the press conference, Lii Ding-tzann (李丁讚), a sociology professor from National Tsing Hua University, said he believed prosecutors were using Lin and Lee as an example to intimidate people into "choosing" to keep their criticism of public matters to themselves. Huang Jui-ming (黃瑞明), chairman of the Judicial Reform Foundation, who put together a team of lawyers to join the protest, said he suspected politics was influencing the judiciary in more than one way.

The movement had one goal — to express dissatisfaction. The participants are protesting an unjust law and political meddling with judges and prosecutors. The academics that participated come from various backgrounds. They included NTU law professors Yen Chueh-an (顏厥安), Lin Yu-hsiung (林鈺雄) and Chen Chao-ju (陳昭如), all of whom said they knowingly "broke" the law.

All the participants had a clear conscience and were not afraid of facing prosecutors.

As I watched each person turn themselves in by adding their names, academic institution and department to a list, I wanted to ask everyone in Taiwan the same question that Panai asked: Just who should be turning themselves in?

Lin Feng-jeng is a lawyer and executive director of the Judicial Reform Foundation.
---
A true experience of White Terror
 
By Paul Lin 林保華
Thursday, Jul 23, 2009, Page 8

At about 9pm on July 14, my wife received a phone call from the local section chief of the Investigation Bureau of the Ministry of Justice. He said there would be a report on the alleged arrival of pro-­Xinjiang independence activists in Taiwan in Next Magazine (壹周刊) magazine the following day and that according to information obtained from the bureau's Kaohsiung office, the activists were in some way connected to me. The man first requested to visit us at home and then said he was already downstairs.

My wife's first response was that we would sue anyone who made such accusations. Although the man was very polite, we had no reason to welcome such an unexpected visit.

I have a very busy schedule. Even if I did not, and had met the man, it could have been construed as an admission of my association with the ­Xinjiang independence movement as well as several other individuals who the officer identified as "terrorists." He then changed his request, asking that we meet for a few minutes downstairs to exchange name cards.

I still refused his requests, because linking me to "terrorists" is a groundless accusation and insulting. I demanded that he provide official documents as proof that he wanted to meet me, as there was no other way to ascertain his identity.

Since my friends and I established the Taiwan Youth Anti-Communist Corps (台灣青年反共救國團) last month, police have come to my home, saying I was a listed target for monitoring. Now the Investigation Bureau is accusing me of colluding with so-called terrorists. I don't know what they will accuse me of next. Initially I had not intended to make this information public because, as a regular citizen, I did not want to offend the bureau and cause trouble for myself.

I also did not want the officers to be blamed by their supervisors either, because they were simply following orders and had no choice in the matter.

However, things did not end there. After two days, a computer that I purchased one year ago started acting up. I called in a computer specialist and asked him to identify the cause of the problem. He discovered that some parts of my system had been damaged.

Even more odd is the fact that while he could not find any Trojan software on my computer, even when I was not surfing the Internet information would automatically be transmitted from my computer.

The only way I could stop this was by unplugging my Internet connection.

For my research and writing, I download large amounts of information from various online sources every day and store the data on my computer.

Within the space of 15 hours, more information had transmitted itself out of my computer than I had saved on it.

There is no doubt, therefore, that someone is stealing my information and wants to know what sort of "confidential" material is stored in my computer.

My wife and I also suspect that our telephone is being tapped, as we have been hearing strange noises for a while. Now whoever is behind this has gained access to my computer.

I do not claim that this has anything to do with the Investigation Bureau. But it is now obvious that I am somehow a "dangerous person" in the eyes of the Chinese Nationalist Party (KMT).

I am, furthermore, well known as a critic of the Chinese Communist Party (CCP) and recently gave a series of talks and published articles about the violence in Urumqi in which I called on Chinese authorities to pay more respect to the human rights of Uighurs.

I have obviously become a thorn in the CCP's side and I really have to ask myself if the KMT and the CCP are not cooperating on my case.

I am a harmless individual with no power whatsoever. I would never use, let alone advocate, violence against the KMT and the CCP. I managed to free myself from the CCP's control years ago and I now live in the free world.

However, seeing my compatriots oppressed and exploited by the CCP, and with worrying signs that Taiwanese could soon face similar treatment, I cannot in good conscience remain silent.

My outspokenness appears to have upset certain groups and may have prompted them to take action against me.

I am worried that other strange things will happen to me. This is the motivation behind the release of this article. I hope that people in Taiwan, Hong Kong, the US and even my old compatriots in China continue to pay close attention to my human rights.

If anything happens to me, please remember me. Although I was cheated by the CCP for almost 30 years, I have lived the second half of my life to the fullest. I have a clear conscience and can face people proudly and honestly. I hope Taiwan will come together to protect their rights and that Taiwanese can reach out to people in China in opposing the twin despotism of the KMT and the CCP.

Paul Lin is a political commentator.