Ma cool on starting security measures
 
VIRUS THREAT: The Presidential Office said the president had discussed the matter with the premier and was waiting for expert assessment of the risk of an outbreak
 
By Ko Shu-ling, Jenny W. Hsu and Flora Wang
STAFF REPORTERS
Wednesday, Aug 26, 2009, Page 1

The Presidential Office said yesterday that President Ma Ying-jeou (馬英九) has decided for the moment not to activate the national security mechanism in response to the growing threat of an (A)H1N1, or swine flu, epidemic.

The announcement came after calls from the Democratic Progressive Party (DPP) and the Chinese Nationalist Party (KMT) for the president to call a national security meeting in response to the growing threat of a nationwide outbreak.

Presidential Office Spokesman Wang Yu-chi (王郁琦) said that Ma had discussed the matter with Premier Liu Chao-shiuan (劉兆玄), who had asked epidemic prevention experts to assess the situation and make recommendations, Wang said.

Wang said it would take no time for Ma to decide whether to call a national security meeting, adding that he did not know how long it would take the Executive Yuan to finish the study and make the recommendation.

The National Security Council would also advise the president on the matter, Wang said.

Calling a national security meeting was a major decision and not many of the nation's presidents have ever done so, Wang said.

"That is why we are very carefully evaluating the possibility," he said.

In related news, the Presidential Office said that National Security Council Secretary-General Su Chi (蘇起) met Department of Health Minister Yaung Chih-liang (楊志良) yesterday to gain a better understanding of theu situation.

The Presidential Office also appointed Chang Shan-chwen (張上淳), an expert on infectious diseases and the deputy superintendent of the National Taiwan University Hospital, as deputy minister of the Department of Health (DOH).

Cabinet Spokesman Su Jun-pin (蘇俊賓) said later yesterday that Liu had not recommended that Ma convene a national security meeting.

Su said Liu reached the conclusion after consultations with epidemic prevention specialists yesterday afternoon, adding that Liu would closely monitor A(H1N1) developments.

Earlier yesterday, the DPP said the national security mechanism should be put into effect immediately to combat the growing number of cases of swine flu, urging the government to boost its stockpile of the anti-flu drug Tamiflu to a level that would be adequate to treat at least 30 percent of the population.

Speaking at a press conference, DPP Spokesman Cheng Wen-tsang (鄭文燦) said several local experts on infectious diseases, including former minister of health Chen Chien-jen (陳建仁) and former Centers for Disease Control director Su I-jen (蘇益仁), have repeatedly warned of a possible nationwide outbreak of the virus in the coming months.

"Despite the repeated warnings and rapid increase in the number of confirmed cases, the government has failed to procure enough anti-virals for a minimum of 30 percent of the population," said Tseng, urging the Control Yuan to investigate whether the DOH was guilty of malfeasance.

According to DPP statistics, Hong Kong has prepared enough flu medication for twice its population, while the US and the EU have stockpiled enough for 30 percent and 50 percent of their citizens respectively.

On Monday, Liu blamed a worldwide shortage of Tamiflu for Taiwan's relatively small stockpile of the medication.

"News about the (A)H1N1 [strain] has been around for a long time. If other countries had enough time to prepare for it, why not Taiwan?" Cheng asked.

"We call on the premier to stop finding excuses and start actively procuring enough courses of the anti-viral for the people," Cheng said.

DPP Policy Research Committee chief Ker Chien-ming (柯建銘) said that former president Chen Shui-bian (陳水扁) held four national security meetings during his term to prevent a bird flu outbreak.

"The infection is expected to reach its peak in October or November. If the Cabinet led by Liu is still around by then, the public will never have confidence in the government's prevention work," Ker said.

The KMT caucus also urged Ma to convene a national security meeting.

KMT caucus secretary-general Yang Chiung-ying (楊瓊瓔) told reporters that the president should show the public the government's determination to fight influenza by raising the epidemic prevention efforts to the national security level.

FLU PRIMER

Yang said the government should also coordinate different levels of medical institutions and have medical personnel teach students how to protect themselves against the flu when the new school year begins next week.

The KMT caucus also accused the Centers for Disease Control (CDC) of allowing manufacturers of Tamiflu to profiteer as the price of the medicine had risen by 18 percent after the DOH announced on Aug. 15 that the cost of the drug would be covered by the National Health Insurance.

PRICE INCREASE

At a press conference, KMT caucus deputy secretary-general Lu Hsueh-chang (呂學樟) said the price of Tamiflu had risen to NT$950 per box from NT$800 since the department's announcement.

This meant that the state coffers would have to spend an additional NT$750 million to purchase the 5 million boxes of Tamiflu the CDC needs, Lu said, urging the CDC to prevent manufacturers from capitalizing on the flu outbreak.

In response, CDC spokesman Lin Ting (林頂), who was present at the caucus' press conference, said the center was able to procure the drug at a lower price prior to the DOH's announcement because it had purchased the medicine in large quantities and manufacturers did not need to cover the cost of storage or distribution back then.

Meanwhile, the Ministry of National Defense's (MND) Medical Affairs Bureau yesterday confirmed that 41 soldiers had been infected with swine flu, but said that 36 of them had recovered and been released from hospital.

"We still have five soldiers stricken with swine flu in hospital, but only four of them were infected during rescue work in southern Taiwan," said Lieutenant General Fan Bao-lo (范保羅), director-general of the bureau.

"If a sick officer or soldier is discovered in the disaster area, we will remove him immediately," Fan said.

The health minister yesterday confirmed the nation's 44th case of severe swine flu.

Yaung said that the latest statistics showed that there were approximately 38,000 confirmed swine flu patients in the country at press time, but warned that the epidemic has yet to reach its peak.

"We did a good job in delaying the epidemic, which also bought us more time to wait for vaccines," Yaung said.

Quoting the CDC's latest statistics, CDC Director-General Steve Kuo (郭旭崧) said that there had been 44 severe cases so far, 39 of which had been released from hospitals and five remained in intensive care.

NO. 44

Kuo said that the 44th severe case was a 44-year-old male in Kaohsiung. The patient also has high blood pressure and several chronic illnesses. At press time, he was out of intensive care but still in hospital.

Meanwhile, the Taipei City Government said yesterday it was prepared to deal with a swine flu epidemic and prevent the flu from affecting the upcoming Deaflympics and the fall school semester.

Approximately 5,000 athletes will attend the 21st Summer Deaflympics in Taipei, which will be held from Sept. 5 to Sept. 15. The city government has mobilized about 36,000 of the city's students to cheer for the Games and provide basic assistance to the athletes.

Despite the threat of a swine flu outbreak, Taipei Mayor Hau Lung-bin (郝龍斌) said the Deaflympics would be held as scheduled, adding that the Taipei City Hospital was fully prepared to provide medical service to athletes who developed symptoms or were infected with the A(H1N1) virus.

Chen Wen-shuo (陳文鑠), vice chairman of the Deaflympics organizing committee, said students who were infected with the A(H1N1) virus would not be forced to join the Games.

With 16 kindergartens and summer schools in the city forced to close temporarily because of suspected cases of swine flu, Taipei City Education Department chief secretary Lin Hsin-yao (林信耀) said the department would follow the guidelines from the Ministry of Education to prevent cluster infection among students when the school year begins on Tuesday.

The Ministry of Education's closure guidelines state that an entire class should be suspended for five days if two or more suspected cases of swine flu occur in the class within three days.
---
Aborigines want say in reconstruction
 
REPRESENTATION: Aborigines said that officials from the Executive Yuan's reconstruction committee should visit the south to discuss reconstruction with them
 
By Ko Shu-ling
STAFF REPORTER
Wednesday, Aug 26, 2009, Page 3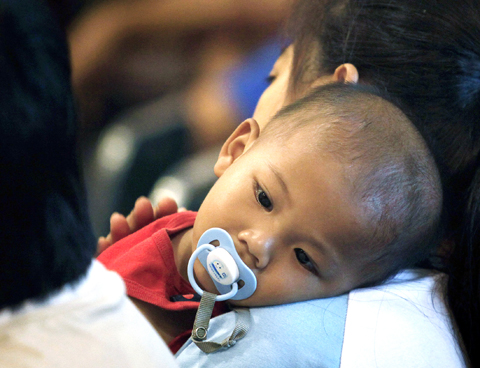 A woman holds her baby as President Ma Ying-jeou speaks during a grievance hearing session led by residents of Minzu and Mincyuan villages, at a housing center for people evacuated during Typhoon Morakot in Cishan, Kaohsiung County, yesterday. The official toll from Typhoon Morakot stands at 461 dead and 192 missing, and the damage to agricultural production has been put at NT$14.4 billion. It also plunged Ma into his worst crisis since being elected president in May last year.
PHOTO: NICKY LOH, REUTERS
Aborigines in Kaohsiung County's Namasiya Township (那瑪夏) yesterday asked President Ma Ying-jeou (馬英九) to include them in the government's Aboriginal reconstruction committee so they could have a say in decisions after Typhoon Morakot destroyed sections of villages.

Survivors in Neimen Township (內門鄉), most of whom are Aboriginal, waited for two hours for Ma to arrive.

Holding banners that read "Water diversion project ruined our homes and killed our people" and "Don't let the tribal reconstruction project ruin our tribal lifeblood," typhoon victims chanted "Aborigines want to enter the reconstruction committee."

They said the Executive Yuan's reconstruction committee should send officials to the south to discuss the reconstruction project with victim families rather than make the decision by themselves in Taipei.

"We want to go home," they said.

While some residents wished to relocate the village and others wanted to reconstruct the village in the same location, most of them said they were afraid their culture would vanish.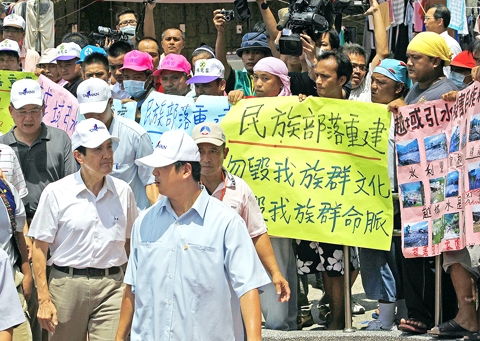 President Ma Ying-jeou, front left, walks past protesters from Minzu and Mincyuan village, at a housing center for people evacuated during Typhoon Morakot, in Cishan, Kaohsiung County yesterday. The yellow placard reads, "Minzu village reconstruction, to prevent the destruction of our culture, give our tribe a chance to survive."
 
PHOTO: NICKY LOH, REUTERS
Leading officials in a deep bow, Ma apologized for coming too late and said he was there to hear their opinions.

Ma said the government welcomed the Aborigines to participate in the reconstruction committees at both the central and local government levels.

"The resettlement and reconstruction projects are not compulsory," Ma said. "We hope you will make up your mind as soon as possible so we can begin the work."

In Namasiya's Mincyuan Village, Ma led government officials in a deep bow to apologize for the government's shortcomings in relief efforts.

Ma was met with a warm ­welcome and had his photograph taken with residents. He asked them to carefully consider whether they wanted to continue living there as the Council of Agriculture has designated it as a mudslide-prone area.

As the typhoon season is not over, Ma urged them to be ready for the next storm. He said everybody should learn a lesson from the typhoon this time. When mudslides were inevitable, the best remedy was to stay away from danger or be fully prepared for it, he said.

Ma also asked victims to spread the news about the good deeds of the armed forces, saying the criticism about their slow response to the disaster was "unfair" and that the military risked their lives to rescue people the first day after the typhoon hit.

At a different setting yesterday, Ma thanked the US government for its humanitarian assistance in helping the country tackle the challenges posed by Typhoon Morakot.

Ma made the remarks while meeting Oklahoma Governor Brad Henry at the Presidential Office yesterday afternoon.

Describing Typhoon Morakot as the cause of the country's worst flooding and the most rainfall, Ma said the disaster took many lives and caused serious damage to property.

Ma said he was grateful that Washington dispatched heavy-lift helicopters to help transport earth diggers and other machinery into remote mountain areas to re-open roads.

"This is the first time the US military sent help over here to the Republic of China to help us with the rescue and reconstruction work since we terminated the diplomatic relations in 1979," he said.

It was incorrect, however, as the US military offered assistance in the wake of the 921 Earthquake in 1999.

Meanwhile, Control Yuan President Wang Chien-shien (王建煊) yesterday called on Ma and Premier Liu Chao-shiuan (劉兆玄) to return to their posts to map out and coordinate restoration and reconstruction projects.

"Ma and Liu … should return to their offices as soon as possible rather than [staying in disaster zones] to kowtow to, bow before, or hug disaster victims," Wang said.

Wang said that he approved of all these gestures, but "putting on their thinking caps for post-disaster reconstruction is more important."

"For example, many prefabricated houses are being built in disaster zones, despite the opposition of experts. This is what Ma and Liu should be thinking about," Wang said.

He made the remarks after meeting with about 10 representatives of survivors from Kaohsiung County's Siaolin Village (小林), the village worst hit by the typhoon.

Tsai Song-yu (蔡松諭), leader of the group, filed a petition demanding the participation of international professionals in the watchdog's investigation into the destruction of the village by floods and mudslides that left more than 400 dead, most buried under mud.

Representatives of the villages have said that a project conducted by the Water Resource Agency to divert water from Laonong River (荖濃溪) to Zengwon Reservoir (曾文水庫) was one cause of the tragedy and that the Soil and Water Conservation Bureau failed to issue an evacuation warning.

Wang said inviting international professionals to join the Control Yuan's investigation is workable and he would convey the opinions to Control Yuan Vice President Chen Jinn-lih (陳進利), who is in charge of the probe.
 
---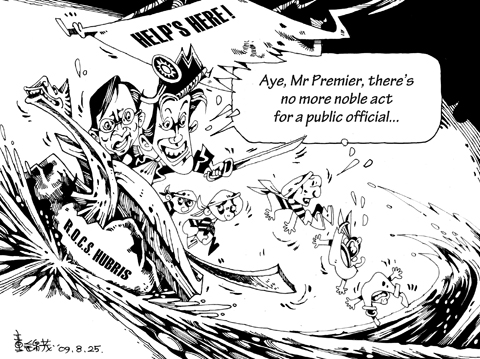 ---
Legislation that befits a disaster

Wednesday, Aug 26, 2009, Page 8

The hits just keep on coming.

If Typhoon Morakot was not a sufficiently traumatizing experience for the land and people of central and southern Taiwan, and if the central government's indifference to the environmental destruction and death toll was not enough to induce general rage among victims, then the Cabinet's clumsy draft legislation for reconstruction could make up the gap.

There is no question that reconstruction work and planning must begin immediately, especially given that the arrival of more typhoons or heavy rain this summer would threaten damaged and exposed communities. But this does not justify a bad draft law that threatens to empower the very bureaucrats whose mistakes and sloth resulted in unnecessary losses and disempower victims who have suffered enough already.

The devil is in the detail — or lack thereof: The legislation would override so many laws, including environmental impact legislation, that it is extremely unclear how the interests of the environment and the people who live in affected areas would be met or compensated.

This pervading lack of clarity spells real trouble: Without a detailed statement on which government agency is responsible for what and to what extent, an increase in state power over land and local people fuels the specter of feuding between central and regional governments, between and within Cabinet agencies and between ordinary people and government officials everywhere.

Worse, despite a solid suggestion from the Democratic Progressive Party, the legislation does not require planners to consider the opinions of affected communities, Aboriginal or otherwise.

Mountain-dwelling Aboriginal people are likely to be the biggest losers. For more than 100 years, Japanese and Chinese governments have moved these villages closer to plains areas so that they could be better governed and controlled; in many cases these people were moved into the plains while still being administratively defined as "mountain Aborigines." All throughout, Han officials took over management of most of the land for forestry, agricultural and tourism purposes, among others, frequently to the environment's detriment.

Supporting this line of thinking are racists and speculators who want Aboriginal reservation laws repealed so that the land can be bought up, developed and sold; and Buddhist charity officials, whose otherwise faultless conduct has been stained by asking the largely Christian Aboriginal community to "return the mountains and forests to Mother Nature."

Sadly, the present crop of Aboriginal legislators cannot be trusted to defend the interests of affected Aboriginal communities on matters of this gravity — and certainly not Non-Partisan Solidarity Union Legislator May Chin (高金素梅), who is essentially an ambassador for Beijing — and even in the unlikely event that they mobilize to defend their constitutents, in all probability they will be ignored by party bosses.

In 2007, then-presidential candidate Ma Ying-jeou (馬英九) infamously told an urban Aboriginal community that although he considered them to be human, they needed to better understand how to exist in the modern world. With this kind of attitude on show at the Presidential Office, and with cement companies, land developers and the like licking their lips at the prospects of massive new amounts of funding for urban reconstruction projects at the expense of viable rural resettlement, Typhoon Morakot may yet exact a more devastating toll — an acceleration of the destruction of Aboriginal culture and communities, courtesy of a brutally dim-witted and remote government that does not have the first clue about the principles of participation and consultation.
---
Lessons to be learned
 
Wednesday, Aug 26, 2009, Page 8

In the aftermath of this terrible typhoon, which was merely an act of nature, we can be sure of several important things.

At the top of that list is the government's utter failure through its forestry officials to implement proper planting in the hills that are covered in betel nut palm trees. These shallow-rooted trees do nothing to stop mudslides.

Plants such as grapes, with tap roots, need to be interspersed in all betel nut plantings. Additional measures to ensure logging restraint should follow the planting initiatives.

The sure way to see this happen would be to offer incentives for farmers who get with the program. The Forestry Bureau should put together a a list of the best subjects for planting and develop inventories to supply to farmers.

Typhoons are a given. Morakot simply brought to bear the reality of what will happen without proper preparation. The huge expense that is now required to repair the damage should be a lesson to the importance of proper agricultural practices.

Several other areas also need to be addressed. The problems with gravel acquisition and the methods of channeling runoff are important areas to tackle as well.

BILL PARKHURST
Santa Rosa, California
---
Keep Aboriginal communities intact
 
By Along Chen 陳永龍
Wednesday, Aug 26, 2009, Page 8

Following the disastrous floods and landslides brought to southern and central Taiwan by Typhoon Morakot, the task of rebuilding Aboriginal villages is high on the agenda for government agencies and charities, but much of the discussion has overlooked the real needs of the villagers. I visited some of the places where Aborigines from typhoon-hit villages have been given shelter, and I have observed how worried they are that their communities may disintegrate.

For Aborigines, the village community is the organization that preserves their social structure. Its functions include cooperation, mutual aid, social care and shared welfare. Over the years, when disasters have struck, the power of unity within the village community is what people have relied on before help from outside can reach them. So it is important that reconstruction should be thought of as a matter not only of building houses for individual families, but of reconstructing village communities with their collective nature intact.

The idea that mountainous areas are dangerous places to live is not necessarily true. The villages worst hit by Typhoon Morakot were mostly those that were relocated by the government over the years. Such relocated villages were hit much harder than those that were established long ago. For example, Sinhaocha Village (新好茶) in Pingtung County's Wutai Township (霧台) was completely submerged, while the strata beneath Sindalai Village (新達來) in Sandimen Township (三地門) was displaced and destablized. In Kaohsiung County, Cinhe Village (勤和) in Taoyuan Township and several badly damaged villages in Namasiya Township (那瑪夏) had all been moved from other places at some point for the government's convenience. In contrast, older villages are mostly standing firm.

The security and livelihood of the original villages should be preserved as the foundation for rebuilding communities. When Aborigines are separated from the land, they usually end up moving into cities where they become a new kind of refugee and in danger of oblivion.

Most prefabricated housing and other forms of temporary settlement, however, have been planned without regard for rebuilding the way of life of the original village or maintaining the villagers' network of relations. Temporary housing may not satisfy villagers' real needs. It reminds me of the research I did a few years ago in Haocha Village, where elderly villagers all told me they were against moving downhill from their old village to the new village of Sinhaocha.

Landslides and mudslides are different from earthquakes, and there is not much possibility of rebuilding damaged or destroyed villages at their original locations. Instead, it is necessary to find new locations where the land is stable and rebuild the villages there.

It will generally take not two or three, but five or 10 years to reconstruct sustainable village communities with an independent livelihood and legal status. The question of how to provide bigger and more comfortable transitional homes to be used for five to 10 years is, therefore, a more important consideration than hastily placing people in temporary prefabricated housing.

Unfortunately, in the wake of Morakot, many Aboriginal village communities have been treated as individual victims and "given shelter" (actually cast adrift) in 10 or 20 different locations.

This arrangement destroys the community networks that should be the basis for reconstructing village communities. When it comes to resettling villagers together and rebuilding villages, past experience of collective relocation should be borne in mind, and authorities should take into account the villagers' way of life, social structure and communal relationships.

Aborigines have known since ancient times how to build their own homes, and the elders have an inherited understanding of the mountains and forests. The first consideration should, therefore, be the people's livelihood, and they should be allowed to choose suitable locations to build their own groups of houses.

No matter where transitional housing and permanent settlements are located, it is important to provide materials that are suitable for building by the villagers themselves and that can be taken apart and reused. The housing should be of good quality and include shared spaces for community use. These are key points in reconstructing Aboriginal village communities.

Otherwise, Aborigines who have been forced to move from their native mountains and forests and deprived of the mutual aid network provided by their communities are likely to quickly become wandering refugees in towns and cities, giving rise to new social problems.

Along Chen is an associate professor of tourism and hospitality at Kainan University and convener of the Workshop for Bio-Cultural Diversity.
 
---
Ma's lack of competence, humility is all on show
 
By Chi Chun-chieh 紀駿傑
Wednesday, Aug 26, 2009, Page 8

'During a recent press conference, however, the public finally was able to see the assertiveness of foreign correspondents and Ma's inability to cope with them.'

During his visit to the disaster areas in the wake of Typhoon Morakot, President Ma Ying-jeou (馬英九) was quoted as saying, "But I'm here now, aren't I?" Such a reaction shows the Ma administration's aloofness and lack of empathy for disaster victims.

Since the typhoon wreaked havoc in southern Taiwan, we have witnessed the incompetence of Ma and his government and their attempts to shirk responsibility on various occasions.

Ma used to be able to easily answer questions from Taiwanese reporters, sometimes throwing in a corny joke. If reporters had the audacity to ask more challenging questions, they would immediately become targets of criticism, as if they had been disrespectful of the great leader.

Ma gave an exclusive interview to a BBC reporter during a visit to Britain a few years ago. When he was bombarded with questions and was unable to hold his own, Ma resorted to telling the well-prepared reporter that he "was not very familiar with Chinese affairs and Taiwanese affairs." The problem was that not many Taiwanese saw this interview.

During a recent press conference, however, the public finally was able to see the assertiveness of foreign correspondents and Ma's inability to cope with them.

US sociologist Todd Gitlin's 1980 book The Whole World is Watching has had a huge influence on mass media and social movements. With the popularity of TV in US households, the public was able to see police brutality on TV as early as the student movements in 1968. Although he criticized media outlets for tending to cover certain stories and promote heroism, which was unfavorable to the development of social movements, Gitlin said the media did help publicize certain issues.

Most people in the world have ready access to news about various unkind, unfair and unjust incidents and individuals through mass media. In 1992, a video clip showing white policemen beating up a black man was widely broadcast in the US, triggering riots in Los Angeles.

We can thus assert that if the media had not shown the footage of the four workers washed way while waiting to be rescued in Bajhang Creek (八掌溪) in July 2000, the Democratic Progressive Party, which had just assumed power, would not have apologized so profusely to the public and replaced its vice premier.

Hundreds of people were washed away in the floods following Morakot because of the indifference, arrogance and incompetence of government officials. Although TV cameras failed to capture footage of Siaolin Township being wiped out by mudslides, the whole world was able to see the hypocrisy of Ma and his subordinates during the international press conference on TV.

Now everyone should yell to Ma: "We've all seen your incompetence!"

Chi Chun-chieh is a professor in the Institute of Ethnic Relations at National Dong Hwa University.