TAIPEI- MANILA ROW: Daughter impresses in face of adversity

By Tsai Chung-hsien and Jason Pan / Staff Reporter, with Staff Writer
---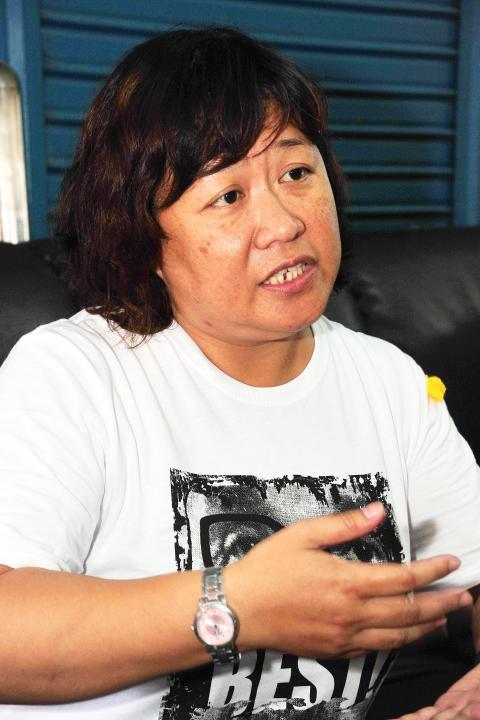 Hung Tzu-chien, the eldest daughter of Hung Shih-cheng, the Taiwanese fisherman who was killed by the Philippine Coast Guard on May 9 speaks during an interview in Pingtung County on Thursday.
Photo: Tsai Tsung-hsien, Taipei Times
---
Among the major topics of discussion following the fatal shooting of Taiwanese fisherman Hung shih-cheng (¬x¥Û¦¨) has been the demeanor of his eldest daughter, Hung Tzu-chien (¬x·Oãf), whose clear articulation has cut to the heart of the issue during media interviews.

¡§My father¡¦s death is now a fact. I just hope the government will wake up, so that all Taiwanese fishermen can receive proper protection,¡¨ she said.

Hung Tzu-chien, 44, is a math teacher working in a cram school in Greater Kaohsiung.

Observers attribute her impressive speaking skills to having to deal with the exacting demands of students¡¦ parents.

Following her father¡¦s death, she returned to her hometown of Siaoliouciou (¤p¯[²y), an island in Pingtung County, to help organize funeral arrangements.

Having graduated from Pingtung Girls¡¦ Senior High School in Pingtung City and Cheng Shiu University in Greater Kaohsiung, her intellectual prowess is respected by her peers in Siaoliouciou.

Hung Tzu-chien said she decided to face the public and speak out for the local community not only because of the death of her father, but because of the long-standing harassment of Siaoliouciou¡¦s fishermen.

¡§My moral principles to seek justice and passion to help those in need are characteristics I inherited from my father. I just hope his sacrifice will not be in vain,¡¨ she said.

She said her father was always out at sea fishing, so he rarely had time to spend with his family.

¡§On one occasion I was on the way home from elementary school and was caught in a downpour. I ran quickly and saw my father come running for me with an umbrella. That scene kept cropping up in my mind as I received my father¡¦s corpse [after the boat was towed back to Pingtung on May 11,]¡¨ she said, adding that she was ¡§determined to turn my father¡¦s death into a cause to fight for the rights of all fishermen in Taiwan, to wake up the government, which has always neglected their long-standing predicament.¡¨

¡§Has the Fisheries Agency done anything for the hard-working fishermen of our country?¡¨ she asked. ¡§Our fishermen have been bullied and trampled on for more than 30 years. How could local fishermen¡¦s associations and the government¡¦s Fisheries Agency not know anything about it for all these years?¡¨

She said she hopes that when the current Taiwan-Philippines row is resolved, the government will undertake a comprehensive examination of the nation¡¦s fishery rights.

In response to praise for her resolve and outspokenness in the face of misfortune, she remains modest.

Hung Tzu-chien said she is as strong and courageous as all Taiwanese fishermen, and she was expressing their feelings to the government.

¡§I do not want the government to start a war, but just to show real guts and determination,¡¨ she said.

¡§We must not let the Philippine government sweep the whole thing under the carpet. If this happens, Taiwan¡¦s national dignity would be eroded,¡¨ she said.