FEATURE: Hoklo songwriter honored by ministry

Staff writer, with CNA
---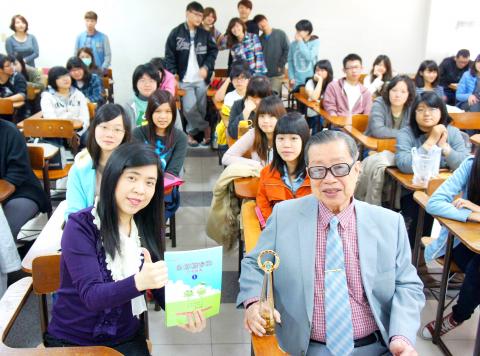 Shih Fu-jen is surrounded by students at Dayeh University in Changhua County on March 9.
Photo: Tang Shih-ming, Taipei Times
---
Having written many popular children¡¦s songs in Hoklo (commonly known as Taiwanese) such as The Asphalt Concrete (ÂI¥J½¦) and The Fat Boy (¤jãT§b), Shih Fu-jen (¬IºÖ¬Ã), who was once banned from teaching Hoklo during the Martial Law period, has been awarded by the Ministry of Education for protecting the nation¡¦s native tongues.

The children¡¦s song The Asphalt Concrete is familiar to many people in Taiwan and is included in textbooks for language education.

The song was Shih¡¦s first musical creation and he said he was inspired by a colleague¡¦s child who was worried he might get asphalt on his shoes when a road was being constructed outside a school Shih was teaching at in 1964.

Shih said that his musical education came from singing with people in the village where he grew up, adding that he joined the choir in junior high school.

However, his career as a songwriter ran into problems when the school principal showed ¡§concerns¡¨ over his teaching of songs in Hoklo at school, ¡§because it was the government¡¦s policy to promote Mandarin during the Martial Law period,¡¨ he said.

Despite the school¡¦s attempt to stop him from writing children¡¦s songs in Hoklo, Shih has written more than 400 songs in the past four decades.

¡§Many of my songs are inspired by the details of life in small rural villages,¡¨ he said.

¡§Although singing in Hoklo was once discouraged, the songs spread because the melodies are easy to remember and the lyrics are interesting,¡¨ he added.

After the change in the government¡¦s language policy, learning to speak Hoklo became popular and Shih was frequently invited by TV stations and schools to deliver speeches.

He published a book on Hoklo children¡¦s songs as well as creating teaching materials for the learning of Hoklo through chidren¡¦s songs, and was given the title ¡§King of Children¡¦s Songs.¡¨

In February, Shih was honored by the Ministry of Education for his contributions to preserving local languages.

Shih said that the reason he wrote children¡¦s songs in Hoklo was simply that he wants all Hoklo-speaking Taiwanese children to be able to sing in their mother tongue.

Shi said that although the then-government banned Hoklo songs during the Martial Law period, the songs remained alive and popular.

¡§Hence, it was the power of the people that supported me in continuing to write children¡¦s songs in Hoklo,¡¨ he said.