Taiwanese team bags nation¡¦s first archery gold medal

Staff writer, with CNA
---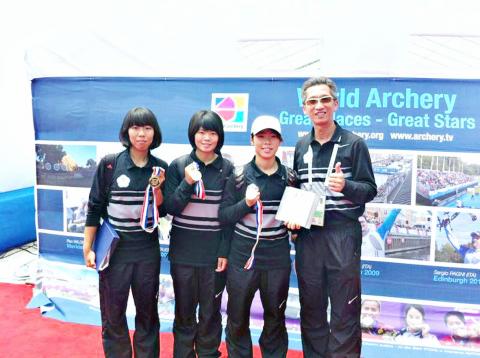 Lin Fang-yu, Wu Chia-hung, Tan Ya-ting and coach Ni Ta-chih, left to right, hold up the gold medals they won at the Archery World Cup in Shanghai, China, yesterday.
Photo: CNA, provided by Ni Ta-chih
---
The Taiwanese recurve women¡¦s team yesterday won the nation¡¦s first gold medal in women¡¦s archery at an international event when they beat the Ukraine yesterday at the Archery World Cup in Shanghai, China.

The team, which consists of Lin Fang-Yu (ªLªÚ·ì), 22; Tan Ya-Ting (ÃÓ¶®´@), 19; and Wu Chia-Hung (§d¨ÎÂE), 17; upset Olympic champions Korea in a dramatic 221-217 victory in the semi-finals on Friday, before going on to defeat Ukraine 213-193 in yesterday¡¦s final.

Together with Kuo Chen-wei (³¢®¶ºû), Tan won a mixed doubles gold in the discipline at the same competition last year.

Wu Sheng-chien, president of World Archery Chinese Taipei ¡X the nation¡¦s archery association ¡X said that this was a significant victory because it marked ¡§the first time that the Taiwanese women¡¦s team has won a gold medal in an international competition.¡¨

Tan, who also represented Taiwan in the London Olympics last year, later competed for the bronze in the individual recurve competition, but lost to Joo Hyun-jung of Korea.

In the London Olympics, she made it to the final 16, where she was defeated by Pia Lionetti of Italy 6-2.

Tan also shot 337 points at 70m at a recent competition in Yilan County, breaking the 335 point record set by Lei Chien-ying (¹p¤d¼ü) in 2010.