Military officers to get unjust benefits, TSU legislator says

UNFAIR: The premiums of 174 generals, 175 officers and 65 non-commissioned officers would be paid by the government, lawmaker Hsu Chung-hsin claimed

By Chris Wang / Staff reporter
---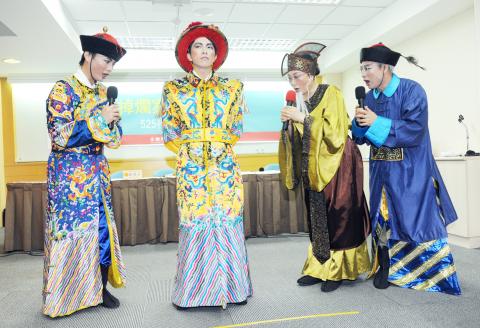 Members of the National Federation of Teachers Unions perform a skit in period costume during a press conference in Taipei yesterday, satirizing the current state of pension reform in the nation.
Photo: Lo Pei-der, Taipei Times
---
The current regulations and the government's pension reform plan have given serving and retired high-ranking military officials unjust benefits, which is not only unfair to other military personnel, but also to the general public, lawmakers said yesterday.

As the administration of President Ma Ying-jeou (馬英九) began laying out its pension reform plans and the nation engaged in a heated debate about the future of various pension programs, the exclusion of public-sector workers with more than 30 years of service from the reforms was unquestionably unfair, Taiwan Solidarity Union (TSU) Legislator Hsu Chung-hsin (許忠信) told a press conference.

The premiums of those military personnel, civil servants and teachers with more than 30 years of service would be subsidized by the government, according to the government's reforms, Hsu said. That means the premiums of 174 of the 344 generals, as well as 175 officers and 65 non-commissioned officers would be paid by the government, Hsu said.

"While 9.7 million private-sector workers would have to pay a lot more premium and receive a lower pension to make the labor insurance fund sustainable and lower-ranked military personnel would not be able to enjoy the extra benefits, the government's plan to pay the premiums of those generals with an annual salary of more than NT$2 million [US$66,834] is absurd," Hsu said.

The TSU caucus has proposed abolishing the related clause in the Insurance Act for Military Personnel (軍人保險條例), the lawmaker said.

In related news, more than 380 retired civil servants who went on to work for government-affiliated organizations have been getting a so-called "double salary" — wages with their current employers and their pensions, Democratic Progressive Party (DPP) Legislator Lee Ying-yuan (李應元) said.

A large percentage of the retirees who are "unretired" are military officials, Lee said.

A legislative resolution stipulates that retired civil servants who work for government-funded non-profit organizations or state-invested companies are no longer eligible to receive their monthly pension and the benefit of preferential interest rates, and if they choose to keep the benefits, the pension they receive should be deducted from their wages, Lee said.

However, statistics provided by the Directorate-General of Personnel Administration (DGPA) show that 20 people still receive benefits without a pay cut and 363 people are still enjoying preferential interest rates, despite having their monthly pension payments stopped in October 2011, the lawmaker said.

Lee ridiculed the DGPA's response, which cited the Labor Standards Act (勞動基準法) as saying that wages should only be negotiated between employees and employers, and that employers are not allowed to unilaterally cut wages.