Expand Itu Aba airstrip now : DPP

By Chris Wang / Staff reporter
---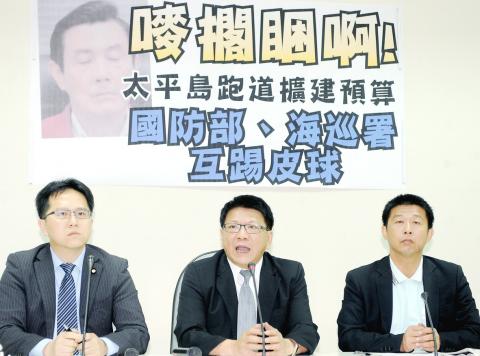 Democratic Progressive Party Legislator Pan Men-an, center, holds a press conference at the Legislative Yuan yesterday, saying that the government should immediately resume the expansion of an airstrip on Itu Aba (Taiping Island) in the South China Sea as the president has promised.
Photo: Chu Pei-hsiung, Taipei Times
---
The government should immediately begin the expansion of an airstrip on Itu Aba (Taiping Island, 太平島) in the South China Sea, even if it would drain the Executive Yuan's so-called "secondary reserve fund," Democratic Progressive Party (DPP) lawmakers said yesterday.

As tensions in the South China Sea rise, Taiwan must leverage the strategic significance of its control of Itu Aba, the largest island in the Spratly Islands (Nansha Islands, 南沙群島) and expand the island's airstrip from 1,150m to 1,500m long as President Ma Ying-jeou (馬英九) has pledged, DPP Legislator Pan Men-an (潘孟安) said.

The expansion of the runway, which was begun under former president Chen Shui-bian (陳水扁) in 2008, would greatly help with the military deployment, emergency medical service and logistics on the island, Pan said.

Ma said last week that an offshore terminal for naval frigates and expansion of the airstrip are both "must-dos" to assert Taiwan's presence in the disputed region.

However, the Ministry of National Defense and the Coast Guard Administration have been passing the buck, with the ministry saying that its budget for the project was stopped by the Control Yuan in 2006 and the coast guard saying that the project has always been listed under the ministry, Pan said.

Pan also said the government needs to consider redeploying marines on the strategically important island after replacing them with coast guard personnel in 2000.

DPP Legislator Chiu Chih-wei (邱志偉) said it was the second clash between government agencies in a month, with the National Security Council and the Ministry of Foreign Affairs already at odds over how to deal with the row with the Philippines over the death of a Taiwanese fisherman.

"The agencies have failed to make the national interests their priority, instead engaging in bureaucratic war with each other," Chiu said.