Cabinet unveils economic aid initiative

SUFFOCATING: The Executive Yuan is to put NT$3.24 billion toward implementing 12 measures, one of which is the amendment of the controversial capital gains tax

By Shih Hsiu-chuan / Staff reporter
---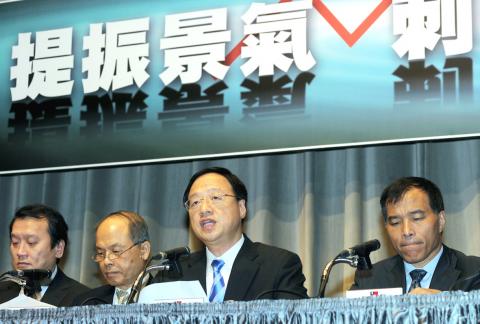 Premier Jiang Yi-huah, third left, announces a package of measures to boost Taiwan's economy at a press conference in the Executive Yuan in Taipei yesterday.
Photo: CNA
---
The Executive Yuan yesterday unveiled a package of 12 measures to boost what Premier Jiang Yi-huah (江宜樺) has described as the nation's "suffocated" economy to ensure that GDP growth reaches the government's 3 percent growth target this year.

At a press conference to announce the package, Jiang said that the measures would "contribute positively toward GDP" by seeking to expand consumption, attract investment, encourage new businesses and revise the capital gains tax on securities investments.

Jiang would not specify how many percentage points the measures were aiming to add to GDP growth, saying it is difficult to make such predictions.

"Analysts have been forecasting a turnaround in the second half of this year and we will continue to take steps to strengthen the economy and attain 3 percent GDP growth," Jiang said.

One of the measures involved the legislature passing an amendment to the Income Tax Act (所得稅法) before the current session ends on Friday to drop the 8,500-point threshold that automatically triggers the capital gains tax for individual investors, Jiang said.

The Chinese Nationalist Party (KMT) has proposed removing the requirement that the TAIEX surpass 8,500 points for the tax to be imposed and replace it with a tax on investors who sell NT$1 billion (US$33.3 million) worth of shares during one calendar year.

The premier said that abolishing the threshold would turn the economy around because it would be like "lifting the cover off a pot" to let the "suffocated" economy breathe.

Jiang said he has already spoken with Legislative Speaker Wang Jin-pyng (王金平) to say he hoped the legislature could push through the tax amendment by Friday instead of waiting for the planned extra session next month.

The tax, which was introduced in July last year, is generally perceived as "a major culprit behind the sluggishness of the economy in the first half of the year," Jiang said.

However, Wang was pessimistic about the timeline.

Since opposition parties have expressed dissenting views about the KMT's proposal, the amendment would be placed on the agenda for the extra legislative session, Wang said.

An extra session has been scheduled to run from June 13 to June 27 and the KMT has said it would push for a second extra session in late July if necessary.

KMT Legislator Lai Shyh-bao (賴士葆) said the tax amendment would be the most effective of the 12 measures boosting the economy and called on Jiang to discuss the issue with opposition leaders "instead of just making appeals via the media."

The Directorate-General of Budget, Accounting and Statistics last week lowered its economic growth forecast for this year from its 3.59 percent projection made on Feb. 22 to 2.4 percent.

The Executive Yuan is to invest NT$3.24 billion to implement the 12 measures, some of which are to last for five years.