Food scandal ensnares five new firms

GREEN-HANDED: Officials discovered that two companies importing a green coloring agent found in adulterated oil supplied it to five firms that may have used it illegally

By Stacy Hsu / Staff writer, with CNA
---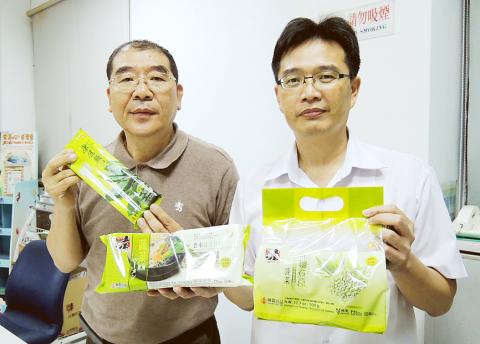 Sing Lin Foods Corp deputy general manager Yu Ching-hsing, left, yesterday holds up three food products along with another man in Nantou City that were recalled because they contain sodium copper chlorophyllin.
Photo: Hsieh Chieh-yu, Taipei Times
---
The Ministry of Health and Welfare's Food and Drug Administration (FDA) yesterday instructed local health bureaus to inspect the factories of five companies suspected of illegally using the food additive copper chlorophyllin in their products, amid efforts to tighten food safety inspections amid a recent spate of health scares.

The administration told a press conference in Taipei yesterday that beverage manufacturer Taiwan Bifido Co (台灣比菲多) and Chin Haoo Trading Co (金鎬貿易) had been importing copper chlorophyllin — a food colorant — since 2011.

The two companies have supplied the food additive to five other corporations, the administration said, including raw food material provider Taiwan Yuan Mou International (台灣原貿), food flavoring agent manufacturer Yuan Saing Co (源馨), baby food brand Standard Foods Co (佳格食品), noodle producer Sing Lin Foods Co (興霖食品) and dairy product wholesaler Yi Nung Co (頤農).

The administration made the discoveries while attempting to trace the origin of the food colorant that was used by edible oil producer Chang Chi Foodstuff Factory Co (大統長基) in its olive and grapeseed oils to make them look more green.

Chang Chi chairman Kao Cheng-li (高振利) has been charged with fraud and with violating the Act Governing Food Sanitation (食品衛生管理法) over the alleged oil adulteration.

"The administration has instructed local health agencies to inspect the five companies' factories to ascertain how and where they used the substance, as well as whether they used it illegally," FDA Northern Center for Regional Administration director Feng Jun-lan (馮潤蘭) said.

Feng said that copper chlorophyllin is legal as a food additive in bubble gum, chewing gum, candy, beverages, capsules, dried sea kelp, processed fruit and vegetable products, baked goods, jellies and jam.

However, the inclusion of the substance to any food products outside these categories, is prohibited, she added.

FDA Food Division director Tsai Shu-chen (蔡淑貞) said that two of Sing Lin's noodle products sold under the Wu Mu (五木) brand — a packet of steamed spinach ramen and another type of spinach noodles — were found to contain sodium copper chlorophyllin, a water-soluble version of the coloring agent which is not permitted in noodles.

In response, Sing Lin general manager Teng Tung-mu (鄧同木) said the company had believed that the substance it acquired from Chin Haoo was natural chlorophyll, until the latter asked it to "change the nutrition fact labels of its products" on Monday.

Teng said the company then instantly pulled the two items off the shelves and halted their production and sale.

In a statement issued yesterday defending the quality of its products, Standard Foods said it had only added the green colorant to its beverage products, reiterating that the substance's use in such items was legal.