Singer¡¦s PRC concert reportedly at risk

BEIJING BUMP? Deserts Chang¡¦s agent said they had not heard from the organizers about the Dec. 30 show, while two DPP officials urged young Chinese to show respect

By Chris Wang and Stacy Hsu / Staff reporter with staff writer and CNA
---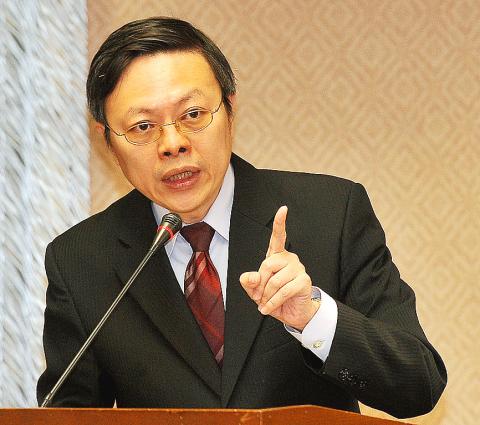 Mainland Affairs Council Minister Wang Yu-chi yesterday tells lawmakers during a question-and-answer session at the legislature in Taipei that he hopes Beijing will not block Taiwanese singer Deserts Chang from giving concerts in China.
Photo: Chien Jung-fong, Taipei Times
---
Taiwanese singer-songwriter Deserts Chang¡¦s (±iÄa) concert in China next month might be canceled after scores of Chinese netizens threatened to boycott her over what they said was her pro-independence stance shown by holding a Republic of China (ROC) flag during a concert in the UK on Saturday.

The Hong Kong-based Phoenix New Media Web site yesterday reported that the Chinese organizers of Chang¡¦s Dec. 30 concert at Beijing¡¦s Wukesong Arena have received a cancelation notice and are waiting for an official announcement.

However, some Chinese media outlets have reported that the concert would not be postponed or canceled because it was approved by the Chinese government, and that the organizers had only decided to postpone a press conference scheduled for today.

Chang¡¦s agent, Tsai Yu-ching (½²¥É«C), yesterday said they were waiting for the Chinese organizers to clarify the flag incident to the Chinese authorities and that no decision would be made until they heard back from concerned parties.

¡§As long as there are willing audiences, Chang will sing,¡¨ Tsai said.

During Saturday¡¦s concert at the University of Manchester, Chang took an ROC flag from a group of Taiwanese fans, unfurled it on stage and introduced it ¡X in English ¡X as her nation¡¦s flag, a move that apparently upset Chinese students in the audience.¡¨

She later said her introduction of the flag was intended for audience members who looked puzzled about the flag.

However, some Chinese netizens later responded angrily, calling Chang a ¡§whore trying to dredge for money in China.¡¨

¡§I am not singing to make money and to harm people at the same time ... If the public cannot view the incident and my well-meant intention to start a dialogue [with the Chinese woman] with an ordinary state of mind, I am willing to cancel my concert and take on any losses as a result so as to end the discontent and troubles caused to the organizers,¡¨ Chang wrote in a posting on her Facebook page on Tuesday.

She also wrote that ¡§a lot of our views are sometimes not our own, but are what we hear from others or have instilled in us by education.¡¨

Chang wrote that she often heard people say ¡§no politics tonight¡¨ or ¡§no race issues tonight¡¨ when she was studying abroad. When people say those things, they lose opportunities to understand differences, she wrote.

During a question-and-answer session at the legislature yesterday, Mainland Affairs Council Minister Wang Yu-chi (¤ý­§µa) said that his heart would be ¡§wrenched¡¨ if Chang had to cancel the Beijing concert because of Saturday¡¦s incident.

¡§The incident underlines the common problems young people from either side of the Taiwan Strait may encounter when interacting with each other¡K The council will do its best to let China know about how Taiwanese feel,¡¨ Wang said, adding that he believed Chang handled the situation properly.

The director of the Democratic Progressive Party¡¦s (DPP) Department of Youth Development yesterday said it supported the singer, and he urged young Chinese to show ¡§rationality and empathy¡¨ to her.

¡§Introduction of where one comes from and the flag of one¡¦s nation, in our view, would be something everyone does in a public setting,¡¨ Chang Chi-chang (±i°òªø) said in a press release.

¡§When the Chinese young people said ¡¥no politics today,¡¦ they were trying to bully an artistic performance with politics,¡¨ he added.

Chang Chi-chang said young Chinese should think about why their Taiwanese peers always deeply care about Taiwan¡¦s flag and why people around the world could speak about their countries and flags with pride in front of Chinese, except Taiwanese.

He said Taiwanese at various international competitions have also had the flag taken from them by Chinese officials or nationals.

¡§I would say that the reasons behind those incidents have been far more than politics. They also involved a lack of empathy and rationality on the part of young Chinese,¡¨ said Chou Yu-hsiu (©P·®­×), the department¡¦s deputy director.

Increased understanding and engagement across the Taiwan Strait would only be possible and meaningful with the foundation of empathy, rationality and mutual respect, Chou said.