Ma under fire in KMT committee over Wang

By Shih Hsiao-kuang and Jake Chung / Staff reporter, with staff writer
---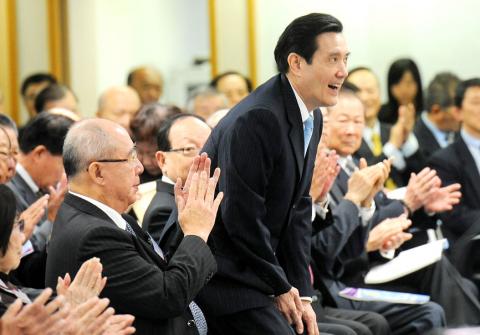 Delegates applaud President and Chinese Nationalist Party (KMT) Chairman Ma Ying-jeou, standing, at a meeting of the party's Central Review Committee in Taipei -yesterday, following its 19th National Party Congress on Sunday.
Photo: Chu Pei-hsiung, Taipei Times
---
President Ma Ying-jeou's (馬英九) administration yesterday came under criticism during the Chinese Nationalist Party's (KMT) 19th Central Review Committee over its handling of the political crisis involving Legislative Speaker Wang Jin-pyng (王金平).

The crisis arose from Ma's attempt in September to remove Wang — both from the party and as speaker — after receiving information from Special Investigation Division (SID) Prosecutor-General Huang Shih-ming (黃世銘) on Aug. 31 that Wang allegedly lobbied former minister of justice Tseng Yung-fu (曾勇夫), High Prosecutors' Office head prosecutor Chen Shou-huang (陳守煌) and High Prosecutors' Office prosecutor Lin Shiow-tao (林秀濤) not to appeal against the acquittal of Democratic Progressive Party (DPP) caucus whip Ker Chien-ming (柯建銘) in a breach of trust case.

Chen Keng-chin (陳庚金), a heavyweight from Greater Taichung's "Black" faction, told Ma during the meeting that the government's "news releases were officious, flowery and impractical," adding that his administration's responses — when it responded at all — avoided the issues, were one-sided and tended to mask the severity of the problem.

Chen also said that Ma's attempt to remove Wang from the party was not in accordance with protocol, adding that it raised doubts about how staff could act according to Ma's professed core values of justice and equality.

Chen said that prior to the meeting, he had e-mailed an additional copy to KMT Secretary-General Tseng Yung-chuan (曾永權) as well as Ma himself, but he had not received a reply from either man, adding that the party's higher-ups had also asked party heavyweights like Chan Chun-po (詹春柏) and Hsu Li-teh (徐立德) to talk to him in the hopes of "smoothing things out."

Chen said that the party's responses in either respect were "hard to accept."

Former Taiwanese provincial governor Chao Shou-po (趙守博) also said that the Ma administration's actions were very much like the Rectification Movement enacted by the Chinese Communist Party (CCP) from 1942 to 1944, adding that all participants in the decisionmaking process in the party and administration needed to reflect on their actions and attitudes.

The Yanan Rectification Movement was the first ideological movement the CCP had enacted, cementing Mao Zedong's (毛澤東) role in the party's leadership, both politically and ideologically, through the removal of opponents and making Mao's philosophies dominant.

In the face of Ma's plummeting support and the popular practice of throwing shoes at the president, former minister of justice Hsiao Tien-tzang (蕭天讚) said the party should defend and support Ma.

Hsiao said that such acts should not be tolerated and should be dealt with using the full force of the law.

"We cannot allow such violent actions against the head of state that have begun recently to continue. While it is normally tolerable, it not only violates personal rights, but damages the respect the head of state, and the party chairman, should receive," Hsiao said.

Hsiao also supported Ma's actions during the "September strife," saying that Ma had made a "clear and wise move" in the lobbying case.

Ma had chosen to tolerate criticism that he does not know right from wrong, but "too much tolerance will only be ridiculed as weakness and incompetence" and there should be limits to the tolerance the party shows, Hsiao said, adding that he was certain all who were present at the congress knew what he meant.