INER wasting public funds: lawmaker

PRIVATE SIGHTSEEING? Hsu Chung-hsin questioned the nuclear research institute¡¦s focus on China, instead of countries that have advanced nuclear technology

By Chris Wang and Lee I-chia / Staff reporters
---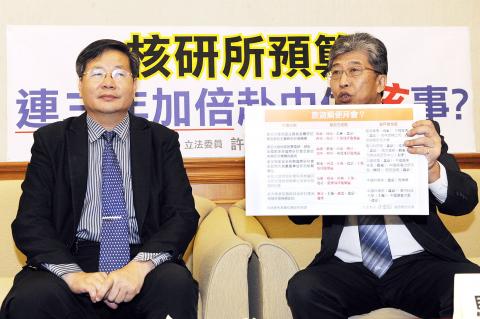 Institute of Nuclear Energy Research director-general Ma Yin-pang, right, responds to questions from Taiwan Solidarity Union Legislator Hsu Chung-hsin about a sevenfold increase in the institute¡¦s budget for China visits since 2010, during a press conference in Taipei yesterday.
Photo: Chen Chih-chu, Taipei Times
---
A Taiwan Solidarity Union (TSU) lawmaker yesterday accused the Institute of Nuclear Energy Research¡¦s (INER) of squandering public funds, questioning the sharp increase in budget allocated for inspection trips to China over the past five years.

The annual budget for China visits allocated by the institute under the Atomic Energy Council (AEC) has increased about sevenfold since 2010 ¡X from NT$440,000 (US$14,900) in 2010 to NT$2.75 million for next year, TSU Legislator Hsu Chung-hsin (³\©¾«H) told a news conference.

The destinations for the institute¡¦s visiting programs covered more than a dozen Chinese provinces, Hsu said.

In comparison, the annual budget for visiting programs to Western countries has been consistent ¡X between NT$1.91 million and NT$2.41 million ¡X over the past five years, showing no significant increase.

Hsu questioned the necessity for the visits to China, saying that Taiwan could neither profit from technology transfers nor learn from Chinese development of nuclear technology.

¡§What the INER should have done was ... more visits to Western countries to inspect their advanced nuclear technology or their efforts to abandon nuclear power,¡¨ Hsu said.

Hsu said that following the disaster at Japan¡¦s Fukushima Dai-ichi nuclear power plant, Germany has decided to gradually phase out nuclear power by 2022. It would have been understandable then if the INER had allocated more budget to visit Germany to study its advanced technology, instead of focusing on China.

¡§Has there been any great improvement in China¡¦s nuclear technology in recent years? Or are INER [staff] actually touring China under the guise of visiting to search for cooperation opportunities?¡¨ he asked.

Citing five of the institute¡¦s China visit projects as examples, Hsu said the destinations for each project included many provinces that did not have any research facilities or related companies, and some provinces were located far from the facilities they visited.

¡§Is the institute using these projects as travel incentives for officials?¡¨ Hsu asked.

He added that the number of staff visiting China had also increased from six in 2010 to 23 last year, with 30 planned for this year and for next year.

In response, INER director-general Ma Yin-pang (°¨®ï¨¹) said that the nuclear energy program only accounted for one-third of the institute¡¦s annual budget, with renewable energy development and technology the focus in recent years.

¡§And China has been one of the fastest-growing markets in terms of renewable energy,¡¨ Ma said.

Ma denied that the visits had been arranged to provide private sightseeing tours for institute staff.

He added that the annual budget proposal was submitted about one year beforehand, when the actual visiting destinations had yet to be confirmed, so the institute had to list more possible destinations to avoid having to modify the proposal afterward.

¡§If any of the officials spent the institute¡¦s money on touring other destinations unrelated to their job, I will make sure they face administrative punishments,¡¨ he said.