Corporal Hung's family condemns military tribunes

Staff reporter
---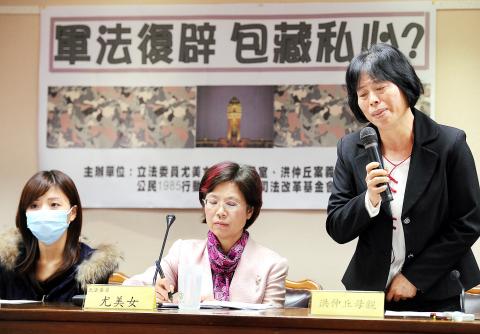 Army corporal Hung Chung-chiu's mother, right, and his sister, left, attend an event condemning military tribunals for seeking a constitutional interpretation of the recently amended Court Martial Procedure Act, saying that it might serve as the first step toward the "restoration" of the former version of the law.
Photo: Chu Pei-hsiung, Taipei Times
---
The family of army corporal Hung Chung-chiu (洪仲丘) and rights activists yesterday condemned military tribunals for seeking a constitutional interpretation of the recently amended Court Martial Procedure Act (軍事審判法), saying that it might serve as the first step toward the "restoration" of the former version of the law.

The legislature passed an amendment to the law following Hung's death because of concerns that military tribunals might not fairly review cases involving high-ranking officers. The amendment transferred most of the powers of military tribunals to civilian courts during peacetime.

However, the Supreme Military Tribunal and the Northern District Military Tribunal have questioned the legitimacy and constitutionality of the revision and applied to the Council of Grand Justices for an interpretation.

"They [the military judges] believe that the amendment fails to protect their employment, and the reason listed in the application focused on how they would be able to keep their jobs," Wellington Koo (顧立雄), a lawyer who is working pro bono for the Hungs, told a news conference at the legislature.

Koo added that it does not make sense, since, according to the Constitution, military judges do not enjoy the same degree of protection as civilian judges.

Lee Hsuan-yi (李宣毅), another lawyer for the family, said the military tribunal was irresponsible since it failed to transfer all documents about the case to the Taoyuan District Court as directed under the revised law.

"Now they are seeking constitutional interpretation, hoping to get their power back," Lee said.

Hung Tzu-yung (洪慈庸), sister of Hung Chung-chiu, agreed.

"If the military tribunal had been more active, the case could have proceeded more smoothly, and fewer social resources would have been wasted," she said.

"I hope the military tribunal can be open and honest, and assist the civilian court, so that the review can move more efficiently and the verdict can be handed down faster," she added.

Hung's mother and uncle, Hu Su-chen (胡素真) and Hu Shih-ho (胡適和), both agreed, calling on the military tribunal to help the civilian court, adding that the family would not accept its attempt to restore its power.

A spokesman for Citizen 1985 surnamed Wang (王) warned that the military tribunal's latest move would only trigger more anger from the public.