Self-censorship spreading: writer

SCARED OF BEIJING: Former Peking University law professor Yuan Hongbing said some stores were afraid to sell his book about the death of the 10th Panchen Lama

By Lee Yu-hsin and Stacy Hsu / Staff reporter, with staff writer
---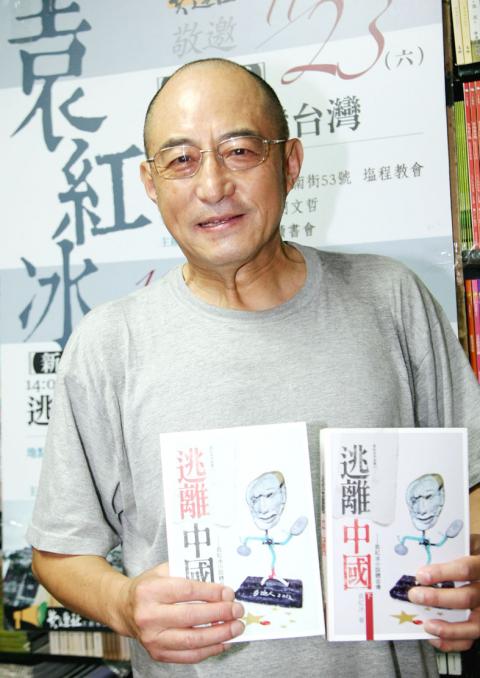 Chinese author Yuan Hongbing poses at the launch of his latest book, Fleeing China, in Taipei yesterday.
Photo: CNA
---
Exiled Chinese writer Yuan Hongbing (袁紅冰) yesterday said that some people in Taiwan's publishing industry are exercising "self-censorship" by being reluctant to put his latest work, Fleeing China (逃離中國), on the shelves after another of his books was shunned by some local bookstores.

The situation proves that President Ma Ying-jeou's (馬英九) China-leaning stance has encouraged bookstore proprietors to join him in his attempt to pander to China, Yuan said in Taipei at a presentation for his latest book.

"If these bookstore owners are willing to exercise 'self-censorship' before the cross-strait service trade agreement is even ratified by the legislature, I will not be surprised if they ban all my books from their shelves once the treaty takes effect," Yuan said.

Bookshops in Taiwan Taoyuan International Airport, Taipei International Airport (Songshan) and the Eslite bookstore on the ground floor of the National Theater had returned all copies of his Death of a Buddha — The Truth behind the Death of the 10th Panchen Lama (殺佛 – 十世班禪大師蒙難真相), to its publisher, citing the book's "highly sensitive content," he said.

The Eslite bookstore chain "did not dare" sell the book because of its plans to expand in Shanghai, China, Yuan said.

"Taiwanese businessmen have been enjoying all the freedoms the nation has to offer, yet they have never fulfilled their obligations and responsibilities to this society. That is just pathetic," Yuan said.

In Death of a Buddha, Yuan alleges that the death of the 10th Panchen Lam, Choekyi Gyaltsen, in 1989 was a politically motivated murder ordered by the Chinese authorities, rather than a heart attack as the Chinese Communist Party (CCP) has claimed.

Yuan said he is "very proud" that all of his books were banned by the Chinese government because it shows that "what he said is true and is something the CCP does not want to hear."

Yuan published the two-volume Fleeing China earlier this month. It details his own experience with the CCP's political persecution of dissidents and the sufferings of dissidents.

Citing the 1989 Tiananmen Square massacre as an example, Yuan, who was a law professor at Peking University at the time, said the disturbing sounds and images of protestors being run over by tanks of the People's Liberation Army still haunts.

"Such a despotic regime deserves the contempt of the entire world," Yuan said.

As a nation that takes pride in its freedoms and democratic achievements, Taiwan should not impose "self-censorship" or let itself become a "special administrative region" under China's tyrannical rule, he said.

"Doing so would be a serious setback and backsliding of Taiwanese democracy and that just is not worth it," Yuan said.