Restaurant's billboard criticizes Ma

By Huang Hsu-lei and Jason Pan / Staff reporter, with staff writer
---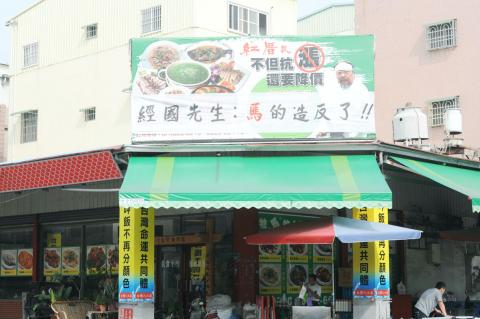 A banner reading "Mr. Ching-kuo: Ma is rebelling" is seen on the sign above a restaurant in Greater Kaohsiung on Tuesday last week.
Photo: Chang Chung-yi, Taipei Times
---
The owner of a Greater Kaohsiung restaurant famous for his stance against Chinese tourists has shifted focus of his anger to President Ma Ying-jeou (馬英九).

Liu Ming-sung (劉明松) made headlines for posting a billboard over the entrance to his restaurant near Sanmin Park that reads: "We do not welcome Chinese people."

He said it reflected his opposition to China's political suppression and bullying of Taiwan.

He recently added a banner that reads: "Mr. Ching-kuo: Ma is rebelling" (經國先生: 馬的造反了).

The message refers for former president Chiang Ching-kuo (蔣經國) and insinuates that Ma has rebelled against and betrayed the Constitution and the nation's principles.

"In recent years, I have found that a significant number of Chinese visitors are supportive of Taiwan. On the other hand, it is inside Taiwan that many of our own people are subservient, pandering to China's demands. There are countless numbers of these people selling out Taiwan to China," Liu said.

"Will Taiwan be ruled by China? This will depend on if Taiwanese can share a strong sense of common fate and national identity," he said. "I want to encourage everyone in our society, regardless of their political color or affiliation, to unite to resist the communist 'Red Tide.'"

He said Ma is selling out Taiwan, even though Ma used to call himself a faithful follower of Chiang.

"Ma is betraying Chiang's legacy, and acting in contrary to Chiang's principles," Liu said.

"Despite Ma facing the lowestever approval rating at 9 percent, he still feels no shame," Liu said.

"There are citizens in China who admire Taiwan, so we must not lose our self-belief," he added.