Controversial Yangmingshan mansion demolished

By Stacy Hsu / Staff writer, with CNA
---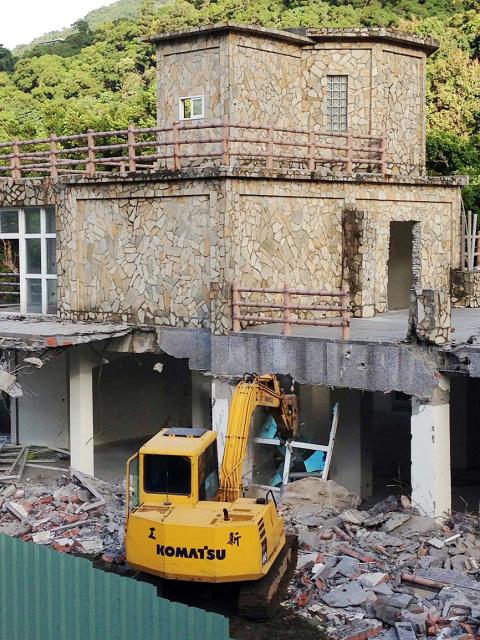 The Yangmingshan National Park Management Office uses a bulldozer to demolish Liu Cheng-chih's house on Yangmingshan in Taipei yesterday. Liu will have to pay for the demolition.
Photo: Chien Li-chung, Taipei Times
---
The Yangmingshan National Park Administration yesterday sent excavators to tear down the illegally built mansion of Miaoli County Commissioner Liu Cheng-hung's (劉政鴻) brother, Liu Cheng-chih (劉政池), after the latter failed to make good on his promise to demolish the site himself by Sunday.

The mansion, which allegedly occupied about 5,940m2 of public land above ground and more than 600m2 underground, was originally scheduled for demolition on Dec. 13 in accordance with the National Park Act (國家公園法), the Building Act (建築法) and the Managements of Illegal Constructions (違章建築處理辦法).

The plan was put off after Liu Cheng-chih signed an affidavit on the same day pledging to vacate and tear down the property himself by midnight on Sunday.

However, as the property still remained intact after the midnight deadline, the administration decided to forcibly bulldoze the house at about 5am yesterday.

Administration deputy director Chan Te-shu (詹德樞) said when demolition crews arrived at the site, they found the mansion's wooden gate had been replaced with an iron one, and an excavator and a Mercedes-Benz were parked in front of the gate, allegedly meant to block demolition crews from entering.

The administration is to charge Liu Cheng-chih an estimated NT$230,000 (US$78,000) for the demolition.

Meanwhile, the Taipei High Administrative Court yesterday also ruled against Liu Cheng-chih's provisional injunction seeking to postpone the demolition order, which was filed only one day after he signed the affidavit.

Liu Cheng-chih has been charged with illegally seizing and using national property, and was released on NT$3 million bail on Nov. 15 after the Shihlin District Court rejected prosecutors' application to have him detained.