Alliance demands that Control Yuan head be impeached

CLEAR CASE: An alliance member said that Wang Chien-shien had damaged the public's trust in the Control Yuan by publicly displaying favoritism

By Chen Chin-ming and Jason Pan / Staff reporter, with staff writer
---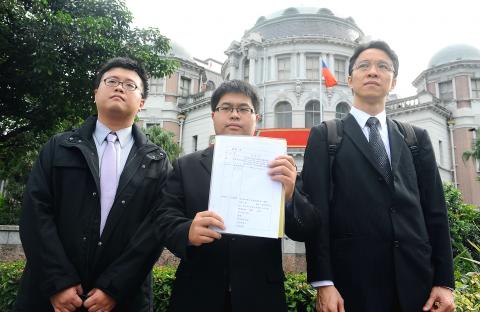 Alliance to Abolish the Control Yuan founder Lee Yen-fu, left, lawyer Huang Di-ying, center, and Judicial Reform Foundation director Kao Chih-jung yesterday prepare to deliver litigation papers to the Control Yuan, accusing Control Yuan President Wang Chien-shien of violating the Control Yuan Act.
Photo: Chang Chia-ming, Taipei Times
---
An alliance of organizations has launched an impeachment case against Control Yuan President Wang Chien-shien (王建煊), accusing Wang of interference in and his public display of favoritism in the on going investigation into Prosecutor-General Huang Shih-ming (黃世銘).

Representatives of several organizations headed to the Control Yuan in Taipei yesterday to submit a petition with a list of charges and demand that Wang and Huang be impeached.

The alliance includes lawyer Huang Di-ying (黃帝穎); Lee Yen-fu (李彥賦), spokesperson for Civil Promotion for Control Yuan Abolition Alliance (民間廢除監察院聯盟); and Kao Jung-chih, director of the Judicial Reform Foundation (民間司法改革基金會).

"Article 12 of the Control Act (監察法) states that the president of the Control Yuan may in no instance attempt to influence or interfere with impeachment proceedings," Huang Di-ying said.

He said that Wang had repeatedly spoken publicly in support of Huang Shih-ming, endorsed him on Facebook, and also sent flowers and greeting cards to the prosecutor-general, openly implying that he had done nothing illegal.

"This is clear interference in Huang Shih-ming's case, which the Control Yuan is currently investigating. The violations by Wang are clear and therefore he should be impeached," Huang Di-ying added.

The Control Yuan, the government watchdog, has been conducting an investigation into allegations that the prosecutor-general leaked confidential information about a criminal case to President Ma Ying-jeou (馬英九) and was involved in illegally wiretapping the Legislative Yuan.

Kao said his organization had visited the Control Yuan on Dec. 4 to request that Wang stay neutral and curb his public support for Huang Shih-ming, as his actions were damaging the credibility and public trust of the Control Yuan.

"If Wang cannot do so, then he should resign from his position," Kao said.

Lee said that his organization in August filed a petition urging Wang's dismissal for interference in the impeachment case of Keelung Mayor Chang Tung-jung (張通榮).

"Now, three months later, Wang is at it again, trying to influence another case. This is the result of the Control Yuan acquiescing to its president's interference," Lee said.