DPP plans protest during visit by ARATS chairman
 
STREET SLEEPERS: Dozens of protesters that attended Saturday's rally spent the night on Ketagalan Boulevard, planning to continue a sit-in protest until 10pm last night
 
By Rich Chang
STAFF REPORTER
Monday, Oct 27, 2008, Page 1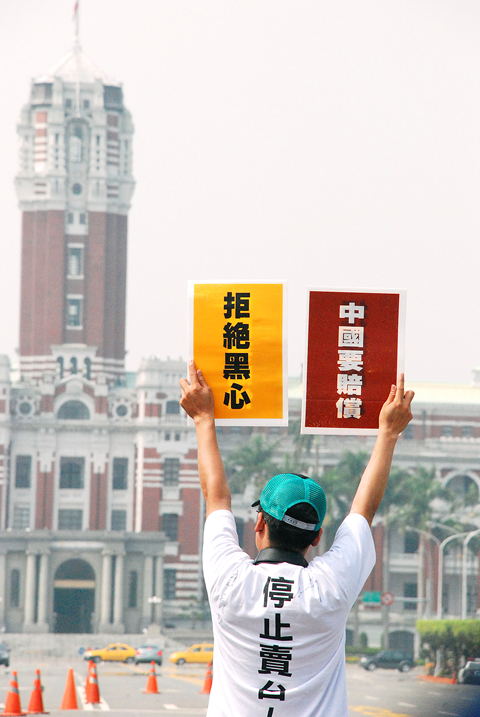 A protester wearing a T-shirt that says ''Stop selling out Taiwan!'' holds up signs that read ''Refuse tainted products'' and ''China should pay compensation'' on Ketagalan Boulevard in front of the Presidential Office Building in Taipei yesterday.

PHOTO: CNA
The Democratic Progressive Party (DPP) said yesterday it had proposed holding rallies on Nov. 3 and Nov. 4 in Taipei City to protest against the upcoming visit of Chen Yunlin (陳雲林), chairman of China's Association for Relations Across the Taiwan Strait.

Chen is scheduled to arrive in Taipei next Monday for a second round of cross-strait talks.

The proposed rallies would come hot on the heels of a demonstration on Saturday against Chen's visit, a perceived lack of government action concerning imports of melamine-tainted milk and the "incompetence" of the government.

The DPP, which co-hosted Saturday's rally with the Taiwan Solidarity Union and a number of pro-localization groups, said that more than 600,000 people attended the rally. The DPP said it was a success and that it would use "people power" to express its opposition to Chen's visit and the government's China-friendly policies.

"Saturday's rally was a great success as it clearly expressed the five main appeals: No hollowing out sovereignty, no incompetent governance, no 'one China' market, no tainted products and no acceptance of Chinese academic degrees," DPP caucus whip William Lai (賴清德) said.

The focus of the rally was not affected by former president Chen Shui-bian's (陳水扁) participation, he said.

The DPP has been put in an awkward position in its relationship with Chen Shui-bian, who was implicated in an alleged money-laundering case.

Some members have suggested the party distance itself from him to stress party integrity and reform, while others worry that doing so would draw ire from its core supporters, most of whom are Chen Shui-bian diehards.

Dozens of people who attended Saturday's demonstration spent the night on Ketagalan Boulevard — the site of the rally — and continued a sit-in protest yesterday, holding banners and chanting slogans.

Police watched the activity but did not make any attempts to force them to leave as the road permit obtained by the event-organizers allowed the crowd to stay until 10pm last night.

The DPP said the proposed rallies on next Monday and Tuesday would be held in front of Taipei Main Station, but that details were still being discussed.

DPP Chairwoman Tsai Ing-wen (蔡英文) said in a press statement yesterday that "the tremendous rally showed that Taiwanese identity still existed."

Presidential Office Spokesman Wang Yu-chi (王郁琦) said on Saturday evening that President Ma Ying-jeou (馬英九) would be very happy to talk about combating violence, fighting corruption and other economic issues with Tsai.

Tsai said Ma's response was an attempt to shift the focus away from people's resentment of his policies.

"I regret that Ma's first response was disappointing," Tsai said. "We have to continue to take to the streets."

The Chinese Nationalist Party (KMT) caucus said yesterday that the DPP failed to show its opposition to "violence" and "corruption" during Saturday's rally.

KMT caucus deputy secretary-general Lo Shu-lei (羅淑蕾) told a press conference that cheering for Chen Shui-bian during the event showed that he had won a "victory" over the public's "anti-corruption" movement.
---
Hong Kong tests find melamine in eggs from China

AP AND AFP, HONG KONG AND BEIJING
Monday, Oct 27, 2008, Page 1

The discovery of excessive levels of the industrial chemical melamine in Chinese eggs has prompted the Hong Kong authorities to expand health tests to include meat products imported from China, a senior official said yesterday.

The move follows the announcement late on Saturday that Hong Kong testers had found 4.7 parts per million (ppm) of melamine in imported eggs produced by a division of China's Dalian Hanwei Enterprise Group.

The legal limit for melamine in foodstuffs in Hong Kong is 2.5ppm.

Hong Kong Secretary for Food and Health York Chow (周一嶽) said the melamine may have come from feed given to the chickens that laid the eggs.

The egg results have prompted officials to expand food testing to meat imports from China, Chow told reporters yesterday.

Chow said Hong Kong officials would step up checks of eggs imported from China.

Calls to Dalian Hanwei Enterprise Group, based in the northeastern port city Dalian, went unanswered yesterday.

In an earlier egg-related food safety scare in Hong Kong and China the banned cancer-causing industrial dye, Sudan Red, was used to color egg yolks.

ONE IN FOUR

In related news, nearly one quarter of Beijing families have fed their children milk contaminated with the industrial chemical melamine, state press reported yesterday.

In an indication of the scale of the tainted milk scandal that has rocked the country, more than 74,000 of nearly 308,000 households questioned in the capital said their children were fed the products before they were taken off the shelves, the Beijing News reported.

So far at least four infants have died in China, and 53,000 sickened across the country, from drinking milk tainted with melamine.

Normally used in making plastics and glue, melamine was added to baby milk formula and other dairy products to make them appear richer in protein.

The paper did not say how many — if any — of the fatalities occurred in Beijing.

The scandal broke early last month and has badly tarnished the image of Chinese dairy products, with countries around the world banning or curtailing Chinese imports.

DELAYS

Although at least one Chinese dairy firm knew of the problem for months, it did not immediately report it to local government officials.

They in turn delayed passing on the news for nearly a month until after the Olympics in August.

Beijing News said hospitals in the capital have reported that 3,458 infants have been hospitalized with kidney stones, the main symptom of ingesting the melamine.

More than 211,000 children have had urinary tract examinations at Beijing hospitals and medical clinics since the scandal broke, it said.

China is currently considering a draft food safety law that aims to prevent any cover-ups by health authorities while making them directly responsible for approving additives in processed foods, Xinhua news agency reported.
---
Hunger strike continues at the Legislative Yuan
 
By Flora Wang
STAFF REPORTER
Monday, Oct 27, 2008, Page 3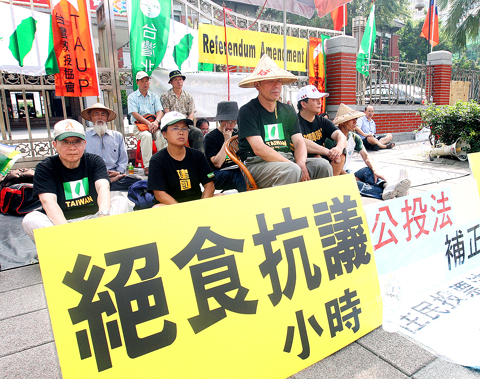 Taiwan Association of University Professors chairman Tsai Ting-kuei, third front, and members of the association stage a hunger strike to call for an amendment to the Referendum Law in front of the legislature in Taipei yesterday.

PHOTO: CNA
Several pro-localization activists led by the Taiwan Association of University Professors (TAUP) continued their hunger strike in front of the legislature yesterday.

Wearing black T-shirts with the slogans "Taiwan is my country" and "Love Made in Taiwan," the protesters are demanding an amendment to the Referendum Law (公投法).

The law, enacted by the Chinese Nationalist Party-dominated (KMT) legislature in 2003, stipulates that the number of signatures required for a referendum proposal to be reviewed is 0.5 percent of the voters who participated in the most recent presidential election — or approximately 80,000 individuals — with an additional 5 percent signatures from the population needed for a referendum to be held.

The law has long been criticized by the Democratic Progressive Party (DPP) as a "bird cage" law. The DPP has made several attempts to have the law amended over the past several years, but its proposals never clear the legislative floor.

The protesters began the hunger strike after participating in the opposition rally on Ketagalan Boulevard on Saturday. They have remained in front of the legislature since, with posters written in Chinese, Japanese and English demanding an amendment to the Referendum Law.

"I'm protesting against the Legislative Yuan by staging a hunger strike," TAUP chairman Tsai Ting-kuei (蔡丁貴) said. "I will stay here until the law is amended."

Tsai called for changes to the high thresholds stipulated in the law for a referendum to be passed.

A participant at the hunger strike surnamed Chueh (闕) said that everyone in Taiwan should stand up and oppose the KMT administration's pro-China policy, saying it was "a matter of life and death."
 
---
NCC hands over Wang recordings to prosecutors
 
By Shelley Shan
STAFF REPORTER
Monday, Oct 27, 2008, Page 3

The National Communications Commission (NCC) said yesterday it had handed over to Tainan District Prosecutors Office the recorded radio broadcasts of Tainan City Councilman Wang Ting-yu (王定宇), who is under investigation for allegations he instigated the "assault" against Association for Relations Across the Taiwan Strait (ARATS) Vice Chairman Zhang Mingqing (張銘清) last Tuesday.

Zhang was besieged by Wang and a group of pro-independence supporters during a private visit to the Confucius Temple in Tainan City.

Zhang fell to the ground during the commotion.

Wang, of the Democratic Progressive Party, said that Zhang fell after tripping on a tree root. The Prosecutors Office in Tainan launched an investigation after Zhang filed assault charges with Tainan police over the incident.

Wang has refused to apologize to Zhang.

"If there's anyone who thinks my conduct has harmed the party's image, I am willing to apologize if [DPP] chairwoman [Tsai Ing-wen (蔡英文)] asks me to," Wang said in Taipei on Thursday. "However, I will never apologize to Zhang."

Wang is alleged to have asked people interested in protesting during Zhang's visit to meet at the Confucius Temple through an announcement in his program on a local radio station in Tainan.

Jason Ho (何吉森), director of the NCC's communications content department, said the commission handed over the material requested by prosecutors, including recorded radio broadcasts and transcripts.

"The prosecutors will determine if Wang's statements encouraged the 'attack,'" he said.

Meanwhile, Ho said the commission's legal department could also launch an investigation, as Wang might have broken the Broadcast and Television Law (廣播電視法) by using radio or TV to encourage others to commit crimes.
---
Dalai Lama abandoning hope for talks with China
 
UP TO THE PEOPLE: The Tibetan spiritual leader said he would call a special meeting of Tibetan exiles early next month to discuss the future of their movement

AGENCIES, DHARAMSALA, INDIA AND NEW DELHI
Monday, Oct 27, 2008, Page 4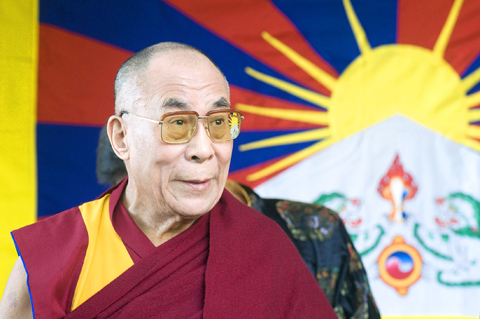 The Dalai Lama speaks to the students at the Tibetan Children's Village School in Dharamsala, India, at the 48th founding anniversary of the school on Saturday.

PHOTO: AP

The Dalai Lama said on Saturday he has given up on efforts to convince Beijing to allow greater autonomy for Tibet under Chinese rule, a remark that was reinforced yesterday by a senior aide, Tenzin Taklha.

The Tibetan spiritual leader said he would ask the Tibetan people to decide on how to take the dialogue forward.

China has repeatedly accused the Dalai Lama of leading a campaign to split Tibet from the rest of the country. The Dalai Lama has denied the allegations, saying he is only seeking greater autonomy for the Himalayan region to protect its unique Buddhist culture — a policy he calls the "middle way."

"I have been sincerely pursuing the middle way approach in dealing with China for a long time now but there hasn't been any positive response from the Chinese side," he said in Tibetan at a public function on Saturday in Dharamsala, the north Indian town that is home to the Tibetan government-in-exile.

"As far as I'm concerned I have given up," he said in an unusually blunt statement.

"The issue of Tibet is not the issue of the Dalai Lama alone. It is the issue of 6 million Tibetans. I have asked the Tibetan government-in-exile, as a true democracy in exile, to decide in consultation with the Tibetan people the future course of action," he said.

The Tibetan spiritual leader has called for a special meeting of Tibetan exiles in the second week of next month to discuss the future of the Tibetan movement.

"Because of lack of response from Chinese we have to be realistic, there is no hope," Talkha said.

"His holiness does not want to become a hindrance to the Tibetan issue, and therefore has sent a letter to the parliament regarding what options he has," the aide said.

However, the Dalai Lama is not going into retirement, Taklha also said.

Karma Cheophel, speaker for the Tibetan government-in-exile, earlier said the Dalai Lama had "hinted he is now on full retirement," sparking some rumors in the Indian media.

The Dalai Lama's candor is seen as a vindication for the many exiled Tibetans who say his conciliatory "middle way" approach to seeking greater autonomy has not worked.

"I think the statement by his Holiness is an eye opener for the Tibetan people," said Tsewang Rigzin, the president of the Tibetan Youth Congress.

"We are not against the middle way approach of his Holiness, the fact is that China is not sincere and has never been sincere in talking about the middle way," he said.

The Dalai Lama's address on Saturday was his first public speech since undergoing gallstone surgery.

Taklha said he hoped the eighth round of talks between Tibetan envoys and Chinese officials will be held by the end of this month.

Those talks are still on track, said Chhime Chhoekyapa, another spokesman for the Dalai Lama.

The two sides have met to try to ease tension in Tibet since violent riots broke out there in March. Most Tibetans have supported the Dalai Lama's push for autonomy for the region. However, many Tibetans, especially younger generations, see the talks as a Chinese ploy.
---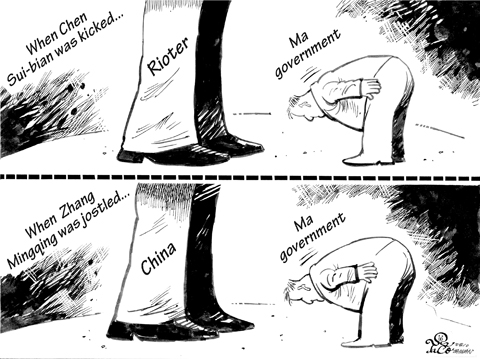 ---
Listen when the people speak

Monday, Oct 27, 2008, Page 8

It was a mistake for President Ma Ying-jeou (馬英九) to avoid the anti-government rally in Taipei on Saturday by leaving the city. It is reasonable for the public to express their anxiety and dissatisfaction with an administration's policies through a demonstration, and those in power have no justification for turning a deaf ear.

Toxic milk powder from China has caused public apprehension over food safety. Quality and safety problems with Chinese food products are nothing new, but the government's reaction has been disappointing. The rally protesting tainted Chinese products reflected the majority of public opinion.

Another cause of anxiety has been the Ma administration's failure to safeguard Taiwan's sovereignty. A recent public opinion poll found that 28 percent of respondents thought cross-strait exchanges have increased drastically, 38.6 percent thought the government's policies have harmed Taiwan's sovereignty and 47 percent of those who said they were politically neutral thought Taiwan's sovereignty had been compromised — the highest percentage ever.

Ma's main policy goal has been cross-strait reconciliation, and yet the public thinks Taiwan has lost more than it has gained. The economic benefits of opening up Taiwan to Chinese tourists have not met expectations, the Chinese market has not created major business opportunities and Taiwanese exports to China have decreased. There has been a huge discrepancy between the public's expectations and Ma's efforts to protect national sovereignty and seek international space. Many people think Ma is naive and weak, that his policies lean too far toward China and that he lacks courage and tactics to deal effectively with Beijing's leaders. They do not believe he will safeguard Taiwan.

The government has failed to respond to public worries in timely fashion, or to conduct effective dialog with the Democratic Progressive Party and its allies. The governing and opposition parties have been drifting further apart, to the extent that many people have the impression that Ma and his government care more about what China thinks than they do about the worries of ordinary Taiwanese.

Many people have decided to take matters into their own hands, come out onto the streets and make their voices heard. They hope to counter what they see as Ma's mistaken policies. The fact that hundreds of thousands of people attended Saturday's demonstration proves that there is significant public backing for the opposition's demands. Further protests are expected when Association for Relations Across the Taiwan Strait Chairman Chen Yunlin (陳雲林) visits.

Of course there is always an adversarial relationship between governing and opposition parties, but public opinion cannot be dismissed as nothing more than allegiance to unification or independence ideologies. Above all, when the government finds itself in a weak position in negotiations with China, such protests can provide it with powerful moral and strategic backing.

Those in power must take into consideration the interests of the nation and people as a whole. They need to see beyond the surface turmoil of political strife and observe public opinion trends at the grassroots.

When masses of people come out to express their worries about the government's cross-strait policy, Ma and his officials should be listening with attention and humility. They should strengthen dialog with those holding different opinions and they should make the necessary adjustments to their policies. Without first establishing consensus and mutual trust within Taiwan, Taiwanese negotiators will have no cards in their hands when dealing with China.

Ma should keep in mind at all times that, since it was the people who entrusted him with the reins of government, he is obliged to take responsibility for the people as a whole.