Chen transferred to Banciao hospital
 
BETTER RESULTS: DPP caucus whip Ker Chien-ming said that the former president had a record of stomach ulcers, and that his incarceration was a part of a political agenda
 
By Ko Shu-ling
STAFF REPORTER
Tuesday, Nov 18, 2008, Page 1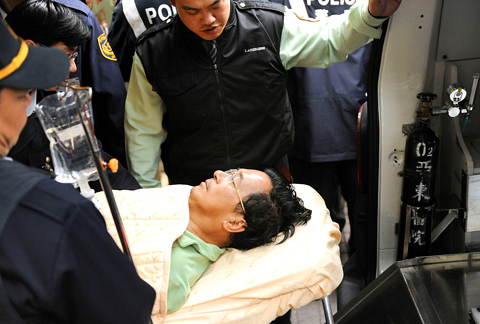 Former president Chen Shui-bian is transferred to the Banciao branch of Taipei County Hospital accompanied by police yesterday morning after he refused to eat for the sixth day since his detention began on Wednesday.

PHOTO: CNA
Former president Chen Shui-bian (陳水扁) was yesterday transferred to the Taipei County Hospital in Banciao (板橋) for security reasons after he refused to eat for a sixth day after being detained last Wednesday.

Chiayi County Commissioner Chen Ming-wen (陳明文), who is also on hunger strike over his detention on corruption allegations, was taken to Chiayi Veterans Hospital at 7:30pm last night for reasons prosecutors were unwilling to reveal. It was reported that Chen Ming-wen refused intravenous injection of nutrition.

Hospital authorities said that the former president could be discharged within two or three days if no further complications develop.

The former president, who is suspected of money laundering, receiving bribes, forgery and embezzling NT$15 million (US$450,000) during his two terms in office, is being held incommunicado without charge. He has accused the Chinese Nationalist Party (KMT) administration of "political persecution" and of waging a "political vendetta" against him to curry favor with China.

Chen Shui-bian was taken to Far Eastern Memorial Hospital in Banciao on Sunday after complaining about discomfort in his chest and soreness. His electrocardiogram was abnormal. After receiving an intravenous injection and having a good night's rest, doctors said the former president remained in stable condition yesterday.

But the former president was then transferred to the Taipei County Hospital in Banciao at around 8:20am yesterday morning because of a need for further observation and security.

When Chen Shui-bian arrived at the hospital, he showed signs of dehydration, including wrinkly skin, difficulty breathing, dryness in the mouth and throat, and soreness in his entire body, said Edward Tsai (蔡光超), emergency room director of the Far Eastern Memorial Hospital.

The hospital had intravenously infused the former president with saline and glucose to stabilize his condition.

Tsai said Chen Shui-bian's test results yesterday came out better than the previous day. After having intravenous injections, Tsai said Chen Shui-bian's blood pressure, heartbeat and blood sugar returned to normal. To avoid disturbing other patients and for the purposes of security, Tsai said it was better to move Chen Shui-bian to the Taipei County Hospital because it was easier to deploy security personnel there.

Yang Chang-bin (楊長彬), county hospital deputy director, said that his hospital has long cooperated with the Taipei Detention Center and there were three rooms suitable for the treatment of suspects.

The hospital has formed a team of six doctors to look after Chen Shui-bian and they would try to make the former president eat, Yang said. They had no plan to force-feed him at the time, he said.

Chen Shui-bian's lawyer Cheng Wen-long (鄭文龍) said that Chen Shui-bian was determined to continue the fast because he was upset about the rumor spread by prosecutors that the former president admitted to them that his wife, Wu Shu-jen (吳淑珍), had accepted NT$500 million (US$15 million) in bribes in a land acquisition deal.

While doctors have warned of the risk of kidney failure should Chen Shui-bian continue to refuse food, Tsai said his patient appeared determined to continue.

Cheng said that despite the former president's reluctance, he would file an appeal against the detention because Chen Shui-bian would not collude with other defendants in the case.

Cheng told reporters after visiting the former president that he also intended to seek a constitutional interpretation from the Council of Grand Justices on the scaling back of Chen Shui-bian's security personnel.

Several Democratic Progressive Party (DPP) legislators yesterday tried to visit Chen Shui-bian at the heavily guarded hospital but to no avail.

DPP caucus whip Ker Chien-ming (柯建銘) said that the purpose of their visit was to ask the hospital to take good care of the former president. Ker said Chen Shui-bian had a record of stomach ulcers and other illnesses, adding that it would be a good idea to obtain his medical records from National Taiwan University.

Ker said the former president's incarceration was unnecessary and that it was a form of political persecution aimed at humiliating the former president.

Such persecution must stop, he said, adding that his party would make an effort to amend related laws to fix the problem.

DPP Legislator Chai Trong-rong (蔡同榮) criticized the judiciary for selectively enforcing the law and only pursuing DPP politicians. It was unfair and nobody would believe that all Chinese Nationalist Party (KMT) politicians were guiltless, he said.

Presidential Office Spokesman Wang Yu-chi (王郁琦) yesterday expressed concern over Chen Shui-bian's situation and hoped that he would take better care of himself.

As the legal proceedings will take time, Wang said he believed the judiciary would deliver a fair and just verdict.

Chinese Nationalist Party (KMT) Legislator Wu Yu-sheng (吳育昇) criticized the former president as wasting the public resources.

FAKING IT?

Wu questioned the authenticity of the former president's health problems and said that the government should consider dispatching a special medical team to the detention center to take care of the health of all of the detainees involved in alleged corruption cases.

"Staging a hunger strike is never the right action for the former president to take in response to the judiciary's [investigation into his money-laundering allegations]. He should have set a good example for his fellow DPP members who are under investigation for alleged corruption," KMT Legislator Chang Hsien-yao (張顯耀) said.

SUPPORT

Meanwhile, Tainan County Councilor Chen Chao-lai (陳朝來) said yesterday that he would lead more than 400 Tainan County residents to Taipei today to call for the release of Chen Shui-bian.

Ten busloads full of supporters from the president's home county will travel north to gather outside Taipei County Hospital, he said.

Chen Chao-lai said that he originally planned to hold the rally at the Tucheng Detention Center where the president was detained, but decided to shift it to Taipei County Hospital after Chen Shui-bian was sent there for treatment.

The county councilor said that he decided to organize the rally "against judicial violation of human rights and for the release of the ex-president" after countless county residents visited his service center to voice their displeasure over the detention.

The residents said they did not believe the former president is guilty of corruption and feel that his detention is extremely unfair, Chen Chao-lai said.

APPEAL

After the rally outside Taipei County Hospital, the Tainan residents will head to the Ministry of Justice to appeal to Minister Wang Ching-feng (王清峰) for the former president's release, the councilor said.

On their way back to Tainan, they will stop to call for the release of Chiayi County Commissioner Chen Ming-wen who was recently remanded in custody with no visitation rights on suspicion of corruption.

Also yesterday, Chiayi's chief prosecutor urged Chen Ming-wen yesterday to maintain his health as the county chief's hunger strike entered its seventh day.

Horng Guang-sheng, chief prosecutor of the Chiayi District Prosecutors Office, appealed to Chen Ming-wen "to take care of himself" so that he will be able to defend himself to the best of his ability against the charges he is facing.

Chen Ming-wen has remained in custody with no visitation rights since Oct. 28 after being arrested on suspicion of leaking insider information in the bidding process for a sewer project in the southern county's Minhsiung Township (民雄).
---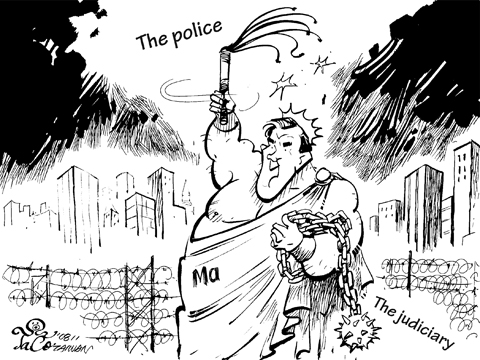 ---
A crash course on image control

Tuesday, Nov 18, 2008, Page 8

For a government accused by opposition and rights advocates of reverting to an authoritarian past, the administration of President Ma Ying-jeou (馬英九) has been surprisingly inept at image control, a situation all the more strange given the Chinese Nationalist Party's (KMT) strong ties with the media.

Starting with the barbed wire and barricades that preceded the arrival in Taiwan of Chinese envoy Chen Yunlin (陳雲林), then continuing with police clashes with demonstrators protesting against the visit, critics of the KMT government were given plenty of ammunition to advance claims that the Ma administration is whittling away at democratic principles and what exists of due process.

Other faux pas — such as Ma walking away from Democratic Progressive Party (DPP) deputy caucus whip Chiu Yi-ying (邱議瑩) as she lay on the ground, and KMT legislators crowing over the detention of former president Chen Shui-bian (陳水扁) without charge last Tuesday — also blemished the government's image and raised questions about its ability to maintain a facade of respectability.

What could have been passed off as carelessness shifted to incompetence on the night of Chen Shui-bian's arrest, with prosecutors gratuitously handcuffing the former president and failing to foresee that the media-savvy Chen would turn the occasion into a classic camera moment. Minutes later, images of a handcuffed former president shouting injustice and political persecution were circulated around the world, threatening to downgrade Taiwan's image to that of a banana republic.

Many people overseas were oblivious to the mass demonstrations and clashes that accompanied Chen Yunlin's visit, but few have not seen the final pictures of the former president before he was taken away. The impact of that image — and the worrying questions it raises about the KMT administration — cannot be underestimated.

If the KMT's detractors are justified in fearing a slide toward authoritarianism, image is the next thing the party must work on. And there are signs that the authorities are becoming more sensitive to the ability of reporters and photographers to access all areas.

After several days on a presumed hunger strike, the former president was taken from his detention center in Taipei County to hospital for a checkup. Once again, the media rushed to broadcast images of an emaciated and perhaps ailing former leader, which — added to other images of hunger-striking DPP leaders — would have infuriated DPP supporters and fueled tensions.

The wait was anti-climactic. The former president was barely visible. As a precaution, and against the longstanding practice of parading patients before the media both outside and inside hospital grounds, the ambulance backed into the building, from where Chen was unloaded, depriving the throng of crucial images and leaving it with bland pictures of ambulances, police cars and people milling around.

It is extremely unlikely that this transpired out of respect for the former president's privacy or his rights as a likely defendant.

Media outlets have benefited from callous disregard for the dignity of ordinary people and the rights of defendants for many years. The irony is that Chen Shui-bian's protest has offered the authorities an object lesson in image management that may well result in more regulation — and not necessarily for the better. With the National Communications Commission shutting down unlicensed radio stations rather than engaging the issue of how the media compromise the rights of people in its stories, it can be assumed that changes will take place with politics strictly in mind.