Chen supporters demand his release
 
IMPROVING: Doctors treating the former president said he was in stable condition, but still too weak to be released. Chen Shui-bian has continued to refuse to eat
 
By Ko Shu-ling
STAFF REPORTER
Wednesday, Nov 19, 2008, Page 3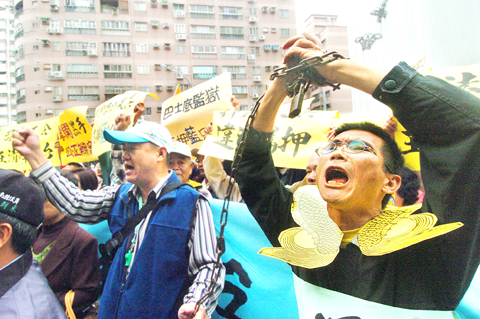 Supporters of former president Chen Shui-bian protest against his detention on corruption charges in Banciao, Taipei County, yesterday.

PHOTO: FANG PIN-CHAO, TAIPEI TIMES
More than 150 supporters gathered outside the Taipei County Hospital in Banciao to demand the release of former president Chen Shui-bian (陳水扁), who was in stable condition yesterday but still refusing to eat for the seventh day since being detained last Wednesday.

The hospital said it had no plans to force feed him and was evaluating when to send Chen back to the Taipei Detention Center in Tucheng (土城), Taipei County.

Chen is suspected of money laundering, taking bribes, forgery and embezzling NT$15 million (US$450,000) during his two terms in office. He has been held incommunicado without charge.

The former president has accused the Chinese Nationalist Party (KMT) administration of "political persecution" and of waging a "political vendetta" against him to curry favor with China.

Tainan County Councilor Chen Chao-lai (陳朝來) of the Democratic Progressive Party (DPP) announced on Monday that he would mobilize some 400 supporters from Chen Shui-bian's hometown in Tainan, but only 150 showed up yesterday.

The supporters held placards and chanted slogans, "A-bian, jiayou," referring to the former president by his nickname, and demanded his release. They were later dispersed by the police on the grounds that it was an illegal gathering.

Chen Shui-bian remained in stable condition yesterday after being intravenously fed at the hospital.

Yang Chang-bin (楊長彬), the hospital's deputy director, said that while Chen still refused to eat, his condition had improved.

The former president was conscious, his blood acidity has dropped and his X-ray scans were clear, Yang said.

Chen weighed 65.5kg with a heartbeat rate of 86 per minute, Yang said, adding however that Chen still suffered from minor bloating and that doctors found ketone reaction in Chen's urine.

Doctors will continue to treat him with nutritional supplements and other measures to prevent his health from deteriorating, Yang said.

Saying that Chen is still too weak to be released, Yang said the hospital would evaluate his condition and after consulting with the detention center, would decide how long Chen should remain hospitalized.

Asked when the Special Investigation Panel (SIP) will question Chen, SIP spokesman Chen Yun-nan (陳雲南) said the former president's health outweighed everything and they would not consider questioning him until he was fit to do so.

Later last night, DPP Chairperson Tsai Ing-wen (蔡英文) visited Chen Shui-bian at the hospital.

Meanwhile, Chen Shui-bian's brother, Chen Wen-shou (陳文狩), told reporters camped outside the family's house in Kuantian Township (官田) in Tainan County that his mother is over 80 years old and her health condition is unstable.

Her health has deteriorated since his brother was incarcerated, he said, adding that his mother made a trip to a hospital in Kaohsiung, where she is now under the care of his elder sister.

The former president's mother is suspected of allowing the former first family to use her name as a dummy account for money laundering. The SIP intended to question her on Monday, but she asked for a leave of absence because of poor health.

Chen Wen-shou said that his mother had not yet received further notice from the SIP, but she would answer the subpoena as soon as her health condition improved.

In other developments, Chiayi Count Commissioner Chen Ming-wen (陳明文) of the DPP, who was sent to hospital on Monday night for treatment after staging a hunger strike since Nov. 11, still refused to eat yesterday.

Chen Ming-wen, who allegedly divulged the reserve price of a tender for a sewage processing plant in the county, was detained and held incommunicado since Oct. 28.

Chiayi Chief Prosecutor Hung Kwang-hsuan said yesterday that his fellow prosecutors would consider the request made by Chen Ming-wen's wife, Liao Su-hui (廖素惠), and his lawyer Liu Jung-yi (劉炯意) to allow him to have visitors.

Liao said she would persuade her husband in person to give up the hunger strike if prosecutors allowed her husband to receive visitors.
---
Students plan 'strawberry tower'
 
NOT GIVING UP: With their numbers dwindling, the Liberty Square sit-in protesters' blog seemed to accuse their leaders of fueling emotional friction
 
By Flora Wang
STAFF REPORTER
Wednesday, Nov 19, 2008, Page 4
"We hope to highlight our efforts to breach an authoritarian space and our refusal to conform [to authoritarian rule]."— Lee Li-wei, spokesman for the Wild Strawberry Student Movement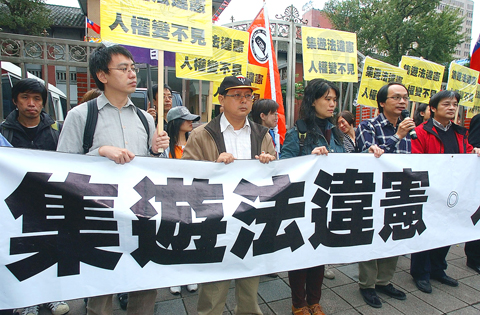 Members of the Taiwan Association for Human Rights and other civic groups assemble outside the Legislative Yuan in Taipei yesterday to call on lawmakers to pass amendments to the Assembly and Parade Law. The sit-in protesters at Liberty Square have issued the same demand.
 

PHOTO: CNA

The students staging sit-ins around the nation in protest at what they call the use of excessive force by police to disperse demonstrators during the recent visit by a Chinese envoy are planning to build an art installation at the Taiwan Democracy Memorial Hall in Taipei to symbolize their opposition to authoritarianism.

Lee Li-wei (李立偉), spokesman of the Wild Strawberry Student Movement staging the sit-in at the hall's Liberty Square, told the Taipei Times yesterday that the student demonstrators were planning to build a "strawberry tower," a bamboo art piece 6m to 7m in height, at the square.

"We hope to highlight our efforts to breach an authoritarian space and our refusal to conform" to authoritarian rule, he said.

The students began their sit-in in front of the Executive Yuan on Nov. 6. They reconvened their sit-in at Liberty Square after being evicted from the Executive Yuan by the police because they had not applied for a demonstration permit.

The students have called for the immediate amendment of the Assembly and Parade Law (集會遊行法) to rescind the requirement for event organizers to seek approval from law enforcement authorities before holding a rally. In addition, the students are demanding a public apology from President Ma Ying-jeou (馬英九) and Premier Liu Chao-shiuan (劉兆玄) over the police's handling of protests, as well as the replacement of National Security Bureau Director-­General Tsai Chao-ming (蔡朝明) and National Police Agency Director-­General Wang Cho-chun (王卓鈞).

A number of student groups have launched sit-ins nationwide in support of the students in Taipei.

Lee said the number of students participating in the Liberty Square sit-in had dropped sharply to a maximum of 40 to 50 students per day.

More than 500 students from around the nation protested at Liberty Square on Saturday.

Lee did not specify the reasons for the dwindling numbers, but an article posted on the students' Web blog, action1106.blogspot.com, said that "everyone was tired" and that "some of the student leaders influenced participants' spirits by bringing in their personal emotions" to the sit-in.

Lee said the protesters who remained at the square would not give up.

They hope to raise other people's awareness of the movement's agenda by distributing flyers on the street or holding conferences in colleges around the nation, Lee said.
---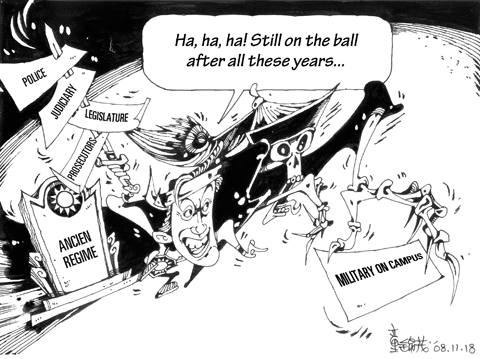 ---
Impartial probe of violence needed

Wednesday, Nov 19, 2008, Page 8

President Ma Ying-jeou's (馬英九) government recently denied that relations between China and Taiwan are state-to-state in nature. The Ma administration also showed China's Association for Relations Across the Taiwan Strait (ARATS) Chairman Chen Yunlin (陳雲林) the highest possible respect and treated him in a way usually reserved for heads of state of diplomatic allies. The treatment extended to Chen was not appropriate considering the actual relations between Taiwan and China, nor was it in proportion to Chen's status. This makes the political motives behind such treatment suspicious.

Especially in the upholding of security, the government resorted to inappropriate and excessive use of police force and infringed on people's right to freedom, in effect representing a new form of martial law. These developments posed an unprecedented threat to Taiwan's democracy and constitutionalism. In the past, the government imposed martial law in the name of quelling Communist rebellion, but now it accommodates the Chinese Communist Party (CCP) without any fear or feeling of urgent danger. According to article 141 of the Constitution of the Republic of China: "The foreign policy of the Republic of China shall, in a spirit of independence and initiative and on the basis of the principles of equality and reciprocity, cultivate good-­neighborliness with other nations, and respect treaties."

How can the government justify the reinstatement of authoritarian methods to meet the demands of China?

However, some people seemingly deliberately tried to create this semi-martial law situation in order to bring back a one-party dictatorship and eliminate the opposition, ganging up with the CCP to help them achieve "eventual unification." It is questionable whether the motives and methods used and the goals of these people were constitutional and legal.

First, the freedoms of expression and association are basic human rights enshrined in the Constitution. These rights are also protected by the Universal Declaration of Human Rights and international legislation.

In other words, as long as the safety and freedom of attendees are not put in danger, protests and gatherings against a foreign diplomat are in line with the Constitution, and they are legal, reasonable and legitimate according to Article 23 of the Constitution. One-sided executive orders or punishment should not be used to deprive attendees at such gatherings of these rights, and violence must not be used.

However, although the demands and methods of the attendees at the recent rallies were in line with the Constitution, 7,000 police officers were dispatched to maintain security, which is clearly far more than necessary. These officers also closed off all traffic, surrounded the protesting groups, unscrupulously used violence against demonstrators and even attacked legislators, city councilors, reporters and academics attending rallies. The methods were not commensurate with the objectives, and the government could be suspected of expanding and abusing its power.

Second, when the government is characterized by neutrality, government power is no longer a personal tool for a political party and the state apparatus is not used as a tool for dealing with political dissent.

The rights and freedoms enshrined in the Constitution do not require the approval of those with a different political opinion, nor can they assign those rights — this is the right to equality outlined in the Constitution.

If administrative organizations act in breach of administrative neutrality regulations by withholding benefits from certain people, these organizations should be held politically and legally responsible. Such incidents should be handled by the judiciary, monitored by the legislature or handed to the Control Yuan for impeachment proceedings. It is also illegal to infringe on or neglect to protect the equality of the right to freedom, and such actions should not be permitted in a democratic nation under the rule of law.

During the recent protests, marching supporters of the China Unification Promotion Party (中華統一促進黨) bearing China's national flag were permitted entry to the cordoned-off area on Zhongshan N Road. However, in the same area, those bearing Taiwan's national flag or other flags were stopped and prohibited from going any further. They had their flags confiscated and some were arrested and manhandled by the police. This is another example of a breach of the Constitution.

Third, I believe it is vital to ascertain responsibility for violence in any situation. In principle, violence in any form is illegal. Only peaceful and well-intended demonstrations and peaceful and well-intended means of maintaining security can be considered legal.

Several members of the police force on duty during the recent protests acted in an extremely hostile manner toward ­protesters and even those who were just there watching the protest. They also adopted excessive force in upholding security at the protest.

Further investigations are required to show whether they acted as they did because of inadequate police training or because they followed orders, or whether they had in fact acted appropriately to put an end to violence.

The police were well within their rights if they arrested ruffians who attacked them, but they violated the law if they used violence against peaceful protesters.

Photos clearly show that plainclothes policemen entered the crowds and attacked protesters, and that triad members and people with political opinions different from those of the protesters entered the crowd to attack the police. Such acts were deliberately aimed at creating a violent situation and having the protesters blamed for it. This created an opportunity for the police to suppress the protests and lent credence and legitimacy to their actions.

The intentions behind such acts are cruel and crafty and must be investigated, with due punishment meted out to those found guilty. For example, police resorted to force strong enough to have killed when they removed people from the scene of the protests, and a reporter from Formosa TV news sustained head injuries after police hit the reporter with a baton. Blatant violence of this nature violates the principle of proportionality and should be strongly condemned.

Huang Chi-yao is a visiting researcher at the Max Planck Institute and a consultant on international law.
---
Taiwanese should not fight among themselves

Wednesday, Nov 19, 2008, Page 8

At the beginning of this month, Chinese envoy Chen Yunlin (陳雲林) visited Taiwan in an attempt to further China's "united front" strategy. During his visit, Chen trampled Taiwan's sovereignty by not addressing President Ma Ying-jeou (馬英九) as president of the Republic of China (ROC) on Taiwan.

Ostensibly to avoid offending Chen, the government ordered that the national flag be kept out of his sight during the visit.

In terms of social sentiment, ethics and the law, the Taiwanese public were perfectly within their rights to protest in the name of protecting Taiwan's sovereignty. However, the Ma government chose to suppress the protesters, forcefully removing those who carried the national flag and those who yelled slogans like "Long live Taiwan!" and "Long live the ROC!" The police even used physical force, injuring a number of protesters.

The Ma administration changed the scheduled time for the meeting between Chen and Ma at the last minute to throw off protesters, while allowing the Chinese Communist Party's (CCP) flag to be flown on Zhongshan N Road. The public had had enough by the time they saw the government blurring the line between us and our enemy and the various ways in which the government helped the CCP.

It is therefore perfectly understandable that some people became over-excited during the protests.

The way in which those in power deal with such conflicts determines how the situation will turn out.

Unfortunately, the methods adopted by the Ma administration only served to worsen the situation and made contradictions even more apparent, with opposing sides becoming embroiled in increasingly heated conflicts. Were these events the result of incompetence in the Ma administration? Or was the government deliberately trying to instigate a bloody conflict to send a message to China along the lines of: "You need not worry, we are in control of the situation"?

Violent, bloody incidents are extremely regretful. However, the problem is that in the recent protests, it was Taiwanese who were spilling their blood while Chen and the Mainlanders who are now in control of Taiwan were chatting over a few drinks.

It is only natural for Taiwanese to dislike having to face fully armed police officers. However, these police officers were Taiwanese and were not clear as to why they had to squelch the protests just for the sake of a CCP official.

We should believe that most members of the police force do have a conscience, that they were only following orders and that perhaps in the heat of the moment they did not know what to do or how to react. We need to be patient.

Of course, the police force deployed at the protests included those willing to use force to gain promotion or other benefits, while others adhered to narrow-minded concepts of group consciousness.

However, I would like to tell these police officers that freedom and democracy are the ultimate goals of human and social development. Therefore, transitional justice is bound to be realized in Taiwan sooner or later and those who have caused suffering to Taiwanese will have their names recorded in history.

This is something Ma should worry about and this is why he came out and made a clear and definite statement that he had not ordered that Taiwan's national flag be taken down, and that he was against the use of excessive force by the police. By doing so, Ma has effectively made our police scapegoats to divert attention from him when these issues are investigated further.

Even the son of Chinese Nationalist Party (KMT) Chairman Wu Poh-hsiung (吳伯雄), KMT Legislator John Wu (吳志揚), said that Taiwan is a democratic nation and that we had no need to change our system to fit in with the CCP. This shows that Wu has a very clear understanding of the different values held by people on either side of the Taiwan Strait.

When we fight each other, all we are doing is hurting ourselves and playing into the hands of our enemy. Therefore I urge everyone, regardless of what happens in Taiwan, to refrain from fighting each other and to pay special attention to not helping the CCP, which is hell-bent on invading Taiwan, as well as their slaves here in Taiwan, in their fight against us. This is the only way we can preserve Taiwan's democratic system.

Not fighting with each other also has a broader meaning and implies that we must have tolerance. As Taiwanese, we should not get into dog-eat-dog struggles with each other, and this includes judicial persecution. What we need to do is to unite and face other countries as a consolidated nation.

Chen stated when he left Taiwan that he would never forget the four days he spent here. However, once he arrived in Beijing, he said that everyone in China was clear about who was in the wrong. Chen's change in rhetoric reveals the true intentions of the CCP.

Taiwanese cannot afford to forget the ruthless, bloodthirsty nature of the CCP. After the CCP took control of China, it spent 20 years settling scores with the remaining KMT politicians, military and police left in China, and after the KMT took control of Taiwan, we experienced the 228 Incident. We must be vigilant and cannot allow a similar situation to rear its ugly head in Taiwan again.

Paul Lin is a political commentator.